Spirit 105.3 launched a new afternoon team on July 1, bringing Steve Sunshine (former morning show host, born with a radio name) back to KCMS to join afternoon show host Erica Parkerson. Sunshine's previous association with KCMS was a morning broadcast from Christa's Dallas station. The new assignment gets him into Christa studios here in Seattle.
Tall Paul Fredericks is a weekend host at Spirit 105.3 KCMS.
Newsradio 1000/97.7 KOMO FM tied at #1 with Active Rock KISW in the June PPM interpretation by Research Director Inc.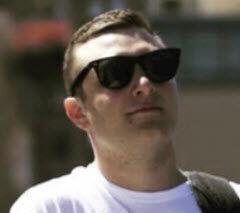 Anthony Imbrunone, morning co-host at Stephens Media Top 40/Active Rock Power 99.1 KUJ/Walla Walla, has been promoted to APD/middays at sister station KBZD 105.7/Spokane. Same music format, larger market. (AllAccess.com)
In statements, management of Stephens Media acknowledged being thrilled, pointing out his combined skillset and energy, and that Imbrunone's finger being on the pulse of the market would assuredly take the station to the next level. At the same time Imbrunone thanked management for believing in his abilities to execute the shared vision of the team for KZBD. (Will there be cake?)
Whizz – BANG!
Legendary Fresno call letters KYNO are moving to 940 AM on Monday July 19. The 50,000 watt frequency is currently home to ESPN sportsradio KFIG. This comes as the station celebrates 75 years, when then owner Gene Chenault petitioned the Federal Communications Commission to build a new radio station in 1946 at 1300 kHz. KYNO sits at 1430 AM until the big switchover Monday morning. KFIG moves to 1430 AM and the format for KFIG may change in the near future.
Historically, KARM was 1430 and KFRE was 940. KFIG was an FM station first on 94.5 then moved to
101.1 in the early 1970s. KARM 1430 was changed to KFIG 1430, 1300 KYNO swapped frequencies with 940 becoming 940 KYNO then swapped calls with KFIG 1430 in October 2012 when John Ostland acquired KFIG.
The boosted KYNO signal will send the signal from Sacramento to Bakersfield and throughout the Central Coast. It will become the most powerful oldies station in America, featuring music from the late '50s through the early '70s all day. (TheBusinessJornal.com)
Kenny Mayne has announced, "With the miniature golf finale on Saturday we have moved to gymnastics." Watch for video coverage here and wherever you stream major sporting events.