Jason Remington – Creator, Admin, & Editor of QZVX.COM
mailbox@qzvx.com
As Lou Robbins, Jason Remington, joined the staff at KBRD FM in 1987. The Beautiful Music station was just down the hall from Tacoma's KTAC 850. When Bobby Simon left KTAC, Lou Robbins was chosen to take over the morning show at the Soft Rock station.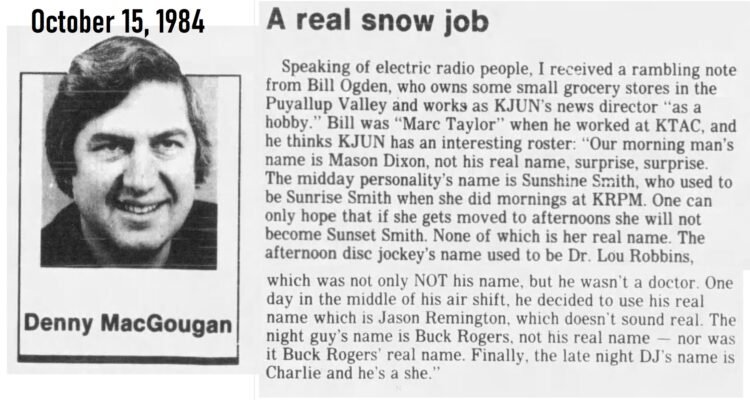 When Entercom management chose to scrap the Beautiful Music FM, switching format to Alternative Rock in 1991, Lou Robbins was asked to stay on, as KTAC began simulcasting the new KMTT "Mountain" sound. Under his real name Jason Remington, he continued a few courses at Pierce College and made the nightly trek to Metropolitan Park West, for an all-niter at the new home of KMTT. All while working full-time daily at AT&T.
In 1993, he moved to Phoenix, where he picked up a weekend & fill-in gig at KOOL FM, the heritage Oldies station. The format was based on the personal record collection of programmer Jerry Osborne. Some programs were voice-tracked and syndicated nation-wide, to other stations copying the "KOOL" format and moniker.
FEBRUARY 21, 1998 (AZRADIO.NET)—It was in Phoenix that Jason Remington began blogging. The site was Phoenix Radio Dial (a history of Phoenix Radio). Upon returning to Washington 10 years later, Remington developed SeaTac Media, a site that became PugetSoundMedia, and now QZVX.COM — Yes, the one you are looking at right now. Jason Remington is retired and lives in Olympia, WA. [VICTOR STREDICKE]
KVAC | KDFL | KTTX | KWHI | KONP | KBAM | KJUN | KASY | KAMT | KRPM | KBRD | KTAC | KMTT | KOOL
---
Here is an audio clip of radio's Soul Survivor, Fever Reliever & Chest Protector!!! (Lou Robbins) – Contact: mailbox@qzvx.com
Lou Robbins – KOOL Phoenix
It was a pleasant surprise to be asked as a guest at Salem Communications-Seattle. This interview aired Saturday, July 29th, 2017 at 12:30PM on 1300AM KKOL and at 4PM on 1590AM KLFE as the first segment of the Spotlight On The Sound program. The host is David Summers.
Salem Communications KKOL-KLFE Jason Remington – Interview July 2017 (7:47)
---
FAIR USE NOTICE: This site contains copyrighted material, the use of which has not always been specifically authorized by the copyright owner. We make this material available as part of our commentary, criticism, news reporting, and research. We believe this constitutes a fair use of any such copyrighted material as provided for in section 107 of the US copyright law. In accordance with title 17 U.S.C Section 107, the material on this site is distributed without profit to those who have expressed a prior interest in receiving the included information for research and educational purposes.
For more information, go to: http://www.law.cornell.edu/uscode/17/107.shtml
"Notwithstanding the provisions of sections 106 and 106A, the fair use of a copyrighted work, including such use by reproduction in copies or phonorecords or by any other means specified by that section, for purposes such as criticism, comment, news reporting, teaching (including multiple copies for classroom use), scholarship, or research, is not an infringement of copyright. In determining whether the use made of a work in any particular case is a fair use the factors to be considered shall include—
(1)the purpose and character of the use, including whether such use is of a commercial nature or is for nonprofit educational purposes;
(2)the nature of the copyrighted work;
(3)the amount and substantiality of the portion used in relation to the copyrighted work as a whole; and
(4)the effect of the use upon the potential market for or value of the copyrighted work.
The fact that a work is unpublished shall not itself bar a finding of fair use if such finding is made upon consideration of all the above factors."
If you wish to use copyrighted material from this site for purposes of your own that go beyond fair use, you must obtain permission from the copyright owner.