FEATURED ARTICLES by:
DUANE SMART | JAY HAMILTON | JEFF SNYDER'S RARE AUDIO | KIRK WILDE | MIKE CHERRY | RON DEHART
RADIO CONFERENCE CALL | SAM LAWSON'S AUDIO VAULT | STEVEN L. SMITH | VICTOR STREDICKE
---
Washington Builders commercial
This Washington Builders spot is from a September 5, 1962 Ray Hutchinson aircheck (00:48).
Ray Hutchinson was more of a newsman than a DJ. Unfortunately, he upcuts the beginning of the spot. But, is still brings back memories. Mr. Music Man, Duane Smart

---
KOL Ray Hutchinson 1962 (3:15)
---
AIRCHECKS:
Burl Barer
KOL (1969)
---
Johnny Forrest – Newsman at KIRO, KOL, KFKF, KNX, KFI – deceased – John R. Forrest, known as Johnny (born in 1908, died in 1971), was a multi-talented Northwest celebrity. He was an announcer/newscaster, disc jockey and program director of Seattle's KOL radio for over three decades and a producer of a free-lance newscast on KIRO. Among his many achievements are his Suspense Theater plays, "Mission Completed" (starring James Stewart) and "Daisy Chain."
A songwriter, he composed "Blue Tears" (sung by Lola Sugia) and "Weathervane" (Lola Sugia), recorded and engineered at Joe Boles Recording Studio in Seattle and released on the Golden Crest Record Label. He composed many popular Northwest radio jingles, including a long airing, catchy tune (with Lola Sugia's vocals) for "G.O. Guy Drugs," and a musical, produced by the University of Washington, called, "Johnny Appleseed."
Johnny Forrest – KOL 1962 (3:52)

John was also a writer-performer for Lux Radio Theater and Creeps By Night, in Hollywood (between 1939 and 1945), and was known in Seattle as sportscaster for radio KOL's broadcast of the Seattle Seafair Hydroplane Races (broadcast from Bob Gilliam's boat, the "KOLroy") during late 50's and early 60's. Johnny's final radio gig was as morning news anchor on KFKF / Bellevue, from 1968 to 1970. (Johnny's daughter Maia Santell)
---
Robin Mitchell KOL 1968 (5:15)

---
KOL Christmas Day ski report
Robert O. Smith, in various voices, with the ski report, Terry McManus intro, a Rainier Beer commercial, Lan Roberts as Mr. Science & Jimmy, wishes everyone a Merry Christmas… all in (3:47).

(recorded by Bruce Portzer in Seattle on December 25, 1970)
---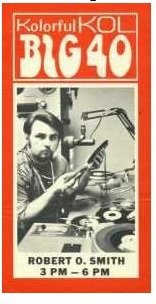 KOL Snow Bust
Lan Roberts parachutes into the ski area. Hopefully, he doesn't run into any UFOs on the way down… Robert O.Smith is on the air intro'ing Elvis, as only he can. Robin Mitchell voices the Snow Bust promo. (:52)


(:50 – recorded by Bruce Portzer in Seattle on December 25, 1970)
---
1300 KOL Jingles (:32)
---
Burl Barer – KOL (5:59)

Burl Barer – TRUE CRIME author, former Seattle radio legend and can still hit the post, in radio terminology.
Who knew Burl Barer was bound for fame and glory in the writing business? His on-air stunts at the feuding rockers KJR and KOL is engrained in Seatle's audio memory. Barer could be pushed to being a screamer, gasping and panting in anticipation for the next record or recoiling from a news item.
Barer started at KUJ and KTEL in hometown Walla Walla, moved to Seattle for an overnight gig at r&b station KYAC. From there he got afternoons at KJR and bounced between KOL-AM, KOL-FM and KJR again –, with remarkably brief stints at KIRO and KZOK.
1972, Barer got a commission to adapt the Val Kilmer movie "The Saint" into a novel. That led to a franchise of new authorized novels based on Leslie Charteris' urbane crime- solver Simon Templar. A second movie screenplay was completed and in 2011 still was being "shopped around" (without any control by Barer) as a TV movie, TV special or TV series.)
Barer has also written several "true crime" books and mystery novels. Barer, who once touted himself as a "distance reader" (psychic/mentalist), appears in his own true crime book, "Body Count," as "the psychic/mentalist/true crime author Jeff Reynolds."

---
Listening to KOL was hip! KOL was IN with the IN Crowd!! (:14)
---
Battle of the Bands/All-City Dance (1:07)

---

Lan Roberts – Mr Science & Jimmy – Astrology – Lan takes phone call on-air about earthquake (7:06)
---
Bobby Simon – KOL (6:33)

Bobby Simon came to work at KJR, 950 –, the first time, in 1964. His full name Robert Theodore Simon was sometimes used, even with a "Chipmunks" background. This first KJR stint was only three months long. (His previous air experience at KAYE, Puyallup, KORD, Pasco, and KXLY, Spokane, was not enough to keep up with high powered KJR jocks including the already legendary Larry Lujack.)
Bobby got shifts at KEED, Eugene, then KISN, Portland, and WIFE, Indianapolis. He came back to Seattle for KOL and then bounced back to KJR where "B.S. for the Great Northwest" thrived — until he was pushed out "because Lan Roberts came back." Into the '70s "Ma and Pa Simon's little boy" worked at KTAC, 850, then back to KOL, until he was replaced by an automation machine. Then to KTAC again. He finally achieved morning drive at KZOK-FM, and then KYYX, Seattle, in 1978. He did fill-in work at KNBQ, Tacoma, and KISW, Seattle. He also worked briefly for the Braiker Satellite service. In 1980 he was back at KTAC. Bobby Simon died in a car crash November, 2002. Bobby Simon was 65.

Bobby Simon interview Paul Rybock at KNHC FM (3:00)

---
Highlights of final two hours of
KOL (1972)
---
KOL Became KMPS—
KMPS 10th anniversary special (1985) – 1 (14:51)
KMPS 10th anniversary special (1985) – 2 (14:42)
KMPS 10th anniversary special (1985) – 3 (11:27)
KMPS 10th anniversary special (1985) – 4 (18:16)>P>

Phil Harper KMPS aircheck (2:05)
1 visit(s) today