TOP 40 PLAYLISTS
She Can't Find Her Keys, a hit for Paul Peterson released in 1962, same time that his co-star Shelly Fabares released Johnny Angel. Both stars were featured on tv's Donna Reed Show. Gary Todd returned to KOL in 1967 (from KIMN, Denver) to take over the morning show.

KOL-Bob Waldron survey (1958)

KOL-Art Simpson survey (1961)
Special Playlists
KING Survey [outside]
KING Survey [inside]
KYAC Survey [1 of 3]
KYAC Survey [2 of 3]
KYAC Survey [3 of 3]
KYAC playlist 1977
KYAC playlist October 1975 [inside]
KING_1971-05-30
KYAC & KING surveys courtesy of Mike Cherry
Thanks to Brian Lord & Bill Taylor for their contributions of radio station music surveys.
RADIO BOOK CLUB

AM 1240: Life At A Small Town Radio Station
It's more than just the history of one of America's pioneer radio stations. The book takes you back in time so you can feel what it was like when a small-town radio station was a part of daily life. You'll get to know those who worked there and the people who listened – real people with real experiences. There are no made-up names and the events described really happened. It's all based on information from the author's diaries, which he faithfully kept without missing a day throughout his half-century at the station.
Get Dick's book at Amazon or use this ORDER FORM.

PUGET SOUNDS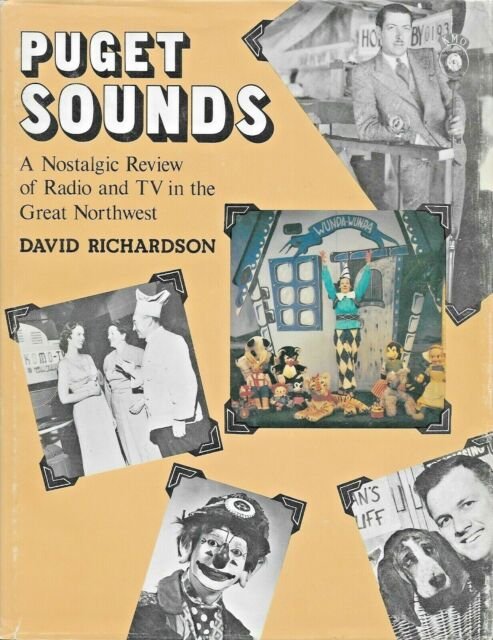 PUGET SOUNDS by David Richardson, recounts the early days of experimental radio and the birth of commercial broadcasting. Bootleggers, snake oil salesmen, preachers, poets and personality radio. The Attic of the Mind; Sounds from a Box; Aunt Vivian; Blend's Mah Friend; Pioneers and G-Men; The Friendly Station; KING's Kameras; The Naked Truth; The Musical Station; Mr. Baseball; The Voice of Seattle; Stay Tuned for Tomorrow.
The Last Broadcast
"Red Robinson – The Last Broadcast" captures a modern moment in time of an era in radio that will never be repeated. But it's also a detailed revelation of how radio went from being great to merely another audio option for consumers to consider. The book does a good job of chronicling the demise of the industry by those who were there, complete with insider scoops on hiring & firings by the 'bean counters' who replaced broadcasting professionals that once ran these great stations. One doesn't need to have intimate knowledge of Vancouver radio to appreciate the stories & anecdotes of radio's evolution over the past 6 decades. Retired & former broadcasters will all relate to the changes & issues discussed, & author Robin Brunet allows each former DJ to tell the tales in their own words. For those who are familiar with the history of Vancouver radio since the mid-50's, this book will function as an all-inclusive chronicle of the stations & personalities that captivated listeners & grabbed advertisers. (review by Mike Cherry)
---
It Was All Just Rock & Roll
The memoir of legendary radio man/concert promoter Pat O'Day, one of the key figures in the development of rock music and Top 40 radio in the Northwest. O'Day's memoir provides scores of fascinating stories about the radio and music business, featuring such figures as Jimi Hendrix, Jerry Lee Lewis, Paul McCartney and Frank Sinatra and such groups as the Rolling Stones, Led Zeppelin, Three Dog Night, the Beach Boys and Bachman-Turner Overdrive.
---
SuperJock
Twenty years before Howard Stern's movie, there was Larry Lujack, "Superjock" on Chicago's WCFL-AM and WLS-AM during the Second City's radio wars. Lujack tells of his married life and radio family in true details, beginning with KFXM-AM in San Bernardino to his place in Chicago Radio History. – A "ten". Mark Heller, Pres. WTRW Radio Two Rivers, WI
Another reviewer says: Very simply, there would be no Don Imus, Howard Stern or Tom Leykis had Lujack not proved first that crabbiness could win on the radio. Ruling the airwaves in Seattle when Imus was still a railroad worker, Lujack was belicose, sarcastic and witty between Beatles and Motown records. No library should be without it!
---
Kickin' Out The Jams
–Sean Conrad, (WKNR Detroit, KYNO Fresno, KHJ Boss Angeles), writes of "A record spinners memoirs…The true story of the day-to-day, play-by-play adventures of a young, insecure, teenage wallflower, from a small Midwestern factory town, who dives headfirst into the rabbit hole of psychedelia, flaxen, waxen, sex, drugs, and rock and roll.
"In the dawning of the Age of Aquarius, Sean Conrad experiences the ups and downs of having just too damn much fun– and the consequences that come with it. From hanging out with rock stars to being homeless.. And back again… From scribbling autographs to signing divorce papers. Can there possibly be a happy ending?" Sean's book, "Kickin' Out the Jams," is published by Black Opal Books.
---
THE HITS JUST KEEP ON COMING – by Ben Fong-Torres

The book features interviews with such renowned radio personalities and programmers as Casey Kasem, Dick Clark, Wolfman Jack, "Cousin Brucie" Morrow, Gary Owens and many others, and includes an exclusive CD with "airchecks" rare recordings from 16 legendary DJs on actual Top 40 broadcasts.
---
SPARKY TAFT

Sparky Taft has been General Manager of EIGHT stations and owned KRKO in Everett. For years, KRKO did more business than all but about 4 Seattle stations. He was National Sales Manager of KYYX/KXA in Seattle and KORL in Honolulu for famed broadcaster Pat O'Day.
Visit Sparky on the web at http://www.sparkytaft.com/
Dr. Don Rose — "ANYTHING FOR A GAG" PDF

List from Ben Fong-Torres (SFGATE.COM)
"American Top 40" by Rob Durkee. Behind Casey Kasem's countdowns.
"Big Beat Heat: Alan Freed and the Early Years of Rock & Roll" by John A. Jackson.
"Cousin Brucie" by Bruce Morrow, about the New York radio giant of the '60s (still on satellite radio).
"The Deejays" by Arnold Passman.
"Don Sherwood: The Life and Times of 'The World's Greatest Disc Jockey' " by Laurie Harper. No argument here.
"Gordon McLendon: The Maverick of Radio" by Ronald Garay. None here, either.
"Have I Got a Song for You: The Bobby Dale Story" by Lou Waters. Another of the world's greatest DJs.
"Have Mercy! Confessions of the Original Rock 'n' Roll Animal" by Wolfman Jack with Byron Loursen.
"Holliday: From Rock to Jock" by Johnny Holliday and Stephen Moore. From New York to San Francisco (KYA) to network sports.
"The House That Jack Built" by Hal Jackson. "Jack" was the first black announcer on network radio.
"Hullabaloo!" by Dave Hull, longtime L.A. radio star.
"Let a Smile Be Your Umbrella … But Don't Get a Mouthful of Rain: The Joey Reynolds Story" by Reynolds, pre-shock bad-boy DJ.
"Margrave of the Marshes" by John Peel and Sheila Ravenscroft. The most influential British DJ of them all.
"The Pied Pipers of Rock 'n' Roll: Radio Deejays of the '50s and '60s" by Wes Smith.
"Rocking America: How the All-Hit Radio Stations Took Over" by Rick Sklar, who programmed WABC in New York
"You Only Rock Once" by Jerry Blavat, the original Philly Phanatic.
Early radio
"The Big Broadcast: 1920-1950" by Frank Buxton and Bill Owen.
"The Early Days of Radio Broadcasting" by George H. Douglas.
The '20s to the '30s.
"Empire of the Air: The Men Who Made Radio" by Tom Lewis. Ken Burns made a film of this.
"Lee de Forest: King of Radio, Television, and Film" by Mike Adams. Giving a radio inventor his due.
"Listening In: Radio and the American Imagination" by Susan J. Douglas.
"On the Air: The Encyclopedia of Old-Time Radio" by John Dunning.
"Radio's First 75 Years" by B. Eric Rhoads. A pictorial history.
"Raised on Radio" by Gerald Nachman. A gem by the former Chronicle columnist.
The biz
"Creating Powerful Radio: Getting, Keeping & Growing Audiences" by Valerie Geller. Tips for programmers.
"How to Make a Million Dollars With Your Voice" by Gary Owens. Sage advice, including "Always know your guest's name."
"No Static: A Guide to Creative Radio Programming" by Quincy McCoy. Pushing for creativity in the face of consolidation.
"Television and Radio Announcing" by Stuart Hyde. The S.F. State University prof wrote the textbook for broadcasting students.
"This Business of Radio Programming" by Claude and Barbara Hall. Claude wrote the must-read Vox Jox column in Billboard.
Radio rebels:
"40 Watts From Nowhere: A Journey into Pirate Radio" by Sue Carpenter.
"Early '70s Radio: The American Format Revolution" by Kim Simpson.
"FM: The Rise and Fall of Rock Radio" by Richard Neer. The devolution, from an East Coast POV.
"Hip Capitalism" by Susan Krieger. A student dissertation on KMPX and KSAN.
"If You Don't Like the News … Go Out and Make Some of Your Own" by Wes "Scoop" Nisker of KSAN commentary fame.
"Playing in the FM Band" by Steve Post. Memories of WBAI, a Pacifica station in New York.
"The Radio Papers: From KRAB to KCHU" by Lorenzo Wilson Milam, the indie radio pioneer.
"Voices in the Purple Haze" by Michael C. Keith. A history of underground radio.
Regional radio
"The Airwaves of New York" by Bill Jaker. AM stations, 1921-1996.
"Bay Area Radio" by John F. Schneider. Wonderful photos, well-chosen words.
"Los Angeles Radio People" by Don Barrett. Profiles of all the stars, from 1957-1997.
"Drop That Knowledge: Youth Radio Stories" by Lissa Soep and Vivian Chavez. Stories about and from the radio pride of Oakland.
"Inside Talk Radio: America's Voice or Just Hot Air?" by Peter Laufer. Uh … both?
"Legendary Pioneers of Black Radio" by Gilbert A. Williams. Paving the way for Top 40.
"Radio On" by Sarah Vowell.
"Something in the Air" by Marc Fisher. What we had – and what we've lost.
"Voice Over: The Making of Black Radio" by William Barlow.
Miscellany
"Radios: The Golden Age" by Philip Collins. Loving photos of vintage radios.
1 visit(s) today