Various Radio-TV news items from the past. ** Keep checking back for updates to this page… [Sources: Broadcasting Magazine, Tacoma News Tribune, Seattle Times]
Last update: 4/30/2023

---
August 1, 1965

April 21, 1963 – KAYO to go Kountry


Apr_11__1968-Tacoma News Tribune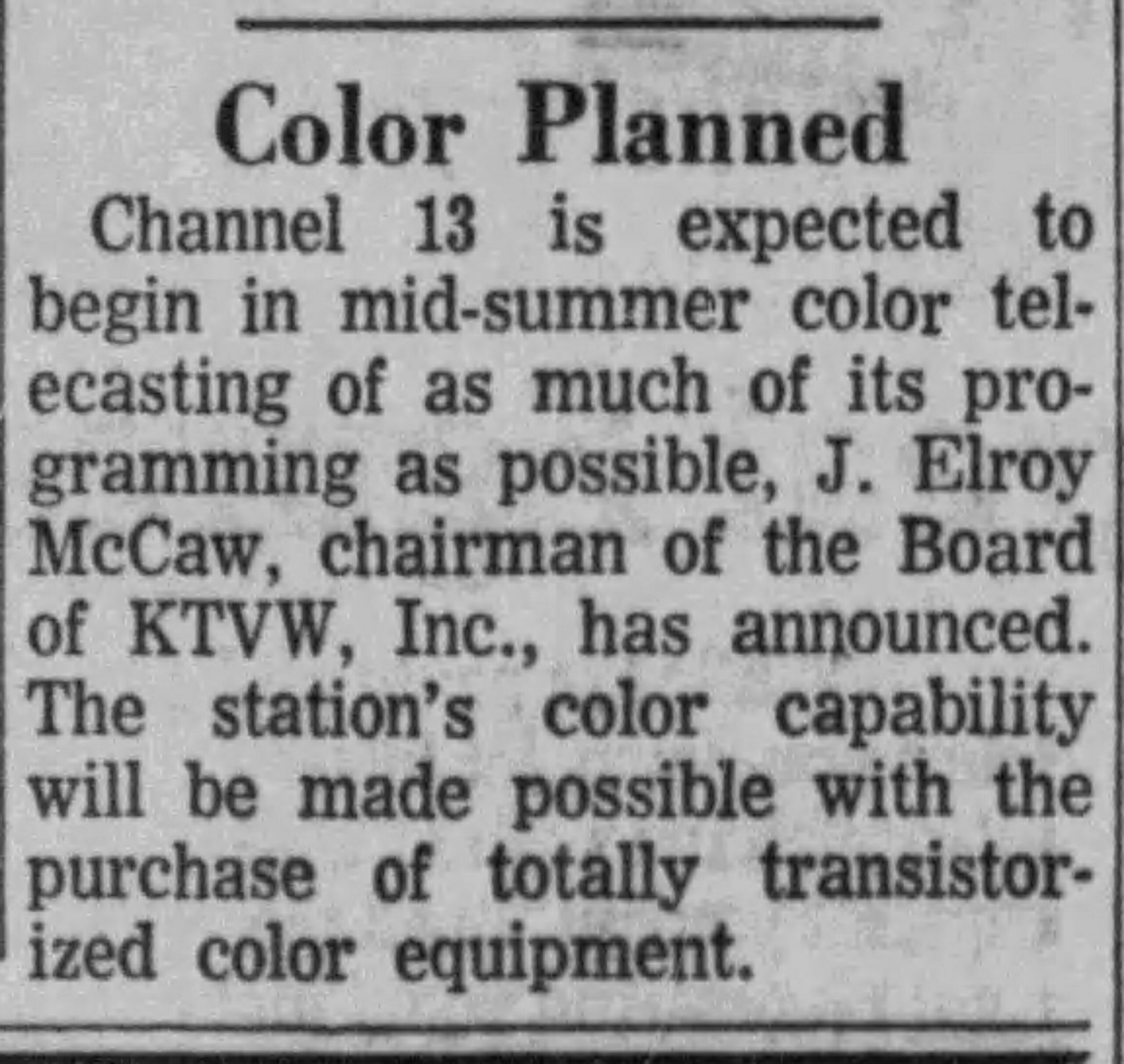 July 1946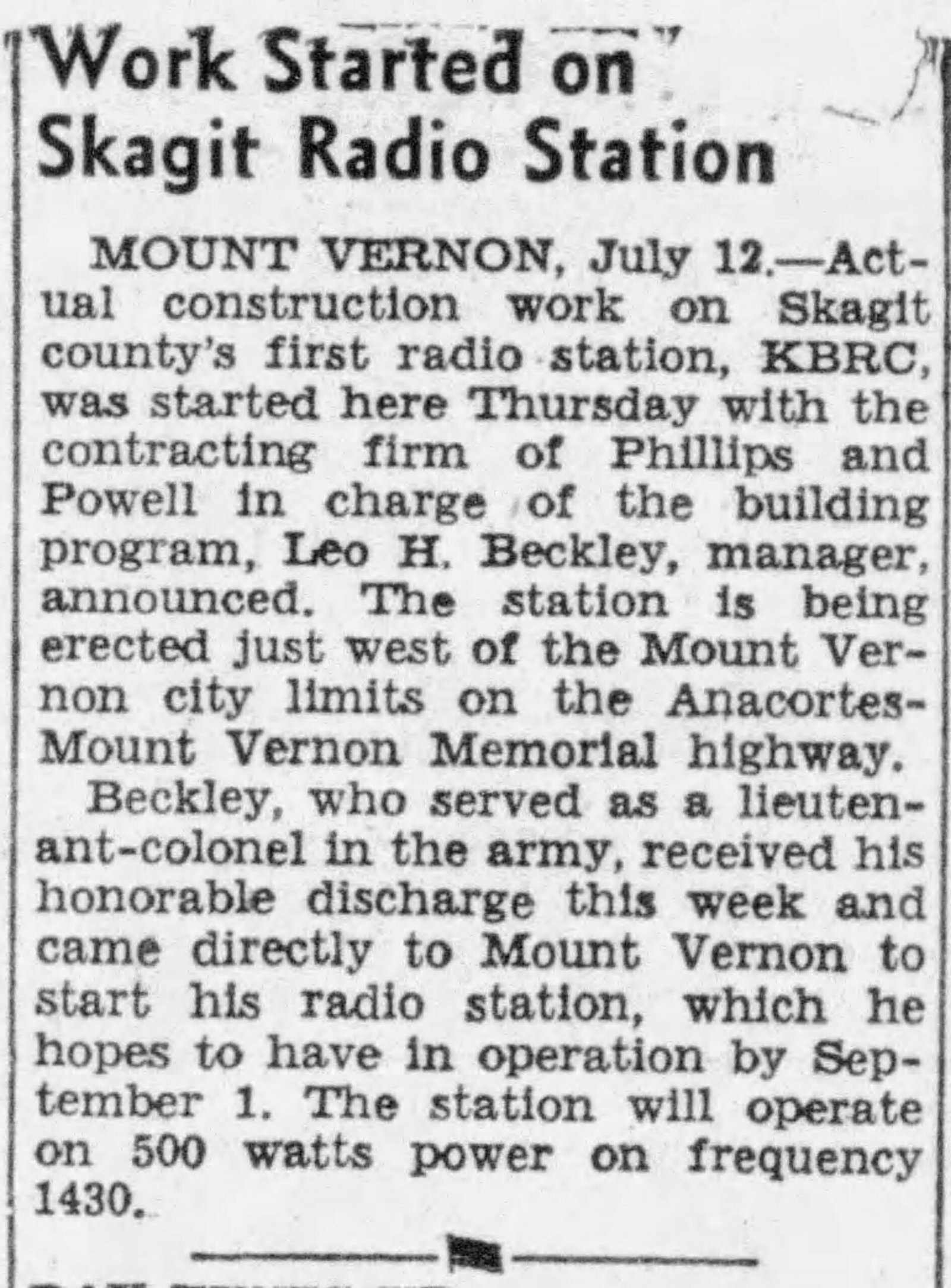 June 8, 1956

October 1978 – KLAY FM (AOR) Music Director Michael Fox mentioned in Radio & Records magazine. Conversation with R&R columnist Jeff Gelb. Fox states he is out to prove that freeform rock is alive and well in the Pacific Northwest and KLAY is leading the way.
December 14, 1979 – Vivian Phillips back on air at KYAC/Seattle with Carole Carper middays, replacing Ray Curry. Evening jock
Mike Vance leaves, with Bill Murry of KLAY/Tacoma, WA filling the void. (Radio & Records)
October 1961 – Martin Tobin, formerly with KXA, appointed director of news and public affairs for Heritage stations: KGMI – FM Bellingham,
KGMJ -FM Seattle, KVOS -AM -TV Bellingham; KFMU FM Los Angeles, KFMW -FM San Bernardino; and KGMG FM Portland, Ore.
June 1964 – Martin Tobin joins KOL as newscaster.
April 1962 – Norm Bobrow, former program director, KXA Seattle, joins WBFM (FM) New York as program director. (In the 1950s, Norm Bobrow had been with KRSC 1150. 1950- Hal Davis and Norm Bobrow did a 24 -hour marathon to raise money for the Seattle Symphony over KRSC Seattle. The effort did save the symphony for that year and was the "first" radio marathon without records. (Hal Davis quote/Broadcasting Magazine – March 1974) Norm Bobrow had joined announcing staff at KVI Seattle, in August 1949, then moved to KRSC.
December 1964 (Broadcasting Magazine major market format review) John R. DiMeo, general manager, says the KAYO Seattle format of "country & western music 24 hours a day with five minutes of Mutual and five minutes of local news each hour is 'exclusive in our market'." At KETO Seattle, the format is a "sweet album sound." KING Seattle is "personality oriented middle -of- the -road music with heavy emphasis on news, sports and community involvement." Art Kulman, sales manager of KJR Seattle, refers to the format as "popular contemporary. KJR introduced con- temporary music to Seattle in 1954, went middle of the road in 1958 and returned to the present format in 1959." KMCS(FM) Seattle gears its format to the "25 -55 -year bracket with strictly standard instrumental, the emphasis placed on cafe -society type music," L. E. Collins, manager, says. At KTW Seattle, the format is "tight top 40 and rhythm and blues; no unnecessary talk." Buddy Webber, KVI Seattle program director, says "we are a nonrock 'n'roller featuring strong personalities and modern, happy familiar music; news on the hour, headlines on the half -hour,plus sports news. We have been using this format successfully for many years." KXA Seattle programs "good music with all programs uninterrupted except four times hourly." The music format is primarily "concert music and short works and Broadway show music." KMO Tacoma, Wash., programs "upbeat middle -road music, news in depth and variety discussion." James L. Blaine, vice president and general manager, finds "it provides an excellent balance between the listener quotient and the commercial acceptability while perfectly satisfying our public and community service roles."
June -1963 – Jack Morton, of KMO Tacoma, joins KVI Seattle as air personality. — Jim Hawkins named sales manager of KXA Seattle. Mr. Hawkins, formerly on sales staff, replaces John Croghan, who joins Feltis /Dove /Cannon Inc., station representatives.
October 1961 – Chris Lane and Don Hughes join KAYO Seattle as director of program operations and news operations chief, respectively. Mr. Lane was formerly with WLS Chicago. Mr. Hughes was former director of WOKY Milwaukee news department.
November 1961 – The FCC last week…Was asked by KXA Seattle to reconsider its order changing the call letters of KUDY Seattle (Renton) to KIXI. KXA said there has been confusion on the part of listeners between the call letters and added that program names, format announcements and musical interludes by KIXI were similar to those previously established by KXA. It said that KIXI did not make clear in newspaper advertisements that it is the former KUDY.
November 1981 –

1981 – Entercom applies to FCC to change frequency and city of license for KTAC from 850 Tacoma, to 840 Fife.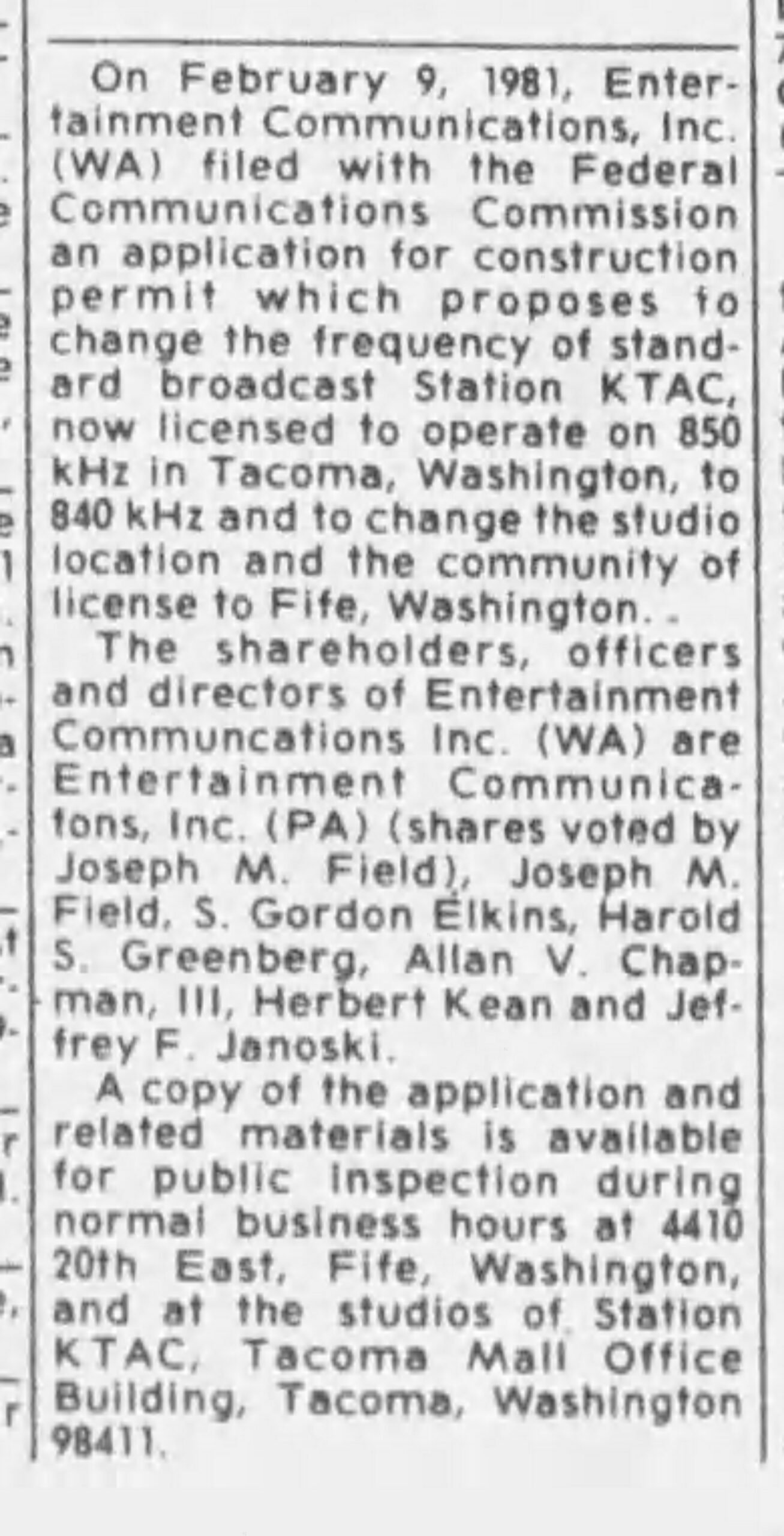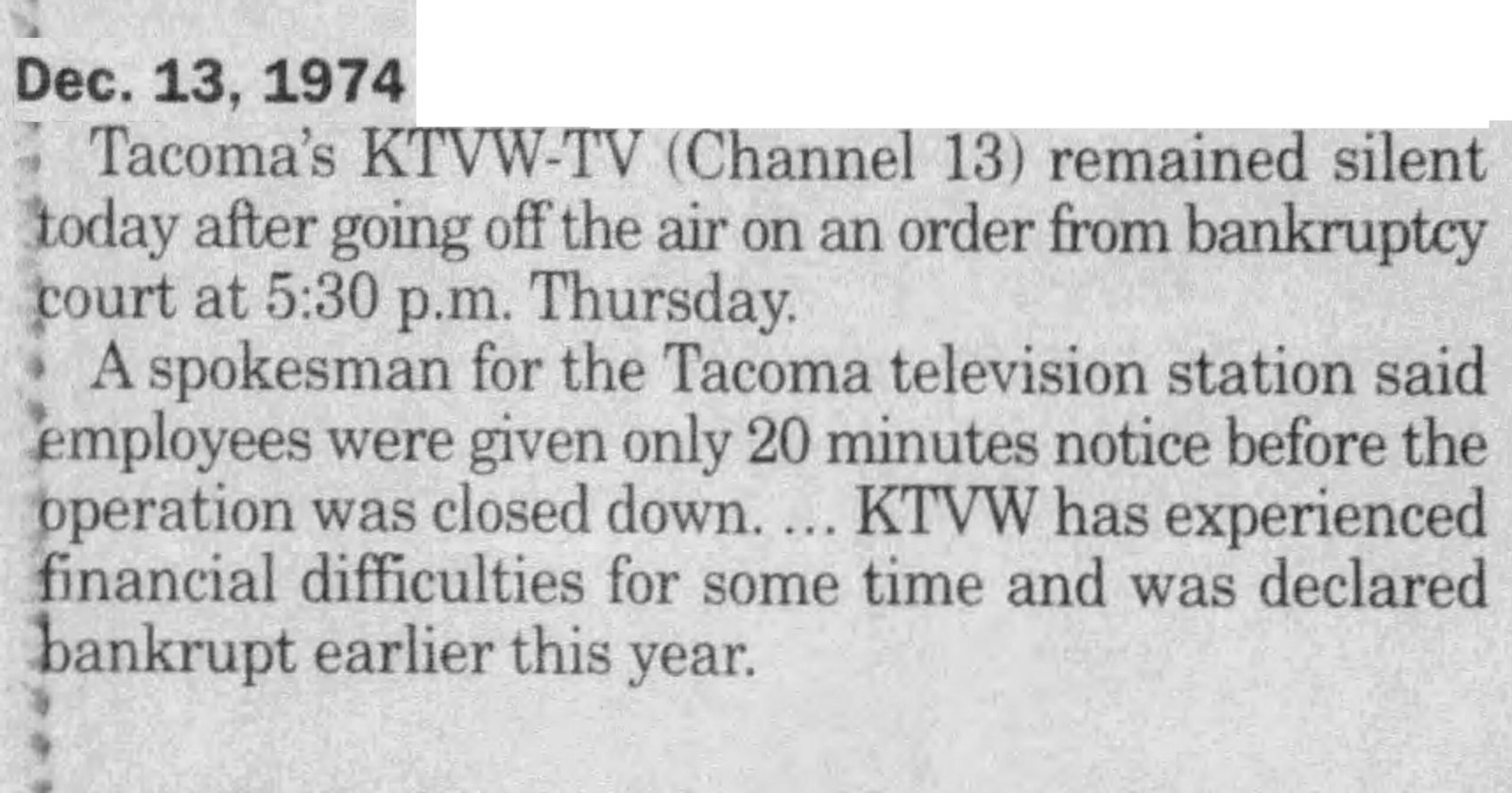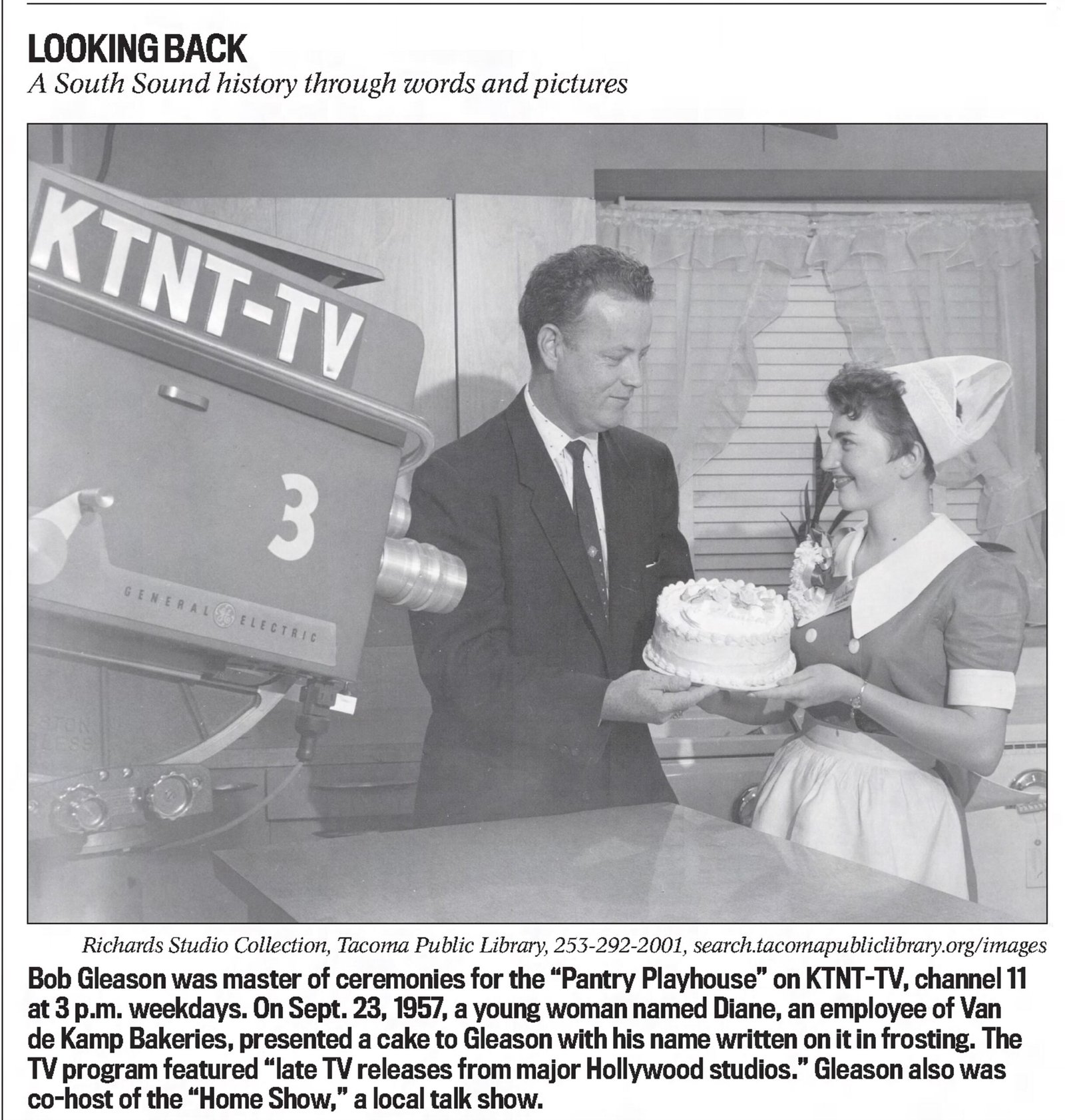 May 1960 – CBS last week settled a $15 million antitrust suit by taking on two affiliates for the price of one, almost, in the Tacoma -Seattle market. The settlement ended a triple damage suit filed against the network and KIRO -TV by KTNT -TV Tacoma on the grounds that CBS and KIRO -TV had conspired to take the CBS affiliation away from KTNT -TV. CBS will offer both KTNT -TV and KIRO -TV as dual affiliates in the Seattle- Tacoma market. This arrangement begins June 1 and runs to Dec. 31. The rate for the combined affiliation will be the same as the present rate of KIROTV alone, $1,000 per Class A hour. On Jan. 1, 1961, CBS will offer both stations at a combined rate of $1,300. Advertisers will have the choice of buying both stations at that rate, or one of the two at the $1,000 rate. These arrangements were announced
by CBS last Wednesday.
May 30, 1960 – Ted R. Gamble, 54, formerly president of Mt. Hood Radio & TV Broadcasting Corp., operators of KOIN -AMTV Portland, Ore., and associated with C. Howard Lane in KOMO -TV Seattle, died May 18 of cerebral hemorrhage. Aside from broadcasting and theatre interests, Mr. Gamble was national chairman of War Finance
Committee in World War II.
May 1960 – Douglas C. Stephens, formerly promotion manager -air personality with KYLN Denver, to KJR Seattle, as production director -air personality.
May 1960 – Bill Goff, newsman at KVI Seattle, appointed news director, succeeding Rod Belcher who resigned. Dave Valentine, formerly floor director at KOMO -TV, succeeds Mr. Goff on news staff.
May 1960 – Jack F. Agnew, formerly promotion manager of KTVW (TV) Seattle – Tacoma to WMC, WMCF (FM) and WMCT (TV) Memphis, Tenn., as publicity- promotion director.
May 1960 – Barry Tucker joins KDWB Minneapolis-St. Paul as sales manager. Previously, he was with KING -TV Seattle.
May 1960 – Bert S. West, vp of Golden West Broadcasters and station manager of KSFO San Francisco, transfers, temporarily, to Seattle to supervise new Golden West station, KVI. Gibbs Lincoln continues as KVI vp and station manager
May 1960 – Keith Johnson named sports and special events director of KOMO -AM TV Seattle.
May 1960 – Rod Belcher, veteran Pacific Coast sportscaster, named sports director of KING -TV Seattle.
April 1960 – College student with first phone desires summer employment. Chuck Barrows, 1104 So. 123 St., Tacoma, Washington
April 1960 – Eric Bremner, assistant promotion manager of KING-TV Seattle, was promoted to promotion manager. Mel Anderson, promotion director of King Broadcasting Co. (KING- AM -TV, KGW -AMTV Portland, Ore., KREM- AM -FMTV Spokane, Wash.), resigns
April 1960 – KOL Seattle has an annual promotion involving the drop of "booty bottles" filled with merchandise certificates. Some 1,300 of these plastic eight-ounce flasks, containing station call letters and insignia, are dropped in the water areas around Seattle. "Since these bottles are distributed at the rate of 100 per day, we have found aircraft the only feasible and certainly the most economical method of doing so," the station reported.
April 1960 – Helicopter Veteran… A veteran user of helicopters is KING -AM -TV Seattle, which opened its own heliport (King County's first private heliport) atop the KING Broadcasting Co. studios in July 1953. The 'copters are leased from Aero-Copters Inc. Aside from news, special events, and promotion, the 'copters transport talent
to suburban dates and meet guests such as NBC Board Chairman Robert Sarnoff at Seattle's airport. The craft also helps in sales calls and executive travel. News events such as the Gold Cup boat races give the KING -copter real opportunity to provide unique coverage, KING feels.
April 1960 – Dismissal of the antitrust suit is denied… A federal judge in Tacoma has denied motions for dismissal of a $15 million private treble damage antitrust suit against KIRO -TV Seattle and CBS. The motions were made by KIROTV and CBS. The suit was brought by Tribune Publishing Co., owner of KTNT -TV Tacoma and involves the 1958 transfer of CBS Television affiliation from KTNT -TV to KIRO -TV. U.S. District Judge William J. Jameson ruled that the plaintiff was entitled to a trial on the issues. The Tribune Publishing Co. charged that CBS and KIRO had an understanding regarding affiliation for television when KIRO received a tv grant. This is a violation of the Clayton Act, the Tribune alleged. KIRO -TV went on the air in February 1958, with the CBS affiliation. A pre-trial hearing has been scheduled for May 16 in Washington, D.C. The trial itself has been set to start July 12 in federal court in Tacoma.
April 1960 – Al Jarvis and Ray Briem both join KLAC Los Angeles as air personalities. Mr. Jarvis formerly was with KFMB, that city, and Mr. Briem with KING
Seattle.
April 1960 – Fred von Hofen, formerly vp and general manager of KVI Seattle, to KOL as executive in charge of national sales.
April 1960 – Application to FCC: New, Seattle, Wash., Paul R. Heitmeyer. Req: 1440kc, lkw, D.
April 1960 – BOB CARMICHAEL, formerly program director of KREM Spokane, to KQDE Seattle, in similar capacity
March 1960 – BOB STEVENS, formerly with KVAN Portland, Ore.- Vancouver, Wash., to KISN Portland as an air personality.
March 14, 1960 – DON BRICE, program manager of KIRO Seattle promoted to news director of KIRO- AM -TV
February 24, 1977 – KTNT AM & KNBQ FM begin 24-hour operation except for the period between midnight and 5 am Monday morning.
February 1960 – BILL MUNCEY, a disc jockey with KING Seattle, set a new world speed record for hydroplanes over the measured mile course with a clocking of 192.001 miles per hour. The mark was established on Feb. 16 at Lake Washington. The boat: Miss Thriftway.
February 1960 – ERIC RHODE, formerly a newsman with KLYK Spokane, to KOL Seattle, in a similar capacity.
February 1960 – GIBBS LINCOLN, vp and sales manager of KVI Seattle, Wash., named station manager, succeeding FRED VON HOFEN who resigned.
February 1960 – Inspired by the song "My Favorite Things," Ray Briem, personality with KING Seattle, asked listeners to send him lists of their favorite things. From the hundreds of letters, he found that sunrise on the Cascade mountains and sunset over the Olympic mountains were the most common favorites. The wife of a U. of Washington dental student won, however, with an uncommon list including "walking out of a dentist's office; finding that the scale has been weighing five pounds overweight; having the policeman driving behind me turn down another street." Grand prize was a typewriter.
February 1960 – DAVE DESOTO, formerly news director of KQDE Renton, to KVI Seattle, as a member of the news staff.
February 1960 – Choo -choo contest The Brakeman Bill Lucky Train contest on KTNT -TV Tacoma has built up quite a head of steam with 16,522 entries from area moppets in the first 10 days. Each entry is placed in a revolving drum displayed on the Brakeman Bill program and each weekday, he selects six postcards. The benevolent brakeman calls the kiddy whose name and phone number is on the card and asks him what cartoon character was last seen on the show. The child's voice is heard on the air and if he answers correctly, he is allowed to select one of the Lucky Model Trains which bears a number on its back. This number corresponds to one of the prizes, which ranges from toys and games to bicycles. Each entrant has more than one chance to win for the winner's card goes back into the drum. The station announces it will continue the contest for at least six months.
February 1960 – Gift of health In response to a plea for funds from Captain Puget, children's show personality with KOMO TV Seattle, over 15,000 children and others contributed more than $3,000 towards a hospital in the Paengnyong Islands. Sending coins to help the beleaguered people of the island (which is only 7,000 yards from the Communist North Korean mainland), viewers provided the means to help construct a hospital and pay a doctor to attend the 12,900 natives of the islands.
February 1960 – BILL SHAW, vp and general manager of KSFO San Francisco, named supervisor of KVI Seattle both Golden West Broadcasting. Mr. Shaw will retain his responsibilities with KSFO In addition to his new duties.
February 1960 – Sen. Warren G. Magnuson (D- Wash.), Seattle -owns 10,186 of 253,726 sh. common voting stock of KIRO- AM -FMTV Seattle.
FRANK S. BAKER, 80, publisher of The Tacoma News -Tribune, president of Tribune Publishing Co. and president of KTNT -AM -TV Tacoma died Jan. 30. 1960
February 1960 – TED COOLEY, formerly with KIMA TV Yakima, to KTVW (TV) Tacoma, as producer- director.
February 1960 – WARREN R. (GUS) JOHNSON, formerly senior account executive with KOMO Seattle, to KQTY Everett as general manager.
Does anyone remember this cartoon? February 1960 – Sterling Television Co., N.Y., has concluded sales of its fully animated Capt'n Saviour Bird Cartoons with the stations: including KIRO -TV Seattle.
February 1960 – Police march robbery suspect through the set of KING 5's Wunda Wunda.
February 1960 – BOB FRENCH, account executive with KOMO -TV Seattle, Wash., to KOMO AM in similar capacity.
February 1960 – "This is your life, Mrs. A. Scott Bullitt." Those words were heard in Seattle, a fortnight ago, when the president of the King Broadcasting Co. (KING – AM – FM – TV Seattle) was honored as "Seattle's First Citizen for 1959." A special closed- circuit This is Your Life program was staged by m.c. Ralph Edwards during the annual award banquet of the Seattle Real Estate Board.
Mrs. Bullitt is the first woman honored in the 21 -year history of the Real Estate Board's "First Citizen" award. The This is Your Life show was produced by Otto Brandt and Lee Schulman of KING -TV. To make the show authentic, Mrs. Bullitt's daughters were flown from California and Florida to join in the festivities. NBC -TV star Steve Allen also participated. Also taking part, by film, in the This is Your Life feature were former U.S. Postmaster General James Farley and Harold Fellows, president of NAB. Mrs. Bullitt is also president of the Crown Stations (KGW -AM -TV Portland, KREM -AM -FM Spokane).
October 1959 – Results of a KING radio Seattle survey found rock 'n' roll had dropped to fifth place in popularity.
---
January 1960 – KPAM -AM -FM Portland, Ore.: Sold by Stanley Goard and group to Ken -Air Inc. for $200,000. Ken -Air is headed by William E. Boeing Jr., who also has interests in KIDO Boise, Idaho; KEDO Longview, Wash., and KETO (FM) Seattle, Wash. Transaction was handled by Edwin Tornberg & Co. KPAM is 5
kw daytimer on 1410 kc. KPAM operates on 97.1 me with 33 kw.
New FM station – FCC Action — Seattle, Wash.- Seattle Bcstg. Co. 94.1 mc, 5.8 kw. P.O. address 1100 W. Florida St., Seattle, Wash. Estimated construction cost $12,767, first year operating cost $1,500. Seattle Bcstg. Co. is licensee of KOL Seattle. Applicant station will duplicate am programming. Ann. Dec. 29. 1959
Application: KLAY -FM Tacoma, Wash. -Cp to change frequency from 106.3 mc, ch. 292 to 106.1 mc, ch. 291, increase ERP from 850 w to 3.4 kw, change ant.- trans. and studio locations. Operate trans. by remote control, make changes in ant. system, decrease ant. height above average terrain from 240 feet
to 235 feet and install new trans. Ann. Dec. 29. 1959
By order, Commission. on petition by KVOS Inc. (KVOS) Bellingham, Wash. made effective immediately Dec. 4 1959 initial decision and granted application of KVOS to increase daytime power from 1 kw to 5 kw, continuing operation on 790 kc, 1 kw -N, DA -N, and denied application of Richard L. DeHart for new am station on 800 kc, 250 w -D, in Mountlake Terrace, Wash. Ann. Jan. 6. 1960
ACTION BY FCC
*Tacoma, Wash. -School District 10, Granted uhf ch. 62 (758 -764 mc); ERP 21.4 kw vis., 11.5 kw aur.; antenna height above average terrain 420 ft.. above ground 350 ft. Estimated construction cost $125,000, first year operating cost $38,260. P.O. address Box 1357 Tacoma, Wash. Studio and trans. location 1101 S. Yakima Ave., Tacoma.
January 1960 – BUDDY WEBBER, formerly air personality with KGO and DAVE WILLIAMS, formerly air personality with KSAY, both San Francisco, to KVI Seattle.
January 1960 – KIRO -TV Seattle, Wash., getting into the spirit of election year, announced that it is conducting a "school for candidates." Robert D. Gordon, program director, and Charles Hill, assistant to the president, will instruct candidates running for office on how to better reflect their personalities on tv.
When the U. of Washington football team went to the Rose Bowl game for the first time in 23 years, enthusiasm rampaged in Seattle. KOL sponsored a find- the -football and- win -Rose -Bowl -trip contest, giving clues on the air to where six miniature footballs had been hidden. Four days prior to the game, the station began responding to the intense demand for tickets by serving as a clearing house – buying tickets of those who would not be able to attend the game and selling them at regular price to ticketless fans that wanted to go. The station handled over 100 tickets and avoided "scalping" by serving as a middleman.
January 1960 – Seattle, Wash. -International Good Music Inc. Granted 95.7 mc, 36 kw. P.O. address 1151 Ellis St., Bellingham, Wash. Estimated construction cost $32,000, first year operating cost $15,000, revenue $20,000. Principal applicant is Rogan Jones. Mr. Jones has majority interest in KVOS -AM -TV Bellingham, and KPQ Wenatchee, both Washington. Ann. Jan. 20.

1 visit(s) today