Station history comes from online research, The Seattle Times, the Tacoma News Tribune, Wikipedia and various publications. Commentaries are written by QZVX admins and contributing readers.
570 KVI
— ABC – News/Talk (Lotus Communications) -SEATTLE
Originally licensed to Tacoma back in 1926 [1280/1060/760] With over 80 years of history serving the Pacific Northwest, KVI is known as one of the pillars of Seattle radio. From humble beginnings in November 1926 in Tacoma, the station bounced around the AM dial a little bit before settling at its current 570 position at 5000 watts in the 1930s.
KVI was located in the historic Camlin Hotel (now a private residence) for awhile, as the first move from Tacoma to Seattle. When Gene Autry's Golden West bought the station in the late 1950's, it moved to the nearby Tower Building (7th and Olive) into what were considered state-of-the-art studios at the time. KVI carried the "pre-Mariners" (Seattle Rainiers) for many years, and stepped up to the real major league team when the Mariners showed up in town!
Through the 1960's, 70's and early 80's, KVI was a dominant personality station, featuring incredible talent such as Robert E. Lee Hardwick, Jack Morton [came to KVI from KMO in 1963], Robert O. Smith, Michael O'Shea, Bill Taylor, Jack Spencer, along with so many others. An all-news format in 1980 was put in place, competing with heavyweights KIRO 710, KOMO 1000, which would easily bump up it's news presence, and KAYO's recent switch to News-Talk. The news format eventually petered out.
In the mid-1980's, KVI moved to an "oldies" format. True to the heritage of the station, it not only "did" the format, but became an "Oldies Powerhouse" with a unique emphasis on Northwest artists as well as worldwide artists such as Elvis, the Beatles, and Rolling Stones. Dick Curtis and Scott Burton were among those who defined and grew this format over the years.
In the early 1990's, KVI led the way as one of the first conservative talk stations in the country. KVI touted the station as THE FIRST Conservative Talk station in the nation". Soon, it became one of the most emulated and most successful, and helped establish Rush Limbaugh as a nationally-known talent.
A few years later, Gene Autry's estate was liquidated and KVI (and sister KPLZ) were sold to Fisher Broadcasting, owner of KOMO-AM and KOMO Television.
In 2002, the station left its home of over forty years in the Tower Building (although it had moved in 1990 from the 8th floor to the 2nd floor) to join the rest of the Fisher operations in the brand new Fisher Plaza, a state-of-the art communications facility on the site of the old KOMO Television building across from the Space Needle.
November 7, 2010 [Sunday, one day ahead of scheduled switch] – KVI switched from conservative talk to Oldies rock 'n roll, again. DJs to be introduced in January 2011: Tom Hutyler and Marina Rockinger mornings, Mark Christopher PM drive time, and Ric Hansen in the evening. "Seattle's Greatest Hits – 570 KVI" – KVI switched back to Conservative Talk in January 2013. Fisher Communications sold their TV and radio properties to Sinclair Broadcast Group in August 2013. Sinclair sold all the Seattle radio holdings to Lotus Communications in June 2021. Those stations were KVI 570, KOMO 1000/KOMO FM 97.7 and 101.5 KPLZ. The deal did not include use of the KOMO call letters for radio. As of June 2021. It was speculated that Lotus, being heavily into support of Spanish language stations, might flip one of the Seattle stations to a Regional Mexican format.
Seattle Times-June 4, 1992
Radio Personality Commits Suicide, Police Report
By Tomas Guillen, Kit Boss
Longtime Seattle radio personality Bob Hardwick was found dead of a self-inflicted gunshot wound yesterday, Chelan County Sheriff's Detective Bill Patterson said today. Robert E. Lee Hardwick, 61, of Kent, was once the king of Seattle morning radio, making his mark on KVI-AM. In 1978 he was Billboard magazine's Radio Personality of the Year.
He was found dead about 3:20 p.m. yesterday in a pickup truck on an embankment of Highway 2 just east of Stevens Pass. He had been shot in the head with a handgun. It was undetermined when Hardwick apparently killed himself, but a suicide note was dated 10 p.m. on Tuesday, said Patterson. The note, Patterson said, simply asked police to notify his wife and "be gentle with her."
Hardwick wrote several notes before he killed himself, said Patterson. One note indicated "he was getting older and unemployable and he didn't want his wife to support him," Patterson said.
Apparently Hardwick first tried to asphyxiate himself with the exhaust of his truck, Patterson said. When that didn't work, he shot himself in the right temple with a .38-caliber automatic pistol.
`A TRUE SEATTLE LEGEND'
Most recently, Hardwick was morning co-host at news-talk KING-AM. He joined KING in February 1990 and was released last April because of ratings – the morning show was rated 14th in the Seattle-Tacoma market – and because the
station wanted a younger audience. Hardwick was replaced by Pat Cashman. Said Jack Swanson, general manager of KING-AM-FM: "Over the years, his talent brought happiness to hundreds of thousands of radio listeners. He was, and always will be, a true Seattle legend. . . . All of us in the Seattle radio industry were better for what he gave us, and all of us feel a real loss at his passing."
For years, Jack Morton worked with Hardwick at KVI. Morton now does the weekend marine report for KIRO-AM.
"It was a big shock," said Morton. "They don't come any bigger or better than Robert. That's a fact. I'll always remember his laugh. He loved to set people up and laugh in the background.
"He'd always mention that we were getting older. The business is getting younger. You have to scratch to hang on."
ADVENTUROUS LIFE
Hardwick worked at KVI from 1959 to 1980. Those 21 straight years were interrupted only by a four-month sojourn at Los Angeles station KMPC-AM in 1963.
On his KVI morning show, Hardwick would sometimes play only two or three records an hour. The rest of the time was filled with jokes, skits, ad-libbed advertisements and promotions for his latest escapade. In 1965, Hardwick piloted a tugboat to British Columbia to haul back Namu, the killer whale, for the Seattle Aquarium.
He jet-skied 740 miles from Ketchikan to Seattle, about the time it was reported he had was the highest-paid radio personality in Seattle, hosting the highest-rated program on local radio.
In 1980, he swam the Bremerton-Seattle ferry route. That same year, disgruntled with KVI's decision to abandon its successful music format and switch to all-talk, he quit – walking out in the middle of the 8 a.m. newscast.
"I was so frustrated. Emotionally I was a wreck," Hardwick said later. "I don't know what happened. I took my briefcase and walked out the door. That wasn't a businesslike way to do things."
Later he popped up at the old KAYO-AM. Several months passed. One Friday he called in sick and didn't return the following Monday. "Seattle radio is a bore and I have been boring right along with it," he said at the time.
DEALING WITH TRAUMA
His two disappearing acts were not publicity stunts, Hardwick said, but "an emotional trauma in my life."
He eventually landed at an AM station in Tacoma, did another hitch at KVI, had a failed venture to transmit computer programs via radio and spent a year at KIXI-AM.
Then in 1987 the Seattle native left the medium altogether. He worked for a time as communication director at Pacific Institute and helped several local drug- and alcohol-rehabilitation centers market their programs.
Said Hardwick, when asked once to sum himself up: "I'm a professional smartass. I love to tease people. I love to make people laugh. I'm a communicator."
KVI Personalities:
Harry Stewart [Yogi Yorgesson] in the 1920s, when KVI was located in Tacoma, Bill Goff, Jack Hemingway, Harry Holland, Buddy Webber [appointed Program Director in 1962 when Bob Cooper left for KEX/Portland], Buck Ritchey [21 years at KVI, 1942-1963], Jerry Dexter, Lou Gillette, Dick McGarvin, Don Riggs, Cliff Murphy [Air Traffic reporter], Dick Stokke, Robert Hardwick, Dick Keplinger, Lee Lucas, Ray Court, Jack Morton, Tracy Steele, Don Furhman, Dick Cross, Ed Kaufmann, Jim Blossey, Bob Hawkins, Dave DeSoto, Roall Erickson, Humble Harve, Dick Curtis, Jack Allen, Brian Gregory, Al Vanik, Sky Walker, Paul Thompson, Johnny Carver, Heidi May, Kirby Wilbur, Michael Medved, Dave Allen, Scott Burton, Art Kevin, Peter Boam, Greg Aust, Joe Fiala, Jim Martin, Terry McManus, Clark Race, Bill Taylor, Bill Cavanah, J.J. Valley, Michael O'Shea, Bill Cooper, Brian York [news], Buzz Barr, Perry Allen, Tam Henry, Tom Reddick, Robert O. Smith, J. Michael Kenyon, Jack McDonald [promotion director], Rip Collins (newsman), Dave Henderson (newsman), Jack Spencer (news director), Bob Roberts (newsman and commentator), Bill O'Mara (newsman), Jack Barton (newsman), Bob Robertson (sportscaster), Bill Schonely (sportscaster), Al Cummings [1972] (DJ), Dave Clarke (DJ), Jim French (DJ), Terry Rose (DJ), Ron MacDonald (DJ), Bill Doane (DJ), Johnny (Bolton) Novak (program director) [thanks to Bill Taylor for filling in some of the gaps and jogging my memory, I should have remembered how to spell "Roall Erickson" — I grew up listening to KVI! Oldies 570: Tom Huytler, Ric [Richard Mattson] Hansen, Mark Christopher, Marina Rockinger; SMART TALK 570: Mark Christopher, Elisa Jaffe, Scott Carty
630 KCIS
— Christian Talk & Ministry (Christa Ministries) -EDMONDS
KGDN signed on in November 14, 1954 [3 P.M.] and for many years was a 6am – sunset daytimer [info: Mike Cherry]
KCIS personalities: Bill Wippel, Dick Harris [host] and Glen Lambertz [Anchor] mornings, Suzanne Strickland/Suzanne Thunder, Loren Hoy [host] and Roger Grossenbacher [anchor] afternoon, Mike Kellogg, Roger Basick
680 KBRD
— Big Band/Swing/Jazz (BJ & Skip's For The Music Foundation) -LACEY
AM 680 was originally KLDY, owned by Josie Baine [July 1985], wife of KMO Tacoma owner, Jim Baine. KLDY was purchased by Larry "Skip" Marrow in 1995. When the KBRD call letters became available, Marrow moved the KLDY calls to 1280, he had just purchased 1280 KTOL. The KBRD call letters went to 680. Marrow died in 2005, but the eclectic format of KBRD still runs today through donations from listeners to the non-profit group operating the station.
As a part of KBRD's non-profit legacy they are permitted free use of a large radio tower in north Olympia, so long as they pay for all of the required maintenance and associated costs. That radio tower is a whopping 465 feet tall, making it the tallest structure in Thurston County (the tallest building is The Great Wolf Lodge, in Grand Mound). From atop its mighty perch, the 250 watt KBRD signal can be heard as far south as Chehalis, all the way around the south Puget Sound, and north up to Seattle, before skipping the cities' tall buildings and remerging again around Edmonds.
710 KIRO
— ESPN Seattle Sports 710 (Bonneville) -SEATTLE
KIRO began broadcasting on April 1, 1927, as the 100-watt station KPCB. The station shared frequencies with 1300 kc. KGCL in 1927 and 1210 kc. KPQ in 1929, finally getting the 650 frequency in 1930. Its founder was Moritz Thomsen of the Pacific Coast Biscuit Company. Among its announcers was Chet Huntley, later of television's Huntley-Brinkley Report. In 1935 Saul Haas's Queen City Broadcasting Company took over the station. He changed the call letters to KIRO and increased its power to 500 Watts. Haas, who was well connected in liberal politics and the business community, wanted a simple, pronounceable, and recognizable word for his new station. KING, after King County, Washington, was not available at that time.
In 1934, KIRO was assigned the 710 frequency and increased its power to 1,000 Watts in 1936. Soon after, the Seattle CBS affiliation moved to KIRO from KOL. Known as "The Friendly Station," KIRO personalities broke from the formal announcing style that was commonplace during the early days of radio.
On June 29, 1941, KIRO's new, 50,000-Watt transmitter on Vashon Island became operational. From the 1930s through the 1950s, KIRO recorded countless hours of CBS programming for time-delayed rebroadcast. These electrical transcriptions are, in many cases, the only recordings made of World War II-era news coverage over the CBS network. The discs were donated to the University of Washington in the early 1960s and are now held at the National Archives as the Milo Ryan Phonoarchive Collection.
In 1948, the original KIRO-FM (now KKWF) took the air at 100.7 MHz, initially rebroadcasting its AM sister's programming. Preparing for a future television allocation, KIRO moved in 1952 from downtown studios to a larger building on Queen Anne Hill. This peak was already home to the KING-TV transmitter and would soon be the site for KOMO-TV as well. Queen City Broadcasting was awarded Seattle's last remaining VHF license in 1958.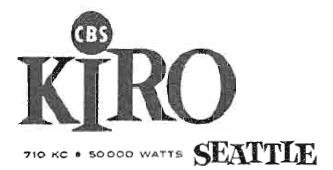 Haas sold KIRO in 1964 to Bonneville International Corporation, part of The Church of Jesus Christ of Latter-day Saints. Bonneville executives Lloyd Cooney and Ken Hatch arrived in Seattle to lead the combined broadcast group, which included KIRO AM, in 1964. Like many network radio affiliates following the demise of full-time block programming, KIRO spent the 1960s playing Middle of the road music in addition to long-form news and interview shows. Morning host Jim French spent many years broadcasting from the rotating restaurant atop the Space Needle and was live on the air from that perch during a 6.5-magnitude earthquake in April, 1965. Bonneville moved its Seattle radio and TV stations to the newly constructed "Broadcast House" at Third and Broad in 1968.
In 1973, KIRO ended a 35-year affiliation with CBS—an affiliation it has since resumed—and switched to the Mutual Broadcasting System. Around this time, KIRO also picked up Herb Jepko's "Nitecap," a groundbreaking overnight telephone-talk show from Salt Lake City sister station KSL. KIRO "Newsradio 71" debuted in June 1974, with news and talk segments replacing most music programming.
Station leadership and ownership remained constant through the next decades. In 1980, Cooney left to run for US Senate and Hatch became President, CEO and Chairman – a position he held until 1995. Under Hatch's leadership, KIRO Inc. (which included KIRO TV, AM, FM, KING AM, FM and Third Avenue Productions) became one of the nation's premier regional broadcast groups. KIRO AM received much national recognition and was lead very successfully by General Manager Joe Abel during this period.
For 25 years, KIRO's morning news, anchored by Bill Yeend, consistently placed at or near the top of the Seattle Arbitron ratings.
Sports play-by-play has been a staple of the KIRO schedule throughout its years as a news/talk station. Since the team's inception in 1976, KIRO has been the flagship broadcaster for the Seattle Seahawks. About that same time, it was the flagship station for the Seattle Sounders of the North American Soccer League. From 1985 to 2002, the station originated Seattle Mariners baseball broadcasts; the broadcasts returned to KIRO in 2009. From 1978 to 1987 they were the flagship station of the Seattle SuperSonics. Additionally, KIRO has carried Washington Huskies and Washington State Cougars college football for stints during the '80s and '90s.
KIRO was also the radio home to popular sportscaster Wayne Cody, who did live sideline reports during Seattle Seahawks football games, Washington Huskies college football play-by-play, NASL Seattle Sounders pro soccer play-by-play, and hosted a sports radio talk show weeknights that was the only one of its kind at the time in Seattle.
Reporter Dave Ross joined the station from Atlanta station WSB in 1978 and took over as noon to 3 p.m. talk host in 1987. He moved to the 9 a.m. to noon timeslot after the retirement of Jim French in 1992. Ross unsuccessfully ran for Washington's eighth Congressional district as a Democratic candidate in 2004. While Ross unofficially announced his candidacy in May, he did not leave his on-air position until just prior to the July filing deadline. In response to complaints from state Republican party officials, Ross claimed that he was contractually bound to continue working for KIRO until he was a bona fide candidate.
Though he returned to the air immediately following the November election, the station's ratings did not recover entirely, and Ross was moved to the afternoon drive-time shift in February, 2005. Ross moved back to his 9am-noon shift in May, 2006.
In addition to his KIRO work, Ross does a daily commentary on the CBS Radio Network and replaced Charles Osgood as a CBS Radio commentator.
After selling KIRO-TV to A.H. Belo Corp. in 1995, the Bonneville Seattle radio stations moved to facilities on Eastlake Avenue. KIRO (AM), KIRO-FM (now KKWF) and KNWX (now KTTH) were sold to Entercom Communications of Bala Cynwyd, Pennsylvania, in 1997. Bonneville reacquired KIRO, KTTH, and KBSG (now KIRO-FM) from Entercom in 2007.
Personalities: KIRO- Pete Gross, Dick Bingham, Jim Gearhart, Mark Wayne, Ross McGowan, Steve Montgomery, Mike Altman, Bill Yeend, Bob Piatt, Bart Cronin, John Pricer, Ron MacDonald, Dave Ballard, Ron MacArthur, Ed Jacobsen, Jerry Mason, Robert L. Scott, Mike Moran, Steve Knight, Al Cummings, Wayne Cody (Sports), Dave Stone, Jim French [joined the station as morning man in 1959], John Burgess, Paul Brendle-traffic, Dave Dolacky, Gregg Hersholt, Jack Allen, Brian Gregory, Tommy Hough, Gary Ryan, Johnny Forrest – newsman, Rich Johnson, Ken Levine, Bill Wippel, New York Vinnie Richichi, Ed Evans, Don Clark, Ed Jacobsen, Grant Neilsen; SportsRadio 710: Bob Stelton & Dave Grosby, Pete Gross, Brock Huard & Mike Salk, Kevin Calabro, John Clayton
770 KTTH
— FOX News/Talk (Bonneville) -SEATTLE

March 15, 1925 Birt Fisher introduces KTCL. See also newspaper article KTCL/KXA dated October 1, 1927.
Following business man Birt Fisher, we find that the KOMO call letters were positioned on KTCL (the former KFQX, operating at 305.9 meters), prior to the involvement of the Fisher's Blend family.
Birt Fisher had eyes on a facility at Harbor Island which would be radio station KGFA, the birthplace of what we now know as KOMO radio. (KGFA was financed by the Fisher family owners of Fisher's Blend Flour Mill) Birt Fisher, no relation to the Fisher's Blend Fisher-family, was operating radio station KTCL at the time, under a lease agreement with Roy Olmstead, who had operated the station as KFQX until he was arrested, tried and convcted of racketeering in 1924.
Those KOMO Call Letters Traveled A Bit In The Roaring '20s
Birt Fisher acquired the KOMO call letters and switched the KTCL call letters to KOMO, by the authority of the Federal Radio Commission on August 31, 1926, later taking over the KGFA facilities, and using the KOMO call letters at the same 305.9 meters in December under Totem Broadcasters.
When Birt Fisher's KTCL lease ended, the KTCL call letters were returned to Olmstead, along with the equipment and facilities. By December 1926, the Fisher family, owners of the Fisher's Blend Flour Mill, took ownership of the fairly fresh KOMO, with Birt Fisher staying on as Business Manager. The "new" KOMO, under Fisher's Blend ownership, (Totem Broadcasters), first broadcast in the new Harbor Island facilities was on December 31, 1926.
KTCL had gone silent as Birt Fisher's lease with Olmstead ended. KTCL remained silent until February 23, 1927. Vincent Kraft had sold his interest in KJR and had purchased the KTCL facilities. KTCL returned to the air, testing on 288 meters, with a musical program featuring The Levienne Trio, violin, cell and piano.
On October 1, 1927, Vincent Kraft changed call letters of KTCL to KXA.
The new station, KXA, with new state of the art studios and equipment, operated from the Bigelow Building in Seattle.
During the 1960s and 1970s, KXA AM 770 programmed a "finer music" or "dinner music" format. Symphonies, elevator music and showtunes. Very few vocals, these were mostly instrumentals. KXA carried classical and operatic programs, usually on weekends. KXA had news blocks mornings and afternoons. Personalities included Rudy Perez, John Sherman, Del Olney, Dick Stokke, and Bill O'Mara, among others.
KXA call letter changes: Classical Music and religious programming ceased when Pat O'Day bought KXA in 1977 and change the format to Oldies. Old Gold 77 was voice-tracked by personalities including 1960s KJR & KOL jocks. The format switched to Love Songs and then KXA flipped to a simulcast of country station (1985) KRPM-FM (now KBKS-FM) and changed call letters to KRPM. The station would change call letters to KULL in 1991, but maintained the country format. In a format swap in 1995 with AM 1090, the station received the call letters KNWX and the talk format. The station would acquire the current call letters KTTH in 2003.
Personalities: KXA: Bill Apple, Mike Altman, John Sherman, Rudy Perez, Al Cummings [playing classical music in morning drive 1976, quitting in November of that year to go into business repairing boat motors], Bill Taylor, Chuck Bras, Don Riggs, Ryan & Ryan, Lloyd Allen, Bill O'Mara, Dick Stokke, Bob Summers, Del Olney, Brent Larson, Pat O'Day, Jerry Kay, Robert Wikstrom, Jeff McIntosh, Dale Parsons. KTTH: David Boze, Michael Medved; KRPM: R.P. McMurphy, Ann D'Angelo, Mark Pierce, Tom Church, Dewey Boynton, Lia Knight, Brady Wright, Romi Cole
820 KGNW
— Christian Talk & Ministry (Salem Media Group) -BURIEN
AM 800 Burien (KQIZ CP in 1969. Station went on air as KQIN October 1970 – Golden Oldies – John Mowbray the owner, Beautiful Music [mid 70s, sold to KETO Co., KETO FM, John Mowbray takes 30% ownership of the new company] station format Adult Contemporary in mid-80s, CP in 1985 to move to 820 frequency)
Personalities: Alan Archer, Burl Barer, Robin Sherwood
850 KHHO
— BIN News (iHeart) -TACOMA
KTBI went on the air in 1941 at 1490 on the AM dial with 250 watts which was the maximum power for what were know as Class 4 radio stations. KTBI was established by a group of local businessmen under the corporate name Tacoma Broadcasters Inc., in 1941. H. J. Quilliam, president of Muzak in, Seattle, bought the station in 1945 and moved in as president in the spring of 1946, KTBI was granted permission to move from 1490, 250 watts to 810, 1000 watts daytime in April 1947.


The studio was moved from the second floor of the Puget Sound Bank Building in Tacoma to a beautiful new, studio/transmitter located at 2715 Center Street, literally in the center of Tacoma.
***December 19, 1951, KTBI changed to 850 kc. and went to full time operation. February 11, 1952, 850 AM becomes KTAC.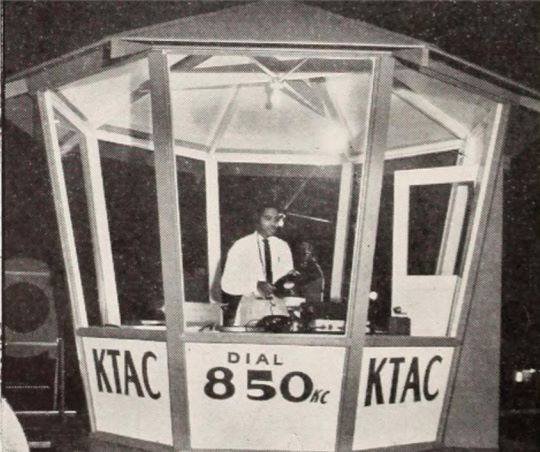 In the late 1950s, popular local disc jockey and jazz aficionado Bob Summerise, Jr. (1925-2010) used to broadcast the "coolest sounds on Puget Sound" afternoons on KTAC-AM. He was the first African-American on-air personality and the first with an engineers license in the area. He owned an influential record store named "Summerise's World of Music" on Jackson Street in Seattle. -:
1966-Sold by Jerry P. Geehan, Richard R. Hodge and other stockholders to RADIO 850 CORPORATION- M. Lamont Bean, Dan L. Starr and Ronald A. Murphy for $191,381. Mr. Bean is a partner in a Seattle investment firm; Mr. Starr has printing interests there. Mr. Murphy, a Seattle lawyer, has broadcasting holdings including KELA Centralia and KUEN Wenatchee, both Washington, and KFQD Anchorage. MOR format changed to Top 40 in the late 60s and KTAC competed with KJR & KING for at least the South Sound listenership; KTAC/KMTT later purchased by Entertainment Communications of Philadelphia [1973]. ENTERCOM 850 was briefly a simulcast of KMTT-FM 06/19/1992 and sported the KMTT-AM calls during this period.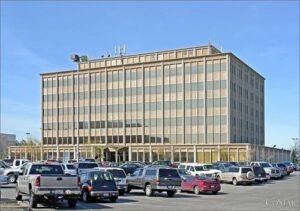 Tacoma Mall Office Building, home of 85 KTAC. (pic from 85KTAC FB) KTAC-AM-FM Tacoma, Wash. Entercom sold the station to Southwave Wireless, LLC (Steve West and Dan Walker) in 1996. On March 11, 1996, the station changed its call sign to the current KHHO. It launched a news/talk format (K-H-2-O, The Voice of the South Sound) featuring Manda Factor, Jeff Walker and Bruce Cannon.
Sports and Talk – In 1998, the station was acquired by The Ackerley Group and adopted an all-sports format, featuring programming from ESPN Radio, then CBS Sports Radio and later NBC Sports Radio. For a time, it simulcast 1090 KFNQ in Seattle. In 2002, it was acquired by iHeartMedia, Inc. KHHO changed from sports radio to a conservative talk format on February 8, 2018. —On June 29, 2020, 15 stations owned by iHeart, including KHHO, began stunting with speeches targeting African American audiences. The stations, all in markets with large African American populations, were promoting "Our Voices Will Be Heard" and an announcement took place Tuesday, June 30 at Noon. At that time, the stations launched a nationwide news/talk network deemed the "Black Information Network", as several domains with that branding were registered by iHeart the previous Friday, the 26th.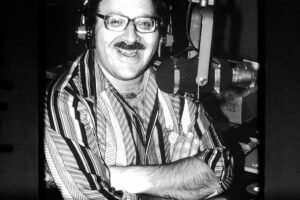 Personalities: Jim Nelly worked at KMO as GSM — was hired by Ron Murphy at KTAC and was General Manager at 850 KTAC/Tacoma 1969-1974. KTAC was purchased by Joe Field [Entercom] in 1973. Jim Nelly was let go shortly after the purchase of KTAC by Entercom. Nelly had a short career, approx. 3 months, at KZAM/Bellevue in 1974. From there, he became GM at KORL/Honolulu – hiring Lan Roberts in 1975. In 1976, Jim Nelly purchased KUJ/Walla Walla, he acted as GM & PD there until selling the station in 1980; Roall Erickson, Bill Luckhurst-Chief Engineer in the 60s, Murray Morgan, Clay Huntington [KTBI], Jerry Geehan, Len Higgins [KTBI], Burt McMurtrie, Rich Ellis, Dick Weeks, Ric [Richard Mattson] Hansen, Gary Crow, Bruce Cannon, Bruce Bond (KTAC Production Director late 80s), Bobby Simon [1973 mid-days and mornings in 1988], Steve West, Chris Hill/Dale Unruh, Rick Austin, Bobby McAllister, Bob Case, Robert E. Lee Hardwick, Paul Thompson, Derek Shannon, Greg [Grant Broadwell] Cook, Dudley, Robert O. Smith, Fred Ross–News, J.J. Valley, Don Wade, Ron Ericson/Ron Hoon [FOX 10 News/Phoenix], Ed Jacobsen, Doug Klippert, Joe Fiala, Bill Ogden [Marc Taylor 1968-1970] newsman at KTAC 1988-1991, Jefferson Kaye [Roger Dale], Dale Hubbard, Lou Robbins, Jaynie Dillon, Steve Lloyd, Todd Mitchell, John Nelson, Sean [Vic Orlando] Carter, Rick Donovan [moved to KING AM in 1973], Tom Reddick, Dudley [weekends at KJR 1972], Lee Askervold, Program Director-1967 [from KING Radio], Bob Robertson, Rob Sherwood, Paul Chambers, Kacie Sommers, Robert Brokman (sales manager), John Williams, Ken Copper, Dick Haugen, Nick Diamond, Don Patrick, Chuck Bolland, Mike Garland, Scotty McKay; and the following info from Bill Taylor, news director 1967: Jack Allen (DJ); Dave Allen (DJ); John Welch (DJ); Lee Knudsen (DJ) from KING FM -1967; Bruce McMichael (news director, 1966).
880 KIXI
— Nostalgia – Sports Betting – Brokered Programming (Hubbard) -MERCER ISLAND
Originally KXRN/1220 (1947). In 1952, Harold Ridals and William L. Simpson of Seattle purchase KXRN and call letters change to KLAN, frequency change to 910 in 1957. Interlake Broadcasting Corporation purchased KQDE [1958] == Music Concessions Inc/Dolton Records & Wally Nelskog 1958 – Cutie Radio Inc. KQDE call letters changed to KUDY 1960 and city of license changed to Seattle. — Wally Nelskog maintains 50% ownership and Hale Bondurant, president of KWG Broadcasting Co. (KWG Stockton, Calif.) purchases 50% interest in KUDY (formerly KQDE) Seattle, Music Concessions/Dolton's interst in the station, in June 1959, Rock format continues. Call letters changed again to KIXI 1961 with Beautiful Music format, also aired 18 hrs of Negro programming, as it was called, each week. From Wikipedia: A partnership led by J. Elroy McCaw, owner of Tacoma television station KTVW and father of future cellular telephone tycoon Craig McCaw, purchased a 50-percent interest in KIXI in 1963. The group [Metropolitan Radio Corporation] also acquired FM beautiful music station KGMJ from Rogan Jones, founder of the pioneering radio automation firm IGM. KGMJ became KIXI-FM and simulcasted the AM station's programming. McCaw died suddenly of a stroke in 1969, exposing a considerable amount of debt accumulated from his speculation on radio and television stations, including WINS in New York and KYA in San Francisco. With the exception of a small cable television system in Centralia, McCaw's entire broadcasting portfolio was sold off to pay down the debt service. Wally Nelskog and two Richland physicians purchased KIXI and KIXI-FM in 1971. The beautiful music simulcast ended in 1980, with the AM side adopting an Oldies format and the FM station programming adult contemporary as "KIXI Lite." In 1982, KIXI (AM) began running a satellite-fed adult standards format. A move to the 880 kHz frequency a year later allowed for a daytime power boost to 50,000 watts, and in 1986, a nighttime increase to 10,000 watts. City of license changed to Mercer island. That same year, Nelskog sold the station to Thunder Bay Communications, who in turn sold the AM station to Sunbelt Communications. The FM station, which had become KLTX, was sold to Ackerley Communications. KIXI was purchased by Sandusky Radio, owners of KLSY, in November 1991. In July 2013, Sandusky announced it would sell its radio holdings in Seattle and Phoenix, Arizona to Hubbard Broadcasting. The sale was completed that November.
Personalities: KLAN: Mike Altman; KQDE: Dave DeSoto, George Hayes DJ/PD, Bob Carmichael replaced Hayes as PD in 1959, Les Williams, Les Beigel—-KUDY: Bob Carmichael, morning DJ/PD [from KREM Spokane] *see KQDE. He was PD for KIXI in 1963; Lee Hurley, Jerry Sweet, Steve Wray, Les Williams, Gene Hosteter; KIXI: Bob Carmichael/PD, Norm Bobrow, J. Scott Harrington [News], Jack Spencer, Ron McArthur, Dave Langley, Ken Stuart [News Director replacing Martin Tobin], Logan Stewart (from KOL), Phil Johnson, Robert E. Lee Hardwick, Jim Martin, Del Olney, Penny Tucker, Mike Webb, Jim Dai, Jack Morton, Bob Liddle, Jim Kampmann, Bob Dearborn, Jack Hemingway, Bobby Rich, Bill Wippel, Don Riley, Martin Tobin, Dave Ballard, Wally Nelskog, Rudy Perez, Jim Willis, Janet Wilson, Bill Harvey, and Dean Smith
The VOICE of KIXI Radio, Bob Liddle passed away at the age of 88, on May 19, 2010.
920 KGTK
— Townhall.com/FOX News/Talk (KITZ Radio Inc.) -LACEY
2-1-57/KITN-AM 1420; 6-1-60 changed frequency to 920-AM; KQEU call letters 02/17/1982; KCPL 07/31/1993; KGHO 05/24/1996; KAYO 04/13/1999; KGHO 12/23/1999; KGTK 03/30/2004
Tom Cook-News Director/KQEU 1984. Cook, named program director 1985; Don Wesel from KQEU(FM) Olympia joins KNBQ(FM) Tacoma, as account executive 1986; KQEU (oldies) 2004-2008 – automated oldies with a large playlist and PAMS jingles.
950 KJR
— CBS Sports/FOX Sports (iHeart) -SEATTLE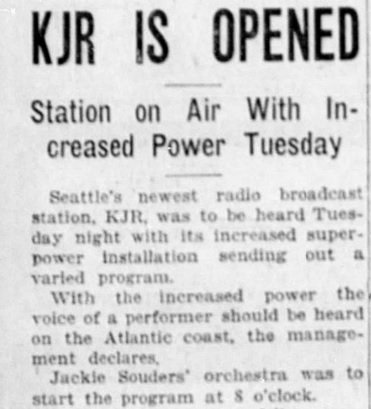 Pat 0'Day station manager was leading the station to dominance in the rock & roll era of the 60s. KJR battled KOL, KAYO, KING, KTAC and other challengers, beating them all – hands down. The station went to a Classic Rock format in 1988. Four short years later, the music died, 95 KJR switched to a Sports format as an ESPN affiliate. Seattle's oldest radio station, KJR, was founded as an experimental station in 1921 by Vincent Kraft. Dial position for KJR varied, from 950, 970 and 1000, switching with co-owned KOMO when the stations were operated by the Fisher family. KJR and KOMO operated as NBC radio affiliates.
Here is the history of KJR ownership—KJR ownership changes 1928 to present

A rather complete history of KJR can be found at The Radio Historian
Here are excerpts from the site, mainly just a timeline of KJR ownership:
KJR in Seattle, begun by amateur radio operator Vincent I. Kraft, was the first radio station to be licensed in the Pacific Northwest.
Over the ensuing years, Kraft built or became controlling partner in four radio stations and a small "Network" called ABC – The American Broadcasting Company.
Kraft sold his interests in the four radio stations, KJR, KYA, KEX and KGA, in the Spring of 1928, to Adolph Frederik Linden, who was the co-owner with Mr. Edmund Campbell of the ritzy new Camlin Hotel on 9th Street in downtown Seattle Both men were also directors of Puget Sound Savings & Loan.
However, Kraft continued to own KXA in Seattle, which he had recently acquired. Kraft finally sold KXA, his last station, in 1946.
In 1928, KJR and the other stations KYA, KEX and KGA and the ABC Network, began to expand nationally, as did the balance sheet. Under the direction of Linden, this operation ran into financial difficulties and Linden had scrambled to sell the operation, actually had a buyer lined up, [20th Century Fox] and nearly regained financial footing — until the stock market crashed and the deal with Fox fell through.
On October 1, 1929, receiver-in-bankruptcy Ralph A. Horr took control of KJR, KYA, KEX and KGA.
In October of 1931, all four radio stations and the new Northwest Broadcasting System network, were sold to the National Broadcasting Company. NBC had been operating its Orange Network on the West Coast from San Francisco since 1927, rebroadcasting the programs of its East Coast Red Network in the West. The Northwest Orange Network affiliates were KOMO in Seattle, KGW in Portland and KHQ in Spokane. In the East, NBC also operated a second network called the Blue Network, and it planned to set up a second West Coast network to bring its Blue Network programs out West, to be called the "Gold Network".
Still the height of the depression years, this NBC West Coast network failed and NBC began leasing the individual stations to other stations in the local markets. KJR went to KOMO – the price, $1 per year. In 1941, Fisher's Blend Station finally purchased KJR outright, ending its eight year lease of the station.
A year later, the F.C.C. passed a new duopoly rule that prohibited a single entity from owning two radio stations in a single city. This forced the Fishers family to divest themselves of one of their stations, and so the Fishers sold KJR to Birt Fisher. He operated the station only two more years before selling KJR to Marshall Field Enterprises in 1947.

Meanwhile, KJR continued to grow and prosper as an independent station in the 1950's and 60's. On August 13, 1952, Marshall Field Enterprises sold KJR to the Mt. Rainier Radio and Television Broadcasting Corp., principally owned by Ted R. Gamble of Portland. The company also purchased KOIN AM/FM in Portland at the same time.
The new owners were interested in television, and KJR had recently filed an application with the F.C.C. for the Seattle channel 7 TV assignment, but they lost their bid for the channel to KIRO Radio. They were more successful in Portland, however, where KOIN-TV soon reached the airwaves.
After their unsuccessful Seattle TV bid, KJR and the Mt. Rainier Radio and TV Broadcasting Corporation was sold again, this time to Lester M. Smith and John Malloy, for a reported $800,000. Malloy was the owner of KVSM in San Mateo and KROY Sacramento, both in California, and Smith was the manager of KVSM after starting his career as an NBC page boy in New York. Smith's arrival in the Northwest began a 44 year broadcasting dynasty that would also involve KXL in Portland (purchased in 1955), and KNEW in Spokane (which became KJRB), and stations in Cincinatti and Kansas City, and with Smith manning the helm for the entire period.
On June 7, 1958 Smith and Malloy sold their interest in KJR, KXL and KNEW to singer Frank Sinatra and actor Danny Kaye for $2.5 Million. The station was now licensed by Essex Productions, Inc. & Dena Pictures, Inc., a joint venture doing business as Seattle, Portland & Spokane Radio, Inc. (Essex Productions was owned by Sinatra and Dena Pictures was owned by Kaye.) Les Smith became the General Manager of the station group.

KJR's fledgeling rock and roll format took on new life in 1959 when Smith hired a young disk jockey named Pat O'Day. He was soon joined by other popular disk jockeys such as Larry Lujack, Lan Roberts, Emperor Smith and Dick Curtis.
By March of 1960, the station's ratings zoomed to number one with an amazing 37% of the Seattle audience. Advertisers who had been reluctant to associate themselves with the new music started lining up at the door.
On October 14, 1964, Sinatra sold his interest in the stations to Danny Kaye and Les Smith, and they formed Kaye-Smith Enterprises, with Kaye having majority ownership. (Smith bought out Danny Kaye in 1980.)
In 1981, at the height of its popularity, Metromedia purchased KJR from Kaye-Smith Enterprises for $10 million.
In 1984, KJR was sold for only $6 million to Ackerley Communications, headed by billboard mogul Barry Ackerley.
Ackerley Communications sold a majority ownership in KJR to New Century Seattle in July of 1994 for $30 million. Michael O'Shea was the new President of KJR and a part-owner of New Century, but Barry Ackerley bought back O'Shea's shares in 1998. In 2001, Clear Channel Communications acquired the Ackerley group of stations, including KJR. Clear Channel later changed identity to iHeart Radio.
Frequency changes: KJR's first frequency, once the FCC divided stations up by kilocycles, was 1060 kc., on December 9, 1924, power was increased to 1,000 Watts with a new transmitter on January 21, 1925. March 3, 1925, KJR moved to 780 kc., operating the Terminal Sales Bldg, 1st and Virginia Streets in downtown Seattle. 1926, a new transmitter, a power increase to 2,500 Watts, and KJR changed frequency to 860 kc. November 11, 1928, KJR changed frequency to 970 kc., and power was increased to 5,000 Watts.
March 8, 2022 – KJR SportsRadio begins simulcast on 93.3 FM (KUBE). April 10, 2022 – simulcast ended. CBS & FOX Sports syndicated programming moves to 950 KJR, while live/local sportstalk is programmed on KJR 93.3 FM.
Personalities: Al Priddy and Bill Gunning [1940s], Gil Henry, Terry Rose, Bill Shela, Lou Gillette, Del Olney, Larry Lujack, Pat 0'Day, Dave Clark, Rod Hammett, Ward Lucas [News], Don Clark, Don Hedman, Bob Reece, Sandy Hamilton (Richard Laybourn), Chris Lane, Les Parson [news], Dale Starkey, Bob Salter, John Stone, Lee Perkins, Lan Roberts, Steve West, Delilah Rene, Scott Forrest, Tracy Mitchell [hired June 1975], Dick Keplinger, Jerry Kay, Emperor Lee Smith, Frank Thompson [news], Nick Anthony, Ichabod [Randy Hansen] Caine, Don Burns, Buzz Barr, B.R. Bradbury, Scotty Brink, Chris Hill/Dale Unruh, Charlie Brown, Norm Gregory, Gary Shannon, Tom Hood, Bwana Johnny, Tom Larson, Gary Lockwood, World Famous Tom Murphy, Kevin O'Brien, Mike Phillips from 1964
Bill Rice, Dick Stokke, Bobby Simon, Jim Martin, Don Courtenay Chuck Ellsworth, Tom Connors, Chuck Knopf, Stacy Hanson, Jim Sims, Marion Seymour, Scott Forrest, Bob Brooks, J.J. Valley, Chuck Bolland, Ted Bryant, Wally Beethoven, Alan Walters, Sky Walker, Eric Chase, Ric [Richard Mattson] Hansen, Candi Chamberlain, Matt Alan, Ross Shafer, Mike Morgan, Kacie Sommers, Tom Watson, Dancin' Danny Wright, Mark Allen, Scott Campbell, Diane McKenzie, Craig Edwards, Jimmy Darren, Jimmy Anderson, Dan Packard, Chet Rodgers [real name Ron Favor], Bob Wright-weekends, Steve Mills-weekends, Allen Stewart-weekends; SportsRadio 95: Dick Fain, Mitch in the Morning, Dave 'Softy' Mahler, Ian Furness, Mike "The Gasman" Gastineau. Rob Tepper/Rob Dibble [FOX]
Tom Murphy began his radio career in his hometown of Portland, Oregon while still in high school. After working at a couple of small stations he joined KISN in 1959. Tom stayed at KISN for almost six years, enjoyed big ratings and enjoyed the company of another KISN employee, Connie, whom he married. Radio station romances are not known for their longevity but this one "took" and they've been together ever since.
Next stop was Seattle and the "Legendary" KJR. It was at KJR that Larry Lujack and now "World Famous" Tom Murphy would work together for the first time. Another six year run at KJR came to an end when Tom moved to Los Angeles and KRLA. After KRLA, Tom would head east to Chicago where, once again, he and Larry Lujack would work together at the former WCFL. (There seems to be a pattern emerging here!) After three years in Chicago, and a quick stop in Cleveland, Tom headed back to Los Angeles where he worked at several stations including KIIS-FM and KFI. In the mid-80s, Tom began working in radio syndication writing, producing and hosting a variety of radio shows. Tom also did commercials and voices on cartoons Recently, Tom wrote, programmed and hosted a weekly oldies show heard on satellite and cable systems nationwide and that brings us up to "Most Recently."
"Most Recently," Tom has returned to Chicago radio here in the afternoons on Real Oldies1690. This is the third time Larry and Tom have worked together. [Editor's note: Real Oldies 1690 now defunct, Murphy is "retired" and lives outside Los Angeles]
Finally, regarding "World Famous" – "The simple truth is, I became 'World Famous' when it dawned on me that I wasn't. Amazingly, 'World Famous' stuck and when you pull one off like that, you stick with it." [from his bio at Real Oldies 1690 – Chicago]
******* Murphy is now retired — living in Los Angeles.
1000 KNWN
— ABC News (Lotus Communications) -SEATTLE

KTCL /KOMO newspaper article from September 2, 1926.
"What happens NEXT, happens HERE." KOMO positioner [2012] –

---
March 15, 1925 Birt Fisher introduces KTCL. Following business man Birt Fisher, we find that the KOMO call letters were positioned on KTCL (the former KFQX, operating at 305.9 meters), prior to the involvement of the Fisher's Blend family.
Birt Fisher had eyes on a facility to be built at Harbor Island which would be radio station KGFA, the birthplace of what we now know as KOMO radio. KGFA was financed by the Fisher family, owners of Fisher's Blend Flour Mill. Birt Fisher, no relation to the Fisher's Blend Fisher-family, was operating radio station KTCL at the time, under a lease agreement with Roy Olmstead, who had operated the station as KFQX until he was arrested, tried and convcted of racketeering in 1924.
Those KOMO Call Letters Traveled A Bit In The Roaring '20s
Birt Fisher acquired the KOMO call letters and switched the KTCL call letters to KOMO, by the authority of the Federal Radio Commission on August 31, 1926, later taking over the KGFA facilities, and using the KOMO call letters at the same 305.9 meters in December under Totem Broadcasters.
When Birt Fisher's KTCL lease ended, the KTCL call letters were returned to Olmstead, along with the equipment and facilities. By December 1926, the Fisher family, owners of the Fisher's Blend Flour Mill, took ownership of the fairly fresh KOMO, with Birt Fisher staying on as Business Manager. The "new" KOMO, under Fisher's Blend ownership, (Totem Broadcasters), first broadcast in the new Harbor Island facilities was on December 31, 1926.
KTCL had gone silent as Birt Fisher's lease with Olmstead ended. KTCL remained silent until February 23, 1927. Vincent Kraft had sold his interest in KJR and had purchased the KTCL facilities. KTCL returned to the air, testing on 288 meters, with a musical program featuring The Levienne Trio, violin, cell and piano.
On October 1, 1927, Vincent Kraft changed call letters of KTCL to KXA. https://qzvx.com/2022/01/21/those-komo-call-letters-traveled-a-bit-in-the-roaring-20s/

---
KOMO 980's first broadcast was December 31, 1926. Studios moved to Downtown in 1927. The station also began a long-running affiliation with NBC that year as well, primarily with the Red Network, but also with the short-lived west coast Orange Network from 1931 to 1933. Over the following years, KOMO's frequency would go from 980 to 1080, back to 980, down to 920, up to 970, then back to 920, and settled at 950 after the NARBA frequency shakeup in 1941.
Fisher's Blend Station, owner of KOMO, bought NBC-Blue affiliate KJR from the network in 1941. In 1944, KOMO switched frequencies with KJR (then at 1000 kilocycles) and sold KJR off two years later. At its new frequency, KOMO began broadcasting with 50 kilowatts of power from its current transmitter site on Vashon Island in 1948. New studios at the corner of Fourth and Denny, near what is now the Seattle Center, were also inaugurated that year and included space for an expansion into television broadcasting. KOMO eventually moved to Fisher Plaza, near the intersection of 4th Avenue North and Denny Way. Fisher Communications sold their TV and radio properties to Sinclair Broadcast Group in August 2013. Sinclair sold KOMO A/F, KVI-A, KPLZ-F to Lotus Communications in June 2021.
This building was completed in 1948, expanded in 1975, and demolished in 2000 to make way for building 2 of the Fisher Plaza complex.In 1953, KOMO-TV took the air on Channel 4 as an NBC affiliate. Channel 4 swapped affiliations with KING-TV in 1958 and became an ABC station. KOMO radio followed suit the next year. By 1964, old-line network programming had been phased out and KOMO carried a MOR music format. Long-time morning drive personality Larry Nelson began in 1967. From 1967 to 1978, KOMO was the original flagship station of the Seattle SuperSonics of the National Basketball Association with Bob Blackburn on play-by-play. Norm Gregory, formerly of KJR and KZOK, joined the staff as afternoon disk jockey in 1984. KOMO carried a full-service diet of music, personality, news and Washington Huskies sports well into the early '90s. Dayparts gradually changed from music to talk and by 1995, the conversion to news-talk was complete.
In January 1981 former FM Rock Programmer Ken Kohl joined the team at KOMO and put a fresh coat of paint on this gray lady of the Pacific Northwest. When Kohl arrived the station had fallen from grace and its ratings languished in the middle of the pack. After building the station's news commitment and implementing KOMO's first major marketing effort, Kohl and his KOMO team inched to within a tenth of a point of market leader KIRO. In January 1987 Kohl departed Seattle for KFI Los Angeles. For the next several years, KOMO unsuccessfully attempted to directly compete with market leader KIRO. Following an outcry from loyal fans following his firing at KIRO-FM ("The Buzz 100.7") in 1999, local comedian Pat Cashman took over as morning-drive host. In late 2002, Fisher Communications announced a six-year contract for Seattle Mariners play-by-play rumored to be worth at least $10 million annually, a record for any Major League Baseball radio broadcast agreement. To shore up the surrounding broadcast schedule, KOMO dropped its talk shows and became an all-news station with reports from an enlarged radio news staff and material from KOMO-TV newscasts. Some notable anchors include Bill Yeend, Manda Factor, Brian Calvert (who also works as a reporter and weathercaster on KOMO-TV), Lisa Brooks, Bill Rice, Art Sanders, Nancy Barrick.
It was announced on May 11, 2009 that KOMO will be simulcast on KFMY, an FM station in Oakville, starting on May 15, 2009. The station is now known as "KOMO Newsradio." KFMY changed its call letters to KOMO-FM in August 2009 to reflect the new ownership of the station and the simulcast. The move was made to improve KOMO's daytime coverage in the southern part of the market. Fisher Broadcasting has stated that there are currently no plans to move KOMO Newsradio to the FM band only, as Bonneville did with KIRO earlier in the year. [wikipedia] 97.7 eventually began simulcasting AM 1000 News. Fisher Communications sold their TV and radio properties to Sinclair Broadcast Group in August 2013. Sinclair sold all the Seattle radio holdings to Lotus Communications in June 2021. Those stations were KVI 570, KOMO 1000/KOMO FM 97.7 and 101.5 KPLZ. The deal did not include use of the KOMO call letters for radio.
February 2, 2022, Lotus changes KOMO Radio call letters to K-N-W-N (NorthWest News).
Personalities: KOMO: Personalities: KOMO: Bruce Vanderhoof, Gil Henry, Larry Nelson, Dick Cross, Al Cummings, Bill McDonald, Bill Chase, Don Allen, Jay Ward, Rod Hammett, Nick Lacy, Larry Walker, Eric McKaig, Don Cannon, Don Chapman, Katherine Wise, Lisa Foster, Keith Jonasson, Norm Gregory, Joe Coburn, Bob Rondeau, Gary Johnson, Keith Shipman, Clint Jones, Bob Gillespe, Buddy Webber, Jaynie Dillon, Jon Ballard, Harry Sloane (News), Ed Ives, Dick Goodman, Dick Courier, Lloyd Allan, Gary Hoffman, Mike Hamilton, Stan Orchard, Gina Tuttle, Lee Sommerstein, Heather Bosch, Lee Duncan, Brian Gregory, Bill Yeend, Manda Factor, Lee Hall, Tom Hood, Tim Hunter, Bob Mathers, Bryan Johnson [news], Bill Rice, New York Vinnie Richichi, Gregg Hersholt, Herb Weisbaum, Jane Shannon, John Carlson, Ken Schram
1030 KMAS
— News/Talk (iFiberOne) -SHELTON
KMAS Sept 21, 1962: 1280 kc; 1 kw-D. ABT Inc. Robert E. Sheetz, pres, gen mgr, prog dir & chief engr, Thomas C. Townsend, coml mgr; Bruce E. Jorgenson, stn mgr. Format: COUNTRY & WESTERN;
Changed frequency and format in 1984 to 1030/Adult Contemporary, same ownership. In 1987, Harold S. Greenberg became pres, gen & gen sls mgr [Sound Broadcasting Co.]; the station was purchased by Olympic Broadcast & Media (President and General Manager Dale Hubbard, Secretary, Treasurer Jerry Eckenrode) in 2006. KMAS went to the Oldies format in August 2007. Switched to News-Talk format January 3, 2012 [America's Radio News Network & ABC News] Purchased by local CableTV company iFibreOne in January 2016. Personalities: Dale Hubbard, Dedrick Allen [News], Randy Roadz, Jeff Slakey
1050 KBLE
— Catholic Ministry (Sacred Heart Radio) -KIRKLAND
1948-KRKL personalities: Jack Hemingway; Anita Busek [AM Operations/FM Station Manager], Bud Harrington [PD]; Call letter changes: 1953-KNBX, 1963-KNBK, 1964-KBLE
1090 KPTR
— The Patriot – Conservative News-Talk/NBC News (iHeart Radio) -SEATTLE
KGBS licensed to Arthur Dailey in 1926 sharing a frequency with station KKP; became 1370 KVL in 1927, sharing the frequency with KFBL Everett; KVL becomes 1120 KEEN in 1937; KEEN becomes 1400 KEVR in 1940 – frequency switched to 1090 kc in 1941; [1947] Call letters become KING, changing to KINF when KING was acquired by Bonneville from the Bullitt family in 1995. KINF frequency later switched to 770 replacing KULL which had been simulcasting country KRPM FM. 1090 call letter changes continued with KKNW, KRPM, KYCW, KPTK/Progressive Talk format and finally a call letter switch in November 2012 to KFNQ, in anticipation of format change to CBS SportsRadio which happened January 2, 2013. Switched branding to 1090 KJR when iHeart took over the station in February 2018.
HISTORY—In 1947, Bullitt bought a small AM radio station, KEVR. She immediately applied to the Federal Communications Commission to change the station's call letters to KING (for King County, Washington), but KING was already registered to an old merchant ship, the SS Watertown. Undaunted, Bullitt negotiated with the freighter's owner and acquired the letters. (According to legend, Bullitt personally rowed out to the freighter with a bottle of champagne to meet the captain, who didn't care what call letters he used and asked only that Bullitt make a donation to his church.) The following year, Bullitt received a license for an FM station, KING-FM, and used it to broadcast classical music, her favorite.

In 1949, Bullitt purchased an eight-month-old television station, KRSC-TV, and renamed it KING-TV. Initially an affiliate of the then-poor-performing ABC network, KING-TV became an NBC station in 1959 after Bullitt persuaded the more successful network to switch its affiliation from rival station KOMO-TV. KING-TV remains an NBC affiliate today.
Bullitt turned the presidency of King Broadcasting, as the company was called, over to her son Charles Stimson "Stim" Bullitt in 1961, remaining on the board as chairperson for several years thereafter. Dorothy and Stimson both believed strongly that the stations of King Broadcasting should serve the public, and not just be driven by ratings and revenue. At Bullitt's insistence, KING-TV built one of the first local TV news operations in the country, and through the 1950s and 1960s the station's news programming earned a national reputation for quality, on the strength of its locally produced documentaries and tough investigative journalism. Through the influence of the Bullitts and King Broadcasting executive Ancil Payne, KING-TV and its sister stations developed a corporate culture characterized by political liberalism, expressed through broadcast editorials and a dedication to the Bullitts' notion of public service. In 1952, Senator Joseph McCarthy threatened to have KING-TV's license revoked after the station barred the senator from delivering an allegedly libelous attack on the air. In 1966, Stimson Bullitt himself made the only televised appearance of his career when he delivered an impassioned and controversial editorial against the Vietnam War, long before the American public as a whole began to turn against the conflict's prosecution.
What is now known as KFNQ began as KGBS in 1927, changing to KVL in 1928, then KEEN in 1936 and KEVR in 1940. The station is considered the third oldest radio station in Seattle, the first being KJR, which began broadcasting in 1922, and the second being KOMO, which began in 1926.
In 1947, broadcasting pioneer Dorothy Bullitt bought KEVR and almost immediately asked for permission to change the calls to KING (for King County, Washington). After Bullitt bought the calls from a merchant ship, the FCC granted the request a few months later.
Under the Bullitts' watch, the once-small station became a powerhouse in Seattle. KING was known as the "Mighty 10-90," and featured legendary radio personalities such as Frosty Fowler, Ray Court, Mark Wayne, Buzz Lawrence, and late night talk with Irving Clark's "Clark on King." The station was an NBC Radio network affiliate which had many monitor features and local news, often using KING-TV anchors. The format of music was MOR, but also mixed in with jazz, bossa nova and some swing. When compared to KJR, KING had a light-hearted and upbeat direction, an opposition to KJR's hip direction, as well as not being as staid as KIRO (AM). The late '60s personalities defected to KIRO and other markets. Bob and Jim, a duo team was brought in from KREM in Spokane, but by then, personality Larry Nelson on KOMO (AM), and KIRO's news was beginning to gain traction in the market. Later in its life, KING focused on left-leaning political talk during the final years.
During the 1970s, the station flipped to CHR and changed monikers to "Musicradio 11 KING" and competed even more closely with KJR. The line-up at the time included such Seattle radio personalities as Gary Lockwood (who later defected to KJR) and Bruce Murdock, with the Murdock in the Morning show (he would later move to KLSY and is now heard at KKCW in Portland). When KJR unveiled its yellow "Sunshine" window sticker, KING followed with its own red "Sunburst" sticker.
In April 1980, KING experienced a major change. As AM music radio lost young listeners to FM, KING gave up on Top 40 and flipped to Soft AC, while retaining the "Musicradio 11 KING" moniker. KING's slogan was "Soft Rock and More". The station's tagline used in advertising was "You grew up with us, now we've grown up for you". This format was parodied on April Fool's Day, 1981 by rock station KISW. Ratings for KING at this time were low.
On October 4, 1982, at 4 a.m., KING adopted a news-talk format, primarily with local personalities, and branded simply as "KING NewsTalk 1090". Personalities included Jim Althoff, Carl Dombek, Jeff Ray, Randy Rowland, Mike and Candace Siegel and Pat Cashman. This format produced moderately high ratings, though never as successful as the Top 40 format had been.
On September 2, 1994, at Noon, the station fired all on-air personalities and began carrying AP News' radio service "All News Radio." In February 1995, the Bullitts sold the station to Bonneville (the family sold their TV sister station to the Providence Journal Company in 1991), who would then sell it to EZ Communications later that year. The long-running KING call letters would be dropped for KINF, then KKNG shortly after, followed by KNWX. In November 1995, the station swapped formats (but not call letters) with KULL (who was simulcasting KRPM) and became KRPM-AM, an AM simulcast for KRPM-FM/KCIN (now KBKS-FM). The simulcast would continue after KCIN's flip to Rhythmic AC in March 1996, as well as their shift to Top 40 (CHR) in May 1997. (EZ would merge with American Radio Systems in July 1997; ARS merged with Infinity Broadcasting just two months later in September; Infinity would be renamed CBS Radio in December 2005.) The simulcasting stopped on February 1, 1999, and 1090 flipped to a locally programmed Classic Country station (with a simulcast of KMPS's morning show). 1090 also carried the call letters KMPS, and then KYCW. The station began broadcasting in AM Stereo in March 2001.
Beginning August 4, 2001, the station ran promos promoting a new format that advised listeners to "listen at their own risk". At 5 a.m. on Monday, August 6, the station flipped to hot talk as "Extreme Radio 1090" featuring Bob Rivers' "Twisted Radio" in mornings (who was also simulcasted on KZOK-FM), Jim Rome, Ron and Fez, Opie & Anthony, Don and Mike, and Phil Hendrie. The station was also a Sporting News Radio affiliate. The station's ratings were abyssmal, usually peaking at a 0.4 share. KYCW would return to classic country at 11 p.m. on May 19, 2002.[12] The station's second version would include the return of personalites previously heard on the first incarnation of the format, including "Tall" Paul Fredericks from 5-9 AM, Mike Preston from 9-noon, PD Becky Brenner from Noon-3 PM, "Buffalo" Phil Harper from 3-7 PM, and Sheldon Smith from 7-Midnight. The station, however, still had low ratings, usually peaking at a 1.3.
On October 25, 2004, at Midnight, the station flipped to progressive talk and changed call letters to KPTK days later. During its tenure as "Seattle's Progressive Talk," KPTK broadcast syndicated progressive/liberal talk programs hosted by personalities such as Ed Schultz, Mike Malloy, Randi Rhodes, Thom Hartmann, Norman Goldman, Rachel Maddow, Stephanie Miller, Leslie Marshall, and Bill Press. KPTK was also the flagship station of Air America Radio's Ron Reagan Show. Beginning in 2011, KPTK became the flagship station of Seattle Storm and Seattle Thunderbirds broadcasts, though it was met with some controversy. The station's weekend programming included a mix of specialty syndicated and local programs, such as "The Ric Edelman Show" (a financial advice show), "Ring of Fire", "Democracy Now!", "Swirl Radio" (a show targeting the LGBT community), "Community Matters" with CBS Seattle's director of public affairs and morning traffic reporter Lee Callahan, "Gardening In the Northwest with Scott Conner", "The Tina and Drew Show", and "Crash Talk with Mike Harber".
In July 2012, CBS and Cumulus Media announced a new sports radio network dubbed "CBS Sports Radio" to be launched in January 2013. The initial affiliate list that would carry the network's full lineup included most of CBS O&O low-performing AM stations (predominantly talk radio stations), while others would be affiliates and carry certain programs and hourly "CBS Sports Minute" updates. After much speculation, on November 14, 2012, CBS announced that KPTK would flip to the new network on January 2, 2013, branded as "1090 The Fan" (this would be further confirmed by the station changing call letters to KFNQ on the same day). This was met with much controversy on the station's Facebook page, as well as being brought up by several of the station's hosts. To please displaced listeners, Lakewood radio station KLAY (1180 AM) would announce they would carry Ed Schultz' and Stephanie Miller's programs after the station's flip, as well as KBCS (91.3 FM) picking up Thom Hartmann's program.
Since the station's flip to sports, the station aired a local afternoon show hosted by Steve Sandmeyer and Bill Swartz (later replaced by Jason Churchill). However, on July 11, 2015, the show was cancelled, resulting in KFNQ airing the entire CBS Sports Radio program lineup around the clock.
On February 2, 2017, CBS Radio announced it would merge with Entercom (which locally owns KHTP, KISW, KKWF, and KNDD). On October 10, CBS Radio announced that as part of the process of obtaining regulatory approval of the merger, KFNQ would be one of sixteen stations that would be divested by Entercom, along with sister stations KJAQ and KZOK (KMPS-FM was retained by Entercom). On November 1, iHeartMedia announced that they would acquire KFNQ, KJAQ and KZOK. To meet ownership limits set by the FCC, KFNY (formerly KFOO) and KTDD (formerly KUBE) were divested to the Ocean Stations Trust in order to be sold to a different owner. Until the completion of the divestment of KFNY and KTDD to the trust, CBS placed KFNQ, KJAQ and KZOK into the Entercom Divestiture Trust. The merger of CBS and Entercom was approved on November 9, and was consummated on the 17th. iHeart then began operating KFNQ under a local marketing agreement. The sale to iHeart was completed on December 19. On February 8, 2018, the station relaunched as a brand extension of sister station KJR and added the Fox Sports Radio programs The Dan Patrick Show, The Herd with Colin Cowherd, and The Doug Gottlieb Show. Call letters switched to KPTR March 2022, as iHeart was shuffling local SportsRadio KJR to FM 93.3, with KJR AM 950 carrying syndicated sports programming. April 10, 2022- Under new call letters KPTR (The Patriot), 1090 begins programming Conservative News-Talk. Syndicated programs include Glenn Beck, Clay Travis and Buck Sexton.
KING 1090 Personalities: Charles Herring, Bill O'Mara, Dan Hemingway, Mark Wayne, Jonathan Spring, Frosty Fowler, Russ Norman, Al Cummings, Andy Barber, Bruce Murdock, Buzz Lawrence, Steve Knight, Ed Ives, Stu Collins, Bill Terry, Al Vanik [Gary Mitchell], Joel Martin, China Smith, Tim Hunter, Rob Conrad, Dan Foley, Joe Cooper, Freddie Mertz, Phil Harper, Buzz Barr, Tom Franklin (News), Hal Widsten [PD], Jim Martin, Bob Adkins, Kirk Wilde, Dick Roth, Irving Clark Jr [talk show in the evening], Jim Johnston, Joe [Fleischauer] Michaels, Tony Miner, Bob Hardwick, Deb Henry, Rick Donovan, John Erickson, Jeannie Lockhart, Dean Shepherd, Scott Lawson, Jim Althoff, Chris Brecher, Mike Siegel, Gary Lockwood, Ron Mercer, Eric McKay, Robin Mitchell, Bob Shannon, Frank Catalano, Russ Norman, Bruce Vanderhoof, Mark Allen, Mike Brody, Steve Lloyd, Mike Rivers, Ray Court, Dan Shannon, Scott Forrest, Jim French, Lee Askervold, Greg Connors, Tom Connors, Ted Bryant, Pat Lewis, Jack Frost, Dick Albertson, Dick Guthrie, Harry Jordan, Dick Staub, Jack Barton, Al Wallace, Gerry Gawne, Tracy Smith, Pat Cashman, Lisa Brooks, Dori Monson, Rick Mauser, Jim Kelly, Dana Middleton, Steve Alexander [News], Dave Smith [News], John Hinterberger, Rick Miller, Andee Beck, Jane Shannon, Fran Martin, Candace Siegel, John Burgess, David Arneson, Carl Gardner, Colleen Patrick, Karen Denard, Carl Dombeck, Dennis Kelly, Steve Becker, Ed Scott, Doc Maynard [Charlie Busch], Bill Gardner [in an email to Brian Lord, Gardner writes: I was the afternoon, (3-7PM) guy from late 1971 to early 1973. I've still got a picture of that great old studio with the turntables mounted in sand for stability. I left KING-AM to go to San Diego and work for Jack McCoy at the legendary KCBQ-AM San Diego as morning drive guy. By the way, virtually the whole list of where I've been is at my website, under "resume." –Bill Gardner]
1150 KKNW
— Alternative Talk (Hubbard) -SEATTLE
[1926] In 1952, Jessica Longston, who owned newspaper & radio stations in Oregon and Montana, bought a radio station [KRSC originated in 1926 by the Radio Sales Corporation, located at 5th & Seneca. The station was located at the home of P.K. Leberman, President of the company, 252 40th Ave. North. Some early programming was rather simple and inexpensive, such as nightly rebroadcasts of KDKA Pittsburgh programming, from over the air reception at Leberman's Seattle home.] in Seattle from J. Elroy McCaw, and gave it the call letters KAYO – "for knockout," her son said – and built it into one of the top-earning radio stations in the region for decades to follow. KAYO was a Top 40 competitor against KJR until KAYO switched to a Country format on April 22, 1963. Jessica Longston owned KAYO at that time. Sold to Obie Communications in 1979 News/Talk format, then back to country – 1982 KSPL MOR [KAYO call letters picked up by an Aberdeen, WA broadcaster] and then AC "MusicRadio 1150 KSPL, 1984 then became KEZX [Park Broadcasting] soft AOR/Jazz, KGNW from 09/24/1984 – KGMW from 12/23/1986 – KEZX from 12/31/1986 -KSRB R&B (Sandusky) 01/01/1999 – KKNW from 06/01/2001
Personalities: Bill Shela, Bill Goff, Rod Hammett, Ron Dini, Hal Raymond, Ray Willis, Bobby Ryan, Gary Ryan, Russ Norman, Andy Nilsen, Claude Brimm, Herb Hall, Johnny Knight, KC O'Hara, Bob Dean, Chris Lane, Jeff Mitchell, Lee Perkins, Bill Taylor, Chet Rodgers, Don Chapman, Martinn "Marty Party" Mandles, Bill Schonley, Brian Calkins, Ray Golden, Buck Ritchey [10 yrs at KAYO, died in 1973 at age 58 of cancer], Wally Nelskog, Pat O'Day, Bobby Wooten, Skip Piper, Al Vanik, BR Bradbury, Jaynie Dillon, Dick Ellingson, Jack Hemingway, Tom Kelly, Mark Roberts, Mike Phillips, Jerry Kay, Bob Hardwick, Jerry Dimmitt, Dick Harris, Mark Wayne, Paul Scott, Ben Peyton, Bo Wiley, David Buckle, Don January, Bob Fredericks, Norm Apple, Tad Jones, Russ Norman, Lee Lucas, Paul Smith; KSPL: Gary Mitchell, Chuck Urban, Steve Lawson/Scott Terry, Joe Micheals, Colleen Patrick [News], Bill Taylor, Chet Rogers, Steve Nicolet, Ron Hansen, Joe Sargent, Jack Spencer, Hardwick, Bob Robertson, B.R. Bradbury (formerly Bill Munson, KOL), Deb Henry (a future Mrs. Bradbury), Bill Baker (former KING TV newsman), Gary West, and Dick Goodman (former KOMO newsman). KKNW: Cedric James
1180 KLAY
— Catholic Ministry (Sacred Heart Radio) -LAKEWOOD
The station went on the air as KFHA at 1480 AM and changed its call sign to KOOD (1480) in 1966, and then to 1480 KQLA in 1978, and finally to 1180 KLAY in April 1980. [1180 KLAY's first license was granted 8-08-1979.] (KFHA personalities: Dick Laybourne, Marshall Terry, Chubby Howard, Johnny Johnson) On May 1, 1990, the station changed its call sign to 1180 KDFL, and on June 28, 1991 back to the current 1180 KLAY. Clay Huntington has operated stations KLAY FM Tacoma, KQLA-Lakewood and now KLAY 1180-Lakewood, serving the Tacoma and South Sound area for well over 50 years. Huntington's early sports broadcast career includes stints at KTBI, KTNT and KMO radio stations and both KTVW and KTNT television. All of this, as well as sports broadcasts on a 14-station network that covered Washington, Oregon, and Alaska. His vast record of community involvement includes helping to fund the construction of Cheney Stadium in 1960 and bring Triple A baseball back to Tacoma. KLAY 106.1 FM was the first STEREO FM station in the Puget Sound region. At that time, KLAY FM was a Beautiful Music station. Ahhh…the sounds of Mantovani, Enoch Light and Richard Claydermann. Beautiful music orchestrations, programmed as background music, pleasant, relaxing and suitable for the office, home or in the car. Listeners stayed with KLAY FM for hours each day at work and at home. This format was relaxing and almost hypnotic when programmed right. Competition for this format grew during the 60s and early 70s, with several stations adopting the format for some period. Over time there was KEZX, KBRD, KSEA, KIXI and KBIQ. Oceans of Beautiful Music emanated from some great Puget Sound area radio channels. KLAY FM switched to a very different sound in the latter part of the 60s, Progressive Rock. Again, the station performed well and many people still recall that era and the DJs of KLAY. For example, Steve Slaton, who went on to a career at Album Rock stations in Seattle. The FM was sold in the early 80s and became KRPM FM [now KBKS]. Clay Huntington continued to operate the AM Talk-formatted station, located in Lakewood, until his death in 2011. Sold to Catholic religious broadcaster Sacred Heart Radio November 2018.
[Tacoma News Tribune] June 2, 2011–Clay Huntington, the sports and civic icon whose contributions ranged from wooing Triple-A baseball back to Tacoma in 1960 to the formation of the Tacoma Athletic Commission, died Wednesday at Allenmore Hospital. He was 89. Born in Vancouver, B.C., on April 21, 1922, Huntington moved to Tacoma with his family when he was 5 months old. Huntington's grandfather, Samuel Adams Huntington, was an early influence. A journalist and sports-facilities promoter, Samuel Adams Huntington helped lead the Tacoma Chamber of Commerce's effort toward the construction of one of Tacoma's first baseball parks, at 12th and I streets, in 1910. Clay Huntington's interest in broadcasting began as a child, "at the age of 10 or 11," he recalled in "Playground to the Pros: An Illustrated History of Sports in Tacoma-Pierce County." "The neighborhood gang would play games in a vacant lot that we converted into a football and baseball field, and we attached a hoop to an old barn at the end of the lot for basketball. When I wasn't playing, I'd climb up into a tree and sit on the branches overlooking the field and practice my play-by-play." By the time the former Lincoln High School student was 19, in the fall of 1941, he was conducting radio interviews on KTBI. His first guests were Vic and LaVerne Martineau, local baseball players. Huntington would remain in the broadcasting industry for the next seven decades, working behind the microphone on radio and TV and, later, at KLAY, the Lakewood radio station had he owned since 1991. Between 1946 and 1951, Huntington was the voice of the Class A Tacoma Tigers of the Western International League. (A signature call: "Two out, two on, two in – deuces prevail!") During the 1950s, Huntington and Rod Belcher re-created wire accounts of big league baseball games for a 14-station radio network in Washington, Oregon and Alaska.
"When I was growing up, every kid in Tacoma knew Clay," former broadcaster and longtime sports public-relations fixture Doug McArthur once said. "When he wasn't working on the radio, he was handing out a trophy at some all-star game, or organizing an event with the Tacoma Athletic Commission." Huntington's role in the creation of the TAC was typically astute. A high school student interested in organizing a benefit football game on behalf of former Lincoln star Billy Sewell – then on duty with the 2nd Bomber Command in Spokane – Huntington presented his proposal to Tacoma mayor Harry Cain. Although the exhibition game fell through, Huntington's proposal paved the way for the Tacoma War Athletic Commission, which begat the Tacoma Athletic Commission. In 1960, Huntington answered another call to civic duty by leading the effort to build Cheney Stadium, a crucial step toward relocating the Pacific Coast League's Phoenix Giants to the South Puget Sound. "Not to say this in a bragging way," Huntington said in a 1999 interview, "but I was instrumental in getting Cheney Stadium built – exactly 50 years after my grandfather helped put up a ballpark." Warm, accommodating and naturally inquisitive, Huntington's charm rubbed off on everybody from casual acquaintances at the ballpark to national celebrities. He managed to persuade the likes of Henry Aaron, Joe DiMaggio, Willie Mays, Arnold Palmer, Joe Namath and Frank Leahy to attend state Sports Hall of Fame banquets as honored guests. "One of the things I admired about him," said Ron Huntington, "was his ability to make friends. Wherever he went, he was the brightest light in the room." [Excerpts from article in the Tacoma News Tribune] Featured are many local hosts, such as well known civic leader Mike Lonergan and longtime horse racing expert and broadcaster, Vic Cozzetti, known as Victor the Predictor. The Huntington Estate sold KLAY to Sacred Heart Radio
Personalities: Bruce Bond, Lynn Benson, Mike Lonergan
1210 KMIA
— Radio Amor Spanish Music & Ministry (Bustos Media) -AUBURN
Edward and June Garre were the founders of this station, which began as KASY in 1958 (broadcasting on 1220 AM), running an MOR format until October 1989. After Viacom bought the station, 1210 became simulcast of KBSG-FM as KBSG (AM). Entercom bought the stations in 1996. This lasted until around 2002, before changing to a business format as KNWX (the former callsign of KTTH) that lasted until 2003, when it switched to an all-news format. In December 2004, after Bustos Media bought the station, 1210 switched to a regional Mexican format, first as KWMG and later as KTBK.
In September 2010, Bustos transferred most of its licenses to Adelante Media Group as part of a settlement with its lenders. The station switched to a Spanish popular hits format on November 7, 2011, calling itself "Latino 1210" and operating under the call letters of KMIA. Effective December 10, 2014, Bustos Media reacquired KMIA, along with eight other stations and a translator, from Adelante Media for $6 million. On December 31, 2014, KMIA changed their format to regional Mexican, branded as "La Zeta 1210". On November 29, 2016, KMIA was granted a Federal Communications Commission construction permit to move the night transmitter to the day transmitter site and reduce night power to 220 watts. In March 2020, Bustos Media made KMIA silent, notifying the FCC that the COVID-19 pandemic made it economically unviable to keep the station on the air. Bustos characterized the shutdown as temporary. In March 2021, KMI 1210 returned to the air as Radio Amor. The FM translator went online in May 2021 and another translator at 92.1 FM Tacoma begain carrying 1210 KMIA's Radio Amor. CALL LETTER HISTORY: KASY (1958–1989); KBSG (1989–2003); KNWX (2003–2004); KWMG (2004–2007); KTBK (2007–2011) KMIA (2011-present)
Personalities: KASY: Mike Altman, Bruce McMichael, Brian Calkins, Carl Sawyer, Lou Robbins, Sandy Hamilton (RIchard Laybourn), Gary Crawford, Bruce Cannon, Bill Doane [news], Bill Ogden [news], Mark Allen, Rockwell Smith
1230 KWYZ
— Korean Programming (Radio Hankook) -EVERETT
In the 1930s, this frequency was the home of KVOS AM, which moved to 790 in 1945. This station signed on the air in 1947 as KXRN owned by Robert McCaw, of the famed wireless telephone company – station became KQTY broadcasting with 250 watts of power on a frequency of 1230 kHz. KQTY was originally licensed to the Snohomish County Broadcasting Company which, along with stations in California, North Dakota, and Montana, was part of the Walter N. "Wally" Nelskog stations group. In 1960, the station was granted a construction permit by the FCC to increase its daytime signal power to 1,000 watts while maintaining a 250 watt signal at night.
On April 1, 1962, the station was acquired by the Snohomish County Broadcasting Corporation, owned by Clifford H. Hansen who also served as the station's general manager. The new owners had the FCC change the station's call sign to KWYZ. This situation remained stable until February 16, 1972, when the Snohomish County Broadcasting Corporation was acquired by Robert Brown. The new owners dropped the station's middle of the road music format in favor of country music. In May 1975, Brown changed the name of the license holder to Prime Time Broadcasting, Inc.
Facing a petition to deny its license renewal and a financial crisis, the broadcast license for KWYZ was involuntarily transferred in November 1991 from Prime Time Broadcasting, Inc., to Richard D. Carlson acting as receiver. The transfer was approved by the FCC on November 14, 1991. In June 1992, receiver Richard D. Carlson reached an agreement to sell this station to Quality Broadcasting Corporation. The deal was approved by the FCC on March 29, 1993, and the transaction was consummated on June 28, 1994.
In March 1999, Quality Broadcasting Corporation agreed to sell KWYZ to Jean J. Suh, doing business as Radio Hankook, for a reported price of $480,000. The deal was approved by the FCC on April 27, 1999, and the transaction was consummated on August 3, 1999. Until this deal was consummated, KWYZ maintained its traditional country music format. Suh applied to the FCC in October 2002 to transfer the broadcast license for this station to her company, Radio Hancook, Inc. The transfer was approved by the FCC on November 15, 2002, and the transaction was consummated on December 1, 2003.
Jean J. Suh worked for five years as an actress as South Korea's Korean Broadcasting System before emigrating to the United States in 1964. While studying at Columbia College Hollywood in 1965, Suh began hosting a 30-minute weekly program of music and news in Korean on a Los Angeles radio station. In 1966 the program was extended to one hour per week and in 1967 to two hours each weekday. In 1970, Suh and two financial partners launched an independent Korean-language radio station in Los Angeles, the first in the United States. Suh purchased KKBY (1450 AM, now KSUH) in 1997 and KWYZ in 1999 to cover the southern and northern halves of the greater Seattle metropolitan area, respectively, as Korean-language "Radio Hankook" [Wikipedia]
KWYZ personalities: Jack Allen, Jim Reed, Wayne Cordray, Dick Knapp, Rich Johnson, Bob McCoy, Larry Sharp, Dennis Arlington, Al Monroe, Tony McCullough, Bill O'Mara, John Lawson, Robert O'Brien, Dennis Wills, Athen James, Paul Richards-weekends, Sally Rae-weekends
1240 KBUP
— Catholic Ministry (Sacred Heart Radio) -OLYMPIA
KGY is one of the oldest radio stations in the state of Washington. It was licensed in 1922 and began broadcasting at St. Martin's College, for a while out of a log cabin, as 7YS. "The log cabin station, where the cedars meet the sea." The affiliated station KGY-FM began operations in 1992. The AM and FM stations' studios are both now located on Port of Olympia property at the southern end of Budd Inlet.– The Kerry family sold KGY AM 1240 to Sacred Heart Radio in 2014, ending family operation of the station held since 1939. Call letters changed to KBUP November 2014. KGY's morning show was hosted by General Manager Dick Pust, who has been at the station since 1959. He has continually hosted the morning show since 1967–the longest continually running morning radio show in the state of Washington, until Pust was fired after nearly 50 years at KGY. [Wikipedia] January 6, 2011 [Olympian]– After a career spanning 51 years with KGY Radio, local broadcasting legend Dick Pust's career with the station ended suddenly Wednesday when he was let go as the station's general manager. He hosted his final early-morning radio show Wednesday at the iconic station that overlooks Budd Inlet, the last installment of a six-day-a-week broadcast that began at 5:30 a.m. and has run since 1967.
KGY personalities: Ty Flint, Bob O'Brien, PJ Kirkland, Ed Evans, Willy Kelly, Smilin' Jay Andrews, Randy Roadz, Rick Schaeffer, Mike Altman, Dick Pust, Bob MacLeod.
1250 KKDZ
— Radio Punjab (Radio Desi) -KENT
[1920 according to Broadcast Yearbook] KTW owned by the First Presbyterian Church of Seattle, changed ownership a couple times between 1965 and 1975. Owned by Wonderful Sound of Seattle, the format catered to a teen audience. This was short-lived, the format changing within a year to Country music. KTW became a Beautiful Music station in 1965. Later, under Nordawn Inc ownership, a slight format switch to MOR.
KTW challenged KIRO in 1974 with news blocks, and KTW affiliated for a time with Group W Network for news. Talk shows were popular with KTW listeners. The station competed with KIRO, KTNT, KING AM, and other stations in the talk genre. Bill Carter's Party Line goes way back to 1959 at KTW. Carter was a pioneer in talk radio for Seattle. When 1460 went to an Album Rock format under new ownership of Glo-Lee Broadcasting, Carl-Dek Inc acquired 1250 in 1975 and changed the call letters to KYAC, instituting their R&B (Soul) format. 5/20/1981 -Financial issues ended the KYAC run and the station call letters became KKFX with a Contemporary Hits format under new owners, North Star Broadcasters and later purchased by Bingham Communications which kept the KKFX call letters but switched to an R&B format. Became a Radio Disney affiliate in 1993. KKDZ from 04/07/1993. On August 13, 2014, Disney put KKDZ and twenty-two other Radio Disney stations up for sale, in order to focus more on digital distribution of the Radio Disney network. In May 2015, a deal to sell the station to Universal Media Access (owners of KLOK in San Francisco) for $500,000 was announced. On September 17, 2015, the sale of KKDZ was consummated, at which point it officially dropped its Radio Disney affiliation and switched to a South Asian format (featuring Hindi, Punjabi and English language programming), branded as "Desi 1250." It ended 22 years of pre-teen and young teen oriented programming on the station, dating back to the KidStar days. On October 16, 2017, Sukhdev Singh Dhillon's New Media Broadcasting, through licensee Akal Broadcasting Corporation, purchased KKDZ from Universal Media Access for $500,000. The station's license was transferred to sister corporation Akal Media KKDZ, Inc. effective August 27, 2019 as part of a corporate restructuring. On June 30, 2021, the FCC has granted a change of transmitter location and community of license for KKDZ 1250 from Seattle to Kent. Ownership is Radio Desi. KKDZ continues to operate with 5 kW non-directional day and 5 kW directional night. KTW (1922-1975), KYAC (1975-1981), KKFX (1981-1993), Former frequencies 833 kHz (1922-1925), 660 kHz (1925-1927), 760 kHz (1927-1928), 1270 kHz (1928-1931), 1220 kHz (1931-1941) All as KTW*
Here is an account of the KTW history from the vantage of a KTW employee of the time:
KTW AM, prior to their sale to David M. Segal of Denver, Colorado in 1964, was a daytime only station and owned by the First Presbyterian Church with studios at 710 Madison Street. KTW played "beautiful music", and the two full time radio personality's were Hal Links and Lee Knudsen. Prior to the sale to Segal, the Church had bought a construction permit for an FM on 102.5. Segal hired three radio personality's from Butte, Montana's KOPR AM and one who said he had worked at KISN in Portland. Later, it was found out that he had lied about that. Segal thought he was being funny when he gave the 4 radio personalitys their names. He called them Tom Morgan, Dick Jones, Harry Smith, and Sam Kelly. So it was Tom, Dick and Harry….and of course, Sam. At midnight on Aug. 1, 1964, Segal took control and KTW switched to top 40. At the time, only KJR was playing top 40. A funny thing did happen right away. Segal was listening to Harry Smith stumble over the news in his afternoon till sunset slot, got fed up and two nights later he had switched the radio personality known as Sam Kelly with the one known as Harry Smith. So they guy called Sam Kelly became Harry Smith and visa versa and they switched time slots. Another thing that happened was the station fired they guy known as Tom Morgan after a few months and brought in another guy and he became Tom Morgan.
Unfortunately, KTW had to sign off at local sunset. A teen station signing off in the late afternoon shortly after kids got home from school was a real ratings killer. The stations hours were 11:15 PM until local sunset average the following day. They were a share time station with KWSU in Pullman which had priority over them, but they signed off at 11:15 PM. Segal hoped that when they signed on KTW FM on January 1, 1965, simulcasting the format would bring in more listeners. But there weren't that many FM radios out there, so KTW struggled. It also didn't help that the FM antenna was installed on the AM tower at Pigeon Point in West Seattle. It should have been installed at a higher location from the start. "The Wonderful Sound of Seattle" lasted only 9 months and the format was changed to a so-called "Nashville Sound" country station. The only radio personality holdover to the new format was the guy called Tom Morgan and he started using his real name, but I don't remember it.

Brian Lord [A part-timer at KTW during this period; Later a part-timer at KSCR, Renton]
—November 1966 Segal sells KTW AM & FM to Norwood Patterson & wife for $250,000. Patterson, a consulting engineer, owner of radio & TV in Fresno, CA. Later became RADIO DISNEY under ownership of that company. In 2015, was sold to Universal Media Access and became Radio Desi, with a format focused on the Middle Eastern community within Seattle.
KTW personalities included: Bill Wade, Jerry Holzinger [fired May 1971 from his morning talk show for being too controversial, and voicing opions against many station policies and methods], Hal Links, Lee Knudsen, Johnny Hayden, Al Vanik, Dick Jones/Rick Knapp, Tom Morgan/Leo Minton, Harry Smith/Rhys Berryman, Brian Lord, Don Riggs, Greg Palmer, Wayne Cody, Joni Balter, Harry Smith/Bill Bray and Kevin Kelly, Rick Richards, Mike Hamilton, Dick Byrd, Kearney Barton, Linda Sullivan, Linda Gist, Burt Light, Phil Cogan, News Director, Dave Newton, Bob Warnes, John Dayle, Bill Wade
KYAC: Robert L. Scott, Tom Reddick, Don Shorter, Sonny Buxton, Robert Summerise, Frank Barrow, Tom Cross, Tam Henry, Lloyd Jones, Cliff Winston, Vince Ash, Barbra Carol, Tee Alexander, Harry Robinson, Eddie Modkins, Marty Wyatt, Paul Cutchlow, Andrew Alexis, Robert Nesbitt; KKFX: Mike Webb, Steve Mitchell, Steve Walker, Tom Reddick, Nikki Hill-Garrett, Deacon Baker, Eddie O., Les Metro, Robert L. Scott, Brandi Walker
1280 KLDY
— Spanish contemporary Christian (Iglesia Pentecostal Visperia Del Fin) -LACEY
[rebroadcasts KBRO-KNTB] – Station began as KTOL [Lacey/Olympia], then KLDY under operator Skip Marrow, KLDY's final days under Skip Marrow were an all-classical format; Before KTOL signed on, 1280 was the original daytime-only frequency for KMAS Shelton (now on 1030 full time) [thanks for the info, cjjazz]
Dennis Soapes recalls: The programming was primarily from the Satellite Music Network, the Country Coast to Coast format. KTOL was one of the first SMN affiliates in the US and one of the first and few AM Stereo stations in the US. After a year or so we dropped SMN for local Country programming. Bob Hards did morning drive, I was on mid days. Jim may have been on PM drive. The station was purchased in 1984 of 1985 by Pioneer Broadcasting and the format was changed to AC. Doug McDowell (now in Grays Harbor with Jodesha Broadcasting) did morning drive. I was on the air in mid-days (as Dennis Lloyd) I left the station in November of 1986. Also on the staff at various times were radio veterans Bill Carter (recently retired from Bicoastal Centralia,) and Bruce Pedersen. The late Brian Burgett, Lisa Church, Terry A. Swartos and many others were on air at various times. The station was later sold to the late Skip Marrow, who through a series of facilities changes wound up at 680khz as KBRD-AM. But it was the acquisition of the 1280 frequency that started the change. This station was part of a Northwest chain of stations broadcasting (ESPN Desportes) owned by Seattle Streaming Radio LLC until sold to Iglesia Pentecostal Visperia Del Fin in April 2015, which put a Spanish-religious format on the small network.
KTOL personalities: Jay Andrews, KLDY personalities: Jimmy Anderson, Bill Carter, Bob Hards, Brian Burgett, Bruce Pedersen, Dennis Lloyd/Dennis Soapes, Don Winget, Doug McDowell, Jeannie Lucke, Jim Kenney, John DiMeo Jr., John DiMeo Sr., Lisa Church, Terry A. Swartos
1300 KKOL
— Conservative Talk (INTELLI LLC soon to be SALEM MEDIA GROUP) -SEATTLE
MAY 23, 1922 KDZE, KFOA, KOL, 1975-KMPS — In the early 1960s KOL was owned by television producers and game show moguls Mark Goodson and Bill Todman. In 1967, the station was purchased by Buckley Broadcasting, which also owned KGIL Los Angeles. In the 1960s and early 1970s, KOL battled KJR as the Number 1 top 40 station in Seattle. During its days as KMPS, it simulcasted KMPS-FM/94.1. In 2002, due to losing its broadcast location, KKOL installed a temporary 1000-watt transmitter on a moored boat and began to broadcast from a 175-foot/61-meter ship in one of the waterways in Seattle. This was the only floating radio station in the US. In 2007 the station has a new broadcast facility with a 50,000-watt transmitter in the Port of Tacoma and is dedicated to news/talk. [Wikipedia] Salem Media Group – OFF THE AIR April 2018 due to loss of tower site. Then sold to Tron Dinh Do's Intelli LLC in May 2018 in a swap for Portland KPAM. Salem agreed to reacquire 1300 KKOL in June 2021 for $500,000. That deal has been held up due to interference complaints by nearby residents in the area of the tower where KKOL was located along with KLFE 1590. On August 1, 2022, KLFE's format and The Answer branding were moved to co-owned 1300 KKOL. KLFE switched to Catholic radio programming from Relevant Radio, a network based in Green Bay, Wisconsin, and Inspiration Media also filed an application to sell KLFE to Relevant Radio. The FCC has generally required paired original and expanded band stations to remain under common ownership. However, Inspiration Media also filed a waiver request with the FCC to allow it to sell KLFE's companion expanded band station on AM 1680, KNTS, to a different company, Baaz Broadcasting.
KOL Personalities: Rod Belcher [Sports], Art Gilmore, Johnny Forrest – Newsman, Sandy Hamilton (Richard Laybourn), Ron Bailie, Charlie Van, Chuck Ellsworth, Ray Ramsey, Paul Oscar Anderson/Paul E. Brown, Bill Shela, Ric Thomas, Mike Altman, Les Williams, Jim McGavick, Martin Tobin [news], Lee Chase, Frank Roberts [news], Fenwick, Ray Hutchinson, Art Simpson, Steve Davis, Ken Mattler [news], George Lester, John Stone, John Chambless, Jim Gearhart, Gary Todd, Jay Mack, Ed Kelly, Paul Coburn, Jeff Mitchell, Al Cummings, Ron Reynolds, Buzz Barr, Jerry Kay, Tom Phelan, Don Chambers, Martinn "The Thriller" Mandles, Bill Munson, Les Beigel, Bobby Simon, Robin Mitchell, Chris Hill/Dale Unruh, Lan Roberts, Gary Spinnell [news] [aka Gary Loving on KUUU later moving to KIRO from KOL** ****Thanx to Brian Lord for this info****], Bill Taylor, Tommy Vance, Don January, Don Burns, Gene Collins, Burl Barer, Robin Sherwood, Jon Kertzer, Gary Crow, Rhett Hamilton Walker, Bob Waldron, Al Vanik [Allan MacKenzie], Tom Connors, Phil Johnson, Don Wade, Greg Connors, Terry McManus, Lee Perkins, Danny Holiday, George Garrett, Bob Fleming, Bill Wippel, Paxton Mills, Bill Ford, Jack Morton, Paul Cutchlow, Don Clark, Bob Watson KMPS: Don Riggs, Rick Stuart, Lee Rogers, Phil Harper, Bob Kelly, Mike O'Connor, Roger Dale, Ron Norwood, Patti Par, Gary Vance, Jim Williams, Art Lind, Big Ed Dunaway, Dewey Boynton, Charley Parker, Becky Brenner, Jay Lawrence, Don Riggs, Ichabod [Randy Hansen] Caine, Scallops, Stubbs, Tony Thomas, Jennifer Wood, Johnny Novak [Jack Boulton], Derek Murray, Jaye Albright, Jack Allen, Steve Michaels, Frank Catalano, Bill Minckler, Brady Wright, Dick Ellingson, Daryl Webster
1330 KGRG
— Album Rock (Green River Community College) -ENUMCLAW
KFKF – MOR/Easy Listening – Kemper Freeman – [Bellevue] -Owned by Seattle businessman Kemper Freeman, KFKF went on the air in 1958. The format was Easy Listening music simulcasting with KFKF FM 92.5 [AM was a daytimer] KFKF moved to the 1540 kc. frequency in 1968. 1330 frequency lit up again in 1982 as KENU; call letters changed to KQZQ for less than a month in 1988 then back to KENU; In 1992, KENU became a simulcast of KJUN 1450 AM in Puyallup, WA and became part of the new Country Gold Network along with KBLV 1540 AM in Bellevue, WA, and KTOL 1280 AM; In early 1996, the Country Gold Network discontinued operations due to financial distress. KENU went silent and was put up for sale. In November 1996, The Green River Foundation purchased the silent radio station, so that Green River Community College students would have internship possibilities at KENU — 1330 is now used by Green River Community College, for their student-run station, KGRG-Enumclaw.
KFKF personalities: Steve Montgomery, Jerry Holzinger, Jay Ward, Jim McGavick, Jack Hemingway, Johnny Forrest, Dick Stokke, Lou Gillette, Warren Wilson, Don Vicroy, Bob Summerise, Bill O'Mara; KENU: Michael Buzgo, John Porterfield.
1340 KUOW
— NPR Public Affairs (University of Washington) -TUMWATER
Previous call letters: KVSN which had been KCIF [Evergreen Broadcasting Inc./religion]; KCIF originally at 1500 kilocycles. Evergreen Broadcasting had originally applied for, and was granted call letters KCIG. KVSN, Donald Trosper, opns mgr & progmg dir; Lawrence Adams, gen mgr, stn mgr, sis dir, adv dir & engrg mgr. University of Washington purchased 1340 KVSN/Tumwater in 2005 for a price of $500,000. KUOW used 1340 AM to simulcast news, information and National Public Radio programming. Call letters were changed to KUOW-AM. This purchase helped KUOW solve the issue of its weak signal in parts of Thurston County, which was particularly annoying to both the station and listeners given KUOW's news and public affairs programming on state-government issues. KVSN was a 20-year-old station owned and operated by Gregg Neilson (he was also the general manager for KNHC-FM at Nathan Hale High School in Seattle) and Larry Adams (who taught radio at Nathan Hale before his retirement). It had been broadcasting religious, music and news programming, both local and national, as well as local high school sports. It actually started at 1500 as a daylight-only station. KVSN was sold due to an "adverse revenue situation that has not shown needed improvement in recent years." The deal was brokered by Public Radio Capital, a Colorado-based organization. This isn't its first deal in Washington. It acquired an FM station from Bates Technical College in Tacoma. That station was simulcasting Seattle-based KEXP-FM (90.3) for the Tacoma and Olympia areas as KXOT-FM (91.7). KUOW-FM also broadcasts its signal at 90.3 in Bellingham. [Seattle PI]
1360 KKMO
— El Rey 1360 The Authority In Mexican Music -Regional Mexican (SeaMar Community Health Center) -TACOMA
1922-KMO with various positions on the dial over the years= 1180, 860, 800, 1330, 1340 kc. Call letter changes: 1984-KAMT, 1987-KKMO, 1997-KZTS, 1998-KKMO As a joint venture of the Tacoma Times and Love Electric Co., KMO first broadcast in April 1922. The station was taken over by the Tacoma Radio Supply Corp. during the next four years. In 1926, Carl E. Haymond bought the outlet. Mr. Haymond increased the power to 500 w, then in 1954, sold the station to Tacoma Radio Corp. The station operates on 1360 kc. KMO, once co-owned with KMO TV Channel 13 [later known as KTVW], by Carl Haymond. Haymond was forced to declare bankruptcy and sold the station to J. Elroy McCaw, father of cellular phone magnate Craig McCaw. Later, the station was purchased by J Archie Morton and Dana J Hunter, then sold [1962] to Edward Wheeler, who owned a station in Evansville, In. In later years, KMO was owned and operated by Jim Baine. Baine sold KKMO to Douglas Broadcasting of Palo Alto in 1996. Douglas also purchased 1540 KXPA, and the two stations changed formats to foreign language programming. KKMO was later purchased by Sea-Mar Community Health Centers and later by Salem Communications.
Personalities: KMO: Ted Knightlinger, Michael P. Quinn, Joe Lyons, Jerry Dimmitt, Tony Brooks, Murray Morgan, Ed Evans, Lonnie Bell, Loni Smith, Chubby Howard [The Night Hawk], Dave Hanson, Rich Dossett, Clif Wilson, Burt McMurtrie, Ed Dollar, Dick Weeks, Jay Alan, Jim Bennett, Hal Lavers, Cliff Wilson, Halley Cole, Mike Garland, Bill James, John Trimble, Buzz Barr, Mark Edwards, John Managan, Dave Perry, Tucker Simpson, Tom Connors [Program Director-1977], Harry Holland, Chuck Ellsworth, Roall Ericksen, Jack Spencer, Jack Morton [1957, his father Arch Morton owned the station. In 1963, Morton moves to KVI], Don Chapman (Woodland), Tom Henning, Greg O'Neill, Steve Avery, Dave Allen, Bill Taylor [regarding Jim Baine, "He hired me as news director in 1966, succeeding Tom Henning. And, yes, Baine was a piece of work."], Bill Graham, Les Cole, Win McCracken, Gisela's Original German Hour — KAMT: Mike Darling, Lou Robbins, Scott Phillips [Photo: courtesy Tacoma Public Library Northwest Collection] KKMO: Bob Alek, The Johnny Dakota Polka Show on Saturday
1380 KRKO
— Oldies (S-R Broadcasting) -EVERETT
KRKO station history from their website:
Few know one of the oldest radio stations in the Pacific Northwest in continuous operation from the same City of License started in the garage of an auto repair shop at 2814 Rucker Avenue in Everett, Washington. Otto Leese and his brother Robert were business owners and mechanics, and the spare parts available to them in their shop enabled them to experiment with the most exciting and still relatively unknown technology known to America at the time: broadcast radio. A car battery, some vacuum tubes, a microphone, and a long piece of copper wire for an antenna allowed the Leese Brothers to create a land-based radio station to transmit voice instead of Morse code. On August 17, 1922 when it was finally officially licensed by the United States Department of Commerce (The Federal Communications Commission wasn't created until 1934), the Leese Brother's experimental radio station received its first call-sign: KFBL. Later authorizations were provided under the signature of Herbert Hoover as Secretary of Commerce. (Hoover went on to become President of the United States in 1929). The station was said to have enough battery power to run an electric chair!

While some believe the call-sign had particular significance as an acronym for "First Broadcast License" alluding to a long-held belief in the station's heritage as the first on the air in the Northwest, it's more likely that the call sign corresponded with the timing of the application review and approval by the Department of Commerce – shortly after another famous west coast radio station was assigned its call letters for the first time: KFBK, Sacramento. The fact that the Leese Brothers had been experimenting with their radio station since at least 1920 had nothing to do with their interesting call letter assignment. It was simply a function of assigning call letters in alphabetical order!

The Leese Brother's license granted authorization to operate in a portion of the newly established radio spectrum reserved for "general entertainment" at 833 kHz and "…used for broadcasting news, concerts, lectures, and such matter." Like virtually all stations on the air at this time, broadcasts were at irregular intervals, and KFBL shared this frequency with stations as close as Seattle. Receivers were still not widespread, and they were expensive. Hand-held radios weren't even possible, yet. By 1927, KFBL was assigned its first numerical frequency of 1340 kHz with 100 watts of operating power. The station evolved toward a more consistent programming schedule, but shared its time on the air with KXRO until almost 1929 when KFBL moved up the dial to 1370 sharing time with radio stations KVL and KKP.
The Leese Brothers operated their radio station until May 15, 1934 when they transferred control of the radio station to a staff member, Lee Mudgett. It was also in 1934 that the Federal Communications Commission (FCC) was created by the Communications Act of 1934. Mudgett moved the main studio from Rucker to the Clark building on the corner of Wetmore and Hewitt Avenue, across from Everett's famed "Speakers Corner" where every day at noon, people would gather to hear the thoughts of anyone bold enough to take the podium. On July 12, 1934, call-sign KFBL was retired and call-sign KRKO was assigned to the radio station. (Call-sign KFBL now resides with the United States Coast Guard.) In September, the studio and transmitter were moved to 1804 Hewitt Avenue.
Mudgett made a point of requesting special authorization from the FCC to operate the radio station during non-authorized times for the purposes of airing city, county, and national election returns. He also requested special authorization to broadcast the World Series.
Mudgett remained as the licensee for almost 10 years. During five of those years, he attempted to upgrade the facilities of KRKO, and he attempted to sell KRKO several times, but those upgrade efforts weren't realized until he sold control of the radio station to another local Everett family led by William H. "Bill" Taft in 1940. Though not listed on the license, Bill's wife, Thelma, played a major role in the station from the beginning. Thelma describes the first day at KRKO as "walking arm in arm" into what was to be a true business partnership as well as a marriage.
By 1941 the Taft family constructed KRKO's first vertical antenna just north of the northeast corner of Wetmore and Wall Street and west of the First Presbyterian Church of Everett on land now occupied by a parking lot. KRKO moved farther up the dial from 1340 kHz and began to broadcast at 1400 kHz from the Clarke Building (now U.S. Bank). The station had a whopping 100 watts and later 250 watts during the four years it was located on Wetmore. The station used a single vertical antenna until they purchased the KEVE studios and transmitter site south of what's known as the Hilltop Drive-In in north Everett.
Those familiar with Everett know the area of the circa 1944 transmitter site as nearly midway down fairway 15 at Legion Memorial Golf Course. The Tafts donated land to Everett Community College to create access from Old Highway 99. The access road became known as Tower Road. It ran next to the transmitter site and exists today, a reminder of a long-gone facility. At the time, the area was a swamp with scattered homes to the west on the ridge in the area where Everett Community College now resides.
The Taft family wasn't able to finalize the acquisition of KRKO from Lee Mudgett until October 3, 1945 in the name of the Everett Broadcasting Company, Inc. Bill Taft and his brother Archie Taft, Jr. were listed as the licensees. With the transaction complete, Archie left Bill with KRKO and moved to Seattle to operate another legendary family owned radio station: KOL. Right about this time, long-time employee and local celebrity news staffer Shirley Bartholomew joined KRKO and began her nearly forty-year run at the radio station.
Documents from this era provide evidence of KRKO's long-standing service record in the community and provide tantalizing insights into how different the economy of Everett was following World War II. Beginning at 6:00 a.m. on a weekday, the station broadcast a mix of music, a 15 minute block of farm report news including on-air classified ads for farmers wishing to buy and sell, farm market reports, and news from the Washington State Extension Bureau, followed by a 15 minute block of national news at 7:00 a.m., back to "…musical variety with a humorous slant" at 7:15. The station then aired recorded religious programming for a good portion of the morning, including shows like the Hebrew Christian Hour, Rings of Healing, and Dr. Talbot. Thelma Taft read news, handled much of the internal business operations, and began her annual tradition of reading Christmas letters from children over the air at noon as "Mrs. Clause." Bill handled sales and management of the station.
In 1949, the Tafts received approval for a change to KRKO's frequency again, moving it from 1400 to 1380, increasing the power from 250 watts to 1,000 watts, and adding a second vertical antenna to push (directionalize) the extra 750 watts northwest at night to protect other stations on the air to the east, south, and southeast. The north Everett transmitter site performed poorly and didn't cover Everett's expanding population to the south very well. The Tafts attempted to modify the night signal in 1951 to get better coverage but the effort must have been an exercise in futility. By 1957, the Tafts purchased land for a new transmitter site 1.3 miles south of Lowell along the Lowell-Larimer Road in rural farm land within the Everett city limits.
The Lowell transmitter site was a step-up for KRKO. Two modern 225-foot steel antennas were erected along with a new building, and the station was authorized to increase its power five-fold to operate at 5,000 watts 24-hours a day. Eight acres of farmland were cleared for a new building to house the business office, studios, and equipment. The studios, designed by Thelma Taft, were state of the art for the time featuring four turntables and a top-of-the-line RCA console. The transmitter was a brand new Gates – the best available in 1959.
7115 Larimer Road is the current transmitter site for KRKO today and served the majority of it's existence as the main office for both studios and sales until the main studios were relocated to the 14th floor of Key Tower on the corner of Colby and Everett Avenues, just two blocks from where the Leese Brothers hooked up car batteries to a home-made transmitter. The "state-of-the-art" 1959 Gates transmitter remains in place as the only back-up transmitter for KRKO and is used intermittently even today. The RCA console shown in the photo of the main studio of the new building was decommissioned in 1997 after serving its final years in an editing studio at the Larimer Road site. The antenna system in use today is the same one as originally installed in 1959. Ownership and call-sign changes: KBAE 1985; KRFE 1986; Return to KRKO 1987; Station switched from Oldies to ESPN Sports to FOX Sports and then in July 2018, KRKO reverted to an Oldies format on both the 1380 AM signal and the FM translator at 95.3 FM.
KRKO personalities: Robert O'Brien, Mike Lehnen, Jeff Chase, Jack Allen, Tom Connors, Jim Brady, Matt Alan, Mark Edwards, Rich Johnson, Jim Kampmann, Moose Moran, Renae O'Keefe/wife of Moose Moran, Bruce Stier, Bruce Butterfield- (Program Director and Middays · 1980 to 1981 and KUBE (Weekender · 1981 to 1983). Left radio to work for Prudential Northwest Realty, Toby Ryan, Al Vanik, Dick Wahl, Al Cummings [hosting an afternoon talk show in 1974], Mike Purdy.
1420 KRIZ
— Gospel (Kris Bennett Broadcasting) -RENTON
KRIZ was preceded on 1420 kHz in Renton by KREN, a station that began operating in 1963, but was deleted by the Federal Communications Commission (FCC) in 1970, due to its failure to fully respond to commission requests for information. KRIZ originated from a 1977 application to take over the KREN facilities, that was granted in 1979. It was initially given the call letters KSCR, which stood for the slogan "South (King) County Radio", and had an Adult Contemporary music format. On May 11, 1984, the call sign was changed to KRIZ. KREN Personalities: Don Riggs, Rudy Schroeder, Steve Wray, Les Belgel, Jerry Sweet; KSCR: personalities included Jeff Bach, Brian Lord, Dale Owens, Dave Keefer, Bob Campbell; KRIZ: Robert L. Scott, Bailey Coleman, Sheila Kay, Eric Dawson, Greg Miles, Jay Thomas
1450 KSUH
— Korean Programming (Radio Hankook, Inc) -PUYALLUP
1950–Construction permit for 100 watt KPWN Puyallup, Clarence Wilson of Chickasha, Ok.
Modified call letters in 1952 to KPUYThis station began regular broadcasting on December 1, 1951, with just 100 watts of power on a frequency of 1450 kHz. Licensed with call sign KPUY, the station was owned and operated by Clarence E. Wilson. By early 1953, KPUY had upgraded to 250 watt operation and Clarence E. Wilson took on P.D. Jackson as a partner in station ownership.
Puyallup Valley Broadcasting Company acquired KPUY from Wilson and Jackson in April 1953. This proved short-lived as by 1955 the broadcast license had been transferred to Henry Perozzo's Radio Station KAYE, Inc. 1956–CP issued to change frequency to 1230 AM–didn't happen – The station was owned [1/3 interest by Buck Owens- this interest purchased in 1958] 1959–Daytime power increased to 1000 watts. The sale by Radio Station KAYE, Inc., to KAYE Broadcasters, Inc., was completed on March 27, 1966.
1968–Voluntary license assignment to KAYE Broadcasters- Jim Nicholls and Bud Blair. 1973–License returned to Henry Perozzo – Call letters change to KUPY. The station continued the country & western music format even after a 1974 change in call sign to KUPY. 1974–Jim Nicholls sells his KAYE stock to Bud Blair — Blair purchases KAYE from Perozzo and KAYE becomes Happy Valley Broadcasting, owned by Bud Blair. 1978 – Bud Blair dies. His wife Sheila takes control of station license. 1978–Sheila Blair sells the station to Ray Court [Shortsleeve Broadcasting] July 1978, KAYE Broadcasters, Inc., reached an agreement to sell this station to Shortsleeve Broadcasting, Inc., co-owned by Ray Courtmanche and wife Cheri, 50% each. The deal was approved by the FCC on July 3, 1978, and the transaction was consummated on October 12, 1978. The station, as KRPM AM, co-owned with KRPM FM, aired a country & western music format with weekly specialty shows, including one in the German language and one on Native American issues.
October 1981, Shortsleeve Broadcasting, Inc contracted to sell KUPY to Monroe Enterprises, Inc. The deal was approved by the FCC on December 11, 1981. The new owners had the Federal Communications Commission change the station's call sign to KJUN on December 23, 1981.
June 1986, Monroe Enterprises, Inc., announced a deal to sell KJUN to 777 Broadcasting, Inc. The deal was approved by the FCC on August 15, 1986, and the transaction was consummated on September 5, 1986.
June 1990, 777 Broadcasting, Inc., agreed to sell this station to Joy Broadcasting, Inc. The deal was approved by the FCC on August 1, 1990, and the transaction was consummated on October 31, 1990. As part of a rebranding of the station's classic country music format as "The Cowboy", Joy Broadcasting had the FCC change the station's call sign to KKBY on August 16, 1996. The KJUN call letters were then assigned to a station in Tillamook, Or.
February 1997, Joy Broadcasting, Inc., contracted to sell KKBY to Jean J. Suh. The deal was approved by the FCC on April 4, 1997, and the transaction was finally consummated on August 3, 1999. New owner Jean J. Suh had the FCC change the station's call sign to KSUH after her family name on September 15, 1997. [ask.com]
KPUY,KAYE, KUPY, KJUN, KKBY Personalities: KAYE: Jim Nicholls, Dick Curtis, Herb Smiles, Bobby Simon, KUPY- Bud Blair, Carl Lambert. KJUN: Ed Kelly, Johnny Clark, Lou Robbins, Bob Mathers, Larry Brown, Sunshine Smith, Randi Thomas, Ray Brown, Heidi May, Bill Ogden [news], Kathy Magda, Bob McCoy, Steve Swan, Gisela's Original German Hour
1490 (pending switch to 1480) KBRO
Spanish contemporary Christian (Iglesia Pentecostal Visperia Del Fin) BREMERTON March 2023- given FCC authority to change frequency from 1490 to 1480, silencing KNTB/Lakewood-Tacoma)
1520 KKXA
— Classic Country (CAAM Partnership) -SNOHOMISH
On the air during testing July 15 2011. Continous loop of songs mentioning "radio".
The KKXA studios are shared with sister station KRKO at the Key Tower building in downtown Everett, Washington. Known on-air as "KXA" as a tribute to pioneering radio station KXA (770 AM). On October 11, 2011, KKXA began regular broadcasting at 4:00 pm with a classic country format branded as "Classic Country 1520 KXA". The first song was "Simple Man" by Charlie Daniels.
KKXA broadcasts with 50,000 watts of power KKXA personalities: Stitch Mitchell, Ichabod Caine
1540 KXPA
— Multicultural (Multicultural Radio Broadcasting Licensee LLC) -BELLEVUE
1958-KBVU on 1540; KBVU owned by Northwest Broadcasters Inc ; KFKF [Kemper Freeman] moved KFKF from 1330 AM purchasing 1540 AM in 1968. Call letters KBES in the early 1970s. KBES-AM was renamed KZAM in 1975, when Stewart Ballinger's group bought the AM and FM stations from Kemper Freeman. In 1979 or thereabouts it was re-christened "KZAM – Rock of the Eighties." KZAM – KZAM-AM was KZAM-FM's sister station. From 1979 through 1981 it played exclusively punk and new wave music as the "Rock of the 80s". DJs included: Greg McClure (Spudboy), Cindi Bemel, Kerry Loewen, Michael Stein, Leroy Henry and Stephen Rabow. In the spring of 1981 the station's call letters were changed to KJZZ, with a jazz format that foreshadowed the arrival of "smooth jazz." 1983 call letters were KLSY, then in 1992-KBLV -briefly ran an automated R&B format. KXPA was purchased by Douglas Broadcasting in 1996 and later sold to Multicultural Radio Broadcasting Licensee LLC.
KBVU: Lee Knudsen, Charles Sheppard, Neil Richards, Jim Hartt, Bill Newland, Bob Gill; KFKF Personalities: Chuck Mahaffay, Johnny Forrest – Newsman, Larry Nelson, Terry McManus, Don Riggs, Bill O'Mara, Jack Hemingway; KBES Personalities: Steve Montgomery, Frank Taylor, Jim O'Brien, Don Riggs, Dick Cross, Kevin Kelly, Dave Allen, Mark Kaufman; KJZZ personalities: Jeff Hanley, Kasia Wilk, Chops Carlson, Nick Morrison, Mike Clover
1590 KLFE
— Catholic religion (Relevant Radio) -SEATTLE
1590 went on the air on September 10, 1956 as KTIX with a full-service format that operated only during daytime hours (and would upgrade to full-time status two years later) under the ownership of Gordon Allen, who would sell the station to broker Hugh Ben LaRue. In 1962, William Boeing bought the station, flipped it to a country format and took the call letters KETO. The station also launched an FM counterpart on 101.5 (now KPLZ-FM). Boeing would then sell the station to Weaver-Davis Broadcasting. The station then shifted to Adult Contemporary as KSND. In 1970, the callsign changed to KUUU, and rebranded as "KU16". Sterling Recreation Organization bought KUUU and became a sister station with KZOK-FM in 1975, with the call letters changing to KZOK in 1977, and flipped to an Oldies format as "Solid Gold 16 KZOK". On May 31, 1982, at Midnight, 1590 became KJET with an Alternative Rock format, which was starting to emerge in popularity at the time. However, due to financial troubles, KJET signed off at 3 p.m. on September 23, 1988. After that, the station became KQUL, with a 1950s/60s oldies format, and was completely satellite-fed from the "Kool Gold" network. Adams Communications bought the station in 1989, with Chrysler Capital Corporation buying the station in December 1992 due to Adams' bankruptcy. KQUL would change its call letters back to KZOK in November 1989, and on February 1, 1990, KZOK-AM became Seattle's home for the Z-Rock network, which then changed to a simulcast of KZOK-FM in October 1993. On September 8, 1994, after Chrysler Capital sold the station to current owner Salem Media Group, KZOK-AM became KPOZ with a "positive Country" format, which would later transition to Christian music. The KLFE call letters came into effect on August 1, 1995. Brokered Russian programming would be added in 2000. On November 15, 2010, KLFE switched to its current conservative talk format. In August 2014, Salem Radio announced a name change to "AM 1590 The Answer", following suit with most of the other conservative talk radio stations operated by Salem nationwide. 8/1/2022: Salem Media has moved Conservative Talk "1590 The Answer" KLFE Seattle to 1300 KKOL Seattle. Salem agreed to reacquire KKOL from Tron Din Doh's Intelli LLC in June 2021 for $500,000. Co-located on KLFE's towers in Bainbridge Island WA, the sale has yet to close due to blanketing interference complaints received from nearby residents holding up its license renewal and sale approval. The complaints stem from KKOL's move to the KLFE site in 2019 when it upgraded to 50kW day/3.2 kW night. Salem had owned KKOL until swapping it to Intelli for a Portland signal in 2018. With KLFE switching to 1300 AM in August 2022, 1590 AM switched to Catholic radio from Relevant Radio. On August 1, 2022, KLFE's format and The Answer branding were moved to co-owned 1300 KKOL. KLFE switched to Catholic radio programming from Relevant Radio, a network based in Green Bay, Wisconsin, and Inspiration Media also filed an application to sell KLFE to Relevant Radio. The FCC has generally required paired original and expanded band stations to remain under common ownership. However, Inspiration Media also filed a waiver request with the FCC to allow it to sell KLFE's companion expanded band station on AM 1680, KNTS, to a different company, Baaz Broadcasting. As of 3/2/23, KNTS is simulcasting 1300 KKOL. The website has not been changed from the La Patrona format, links to audio feed have been cut.
Personalities: KTIX- Jerry Holzinger, Jack Hemingway, Russ Norman, Don Courtenay, Bill Chase; KETO: Dan Shannon; KSND: R.C. Bannon [PD], Bob Reece, Marco Marx, Robert O. Smith, Danny Holliday, Kirk Allison, Chris Hill/Dale Unruh, Bill Davidson, Squire Worthington, Jim Breedlove; KUUU: Scott Hodges/News Director, Mike Moran, Dave Day, Roger Dale, Bob Joy, John Ross, Gary Loving, Al Vanik [aka Gary Mitchell], Buddy Clyde/Hatton [Syndicated], Bob Summers, John Maynard, Kevin O'Brien, Fran Hawkins, Bill Rice, Mark Allen, Don Cristi, RC Bannon, Ray Sebastian; KQUL- Brademan; KJET personalities: Steve Larson, Ernie Gilbert, Jim Keller and the all-nite fella Otto Pilot [didn't say much, mainly spun the hits]
1620 KYIZ
— R&B (Z-Twins-Kris Bennett Broadcasting) -RENTON
KYIZ began as the "expanded band" twin to station KRIZ. On March 17, 1997 the Federal Communications Commission announced that eighty-eight stations had been given permission to add available "Expanded Band" transmitting frequencies, ranging from 1610 to 1700 kHz, with KRIZ in Renton authorized to add 1620 kHz. A construction permit for the expanded band station, also located in Renton, was assigned the call letters KYIZ on February 23, 1998. KYIZ first signed on the air that same year.
1680 KNTS
— Simulcasting 1300 KKOL (Salem Media Group) -SEATTLE

License granted 7-15-2004. Call signs: KNTS 07/01/2008, KDOW 06/16/2006, KTFH 07/22/2001, KAZJ 01/09/1998 – KNTS was owned by Salem Media Group. The station aired a Regional Mexican music format titled La Patrona. As of 3/2/23, KNTS is simulcasting 1300 KKOL. Background: 8/1/2022: Salem Media has moved Conservative Talk "1590 The Answer" KLFE Seattle to 1300 KKOL Seattle. Salem agreed to reacquire KKOL from Tron Din Doh's Intelli LLC in June 2021 for $500,000. Co-located on KLFE's towers in Bainbridge Island WA, the sale has yet to close due to blanketing interference complaints received from nearby residents holding up its license renewal and sale approval. The complaints stem from KKOL's move to the KLFE site in 2019 when it upgraded to 50kW day/3.2 kW night. Salem had owned KKOL until swapping it to Intelli for a Portland signal in 2018. With KLFE switching to 1300 AM in August 2022, 1590 AM switched to Catholic radio from Relevant Radio. On August 1, 2022, KLFE's format and The Answer branding were moved to co-owned 1300 KKOL. KLFE switched to Catholic radio programming from Relevant Radio, a network based in Green Bay, Wisconsin, and Inspiration Media also filed an application to sell KLFE to Relevant Radio. The FCC has generally required paired original and expanded band stations to remain under common ownership. However, Inspiration Media also filed a waiver request with the FCC to allow it to sell KLFE's companion expanded band station on AM 1680, KNTS, to a different company, Baaz Broadcasting.

1 visit(s) today