Dick Stark is well-known in the northwest corner of Washington State. Most radio listeners in Whatcom County, even those of us who worked with Dick in broadcasting, think of him as a sportscaster first, and second as a sales and management professional from KPUG (and later KAFE-FM). There's more to Dick's radio and sports roots than might meet the eye. Take a look at this 1960 article in the "Western Collegian," the student newspaper at then Western Washington College of Education (now WWU).

Stark 'till Dark
Of surprise to some of his listeners, Dick's earliest days in Bellingham radio were spent at KENY — not at KPUG! KENY was Bellingham's first Top 40 format radio station. Top 40 was a mix of early rock 'n' roll and pop records. KENY was founded in 1958 by local broadcaster Tom Haveman (Click HERE to read more about KENY). KENY's format was popular with teens and young adults, but the station had a competitive disadvantage. The FCC had licensed KENY as a "daytime only" station. In the Pacific NW, most daytime radio stations were allowed to sign on at six in the morning, but they had to go off the air at sunset. That meant KENY had a seasonal schedule — in summer on-the-air until 9:15 p.m. In the winter sign off was as early as 4:15 p.m. Dick worked afternoons, so his shift could have been real short, or pretty long, depending on the time of year. At KENY, Dick's radio show was, appropriately so, named "Stark 'till Dark."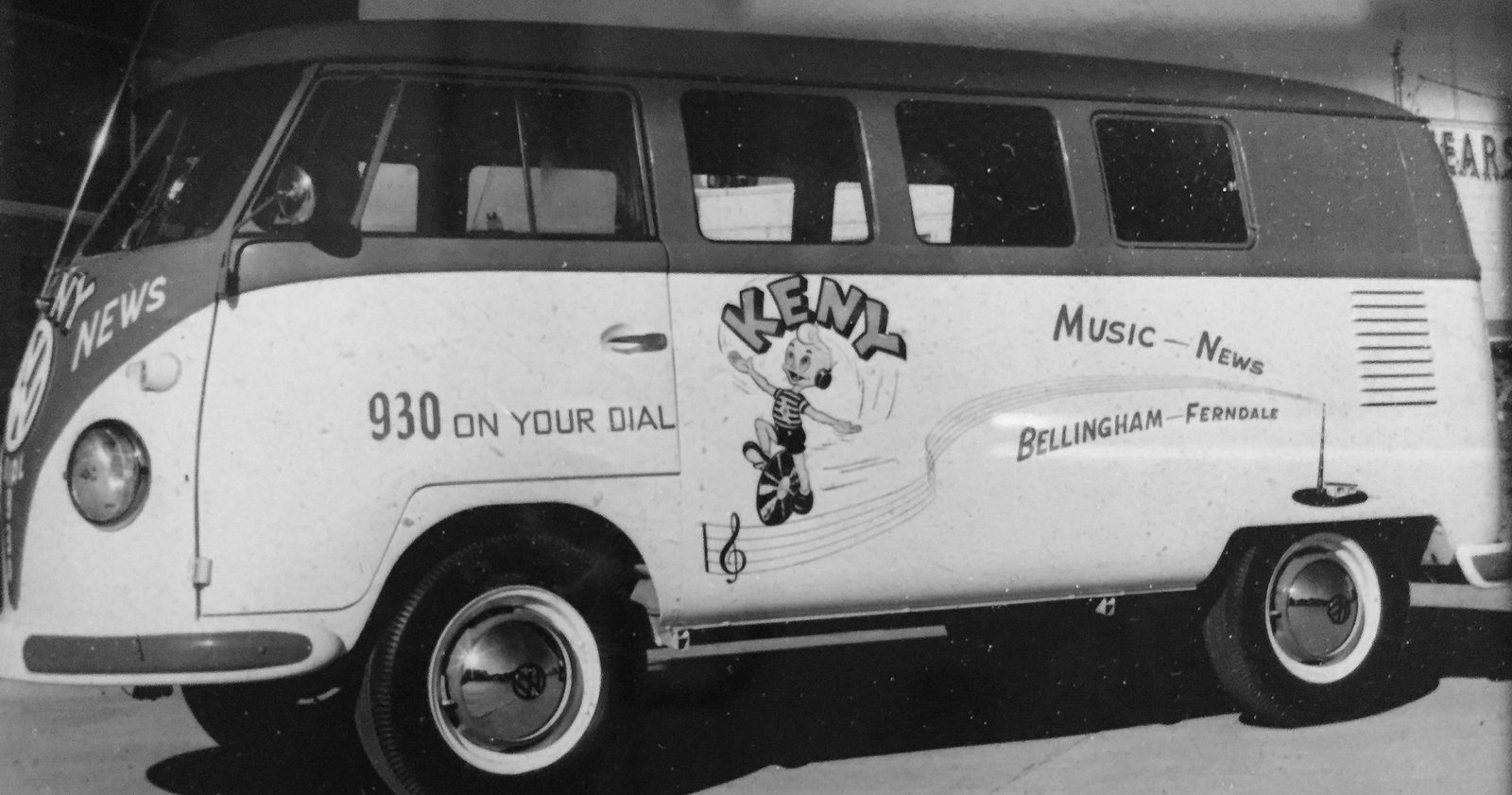 KENY's ratings were strong in 1960 when the station had live deejays and the playlist was Top 40. Meanwhile, Bellingham's two long established full time stations, KPUG and KVOS (later KGMI), followed a more conservative approach presenting news, sports, interviews and programming from national networks. When KPUG and KVOS played music, the selections tended to be easy listening pop standards. They avoided spinning early rock 'n' roll records.
Late in 1960 or very early in 1961, after about a year of playing Top 40 music, KENY suddenly dropped the format. Dick Stark, who was there at the time, recalled the moment: "KENY had good ratings but ad revenue was insufficient to keep paying the live deejays. It was difficult for KENY to compete with two established stations that didn't have to sign off at dark. Tom, the owner, decided to automate — switching to pre-recorded tapes. He let all of the live deejays go, except for me. I stayed on, doing some announcing, and I agreed to try my hand at selling radio advertising. I am a social and outgoing person, so I knew that if I could successfully sell radio ads that would supplement any income I could make as a sportscaster."
KENY tried other formats, but gained little traction. KENY went dark in 1967. It came back to life with a new owner in 1968, the call letters were changed to KBFW, and after a few bumps and sputters along the way, the station played country music for 25+ years. (Three decades after it had been founded as KENY, the station at the time known as KBFW finally obtained a full time FCC license.)
As the situation with KENY unfolded, especially noticeable in 1960 were KENY's strong ratings with the Top 40 format. KPUG's management was watching with interest. In early-1962, a year after KENY had dropped the format, KPUG switched to a Top 40 playlist with live deejays — the KPUG "live guys." Previously KPUG's programming had appealed to middle-aged adults but, since the station was licensed to operate day and night, the new youth-oriented format was a big hit. For two decades, KPUG was recognized as the predominant Top 40 station in Whatcom County (until FM radio gained ground in the mid-1980s).
Dick Stark's friendly demeanor, pleasant voice and natural talents were perfect attributes for success in radio broadcasting and sportscasting. He'd always been a good public speaker and loved sports. Dick was late maturing and too small, at 5 feet 11 inches tall and 145 pounds, to seriously compete for the BHS varsity team. But that situation gave him more time to focus on becoming a proficient PA announcer and developing his style as a play-by-play announcer. Stark's enthusiasm for basketball was such that senior year he and other players put together an independent team that played the region and they won 45 games and lost only five.
Stark graduated from BHS in 1952. Initially, he enrolled at Western and his classes began in winter quarter 1952. Dick became a cub reporter for the "Western Collegian. He worked his way up to co-sports editor. That position was shared with fellow student, Kyle Westland.
After about a year and a half at Western, Dick transferred to the University of Washington to major in radio & television. At the UW, Dick helped cover Pac-10 games for the campus radio station. At that time he met Rod Belcher, the late Seattle-Tacoma radio and TV play-by-play legend. Belcher had done it all, from working high school and collegiate games including the Huskies and the Cougars, local boxing and hockey, to the San Francisco 49ers, the Seattle Rainiers baseball team, the Seattle Pilots (the first major league baseball team in Seattle) and the wildly popular hydro races. Belcher was the first PA announcer for the Seattle SuperSonics and he coached young Dick Stark on the fine art of sportscasting.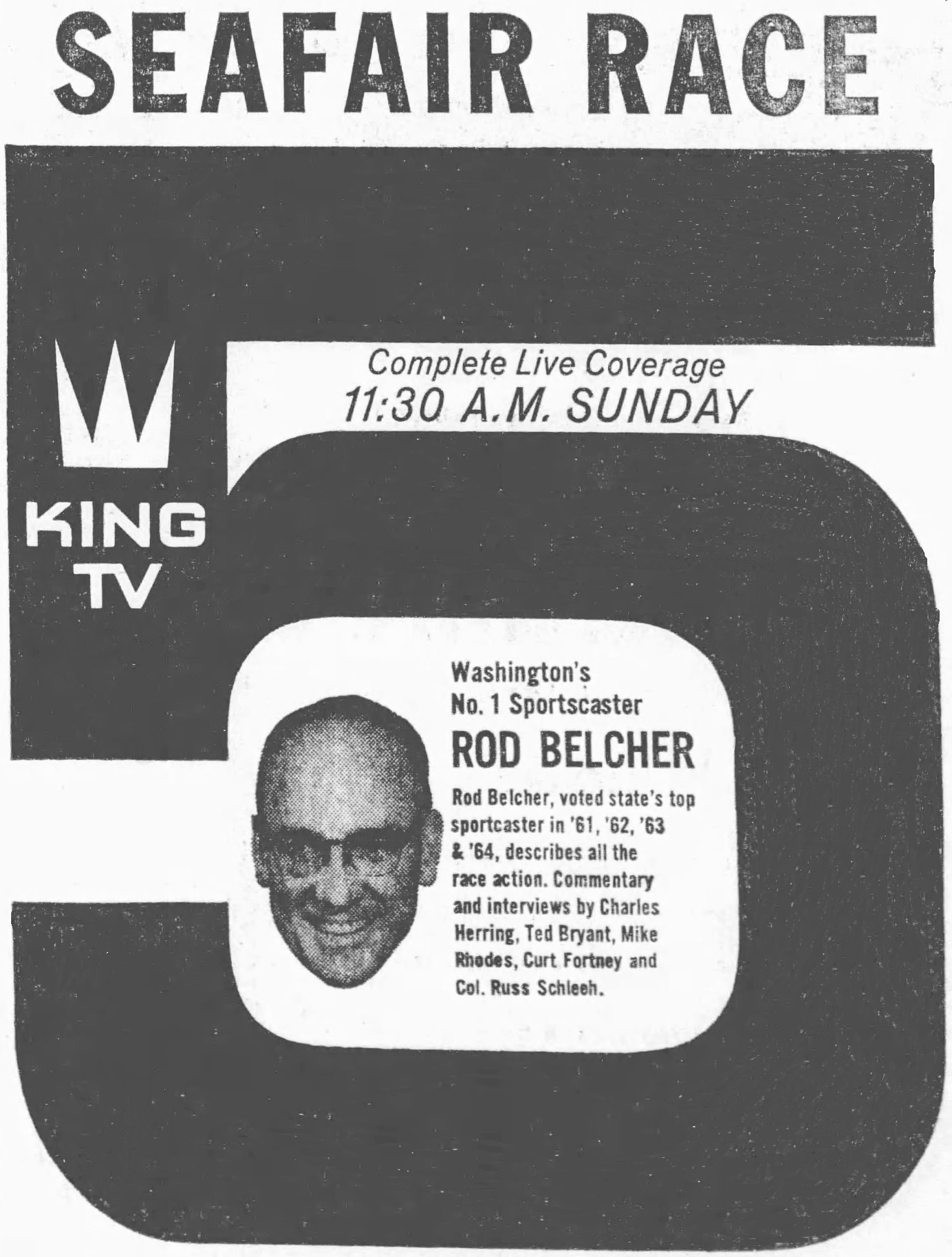 Things were looking up for Stark at the UW: He'd literally grown up — standing an inch taller at 6 feet and he'd earned a spot on the competitive Husky JV team. Dick had been at the UW for about two years when Uncle Sam came knocking. Suddenly, Mr. Richard Stark was in the army. While in boot camp, PVT Stark played basketball for the Army team at Fort Carson, CO. It was in the military that his skills as a player developed. When he was stationed in Washington D.C., Dick played with the Fort Meyer Colonials. And, no small achievement, the team won the East Coast championship.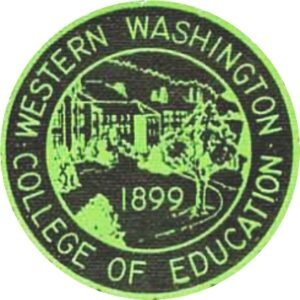 His military obligations were in the rear view mirror by 1958 when Dick re-enrolled at Western in Bellingham. He realized there were advantages to going back to school in his hometown. First, Western was noted for its teacher's training program and Dick was pondering becoming a teacher and a coach. Another big factor in his decision-making was affordability. Dick could attend Western, live in Bellingham, and save lots of money.
Stark never regretted his time at Western. He played intramural basketball and rugby and, best of all for his future career, he was able to pursue his enthusiasm for broadcasting by developing his "Stark 'till Dark" persona at KENY radio.
New Jobs, Graduation & Hitched
As the 1950s turned into the '60s change was in the air: In autumn 1959, Dick took his first radio job at KENY. He graduated from Western in June 1960. In late 1961 or early 1962, Dick left KENY radio when he was offered a full-time announcing job across town at KPUG. His successful career in advertising sales, and eventually management, began shortly thereafter. When the KPUG sports director left, Stark enthusiastically accepted the position. In the summer of 1962, Dick married Ardith — his forever wife. Over the years they had children and raised a family. Speaking of getting married, according to the caption on the newspaper clipping that accompanies the photo below, Dick was marrying Ardith the next day. But at that moment the flash went off, he and KPUG morning live guy, Gary "Taylor" Bruno, were smooching Cheri Mariotto — Miss Birch Bay 1962 — who went on to win other beauty pageants and to pursue a career as a model. Anyone interested in knowing the exact day the photo was taken need only ask Dick for the date of his wedding anniversary.
Dick and I collect aircheck recordings from the early days of KPUG and other local radio stations. Not a lot of that type of material remains, but the audio montage below includes KPUG recordings from 1960 creeping into the early '70s. First up, since he's the star, is Dick with a 1962 ad for the Moonlight Drive In. Next is Dave Hall's 1960 spot for Huisingh's Music Center. Third is Mike Forney's 1962 promo for a rock 'n' roll dance at the Elks Hall. Then there's Bob O'Neil's Mr. Whisper contest promo from 1966. That's followed by Norm Gregory with a 1966 spot for Fraser's Chevrolet. Finally, from the early '70s, it's Don Patrick with a Robert Burns clothing store ad. You'll also hear an ancient KPUG jingle and snippets from era appropriate tunes by The Four Seasons, Chubby Checker, The Tornados, The Beatles, The Supremes, The Unusuals and Mary Hopkin.
KPUG 50 years ago montage (Run time 5:10)
Whatcom County's Sports Authority
Stark loved being so close to local sports. He saw future pros and the best of the local players — kids who displayed real heart on the court and in the field. For five decades, listeners in Whatcom County heard Dick's voice when they tuned in prep football and basketball. For much of that time, Stark's only competitor was his friend, Haines Fay, at KGMI (Click HERE to read more about Haines Fay).
Dick provided sports coverage for all of the local schools: Lynden High, Lynden Christian High, Ferndale High, Blaine High, Nooksack High, Sehome High, Bellingham High, Squalicum High, Western Washington University and others. There were the regular games and state championship play. Much of Dick's time was spent in the county with the Lynden teams. In the '60s, he witnessed the rivalry between the Lynden Christian Lyncs and fabled coach Jake Maberry's Lynden Lions. Dick recalls the time the 1976 Lynden Christian "Iron Lyncs" basketball team won a state title even though six of their twelve players were benched for the championship game. Dick was comfortable doing play-by-play for basketball or football. At Western Washington University, administrators and fans dubbed Dick the "Voice of the Vikings" to acknowledge his skills and dedication while broadcasting Western's regular season basketball games.
Stark set his own personal benchmarks for reporting. He consciously made a point of never criticizing any of the youthful athletes he was reporting on. Dick was forgiving of their mistakes: "The players are always supposed to be the winners. That's the goal of high school and collegiate sports. I don't think I ever put a player down for an error, at least I sure hope I didn't. I tried to keep everything positive. That was one thing coaches seemed to appreciate about my radio broadcasts," Stark explained.
Dick remembers the young players he watched and interviewed over the years. A few of the local stars that immediately come to mind are Richard Hanson, a Blaine basketball player in the '60s. There was Pat Locker, Western's football all-star running back. He surpassed 4000 career rushing yards in the late '70s. In the late '90s, Blaine's Luke Ridnour was an amazing player and he went on to fame as an NBA star and a Seattle SuperSonic.
Friends and Colleagues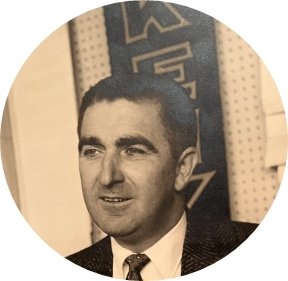 Dick had his favorite athletes and his favorite radio colleagues. Going back to the late '50s and early '60s, Stark and Ed Marroy worked at KENY. Marroy was one of Dick's lifelong friends and his mentor, introducing Stark to the basics advertising sales. Marroy, a career media professional, used to describe himself as an old "time-peddler." Truth be known, Ed had done a lot of successful peddling. In his career he sold ads for KVOS radio, KENY, KPUG and the Bellingham Herald. He also ran his own advertising agency for many years. Like Ed, Dick Stark excelled at advertising sales and he focused on serving his clients. Dick loved sports, but more so than sportscasting, it was his salesmanship and entrepreneurial spirit that put most of the groceries on the Stark family's table.
Talking sports colleagues, Dick teamed up with many broadcast partners and color commentators; however, Stark said the late Terry Allen was his favorite. "Terry came to KPUG from a Yakima station. He was one of KPUG's longtime employees, working as news director, helping with sports, and later getting into ad sales. He was absolutely the most fun guy I've ever worked with. Terry knew how to lighten things up at just the right time with one-liners. He and I would do a game and we'd just be sitting there and having fun. We were together as the KPUG sports broadcast team for nearly 15 years." Even after Allen returned to Yakima in 1979, the pair purchased the rights to state championship games that were aired by station's around the state. The guys at the mic were, of course, Stark and Allen.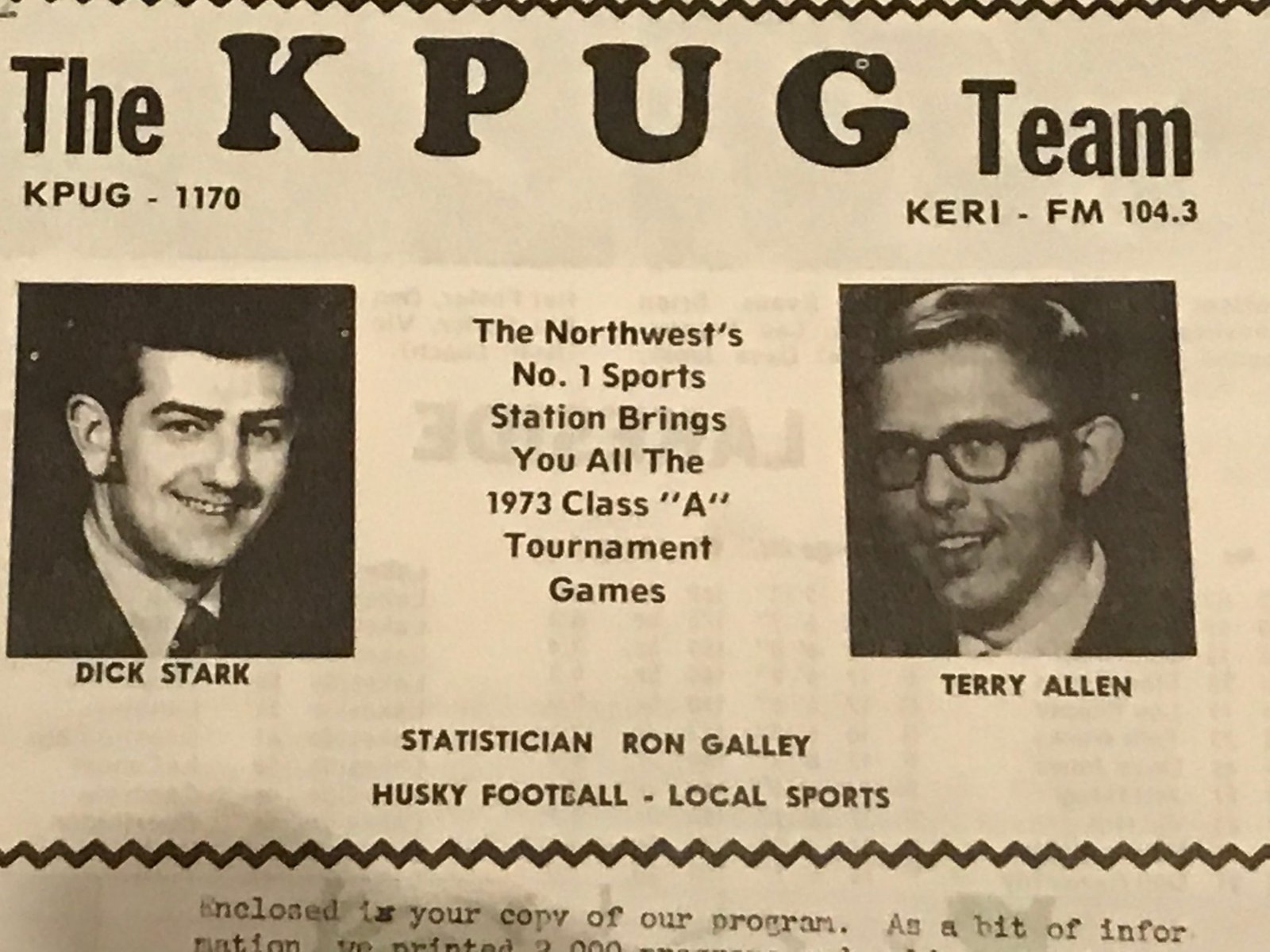 Awards and Career Highlights
Stark has received many professional honors, from induction into the Washington State Football Coaches Hall of Fame to the Dave Duvall Award for Community Service. In 2020, he was inducted into the Bellingham High School Athletic Hall of Fame. Dick's award acknowledged a lifetime of promoting local sports through his play-by-play broadcasts on KPUG (Click HERE to read that). And in May 2022, Dick was inducted into the prestigious Washington State Association of Broadcasters Hall of Fame.
One highlight of Dick's life in sports goes back to 1972. The KPUG All Stars (KPUG staff and their athletic friends) played basketball against the University of Washington in a public fundraiser for the local Boy's and Girl's Club. The radio guys weren't facing the actual UW Pac-10 team. The UW competition consisted of collegiate celebrity players, but not necessarily basketball stars. One UW notable was All-American quarterback (UW 1969-'72) Sonny Sixkiller. The photo below was shot at just the right moment to catch the man once known as "Stark 'till Dark" skillfully driving around Sixkiller.
That Entrepreneurial Spirit
Dick Stark is known as the sports authority for Bellingham and Whatcom County. But there's more to Stark than that. He displays a strong entrepreneurial spirit and approach to business. Let's take a look at a few of Dick's successful business ventures that are lesser known to the public than his stellar broadcasting career.
Dick's Noisy Cars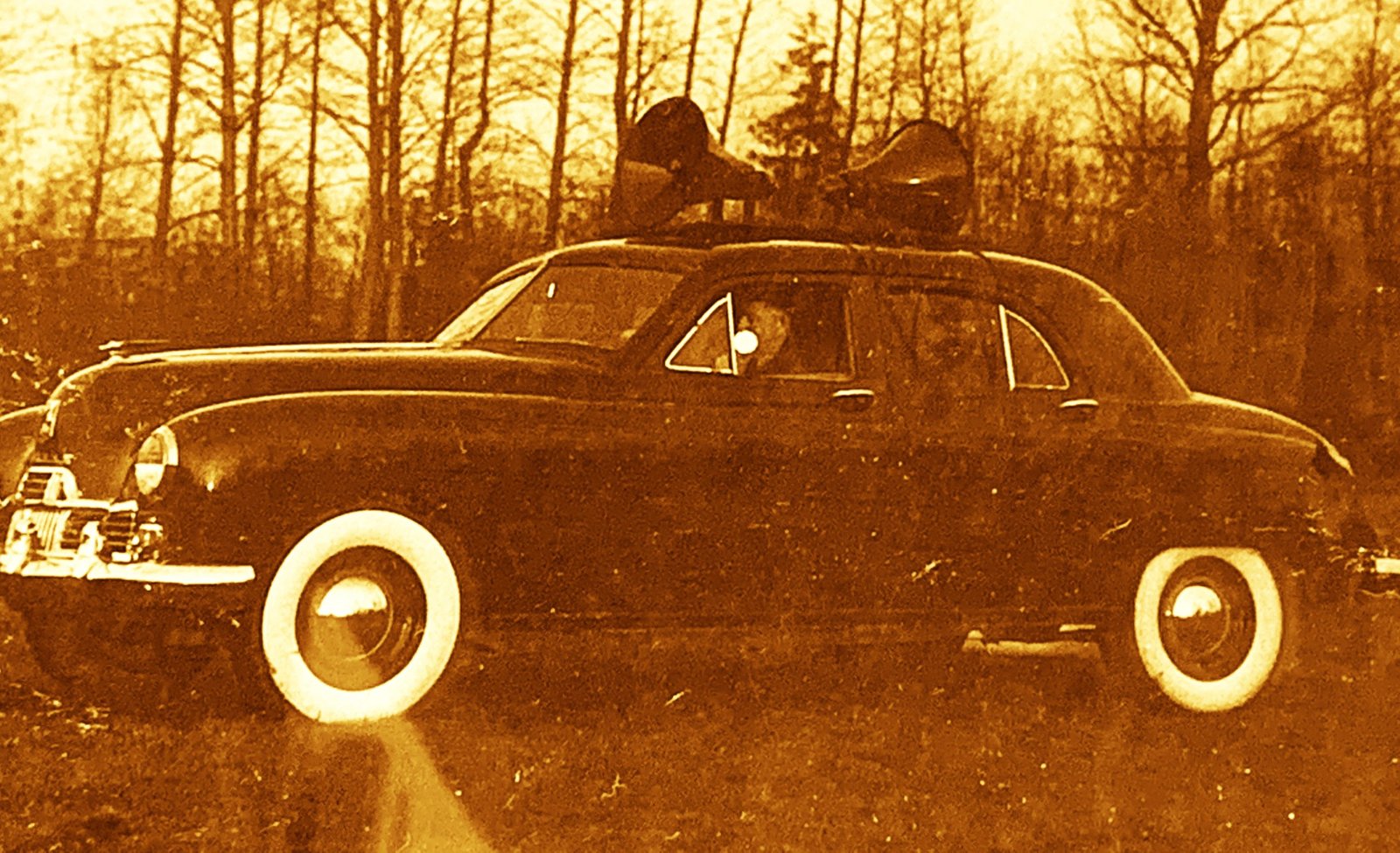 The Stark family, beginning with Dick's father, owned the sound cars that were seen and heard in Bellingham's city center several decades ago. In the mid-'60s, the car often cruised Railroad Ave. and Magnolia St. It would blast out popular tunes mixed with ads for venues like Skagit Speedway and teen dance halls at Birch Bay. Dick told QZVX: "My dad, Virgil, ran the first sound car in Bellingham about 1948. It was a presidential election year and he drove around making political campaign announcements for the Democrats. After the election, the party gave dad all of the equipment as payment. Driving that car my dad gave Senator Scoop Jackson his first ride around Whatcom County. My brother Jack and I took over running it when I was a junior at Bellingham High School. I continued with the sound car through my college years and ran it for several years after I was established at KPUG. My kids even ran it for a while when they were in college. After Bellis Fair Mall came to be in the mid-'80s, the downtown disappeared and so did the sound cars."
Standard equipment in the early sound cars was pretty crude by today's standards. Dick explained, "inside we had a light duty portable record player and a microphone. They connected to the amplifier that fed the PA horns that were mounted on top of the car. The equipment was all battery powered, of course. Out on the road, we'd play part of a popular record and then cut in with an ad that we read live. If a quick stop or a sharp turn was required, the tone arm and stylus might be heard scratching its way across the record. Sometimes, when I was driving, if I saw a familiar face on the street, I would greet the person by way of the car's PA system. That never failed to surprise and amuse the pedestrian on the sidewalk who got singled out." This author notes that the sound cars were not loved by everyone, because they made noise downtown, but in my mind they are a memorable remnant of Bellingham's past.
Keep On Dancin'
Dick was one of the leading teen dance promoters in this area. He got his start in 1962 when, with his KPUG colleagues Gary Bruno and Danny Holiday, they sponsored Buddy Knox — purveyor of the No. 1 hit "Party Doll" back in 1957 — as part of the Blossomtime Festival (see the photo of the three young promoters with Knox at the bottom of this article). Later on, Dick partnered with his friend and KPUG general manager Jim Tincker to form DJ Enterprises. It operated for nearly 15 years, until teens lost interest in dances and Battles of the Bands. Dick retains fond memories: "Our big event was the "Tune In" back to school dance at the Assumption Gym. One year we had 12 bands participate, playing from noon to midnight. The presentation was well organized. As one band was playing front and center stage, the next band would set up at another stage over against the wall. At the end of an act, we would simply reverse the stages. It was great fun and financially rewarding." The photo below features one Battle of the Bands contest winner, Crystal Tricycle, performing at a KPUG event in 1970. They're set up on the back of a flatbed truck in the old Bellingham Sears' parking lot on Cornwall Ave.
Stark Goes Hollywood
Ok, the headline above might be slightly exaggerated. However, during the VHS video store boom in the 1980s, in Bellingham Dick was on the ground floor of that craze. His first store was in the historic Fountain District. When he needed more space, Dick moved to yet a bigger store in the Fountain District. Stark's TV and Video rented out movies and portable players. Customers could shop for TVs, VCRs, and video cameras. The store also had a highly regarded service department.
Everybody around back then knows how things turned out for video stores. The landscape changed: VHS went away, grocery stores put in vending machines stocked with DVDs and Netflix didn't help matters. By the early '90s, video rental stores were fading away. What remains of Stark's TV and Video, along with a few photos and many memories, includes two radio ads that ran in Bellingham. The first one is Halloween themed. The ghoulish voice is Marty Rowe, a former KPUG program director, and the announcer is Dick's friend, the late Terry Allen. The second spot was produced by a Florida production company.
Two spots for Stark's TV and Video (Run time 1:42)
Despite his other ventures and adventures, Dick remains best-known for his contributions to local sports. In a career that spanned nearly six decades, it has to be difficult to pick the most memorable moments in local sports. When asked about that, Dick provided a CD of some of his sports broadcasts. The choices are obviously limited because many great moments in local sports were lost forever because a tape wasn't rolling at the time. Of the three tracks below, the first two are men's basketball from 1998 when Western played Central Washington University. In the first clip, things start looking up for Western. In the second clip, Central player Simon Dubiel (former Sehome High star) completes a shot that spells "lights out" for Western. The third clip dates to 2005: The Squalicum High (Bellingham) boys' basketball team is playing Hanford High (Richland) for 3rd place at state. Squalicum's Dustin Jones saved the day with only seconds left in the game.
Three memorable sports clips: Dick Stark (play-by-play announcer) with commentary and analysis by Ron Crowe and Steve Sandmeyer. (Run time 2:03)
Dedicated to Community Service
Stark always had that entrepreneurial spirit, but add to that a deep love and heartfelt dedication to community service. In late 1968, Dick was co-founder and one of the first board members of the Whatcom County Boys Club. Involved with the organization for many years, he served as the local Boys Club President in the early 1970s. Come 1988, the local youth basketball team, known as the Bellingham Mavericks, was the original brainchild of Dick Stark. The team was comprised of players from around the county who had been unable to get a position on their high school's basketball team. Stark managed and coached the Mavericks for eleven years and eventually handed his project off to a successor. The players loved Dick Stark and the opportunities he provided for them. The Mavericks might have even been considered international ambassadors of goodwill — the team often competed against high school teams from British Columbia, Canada.
Five Decades at KPUG
That odd looking photo above shows Dick holding the mic for deejay Jay Hamilton. As part of a remote from Fountain Motors, Jay spent the night (supposedly sleeping, if that was possible) in a car. That crazy promotion was undoubtedly cooked up by Dick in his role as a KPUG sales executive.
Those of us who worked at KPUG had fun and we have stories to tell. Dick has more good KPUG and Bellingham stories than any of the rest of us. After all, he was the longest serving employee in the history of KPUG. He spent more time on the payroll than any of the people or companies that ever owned the station.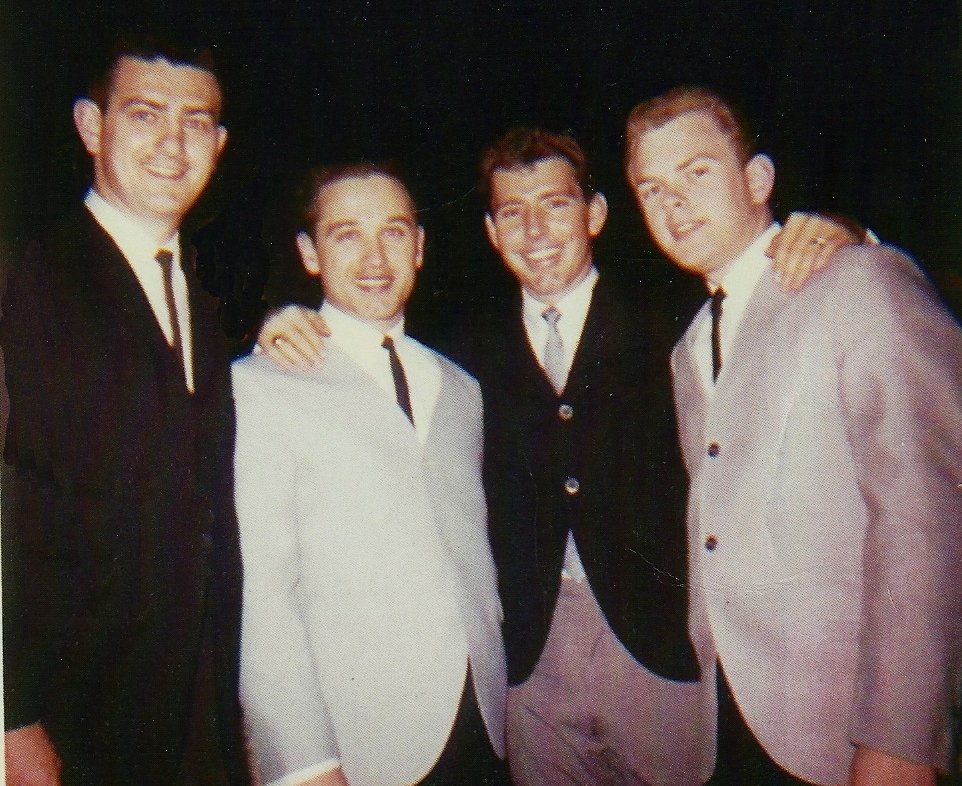 Dick Stark was at KPUG (and the FM from the early-'70s) for 56 years. He worked with all of the KPUG staff that ended up in big markets including Gary "Taylor" Bruno, Danny Holiday, Jay Hamilton, John Sandifer, Kirk Wilde, Harvey "Charlie" Brown, Gary "Shannon" Burleigh, Steve West, Norm Gregory, Greg Collins, and Randy Evans (Ichabod Caine). Dick retired from broadcasting in 2018 and he is still productive in the community, active in his church, enjoying barbecues with his children and family and enthusiastic about life.
1 visit(s) today