Many prominent disc jockeys of the 1960s and 1970s worked at KPUG 1170 AM. KPUG was Bellingham's competitive small market top-40 radio station that allowed creative young jocks to develop their skills. The station was a stepping stone, a kind of on-the-job training center, for several air personalities who moved on to large markets. KPUG announcers or "live guys," in the aforementioned category, include Kirk Wilde (the topic of this article), Danny Holiday (KOL, KBSG, KZOK), Gary Bruno (KJR as "Gary Taylor"), Gary Shannon (KJR, KOMO), Norm Gregory (KJR, KZOK, KOMO), Steve West (KJR, KISW, KXRX), Harvey "Charlie" Brown (KJR, KUBE), Greg Collins (CKLG, CFOX), and Randy Evans (KJR, KMPS as "Ichabod Caine").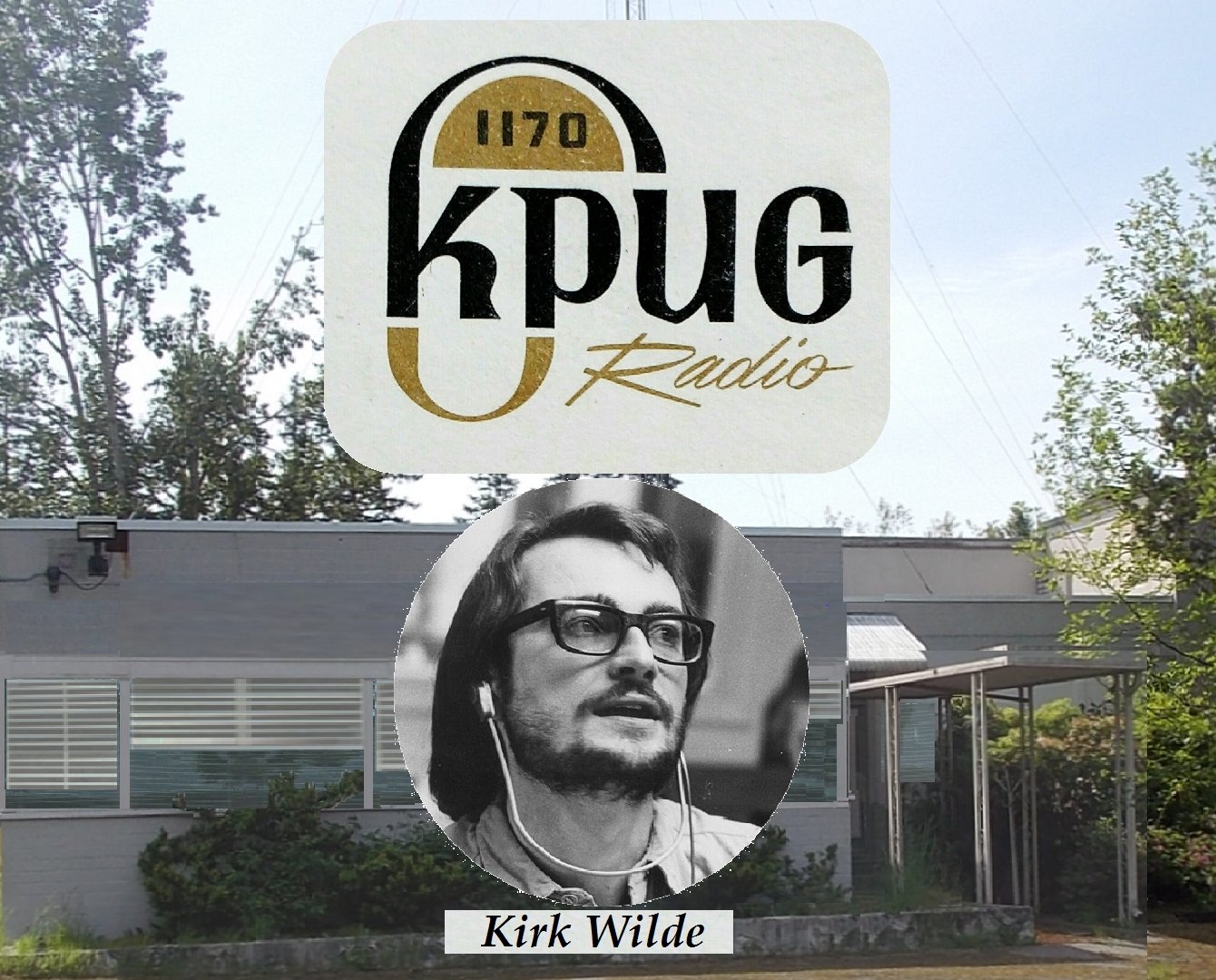 Wilde Days and Nights
Kirk Wilde was a new hire at KPUG in 1964. After a few months on the job he left Bellingham to work at stations in Klamath Falls and Corvallis, Oregon. Wilde returned to KPUG in 1965 as the afternoon DJ and music director. The mid-sixties were banner years for KPUG. Other talented announcers, who crossed paths with Wilde at KPUG, were Danny Holiday, Gary Shannon, Charlie Brown and Norm Gregory. Back then I was a 14-year-old Bellingham kid, who constantly listened to rock radio, so I can testify that Kirk was a popular and memorable radio personality — high energy, he played lots of music, and Wilde ran a tight board. His fast-paced delivery was modeled after jocks on KISN in the Vancouver-Portland radio market. During his college years in Oregon, Wilde became hooked on KISN's brand of power rock radio.
High Energy Fun!
Wilde incorporated humor into his show, but he strived more for "exciting" versus "funny" radio. His occasional on-the-air sidekick was Julius Funkley — a voice recording on a tape cartridge. In a high-pitched screech, Julius would belt out a few memorable phrases. Anything Wilde said on-air Julius would concur with. Kirk's listeners will remember that Julius' most often heard screech was simply "That's RIGHT." Wilde described Julius as his "yes" man. As a stunt, Wilde promoted Funkley as a candidate for student body president at Bellingham High School. Funkley's write-in campaign led to a victory; however, to no one's surprise, the imaginary candidate never materialized to serve even one day in office. Read more about the Wilde-Funkley team by clicking HERE. Wilde was also famous, or perhaps infamous, for playing his "Magic Twanger" Jew's harp on the radio. Kirk was from a musical family and he sometimes sang his own theme song. Another time he and other KPUG jocks did covers of popular hits.
Wilde on Memorex
Audio recordings of Kirk Wilde, at KPUG or at any other radio station for that matter, had been unavailable for more than 50 years. For decades, Wilde had a box of his personal history and audio tapes stashed away in his closet. I had "hounded him for years" (his terminology), trying to get Kirk to send the tapes to me. He was reluctant to share them publicly. Then, around Christmas 2021, he sent an Email asking for my shipping address. He was sending his tapes from KPUG, KOL, KSND, KING and KDKO.  Sadly Kirk passed away in June 2022.
I received many hours of recordings, so turning them into scoped airchecks is an arduous project. However, for the very first time, Puget Sound Media has audio recordings from Kirk Wilde. Nobody's heard his radio voice in more than 50 years — until now! In the clip below, screechy Julius Funkley concurs with Wilde's assessment that the latest hit by Herman's Hermits sucks (Wilde and Funkley were pretty direct about their dislikes). The second clip is Wilde playing his Magic Twanger. That's followed by a 1964 clip of Kirk singing his "Wild Man" show intro. Also from 1964, there's his cover of "Twist and Shout." All of the KPUG jocks, including Danny Holiday, recorded renditions of popular songs and listeners voted for their favorite. Wilde won in a landslide!
Cut 1: Julius Funkley with Wilde & Herman; #2: Magic Twanger; #3: "Wild Man" intro; #4: "Twist and Shout." Runtime – 5:15
Wilde always thought of himself as high energy, not emphasizing funny. But to those of us who listened to his show, we thought he was pretty entertaining and cool. An example would be his birthday acknowledgement for a teen girl from Bellingham High School. He could even make recorded spots more interesting. I have had one such spot indelibly burned into my head. It was part of the Pepsi Generation ad campaign featuring Martha Reeves, of Martha & the Vandellas. At the final donut opening in the jingle, he hollered "one more time, Martha." I was pleased to find that recording was on one of the tapes he sent to me.
Cut 1: Teenager's birthday with a guest appearance by Mrs. Miller; #2: Pepsi Generation with Martha. Runtime – 1:44
Wilde & the Unusuals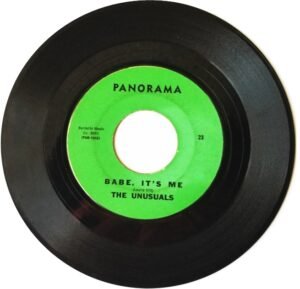 As a music enthusiast and a radio station music director, Wilde recognized talent when he heard it. Kirk was the first music director to play and chart Babe It's Me, a single by The Unusuals — the best known Bellingham band of the '60s. The duet highlighted the late female vocalist Kathi McDonald and Laurie Vitt — the songwriter and a founder of The Unusuals. The Panorama release reached #1 on KPUG's top-50 chart. To learn more about Kirk Wilde's role in promoting the single, and to hear Babe, It's Me, click HERE.
In the '60s, Kathi McDonald and The Unusuals toured the northwest with Sir Raleigh — a regionally popular musician. In 1967, Sir Raleigh (a Canadian named Dewey Martin) became the drummer for Buffalo Springfield. He played on the giant hit "For What It's Worth." When The Unusuals disbanded, Kathi moved to San Francisco, became a prominent blues and rock vocalist, and she performed and recorded with Ike & Tina Turner, Big Brother and the Holding Company, Joe Cocker, the Rolling Stones, Leon Russell, Long John Baldry and other stars.
Wilde Ratings
Back when AM radio was king, Kirk Wilde proved that listener's loved a well-executed and high energy top-40 format. In Bellingham and Whatcom County, Wilde ruled the airwaves with great numbers. KPUG was the only local rock station, even though powerful signals from Vancouver B.C. and Seattle competed for market share. Regardless of the competition, a 50+ year-old Barr Ratings survey confirms the dominance of Wilde's show. His ratings (red circle) were more than double that of any other local and regional competitors (percentages displayed in the right side columns). Fellow KPUG disc jockey Gary Shannon had exceptional ratings as well.

KPUG's directional pattern and daytime power (in 1966 it increased from 1KW to 5KW) established reliable coverage into British Columbia's heavily populated Lower Mainland. Kirk recalls that he received requests from B.C., mainly from the smaller cities: Chilliwack, Abbotsford, Langley, and White Rock. KPUG played the hits and got them on-the-air early. That philosophy paid off. Here's a '60s era quote from Canada's national news magazine Maclean's: "Sandra Thompson, 16, of Vancouver, has three transistor radios, which she tunes mostly to KPUG in Bellingham, Washington. The same records turn up on Vancouver's CKLG, she says, but later."
Soulful Wilde
Typical of the nomadic lifestyle of a disc jockey, Wilde had a disagreement with management and parted ways with KPUG in 1966. He found employment with other northwest stations including Everett's KRKO, Seattle's KOL, and KSND (as Kirk Allison), and KING. Wilde spent most of his career in top-40 radio, but he is most proud of his 1972 transition into rhythm & blues radio. In Denver/Littleton, the predominantly African-American listening audience at soul station KDKO fully accepted Wilde as the morning drive time personality.
A Wilde Retirement
Kirk Wilde exited radio in 1975. By then he was looking for a career that provided job security and benefits (health care, retirement, etc.) that were seldom offered by radio stations of the era. After his departure from broadcasting, Wilde drove a school bus for 27 years. He retired and lived in Denver. Even after he was retired, Kirk kept up with music: current hits, trends and innovations. Occasionally by Email he shared, with family and friends, his personal opinions, critiques and knowledge of new music and the oldies he once played on the radio. Wilde enjoyed many different genres of music.
Finally, giving a sense of the rapid pace and the way Kirk's show flowed, here's a longer aircheck. It was edited together from two different evening shows, both aired in summer 1966. This is exactly how I remember Wilde sounding back in my early teen years. There is a great spot in it, cut by Kirk, for Merrilee and the Turnabouts. The deep voice on the short promos is non-other than a young Norm Gregory (at the time Wilde's roommate in a house they rented). Another voice heard here is longtime KPUG program director Bob O'Neil.  At KPUG Wilde worked with radio guys who achieved stature in broadcasting — Danny Holiday, Steve West, Gary Shannon, Dick Stark, Dave Hall, Harvey (Charlie) Brown  and Norm.
Kirk Wilde summer 1966 aircheck. (Norm Gregory heard at 5:52 and 7:19. Bob O'Neil at 11:15.)  Runtime 14:30
Before I had audio of Kirk, I had put together a short video montage that saluted Kirk and the music he was playing when I began listening to KPUG. It is a three minute countdown of the top-10 hits in the Pacific Northwest the week ending February 26, 1966. That chart date reflects the first time I heard Kirk Wilde on the radio. Short clips of the top hits of the day are featured here.
[su_vimeo url="https://vimeo.com/207895448″ width="460″ height="1340″]
Click on the names below to read about these broadcasters who were popular in Bellingham and Whatcom County, including nearby Canadian legend Red Robinson:
Danny Holiday (KPUG)
Dick Stark (KENY & KPUG) 
Kirk Wilde (KPUG)
Gary Shannon (KPUG)
Mike Forney (KPUG)
Jay Hamilton (KPUG & KBFW)
Bob O'Neil & Marc Taylor (KPUG)
John Christopher Kowsky (KPUG)
Haines Faye & Rogan Jones (KVOS & KGMI)
Tom Haveman (KENY & KVOS)
Red Robinson (Vancouver B.C.)