In 2020, Kirk Wilde drawing on his memory and historical sources traced the roots of homegrown Pacific Northwest rock music (Click HERE to read the article). He described several artists who were important to the development of the northwest sound. That got me wondering if there were performance videos of those northwest artists that Wilde had written about.
The pickings are slim. Most of the northwest artists had regional fame, but not so much nationally. They did not appear on television or in film. Exceptions that come to mind include The Fleetwoods, Paul Revere & The Raiders, The Ventures, The Kingsmen, Merrilee Rush, Don & The Goodtimes and vocalist Kathi McDonald. A number of video performances by these artists are still available today.
The Sonics, from Tacoma, WA, are rated as the godfathers of garage rock. Music historians often credit them for the emergence of the punk and grunge sound. That said, for many years they were mainly a Pacific Northwest phenomenon. After a few mid-'60s regional hits that were played on KJR, KOL and the northwest rockers, the Sonics faded into the background for several years. Later the band began touring again. And they kept touring for many years. In Europe the Sonics are hailed as rock icons.
Nationally, in Billboard magazine, the best they did was credit for a Regional Breakout Single on Jan. 30, 1965 for "The Witch." (And a repeat of that for "You Got Your Head on Backwards" on Sept. 3, 1966.)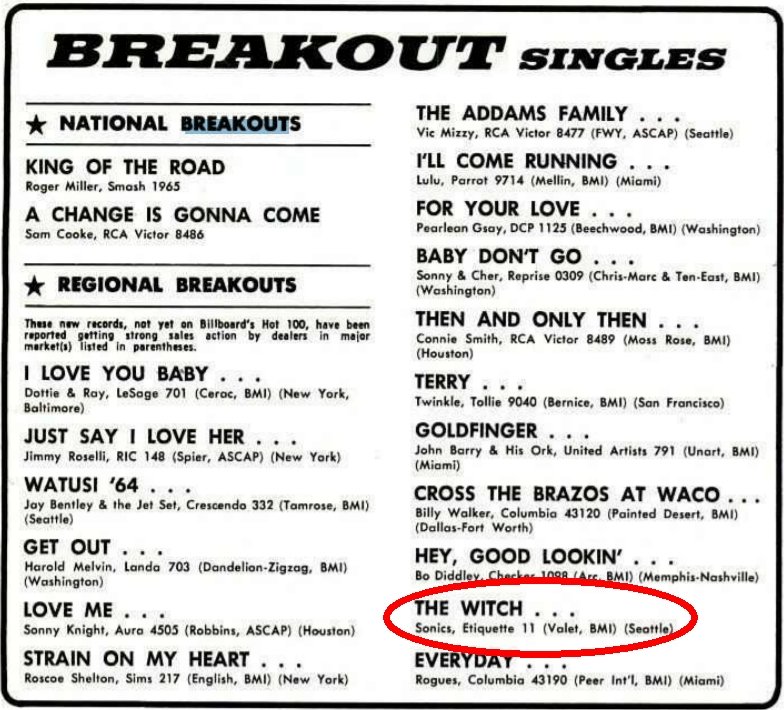 Moving ahead 50 years, in April 2015, the Sonics took a break from touring and made a rare appearance in Seattle. The show, live at Easy Street Records, was recorded and the soundtrack is available for purchase. The audio and video were mixed and edited by KEXP -FM in Seattle.
From that Easy Street Records show, I have selected "The Witch." It was early on in The S0nics' evolution and the song was hard-driving, raw and intense. If you were a kid in the northwest in the sixties, you heard "The Witch." I am told that any band that played around here back then had to cover "The Witch."
Even all these years after "The Witch" was originally released, the Sonics were still rocking in 2015. Gerry Roslie, lead vocalist, was back belting out the lyrics in good form (after having had a heart transplant in 2008). Past and present band members, who appeared in various sets at Easy Street, included Sonics' founder, Andy Parypa (bass), and his brother Larry Parypa (lead guitar), Rob Lind (sax), Freddie Dennis (bass & vocals), Dusty Watson (drums), and Gerry Rosalie (vocals and keyboard).
On "The Witch," regular drummer Dusty Watson was replaced by Mark Pickerel of Screaming Trees and Soundgarden's Ben Shepherd played bass. Technical notes: Original feedback in the soundtrack has been mostly eliminated and lip sync adjusted.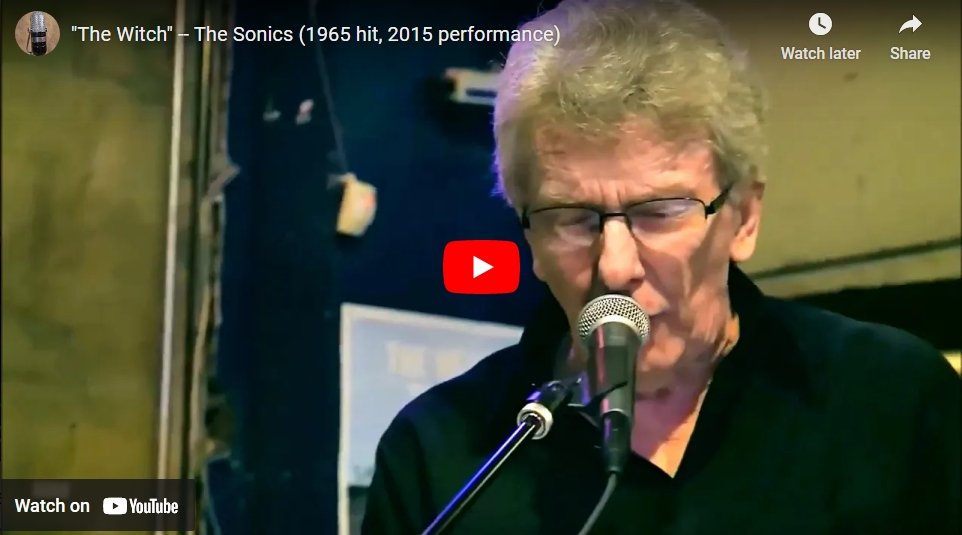 Another QZVX article featuring the Sonics and highlighting their hit "Psycho" is available by clicking HERE.