As measured in radio years, Bob O'Neil (real name Robert Tria) was at KPUG for a long time — P.D. from the mid-sixties until 1969 or into 1970.  The photo above is one of the best available pictures of Bob.
I did not write this article on my own. While researching it, I contacted Bill Ogden (Marc Taylor at KPUG in the later '60s.) Bill's recollections of Bob O'Neil and the station were entertaining and I asked if I could write my post around his comments. He agreed with the plan, so the following contributions are those of Bill Ogden/Marc Taylor.
"Bob O'Neil was the first person I met at KPUG, when I interviewed for a position on the air in 1966.  I liked him immediately, he was genuine and sincere.  He had a friendly, warm demeanor on the radio. I think Bob patterned his style after an L.A. disc jockey named Jimmy O'Neil, who hosted the popular teen-oriented ABC TV show Shindig."
"Bob and I did a March of Dimes marathon remote broadcast at a downtown Bellingham store and you learn a lot about a person when you spend 24 hours straight with them on the air. I learned he was the same guy on the radio that he was in person.  Bob was solid, sincere, and someone who really cared about KPUG and its' impact on the community.  The station raised a ton of money for the March of Dimes and Bob O'Neil masterminded not only the remote broadcast, but also the promotion itself, the advertising, and logistics of the broadcast and the M.O.D. fundraiser."
"As the station's P.D., O'Neil was part of management and he was organized, worked well with air staff, sales people, senior management and advertisers.  He recognized talent; O'Neil knew that Norm Gregory was going to go on to be a radio star somewhere and someday."
"Dick Stark was the recognized voice of sports in Whatcom County and on KPUG.  Because KPUG covered so many high school games during the fall and winter sports season, there was plenty of opportunity for Bob to pick up play by play work doing some of the broadcasts on the Big 1170.  So in addition to his duties as the P.D., and as morning show host, O'Neil could hold his own as a play by play guy.  He was good at it."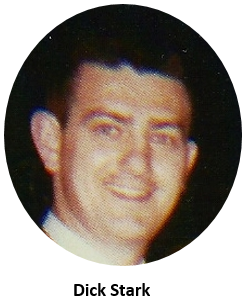 "O'Neil was a few years older than me and most of the rest of the KPUG DJ's. I think he was 27 or 28 when I was only 20, so he had a few more years of both life and radio experience under his belt. As the one with experience, Bob was good at nurturing young jocks. George Ruggles, for example, had no previous radio experience, but he really wanted to be a disc jockey.  George was a student at then Western Washington State College, now Western Washington University, and he was initially hired to play tapes on Sunday mornings. Eventually, through hard work and talent, Ruggles earned a regular air-shift at KPUG. Tragically, he passed away at a young age, while still employed by KPUG."
"I remember another young kid, who O'Neil helped get into broadcasting. John Dempster, a student at Bellingham High School at the time, was a persistent young man who kept applying for a deejay job. O'Neil and longtime general manager, Jim Tincker, told him to get his First Phone FCC License (required of operators at KPUG) and then come back to see them again."
"Maybe 6 weeks later Dempster is back with his First Phone in hand. He was bright, a longtime ham radio enthusiast who knew electronics, so knocking out the test to obtain a First Phone FCC License was a "Piece of Cake." KPUG hired him and this high school student became The Real Johnny D, working weekends and part-time."
"That memory reminds me of a similar Bob O'Neil story: In earlier days, O'Neil had jocked in both Yakima and Mount Vernon, WA radio before being hired as the P.D. at KPUG. While in Yakima at KIMA, he got to know, and worked with, another young fellow named Don Steele.  Bob and Steele kept in touch over the years, even after Steele became the biggest name in L. A. radio as The Real Don Steele. For one of KPUG's anniversaries, probably the 20th, Steele cut a couple custom promos for KPUG and shipped them to Bellingham. I still remember his words and that "boss" style delivery:  This is K-P-U-G…1170…in Big Bee-U-Tee-Full Boss Bellingham.
All the KPUG jocks, Norm Gregory, Scott Campbell, George Ruggles, Marc Taylor (that's me) and especially Bob O'Neil loved the Steele I.D., but KPUG's management team didn't get it, or care much about Boss Radio, Los Angeles, or The Real Don Steele for that matter. The promo, cool as it was to the DJ's, came up missing from the cart rack after about a day of playing it on the air."
"Late in the '60s or maybe in 1970, O'Neil moved across town to KGMI-AM. For awhile he maintained the KGMI announcing and production job. Then, after not too long, he packed up and moved away. Bob had decided to pursue a career in sales. At one point he was a top salesperson for the then industry leading ITC cart machines. When I last saw Bob, many years ago when he was visiting the northwest, we had lunch together. He was living in San Diego and described himself as a salesman/peddler. I have not seen or heard from Bob since.  But in my mind he was one of the cornerstones of a great radio station dynasty…KPUG…1170, Bellingham."  Bill Ogden (Marc Taylor)
Nice job, Bill. Thanks for the memories! Bill has had a long career in Pacific Northwest broadcasting, working on the air in Oregon and Washington including at stations in the Seattle, Tacoma and Olympia markets, and for Metro Traffic and King TV.
I created the video below from a May 1967 KPUG broadcast — when the Righteous Brothers were performing at Western Washington State College. Norm Gregory was the board operator and Steve West was on the WWSC campus. Both jocks would shortly thereafter end up at KJR. Typical of the times, KPUG was doing a "remote" from the Righteous Brothers concert.   The original recording was lengthy, so it has been edited down to a middle section that includes Bob O'Neil's voice. Era appropriate photos have been added. Bob O'Neil produced the promo for "Mr. Whisper" — the contest that was in progress at that time. You will hear West and Gregory chatting and joking around with one another about the "Mr. Whisper" promotion. Within this video are two authentic KPUG jingles from 50 years ago. As a footnote (added January 2021) the collective memories of several former KPUG listeners of the era recalled that the identity of "Mr. Whisper" ended up being singer Al Martino ("Spanish Eyes" and other middle-of-the-road hits).
Click on the names below to read about these broadcasters who were popular in Bellingham and Whatcom County, including nearby Canadian legend Red Robinson:
Danny Holiday (KPUG)
Dick Stark (KENY & KPUG) 
Kirk Wilde (KPUG)
Gary Shannon (KPUG)
Mike Forney (KPUG)
Jay Hamilton (KPUG & KBFW)
Bob O'Neil & Marc Taylor (KPUG)
John Christopher Kowsky (KPUG)
Haines Faye & Rogan Jones (KVOS & KGMI)
Tom Haveman (KENY & KVOS)
Red Robinson (Vancouver B.C.)