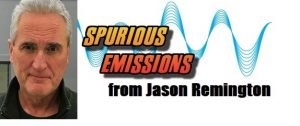 My head hurts when I read stories like this.

TUNEIN NAMES CHIEF PEOPLE-PERSON
(RAMP
Radio & Music Pros)
From the headline, I know this story is going to twist my nipples.
"Deanna Grams has been promoted to Chief People Officer at TuneIn. Grams is a seven-year TuneIn veteran who most recently served as Senior Vice President, People Operations."
First, we must understand that there is, and has been for some time, a department called People Operations at TuneIn.
Are these titles given some square pegs that TuneIn can't fit into their round holes? No, TuneIn has totally bought into the virtue-signalling of corporate America.
Rather than putting her in the HR department, in a corner office with a view, they had to take it a step beyond. They have concocted a title that sends a feel-good message, that this dung heap is more than an HR department, and the smell is actually rose milk.
"In her newly enhanced role, Grams will continue to influence TuneIn's corporate culture…"
There it is! You are all more than warm bodies and you are valued. Take our word for it. Despite the fact that you will still be micro-managed and enslaved by corporate masters, you are part of a diverse environment. Happy now?
The job description goes on to include the phrases:
helping expand the team globally
this internal promotion demonstrates TuneIn's mission and commitment to employee empowerment (there's that word again, empowerment)
the company accelerates growth and aims to reinvent radio for a digital-first world

TuneIn CEO Richard Stern says "it is TuneIn's mission to reinvent radio". They had better act fast!
This is considered an upgrade for Grams.
Let's not forget the struggle of not having to get out of our pajamas to go to the office. Interaction this past year was via Zoom calls. Our hat is off to Grams, who had to suffer Internet service lags in order to do her job.
Stern said, "She led the TuneIn team through one of the most challenging times in our history, a shift from in-person collaboration in our offices to a remote work environment."
We ask, where is her trophy?
How did Grams keep her head while so many other media types suffered mental breakdowns during the quarantine?
Stern went on to use these words, among others.
strong executive leadership team
a clear vision
building the future of digital audio
add value as we grow
improve our employee experience
*** Taco Tuesday ***
Grams said (as far as we know at this point, Grams is binary), she is thrilled to have the new title.
I hope our readers are well-hydrated and sitting down. Here is the capper.
Grams then blew this puff of smoke up the butts of corporate execs and the underlings she will control from this point forward at TuneIn:
"The passionate and talented employees at TuneIn are our biggest strength, and I'm honored to be leading this team to help our employees do the best work of their careers with us."
Looks like all employees will have to step up from being just adequate to a much higher level of productivity.
Rank and file employees can only hope that more new titles will be created so that they will have more brass rings to reach out for.