In listening to old sixties airchecks from Seattle, I noticed that a big hit at KJR in the summer/fall of '66 was "Open Up Your Door" by Richard and the Young Lions. It was also a hit at KPUG in Bellingham. I know because I remember hearing it back then. I bought the record and it had a photo of the band on the record sleeve. That honor of having a photo on the 45 sleeve was usually reserved for the big bands and artists — Beatles, Stones, Animals, Lovin' Spoonful, Elvis, Petula Clark. The Young Lions must have been a big deal, right?
I was surprised to discover recently that, on a national and international basis, "Open Up Your Door" was more of a "never made it" than a "made it" song. Its peak position on the Billboard Hot 100 was a whopping #99 on Sept. 24, 1966.
Despite the record's minor stature nationally, it was familiar to me because it was a regional hit in the Pacific Northwest….at least from Seattle north to Vancouver, Canada. Richard and The Young Lions peaked in the top 5 in Seattle and Vancouver,  and it went all the way to the top of the chart in Cleveland, Detroit and Salt Lake City. You might say it was hot in spots.
You can take a gander at these KJR and KOL charts from 1966. The record was getting lots of spins.
Richard & The Young Lions was a Newark, NJ band. Their other singles, neither of which charted nationally, were "Nasty" and "You Can Make It." The original lead singer, Richard Tepp, passed away in 2004. Some rock music aficionados look upon Richard and The Young Lions as among the first of the garage bands. You can watch the band perform and hear the song, if it is fuzzy in your mind, in the video below. (The video is at ad free Vimeo, so click on the play button 2x – once to go to Vimeo and again to start the video.)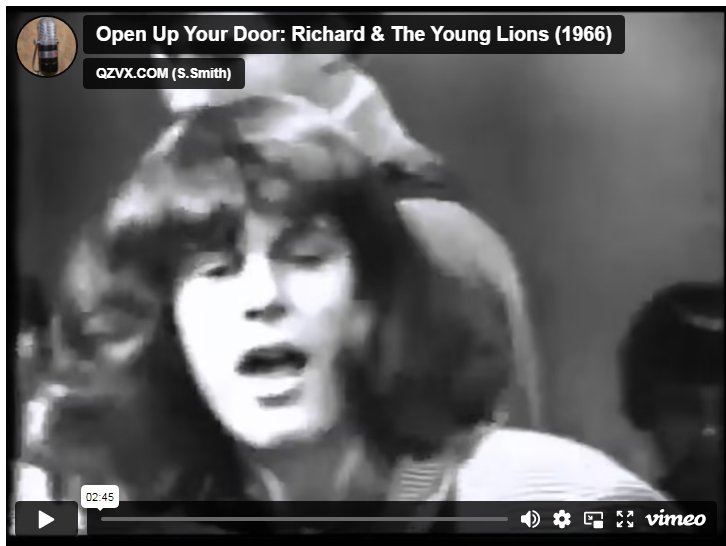 Click on the names below to read about these broadcasters who were popular in Bellingham and Whatcom County, including nearby Canadian legend Red Robinson:
Danny Holiday (KPUG)
Dick Stark (KENY & KPUG) 
Kirk Wilde (KPUG)
Gary Shannon (KPUG)
Mike Forney (KPUG)
Jay Hamilton (KPUG & KBFW)
Bob O'Neil & Marc Taylor (KPUG)
John Christopher Kowsky (KPUG)
Haines Faye & Rogan Jones (KVOS & KGMI)
Tom Haveman (KENY & KVOS)
Red Robinson (Vancouver B.C.)