The late Kathi McDonald was a native of the Pacific Northwest, born in Anacortes, WA in 1948 and raised in nearby Mount Vernon.  In the early sixties, as a teenager, she became the female vocalist for The Accents, a group that eventually morphed into The Unusuals. In 1966, one side of The Unusuals' first record, "Babe, It's Me" on the Panorama label, went to #1 at KPUG radio in Bellingham.
Laurie Vitt had played in several Bellingham bands and he was a founder of The Unusuals. He recently said of Kathi: "When I first met her she was a kid around 15 years old (actually I think she was 14). Our band at that time, the Nite People, was playing at a grange hall in Mount Vernon, WA. The owner asked if this local girl could sit in with us for a couple of songs. He claimed that she was a good singer. Although we usually didn't allow sit-ins, we agreed. We knew nothing about her at that point. When we met her, our first impression was so-so. She was short, had stringy blond hair, and looked nothing like a singer. We asked what tunes she might know, and she rattled off a few of the very old Ike and Tina Turner songs. As I recall, we first played the song 'I Think It's Gonna Work Out fine,' and Kathi blew us off the stage. It was like having Tina Turner in the room. She joined our group and after some personnel changes and band name changes (Accents, Ron Peterson and the Accents, The Unusuals), we ended up as Kathi and The Unusuals. When Kathi was on stage, she always had total command of the audience. She was a natural talent."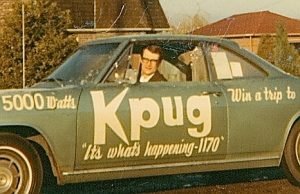 Puget Sound Media contributor, Kirk Wilde, was a jock and the music director at radio station KPUG when The Unusuals released their first record. Wilde liked the "Babe, It's Me" side and put it in rotation at the Top 40 station. The song went all the way to #1. Wilde reminisced, "I remember in the first week of April it topped the survey and it remained at #1 for four or five weeks." "Babe, It's Me" was written by Laurie Vitt. Kathi and Laurie teamed up to sing the back and forth duet. McDonald was 17 years of age at the time. Click Here to listen to "Babe, It's Me."
Below is a photo of the KPUG survey from April 9, 1966. "Babe, It's Me" had been #1 for at least two weeks.
The other side of the record, "I'm Walking, Babe," was written by another Puget Sound Media contributor, Jay Hamilton. Get this, when The Unusuals recorded Jay's song he was a KPUG disc jockey.  Jay's side of the record was a hit in several U.S. cities including Eugene, OR.
Hamilton was the in-studio supervisor for both sides of that first Unusuals' recording session. Seattle indie record producer,
Jerry Dennon
, owner of Jerden, Panorama and Piccadilly Records was unable to supervise the Oct. '65 session, so The Unusuals' asked Jay to cover Dennon's in-studio production duties. Jay was a songwriter, had played in rock bands, was a deejay and Music Director at KPUG and the band trusted his musical ear. Famed Seattle recording engineer
Kearney Barton
and Jay coordinated the technical aspects of the session and worked out the final mix with the band. Hamilton remembers the session well: "some have said that Kathi only sang on the duet side of that record, but I was in the studio that day and she also participated on the "Walking" side… doing background harmonies along with other members of the band."
Click Here
to listen to "I'm Walking, Babe."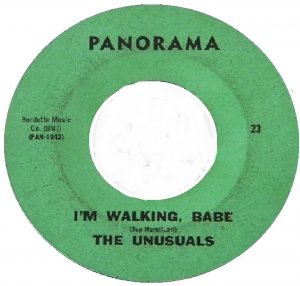 That first green Panorama 45 rpm record, with emphasis on the "I'm Walking, Babe" side, has become a garage band classic. An original vinyl copy sells for around $1000 among collectors (and that is for a copy that looks good and maybe barely plays on either side).
The Unusuals released one other 45 rpm — "Summer Is Over" b/w "I Could Go On"– in the late summer of 1966. The A side, "Summer Is Over," had previously been recorded by Dusty Springfield. McDonald was the lead vocalist on both sides of the Mainstream Records release. "Summer Is Over" got some airplay in Bellingham and in a few other cities. However, it didn't do as well as their first record even though, in the Sept. 4, 1966 issue, the national publication "Record World" chose it as a four star pick. In a 2005 radio interview McDonald talked about the "Summer Is Over" single and spoke of her early career (Click Here to listen).
When I was a sophomore at Bellingham High School, I saw Kathi around town in 1967. Mainly I recall meeting her when we were both shopping at the same tiny record store. She introduced herself to the proprietor, who was my friend, and he whispered in my ear that I was looking at Kathi McDonald. First impression: Kathi was short, skinny as a rail, with really long eye lashes and she was wearing lots of makeup. At least, that's what a 15 year old boy noticed. Just the same, it was a big deal to be seeing her. After all, Kathi was a local celebrity. Most weekends I heard ads promoting dances featuring The Unusuals. Then those spots were reinforced by the high decibel ads and music that came blasting out of the loud speaker car that drove around downtown.
It would be inaccurate to assume that The Unusuals, as a small town Bellingham based band, had been relegated to performing exclusively in lesser venues. Teens in Seattle dug The Unusuals and Pat O'Day booked them for his dances. Here's a Nov. 1965 recording of KJR's Lan Roberts (Click Here) plugging the band's appearance at the Target Ballroom. The Unusuals received lots of good exposure when they toured with Dewey Martin, who later became the drummer for Buffalo Springfield. If fate hadn't intervened, The Unusuals might have been very famous. Life Magazine committed to doing a feature article on the band. The photos and story were all complete. Life had even sent Laurie Vitt a wire confirming the article would run in Nov. 1965. Then the big NE power blackout of '65 happened and that crisis bumped The Unusuals right out of the pages of Life Magazine.
In 1967, The Unusuals disbanded and went in separate directions. Laurie Vitt got serious about college and became a PhD expert on snakes, lizards and creepy crawlies. In that old KJR spot, Lan Roberts described the giant boa that appeared with the group on stage….yeah, it was Laurie's snake. After the band split up, Kathi at age 19 headed to San Francisco. She'd previously tried out for the female lead in Big Brother & the Holding Company. That gig, of course, went to Janis Joplin. After Joplin formed her own band in 1971, McDonald began recording and appearing with Big Brother. (Click Here to see Big Brother, with Kathi as lead vocalist, perform "Call On Me" in a 1978 reunion show).
In the early '70s, McDonald was one very busy vocalist. On Ike and Tina Turner records (in recording sessions, but not on stage) she was an Ikette. Another Ikette, Claudia Lennear (the lady who was Mick Jagger's "Brown Sugar") asked Kathi to join her on Joe Cocker's 1970 tour. McDonald's soulful voice is preserved today on the live album "Mad Dogs and Englishmen." Leon Russell was on that Joe Cocker tour and he enlisted McDonald to perform on his 1971 album "Leon Russell and the Shelter People." She went on tour with Russell as one of the Shelter People and was a vocal force in Russell's "Homewood Sessions" — a TV special (with a cult following) that was filmed in 1971 at the Vine Street Theater in LA. Kathi was 22 years old, with a new baby in arms, singing alongside her friend Claudia Lennear.  (Click Here to watch these two great backup singers perform "Crystal Closet Queen" and "So Strange" with the late Leon Russell.
McDonald's first solo album "Insane Asylum" came out in 1974. Despite receiving good reviews and considerable radio airplay, it failed to become a big seller. McDonald never really broke out to become a major star on her own, but even today many jocks remember playing her early solo work. Michael Boss, a contributor to Puget Sound Media, said, "I was programming KBRE-FM (Southern Utah's first AOR station) when Kathi's initial solo effort was released. The emotive power she brought to 'All I Want to Be' put me on the killing floor. Neal Schon's stellar guitar work only added to the magic. Without thinking twice, the track went on my A List!  Three years later I was still playing tracks from her 'Insane Asylum' LP and introducing Kathi to new audiences!"
Beginning in 1976, and for decades to follow, McDonald collaborated and toured with the late Long John Baldry (an iconic British blues performer). In her lifetime, Kathi was highly regarded as a prolific background vocalist, singing on more than 180 records by artists such as the Rolling Stones, Ike & Tina Turner, Nils Lofgren, Leon Russell, Rita Coolidge, Delaney & Bonnie, Dave Mason, and Elton John.
By the mid-1990s, Kathi had moved back to the Pacific NW where her career had begun some 30 years previously. She became a frequent headliner at concerts, rock and blues festivals and venues ranging from Seattle's Bumbershoot, to the Triple Door Lounge, to the Mount Baker Rhythm and Blues Festival to the Winthrop Blues Festival. I recall when McDonald played at Wild Buffalo in Bellingham in the 1990s. Then in 2011, only a year before she passed away, Kathi appeared at The Muse in the tiny town of Conway in Skagit County. At one point she fronted her own band "Kathi McDonald and Friends." Up until the end, McDonald often performed and recorded with the northwest blues guitarist Nick Vigarino.
This "Found Performance" is from a Long John Baldry show at the Bottom Line Club in NYC. It was 1979, so Kathi was in her early 30s. They sang a duet that had been their biggest radio hit  — a cover of the Righteous Brothers "You've Lost that Lovin' Feelin'." Baldry had become a permanent resident of Vancouver BC. In Vancouver, media reported that Righteous Brother, Bill Medley, said he liked the Baldry/McDonald cover of "Lovin' Feelin'" better than his own timeless duet with Bobby Hatfield. Not surprisingly, the record peaked in the top 5 on the charts at CFUN and CKLG in Vancouver. Internationally it reached #2 in Australia, #45 in Canada and it stalled at #89 on the U.S. Billboard Hot 100. Baldry and McDonald toured together for more than 20 years. Long John Baldry might have been the star of the show in NYC, but Kathi's voice and dynamic stage presence carried this song. (The video is at ad free Vimeo, so click on the play button 2x – once to get to Vimeo and again to start the video.)
Note: Since 2016, Steven Smith has been the webmaster of The Unusuals' YouTube page. There are about 50 videos posted at the channel, including rare recordings, concert performances, and interviews. Dr. Laurie Vitt, a founding member of The Unusuals (and that guy who sang "Babe, It's Me" with Kathi) helps keep the channel up-to-date and historically accurate.