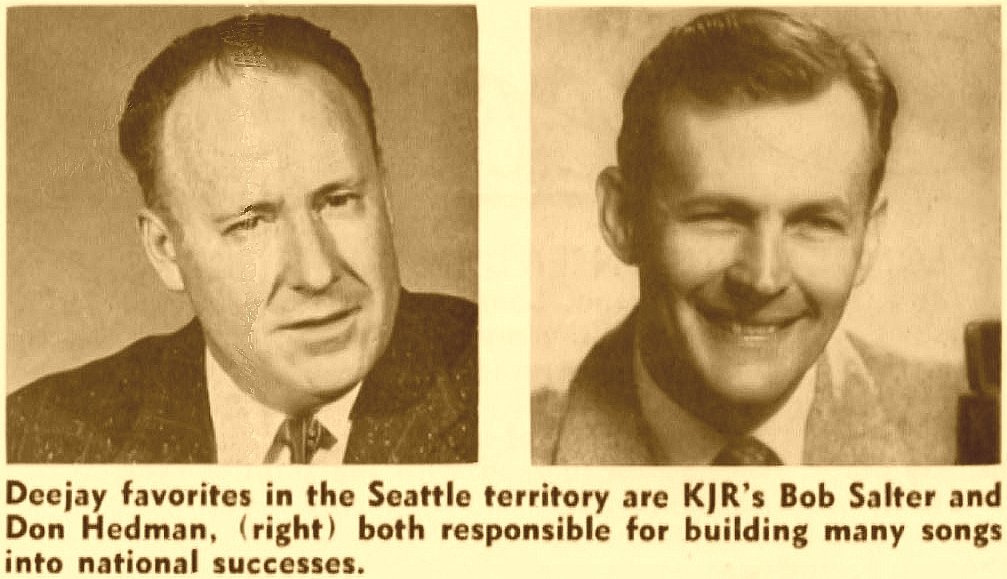 KJR-AM was a top radio station in Seattle going back to the early and mid-1950s. Yes, that pre-dates Pat O'Day's arrival at KJR, which was in 1959. Two of the most popular KJR '50s deejays were Don Hedman (read more about Don HERE) and Bob Salter. Hedman had previously worked at Seattle's KXA (1951-1953), then he moved to KJR (1953-1959). From there he went to KAYO (1959-1962). Come 1962, Don and his family headed north to Bellingham. He had taken a position with International Good Music (IGM). IGM was an innovator in radio station automation and taped music programming. Hedman remained at IGM for several years and, after radio, he worked as a Bellingham realtor.
KJR disc jockey Bob Salter had the distinction of being Seattle's original "rock" jock.  The "Salty Dog," as he was known, created Seattle's first Top-40 playlist in 1953. KJR's management knew that youth oriented rock/pop formats that emphasized local personalities and catered to local tastes were catching on across the country. Salter had the job of putting it all together in Seattle.
Radio Broadcasting in Transition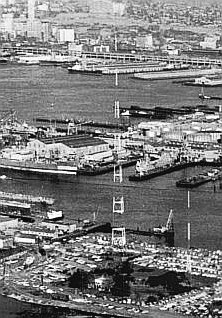 Fact is, in the early 1950's radio was in transition: Television had arrived and radio was moving away from network programming, the comedy, music, drama, and variety shows that had fueled radio's Golden Age since the early '30s. The new trend was toward deejays, who related to their community, as they spun records that were popular locally (as in tracking sales at record stores) and nationally (monitoring Billboard and Cashbox magazine charts).
In Seattle, Bob Salter was an innovator, leading the charge into rock 'n' roll programming. But, in his own way, Salter too was in transition. As a radio announcer, he'd caught the tail end of radio's Golden Age. Salter had entered broadcasting when radio studios were inhabited by not only announcers, but by musicians and voice actors. Old-timers in the business reported that when Salter and Dick Stokke, another KJR deejay, chatted on-air the listeners could hear piano music in the background. It wasn't a record, Salter had arranged for the keyboardist to play live in the studio. All that harkened back to radio's past. Salter spent several years at KJR, then he went to KVI and over to KAYO in the late 1950s. Eventually, Salter moved to Idaho and pursued his radio career there.
Out With the Old, In With the New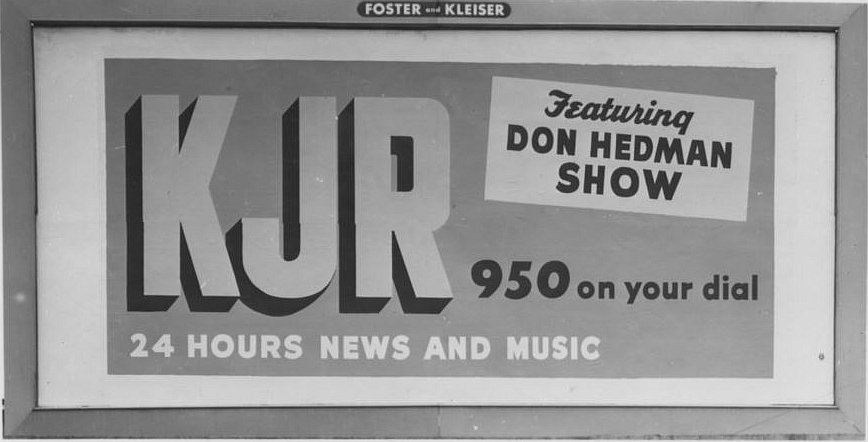 KJR was adapting to this new rock/pop format and the station was gradually phasing out of remnants of the past; for example, "The Groucho Marx Show" and "Duffy's Tavern" went away. KJR listeners were becoming accustomed to deejays like Don Hedman, Bob Salter, Dick Stokke, Chuck Bras, and Rod Hammett spinning the hot wax while pausing for occasional news, weather and commercial breaks. Popular artists on the KJR playlist in those days included Dean Martin, The Platters, Doris Day, The Four Lads, Rosemary Clooney, The Drifters, Connie Francis, Frank Sinatra, The Everly Brothers, Gogi Grant, and Pat Boone, The Chipmunks and the more rockin' tunes like Chuck Berry, Elvis, and Ricky Nelson. Seattle listeners craved the format and the station's ratings took off. This was the beginning of KJR's rise to the status of rock 'n' roll powerhouse. Pat O'Day's arrival in 1959, integrating into the mix his promotional skills and programming talents, guaranteed KJR's market dominance in Seattle for more than two decades.
Along Came Ivar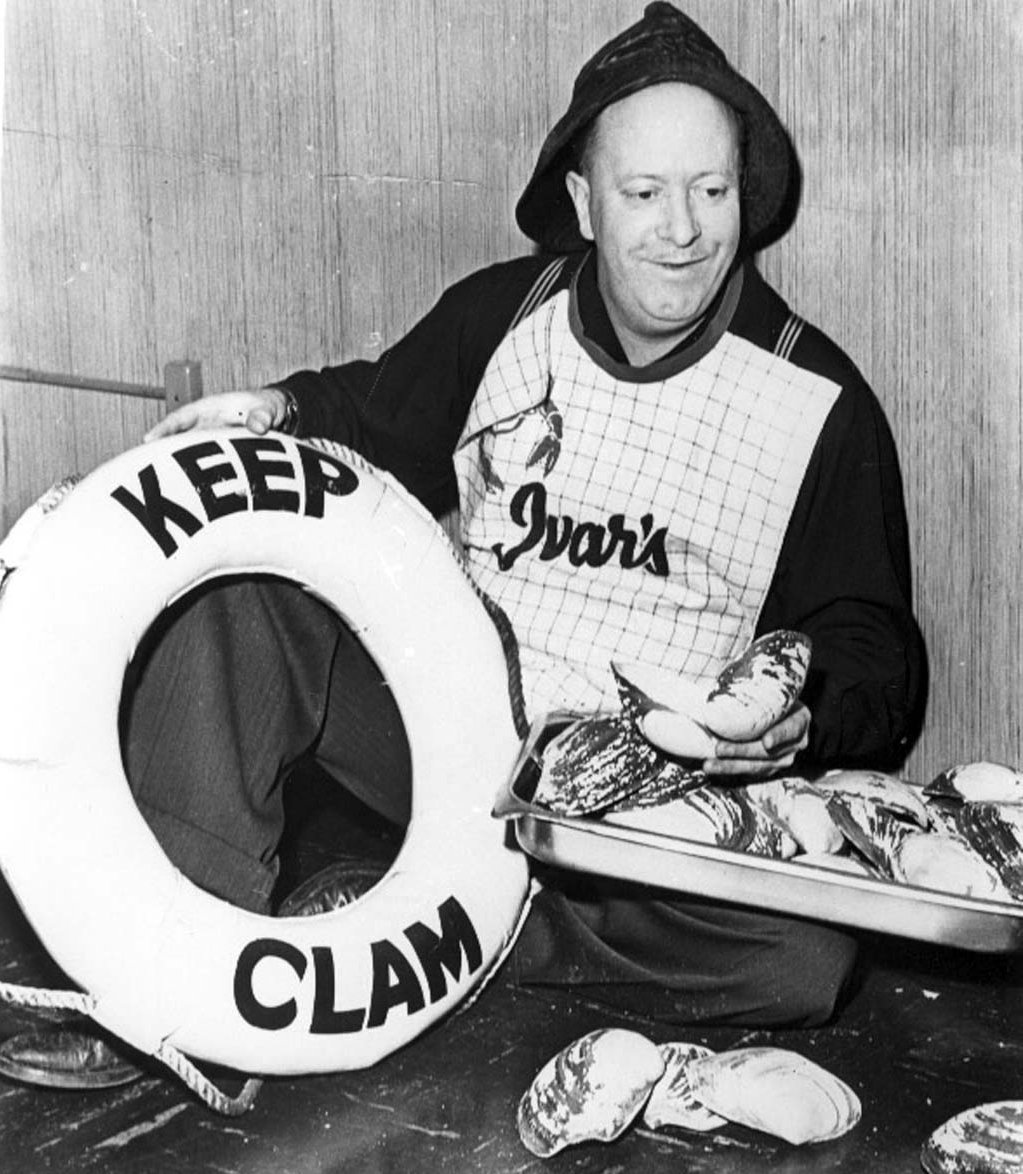 I have yet to say anything about Ivar Hagland, a folk legend in Seattle, and known as the "Mayor of Seattle's Waterfront." Ivar, the son of Swedish immigrants, was multi-talented — a folksinger, a songwriter (specializing in Puget Sound area lyrics), a story teller, and a successful and high profile restaurateur. Ivar is also remembered for promoting his restaurants with some of the craziest and most creative TV ads ever aired in Seattle…many of those ads featuring walking and running clams.
Ivar's first appearance on KJR was in the 1940's. A guest failed to show up for a radio interview and an emergency call went out to Ivar. He showed up with good humor, his guitar and a batch of amusing folk songs. Ivar's personality and appeal was such that he became a regular on KJR. His appearances on KJR extended well into the 1950s.
As a media writer, I would love to tell you more about Ivar, but I have been advised to "Keep Clam." Instead, I've dug up vintage tracks of Ivar on Seattle radio.  The first clip is from 1948, probably aired on KJR. Ivar sings, reads oyster related poetry, and gives away clam dinners. Next is musical commentary, heard on KJR in 1953. Ivar was lobbying for elimination of the recently constructed Alaska Way Viaduct, because the viaduct made it difficult for motorists to get to his restaurant. The third track is an abbreviated version of one of Ivar's self-penned sea creature folk songs, a tribute to his life on Puget Sound, called "Acres of Clams."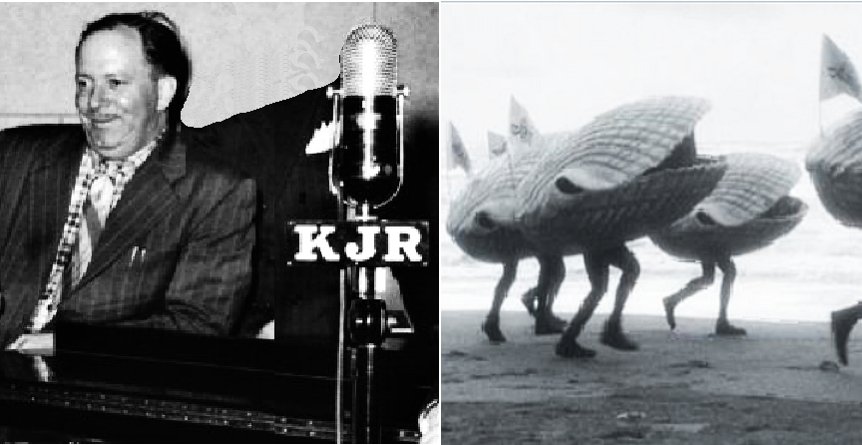 Cut 1- Ivar in 1948; Cut 2- Ivar vents about the Alaska Way Viaduct on KJR in 1953; Cut 3- "Acres of Clams" (Runtime 2:33)
Mid-'50s Seattle Radio
Memories Are Made of This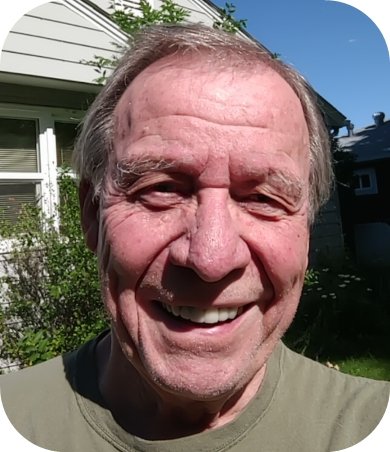 Dick Ellingson, a retired Seattle radio guy and a frequent contributor to this website, was raised in Seattle. I know from past experience that he has a great memory. I asked Dick to describe Seattle, radio and KJR in the 1950s. I find his understanding of the Seattle radio market and his insight interesting.
"Seattle pop stations back then were playing all genres, all versions of songs. Radio didn't label it R&B, country, big band or whatever, it just played the popular music of the time. Jukeboxes and neighborhood record stores were jammed with the tunes of the day. Me, I was a kid and had been glued to the radio since I was three. I  consider myself lucky to have been around back then and to know the music and the artists of the '1940s and '50s as rock and roll came into being. Those were great times for music lovers!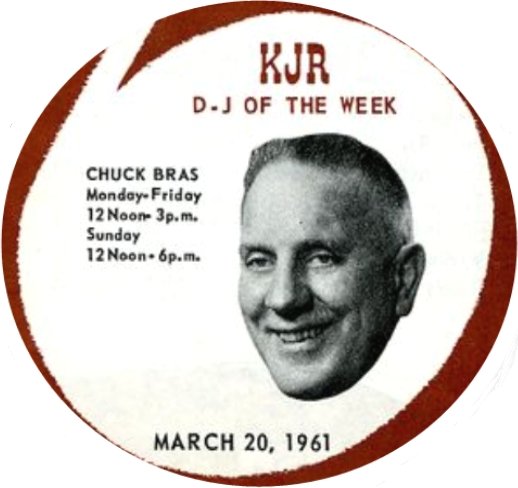 "Getting back to KJR: None of the four main KJR jocks — Bob Salter, Don Hedman, Dick Stokke and Chuck Bras — sounded like traditional rock deejays, at least not in the stereotypical fast-talking hype delivery style that is now associated with Top-40 jocks. Hedman had a smooth delivery that was perfect for conversing with 1950's era housewives in middays or afternoons. His voice was more of a tenor, while the other three were more baritone. I liked Hedman's on-air sound.
"Rod Hammett did the all-nighter. Rod's nephew Rick was a classmate of mine at John Marshall Junior High in Seattle. Our typing teacher even mentioned it to the class. All the kids at school knew who Rod Hammett was even though we were supposed to be fast asleep when he was on the radio. This was at a time when even adults knew who was on the radio all night.
"It was also a time when a listener could call a radio station and the DJ would answer the phone and talk with the listener for a while. I was impressed by that and later, in my own radio career, I always answered the phone when I was on-the-air. I've been asked to comment on the rumor that Don Hedman went by the 'Hedless Horseman.' Actually, if memory serves me, I think the moniker was 'Horseless Hedman.' Salter, Hedman and Bras were all at KJR in the same era. As previously referenced, their style was more easy going middle of the road than pop or rock. Now Dick Stokke, he was a totally different type of personality. He made wise cracks and jokes. In 1953, there was a song by the Cleftones called 'Neki-Hokey' (Listen to it HERE) so about every two seconds he capitalized on the rhyme and started saying 'Neki-Hokey, this is Stokke.'
"Once Stokke called Elvis 'Elmo Pushley' on-air. Seems like I read somewhere that when Elvis came to town, upon meeting Stokke, Presley just said with a laugh, 'So you're the one!' I was in the car with my dad that day and he couldn't stop laughing at 'Pushley.' Dick Stokke, Don Hedman, Bob Salter and Chuck Bras were all good announcers. I always associated Salter and Hedman as having sequential air shifts, one followed the other. On Sunday afternoons Don played nothing but Elvis for a half hour and called it 'The Elvis Presley Show.'
"For a time, Stokke would tape the intros or first lines of the records he played and he'd come out of a spot with a cold open for ten seconds or so and then his voice would be right there the instant it stopped – – Bang! intro the tune and play the whole thing. All these memories are from 1951 or '52 up to maybe 1957." …..Dick
Growing Pains
Even for these innovators of rock and roll radio, there were growing pains. Don Hedman was a key player in bringing the new music to town. He even hosted that exclusively Elvis show on Sundays. But in reality, Elvis was not Hedman's first choice in music. Given his druthers, Hedman would have rather listened to folk artists and big bands. Today we are so accustomed to rock music that it's easy to forget that in the early days there was resistance to accepting that new kind of music. Hedman's son told us that his dad told of receiving numerous complaints from KJR listeners when he first played "Heartbreak Hotel" in 1956. Don Hedman played Elvis' music on the radio, that was his job, but he was not necessarily wild about the songs. Here's a 1958 clipping from one of the Seattle newspapers.
Sick's Seattle Stadium – September 1, 1957

Despite initial resistance from the adult population, Elvis was "The King." When Elvis played his first Seattle concert, the cost of a ticket was astronomically high – $1.50, $2.50, and the best seats were $3.50. Don Hedman was there at Sick's Seattle Stadium with a lucky (but unidentified) KJR listener. The deejay and the listener posed with Presley. If that lady is still around today, she too probably has a copy of this heirloom photo.
Unfortunately, airchecks of KJR jocks Hedman, Salter, Stokke, Bras or Hammett are extremely difficult to find or even non-existent. However, at QZVX we have access to KJR jingles from the mid-50s into the early '60s. Also, we've obtained authentic jingles and promos from Don Hedman's show on KJR. One custom jingle and an amusing promo (harking back to the days of the TV show "The Real McCoys") have been incorporated into this next clip. And, of course, there are those timeless songs from the formative years of rock 'n' roll. Maybe the jock's voices are missing, but with the hit songs of the era, Don Hedman's promo, and the vintage KJR jingles, those persons listening to this montage will experience the sounds of Seattle in the Fab-50s.
KJR '50s jingles and Dean Martin, Gogi Grant, Elvis, The Four Lads, Connie Francis, Chuck Berry, Ricky Nelson, Rosemary Clooney, The Platters, and Pat Boone (Runtime 5:22)
Credit and thank yous: KJR Jingles – Duane Smart Collection;  Don Hedman Jr. for family photos, his dad's custom show jingles, and other information about his dad; Dick Ellingson for his memories