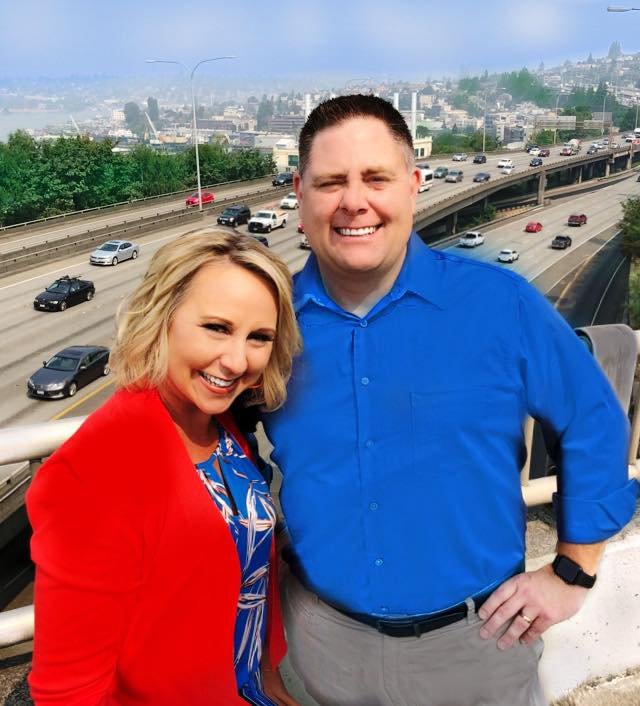 It's kinda sad.
But it's all for the good.
It's time to let my body heal and recover.
You know the story by now. Huge accident on TV, lead to a traumatic brain injury, that has put several doctors and therapists to work on healing my brain.
The split shift is HARD.
I remember doing it was back in the KJR days. That young 20 something that had nothing to worry about except her and her dog.
My body could totally survive on 3 hours of sleep and and IV drop of ☕️.
Fast forward to now.
This 40 something can still function on 3 hours sleep, but her doctors say Its the fast track to early dementia.
This is why I'm taking a step back from RADIO, and getting my brain healthy. No other reason.
You can still watch every morning 4:30a-7 on KIRO 7 News.
I'll miss collaborating with this guy, dropping in on Gee Scott and Ursula Reutin and random dance parties with Dori Monson on KIRO Newsradio. Most of all, I'll miss the guidance from Colleen & awkward moments leading to tear induced laughter with John & Sheri.
So, join us for my last day TODAY ON THE RADIO 3-7 on KIRO RADIO 97.3 on your FM dial.
PS – I'm still on KIRO 7 Morning News every morning.
*** Also missing from the airwaves — Nick Allard, KIRO 7 Weathercaster. January 30th, Allard posted on Twitter: I'm taking some extended time off to be at home. Believe it or not, getting up at 2AM can be really tiring and sometimes impacts my overall health! So I'm taking some time to recharge and spend some quality time with my family. See you soon!