Here is the 47-page introduction to KTNT Channel 11, owned by the Tacoma News Tribune…
Click on the following pages to ENLARGE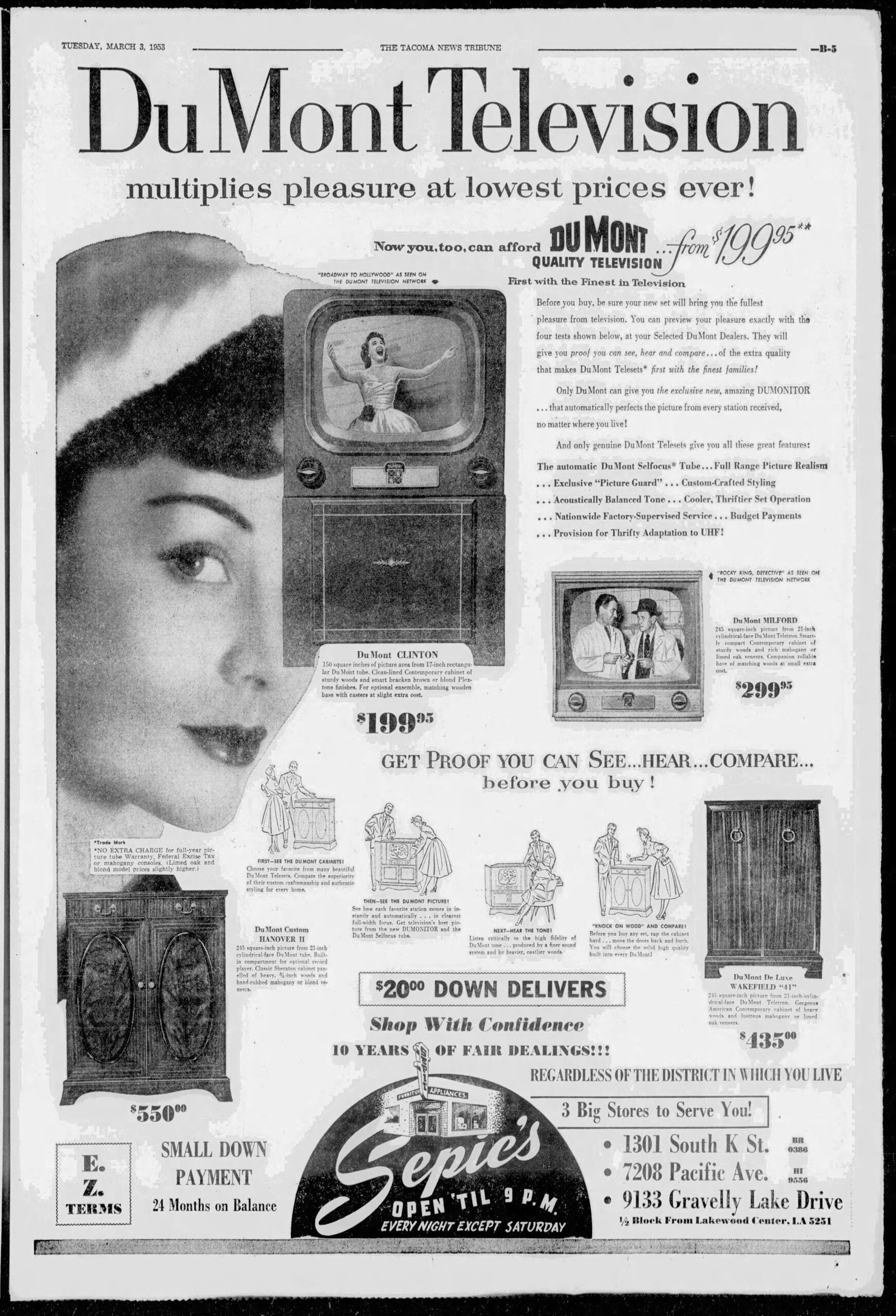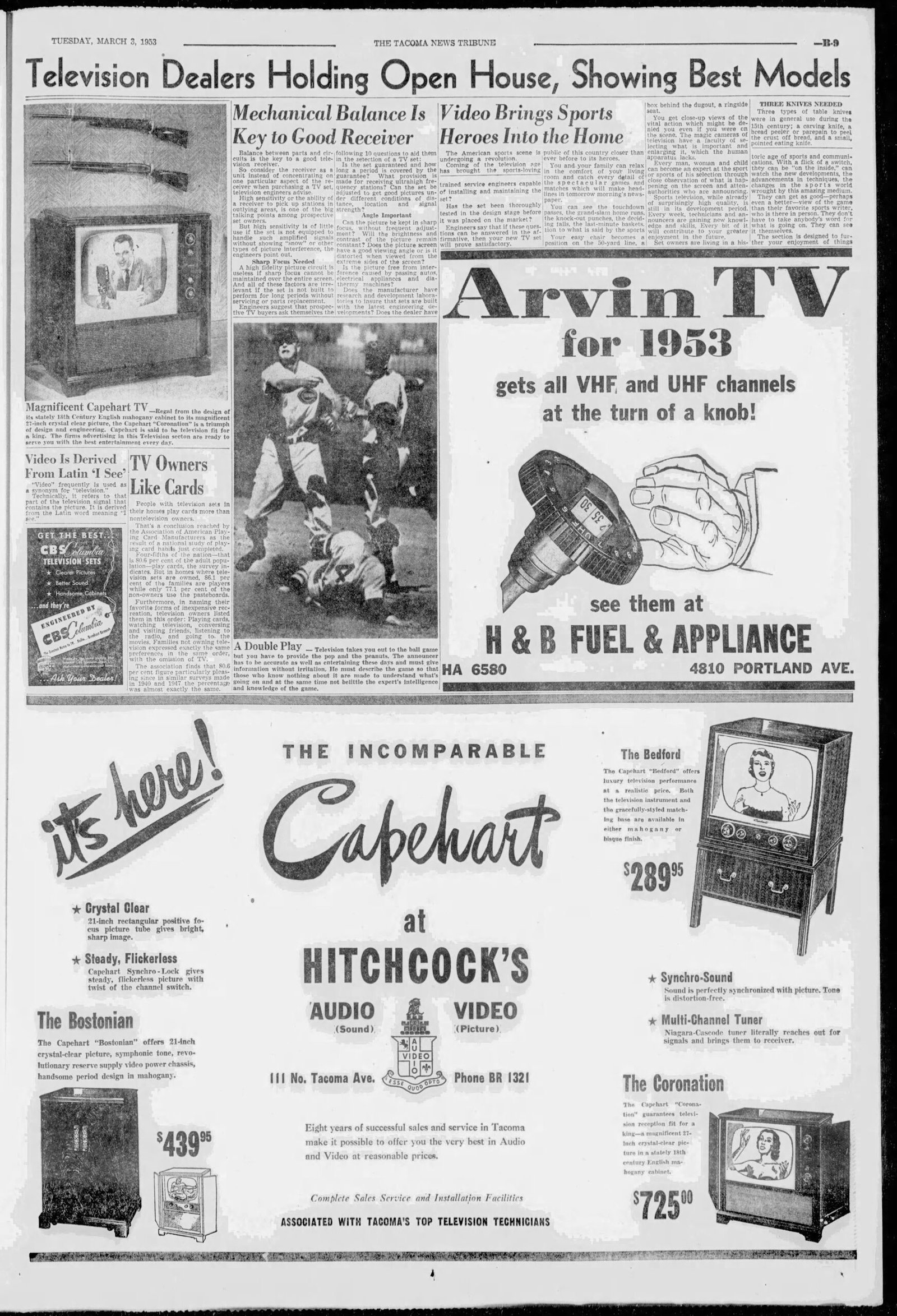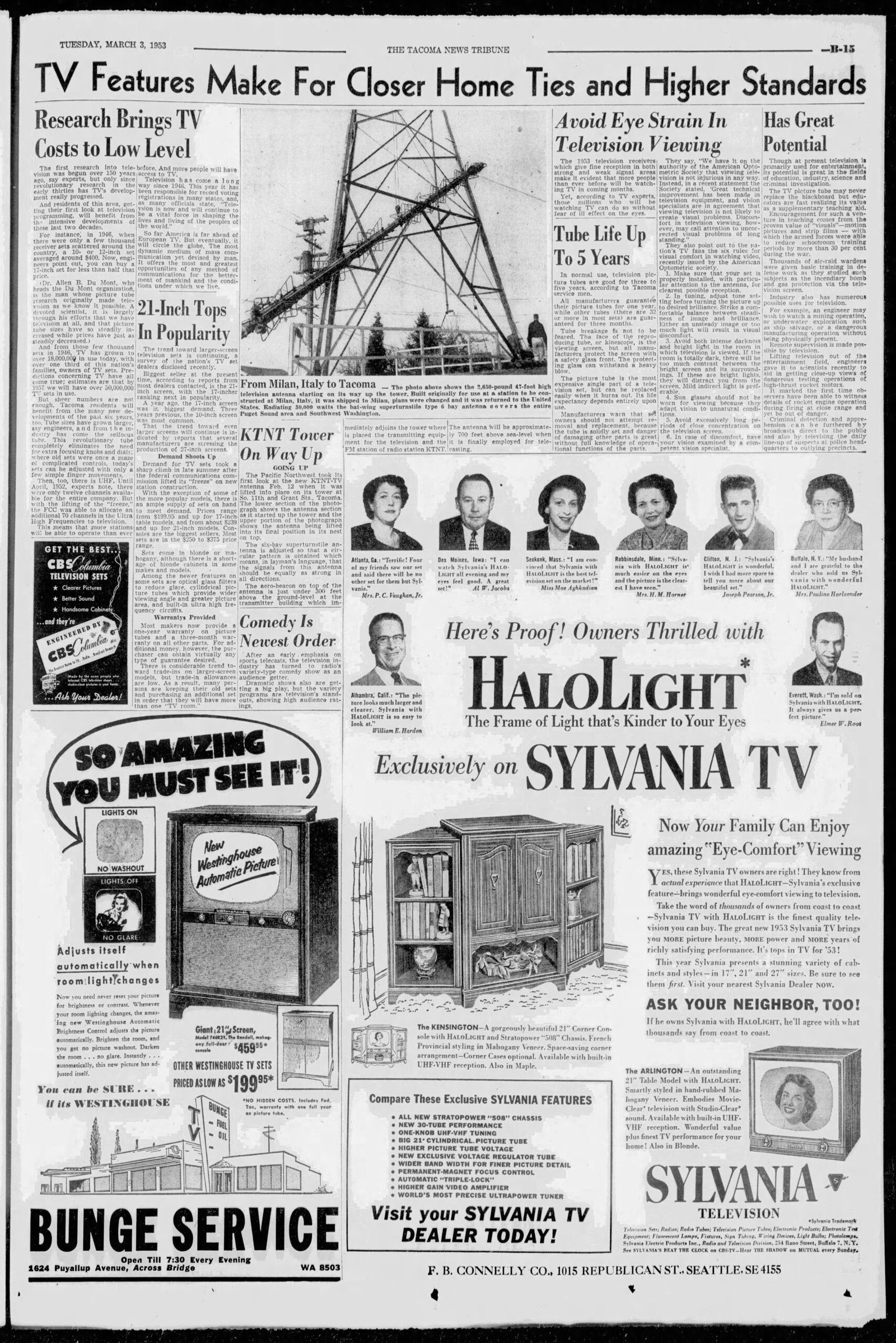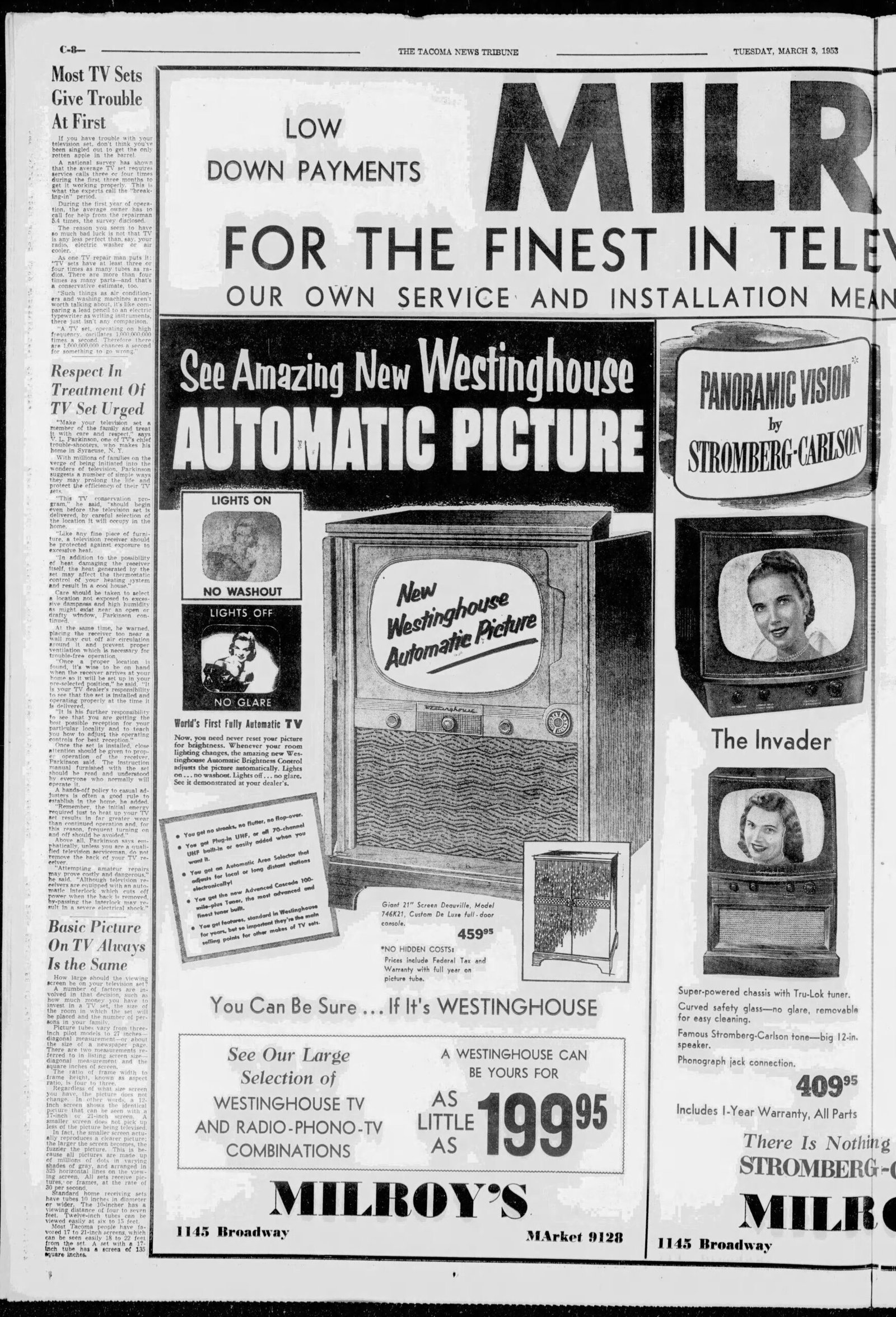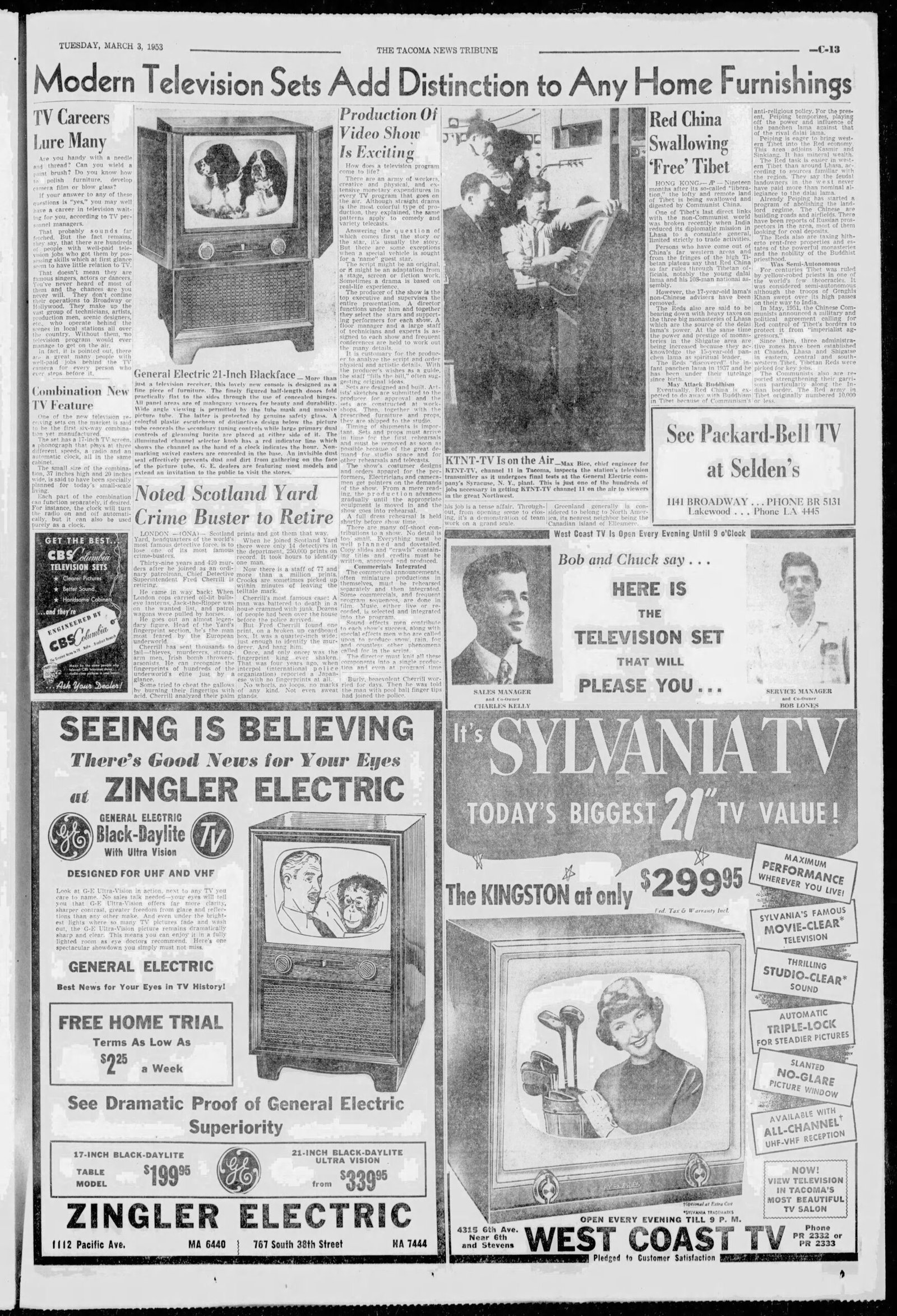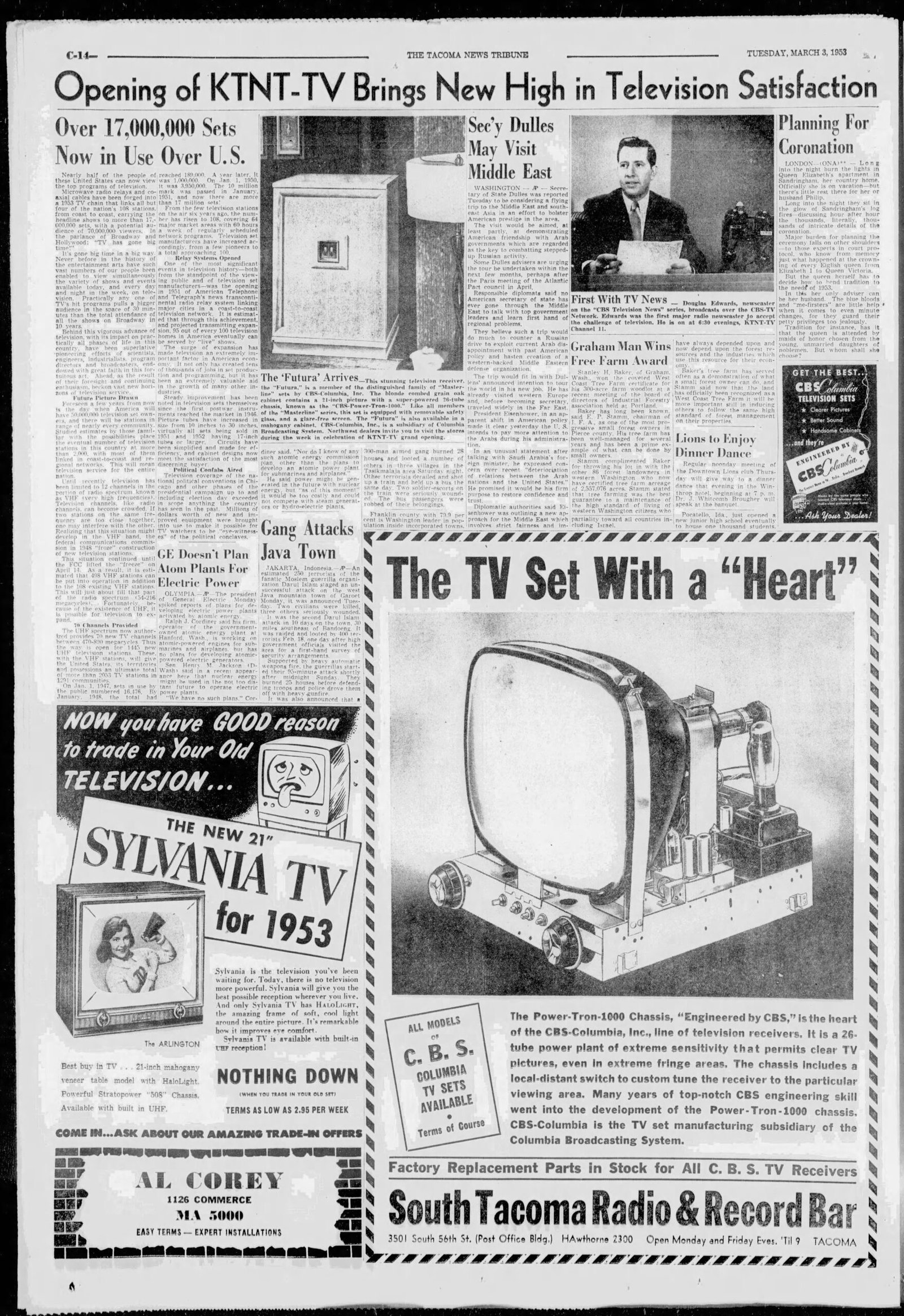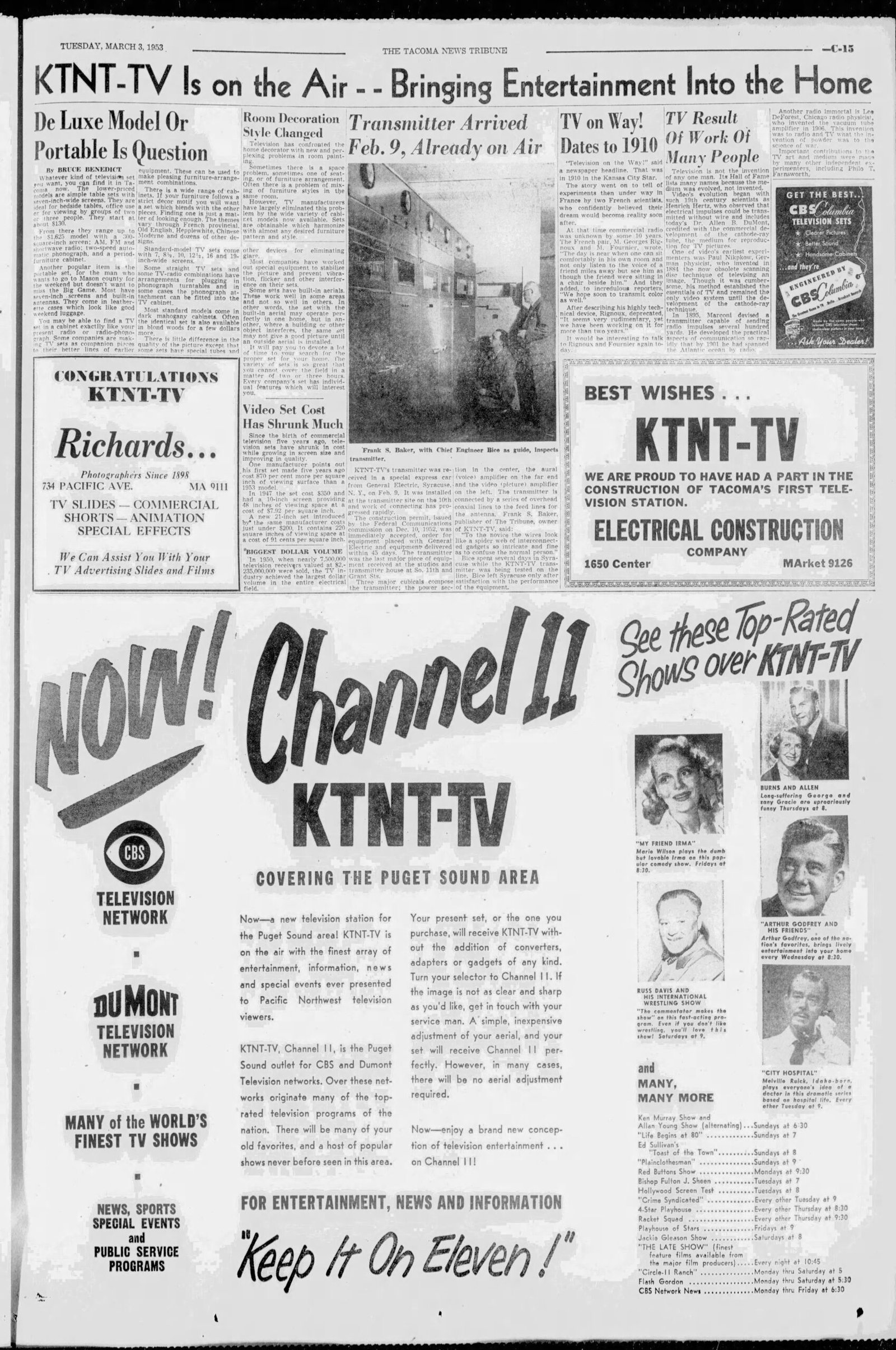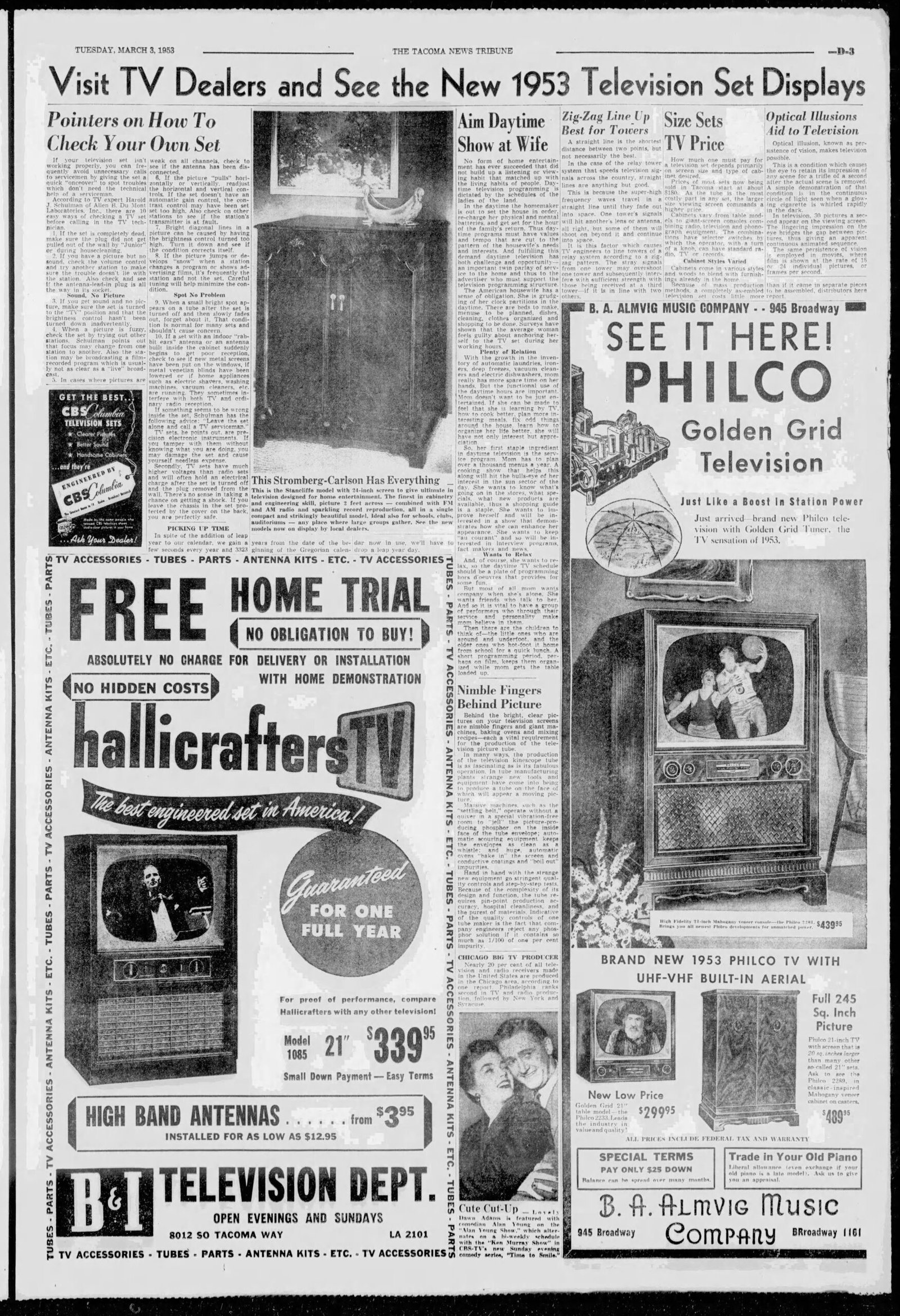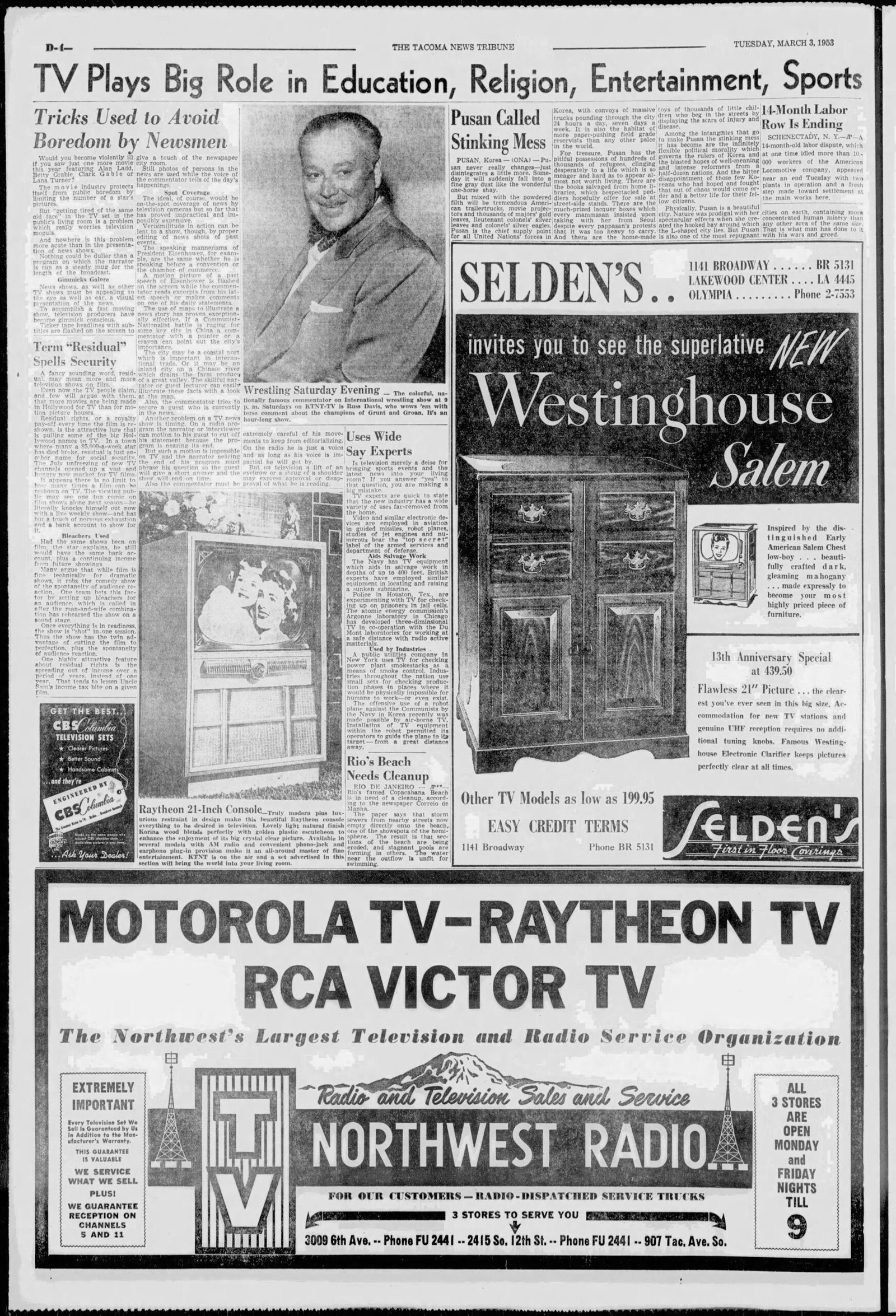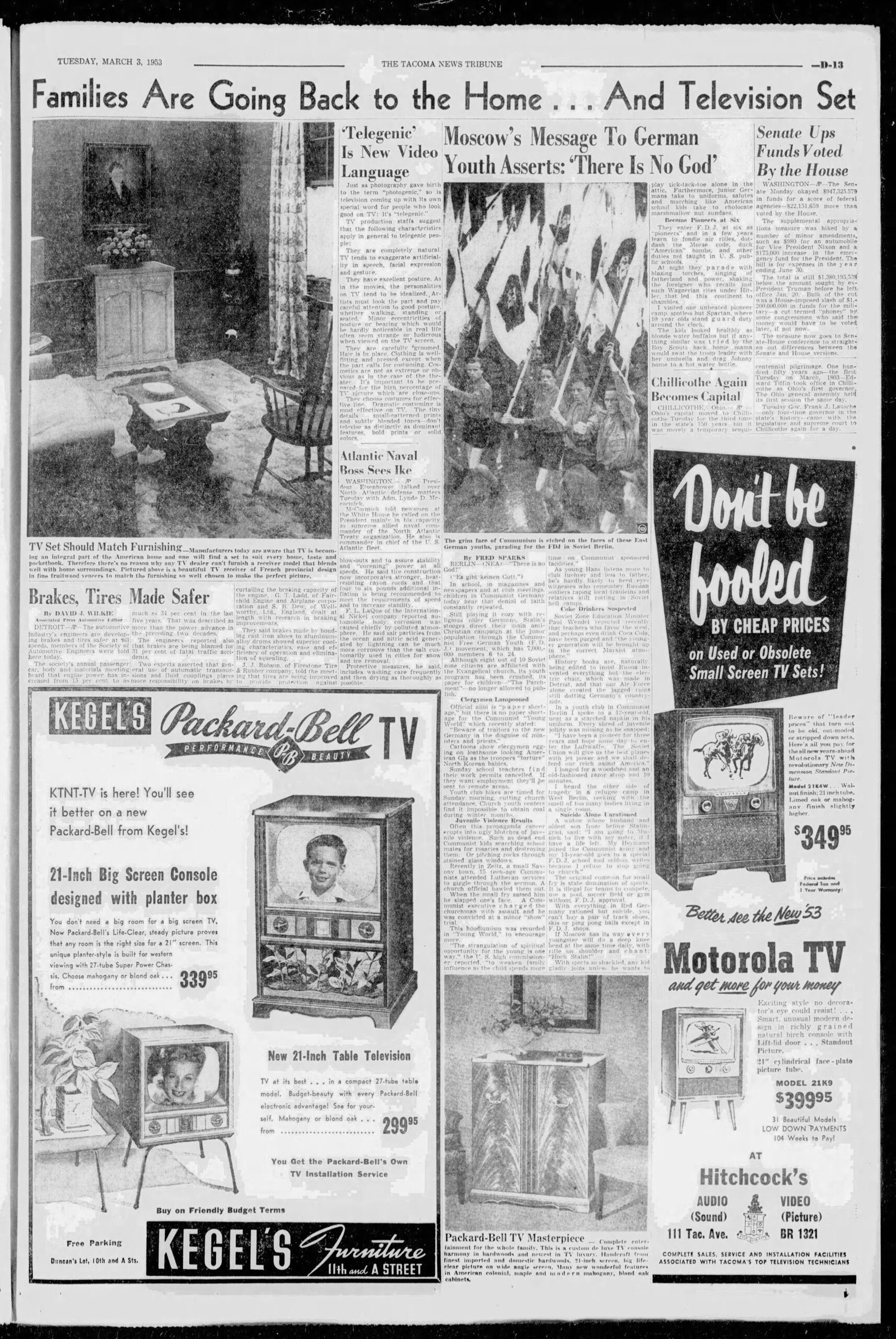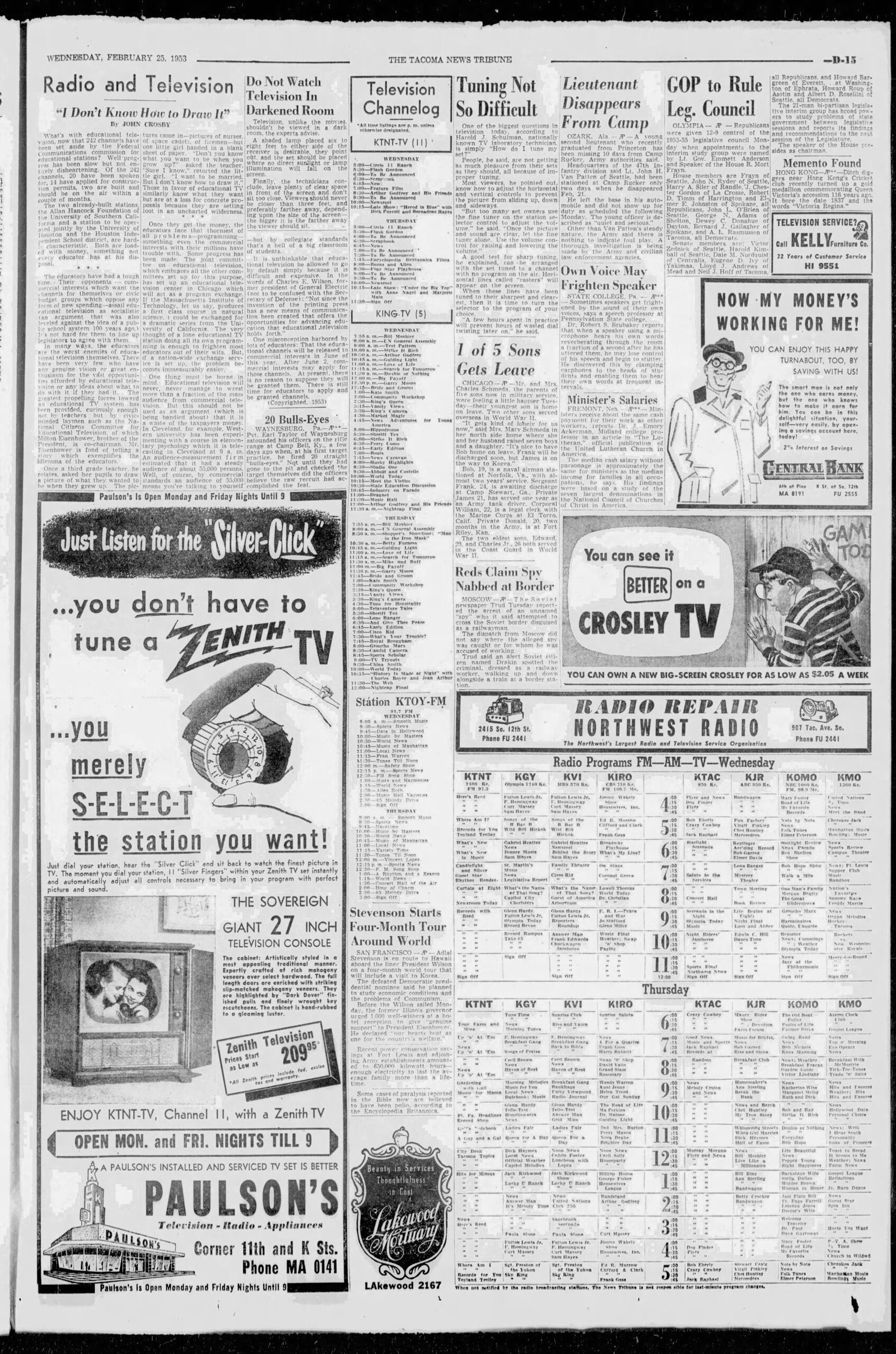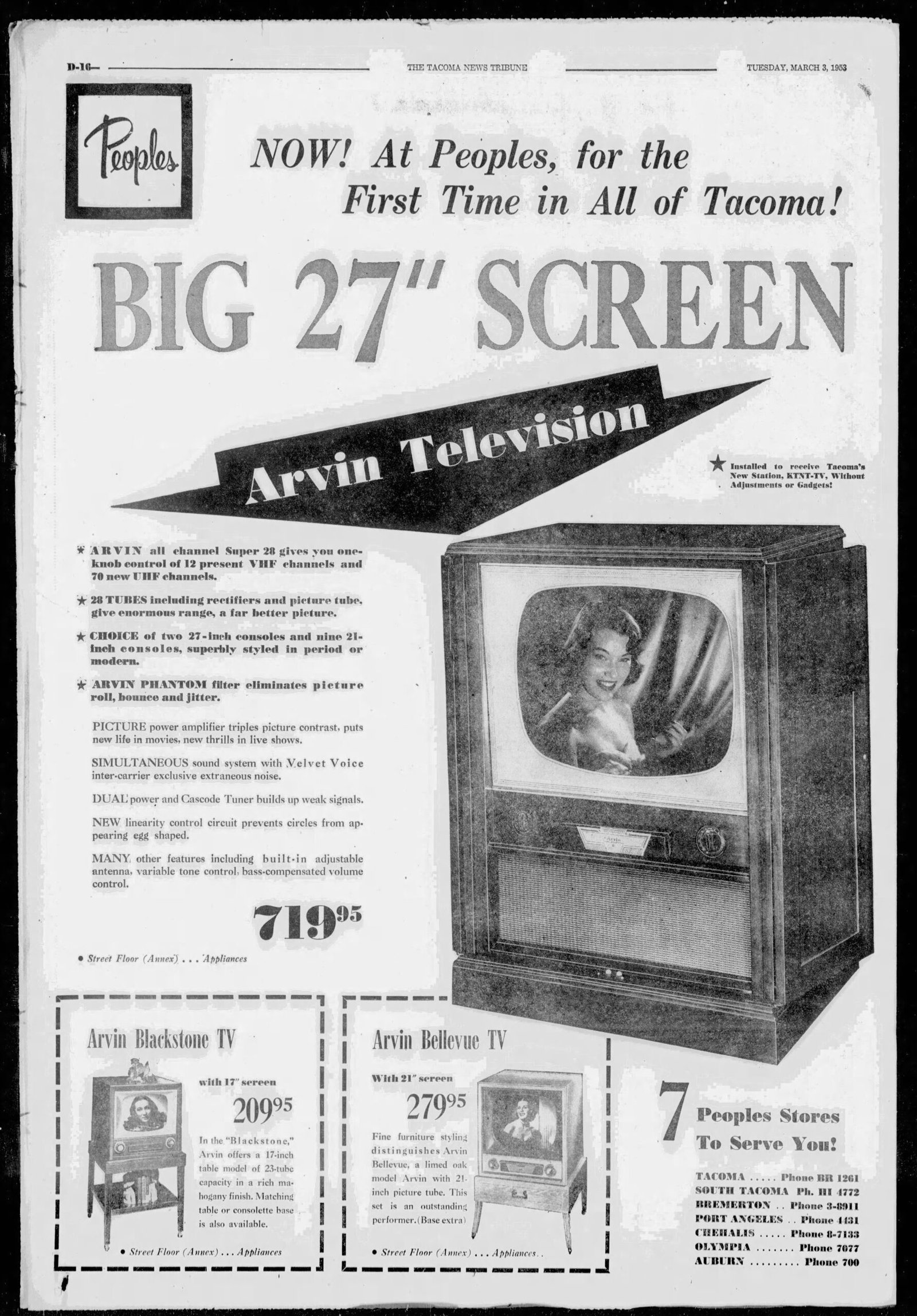 ---
Supplemental information from earlier posts:
---
1949 FM
March 4, 1953 – The battleship Missouri was steaming into Wonson Harbor, Pres. Eisenhower was facing up to Sen. Joseph McCarthy and a U.S. Senate committee was examining campaign finances by a young vice president named Richard Nixon.
And Seattle-Tacoma got its second television station.
KTNT TV celebrates its 20th anniversary of telecasting this month. The station signed on March 1, 1953.
Max Bice was then chief engineer and now is vice president and general manager of the broadcast division of the Tribune Publishing company. He will reminisce with Len Higgins, also a KTNT pioneer, on Scenario, at 10 o'clock this morning and 9:30 tonight on Channel 11.
Initially, KTNT TV was the CBS affiliate for the area. It became an independent station when the last station to enter the market, KIRO TV, affiliated with CBS in 1958. That affiliation fight was bitter and only now has healed over enough that Channel 11 carries two CBS programs that Channel 7 has not cleared.

As an independent, KTNT gained national stature for its early concept of "strip" programming. KTNT had affiliated with Tele-Rep, a New York advertising representative. The station and the rep firm developed a counter-programming device — youth-oriented rerun programs offered almost daily.
Programs like Gilligan's Island, Perry Mason, and Star Trek were placed up against the newscasts on network affiliate stations and things happened. The youngsters took control of the TV set. Today, a traveler can visit dozens of cities with stations offering programming almost identical to that on Channel 11.
Bice is one of the few engineering-inspired television executives in the country to advance to station management. His initiative developed early.
In 1952, the Federal Communications Commission broke out of its backlog of TV allocations and issued KTNT's construction permit ahead of schedule. Bice had to scramble to find an antenna. Through his engineering friends he found one in Syracuse, New York. It was unused because a Milan, Italy station had changed plans. Bice "conned" a railroad line into taking the stalls out of an extra-lomg padded unit designed for expensive race horses. The 2,650-lb six-bay super turnstile antenna came across country without incident.
The initial programming day was from 5 o'clock until 11:30 p.m. The television programs included City Doctor, the Arthur Godfrey Show, Toast of the Town, and Bishop Fulton J. Sheen.
In those days the official TV test pattern was an Indian profile. After weeks of testing, the station signed on with the superimposed Irish profile of Len Higgins in full headgear.

Higgins, now 63, is the station's public affairs director. He confides he will stay at the station until he is shoved out the door.
Bice's office, in a house-grown-into-a-TV-station atop Tacoma's business district, continues to reflect the 1950s. The walls are half-panelled in knotty pine. Fixtures and lamps are post-war, but just barely. A labyrinth of stairwells, attics and dank basement areas surround the television control room with its modern control panels casting oscilloscope green and monitor blue.
"In 1954 we moved the transmitter to View Park, near Olalla — opposite West Seattle." Ted Knightlinger, promotion director, said. "The tower you see at 11th and Grant is used for FM broadcasting."
KTNT FM was the Tribune Publishing Company's first venture into broadcasting. It began in 1948 and was followed in 1952 with KTNT AM. Tribune Publishing Company also owns The Tacoma News Tribune and a cable TV system in Tacoma.
To mark the two decades of telecasting, KTNT TV will release next week a new "spring schedule" of programs. It's primary feature? Star Trek six times a week, again.
1956 coverage map
1959 talk shows

Broadcast every afternoon on KTNT TV 11. Between Woody Woodpecker and PopEye cartoons, Brakeman Bill & Crazy Donkey interviewed kids, aided local charities and kept kids entertained after school and before supper time.

1960

1960 Broadcasting Magazine
1961 line-up
1962
1962 dance show
1968 variety