The first radio station in Chehalis was to be dedicated on Halloween night, October 31, 1937. The station, KELA, was owned by J. Elroy McCaw, A.C. St. John, and Cecil Gwinn. Unfortunately, KELA had been haunted by delays from the FRC, the Federal Radio Commission. At a Chamber of Commerce luncheon, KELA officials explained that the FRC had not released permission for the station to begin operation, but that a telegraph message was expected at any moment.
Programming for the new AM station was to include local programming, news reports four times daily, and programming from the Mutual Broadcasting network. The station employed eight people.
KELA was to serve both Chehalis and Centralia, licensed for 500 watts of power at 1470 on the AM dial, though the station had been wired for a full 1000 watts.
KELA was situated on land north of Chehalis, between the two cities, and the local newspaper at the time told of the unusually attractive and modern studio, and the fact that no other radio station between Tacoma and Portland was more powerful than the new KELA.
Power for the station was increased to 1000 watts in 1939 and 5000 watts in 1957.
Central Broadcasting Corp., then owned jointly by J. Elroy McCaw and Mabel Gwinn, sold KELA to KELA Corp. in 1965. Joe Chytil was the sole owner of KELA Corp. Officers for KELA Corp., were to be Chytil, his wife Jane, and Ronald A. Murphy. Chytil had been station manager of KELA since 1941.
In the 1960s, KELA had also taken ownership of the cable television operations in Chehalis and Centralia.
KELA celebrated 29 years of broadcasting in October 1966, an event marked by the delivery of a cement block with the inscription "best wishes to KELA, Bing." The 200-pound concrete block carried the foot print, handprint and signature of Bing Crosby and was placed in the steps at the entrance to KELA.
KELA was still an affiliate of the Mutual Broadcasting System and operated 18 hours each day. It had been the Mutual network that supplied national news, sports and, in years prior, programming such as The Adventures of Superman, the high-risk missions of Captain Midnight and the Secret Squadron, and the cowboy stories of Tom Mix.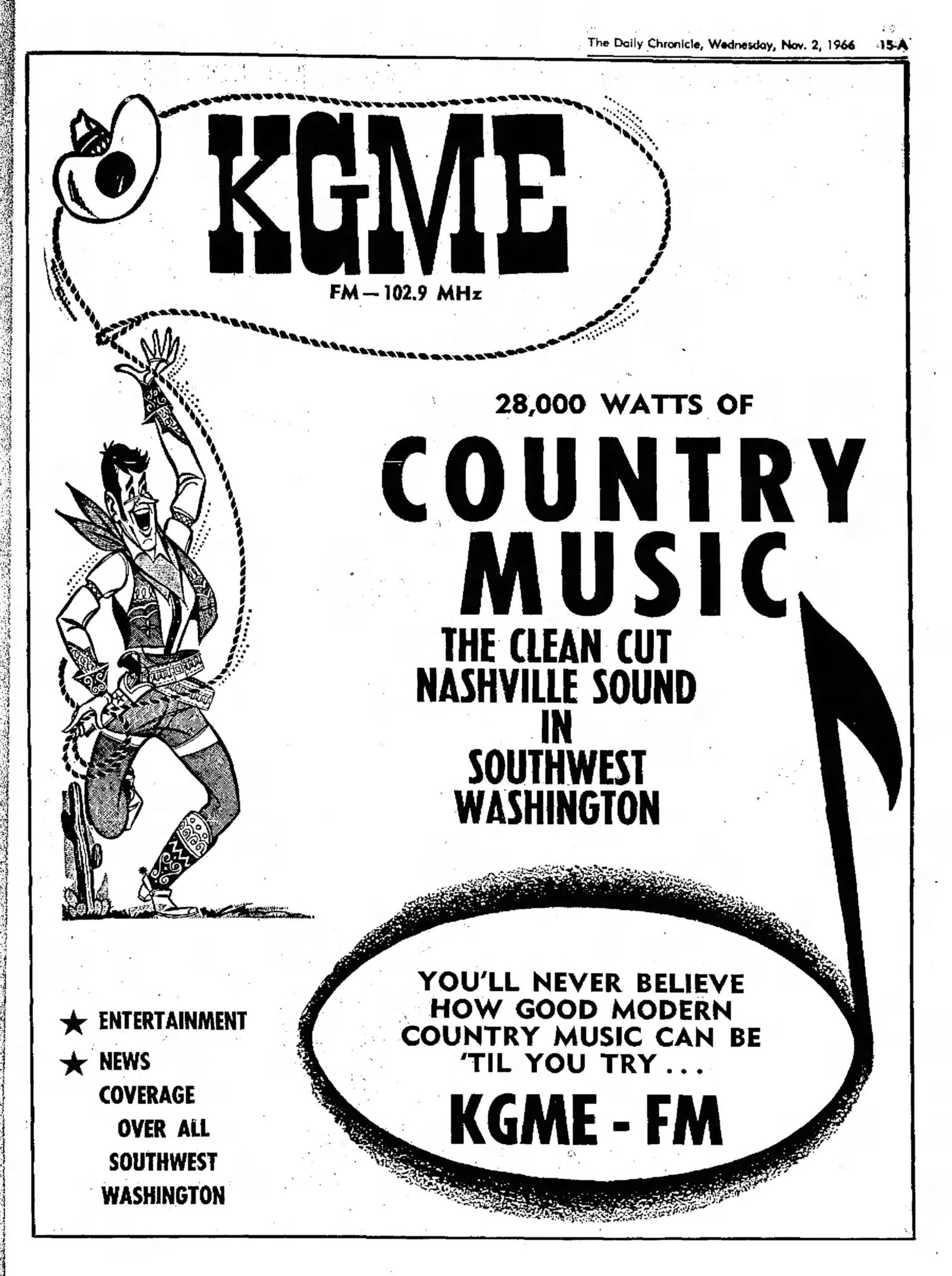 In 1965, Chuck Ellsworth, a KJR Seattle radio personality and one of the instructors at L.H. Bates Vocational-Technical Institute in Tacoma, received FCC approval for radio station KGME FM. The Country-Western music station was located at 209 West Main St. in Centralia. The station's transmitter was located on Cook Hill and the studio was later moved to that site.
KGME promotions included musical performances by local bands at area taverns, sports events at local high schools which featured a team of players from KGME, and a singing DJ. Ray Country, a KGME personality, signed a recording contract with Central Songs, Inc., a publisher of country music in Nashville. Ray Country had collaborated with Scotty Turner, manager of Central on a song called 'She Didn't Color Daddy.' That song was recorded by Wynn Stewart, Tammy Wynette and other artists.
Ellsworth sold KGME FM to Joe Chytil in 1968 and the KGME FM call letters were changed to KELA FM.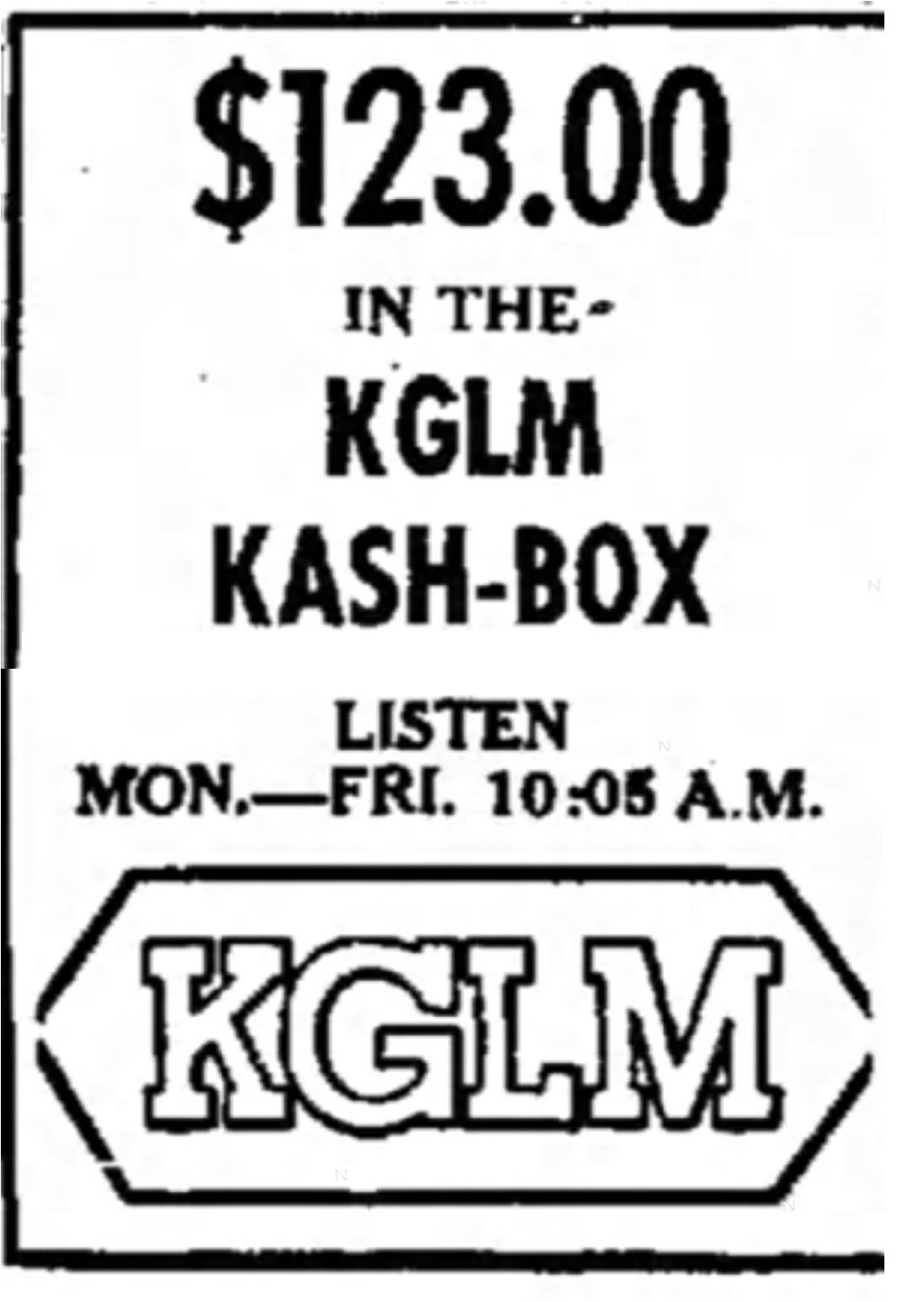 Opening date for 1420 KGLM to air was still pending as work continued on installation of equipment in the summer of 1954. The transmitter housing was being completed next to the Pacific Highway midway between Centralia and Chehalis. Studios and offices would be located at 804 Market Street in Chehalis. KGLM was to broadcast at 1420 kilocycles with 1000 watts of power. This was a daytimer, shutting down at local sunset. Marvin E Johnston was manager and part owner, along with Glenn E. McCormick of Salem, Oregon. Six people were employed at the station. Programming would include music, news and local events. As summer months passed, the broadcast tower and studio remodeling was taking place.
Owned in part by a local newspaper, The Chronicle, the station featured country-western music and news reports from the Chronicle each day. KGLM contests included the money-prize KGLM KASH BOX. If a listener could solve a riddle, they won the money that was in the Kash Box that day.
Marvin Johnston, station manager, spoke before the Chehalis Chamber of Commerce in October of 1954 to explain how the station will operate during the month of October from 6:30 am to 5:30 pm, and progressively fewer hours as the days become shorter. On the other hand, during the summer the station will operate until 8 pm, Johnston explained.
In April 1955, KGLM was purchased by a group made up of the Daily Chronicle and two men, Donald Whitman, a radio programming consultant who would hold a majority interest, and Harold E. Singleton, consulting engineer. The sellers, Glenn McCormick, who also owned KSLM, Salem Oregon and Marvin Johnston. Johnston went on to become station manager at KWLK in Longview, Washington, where he had served as chief engineer from 1948 to 1949.
KGLM call letters were changed to KITI in August 1955. Whitman established 1440 KITN/Olympia in 1957.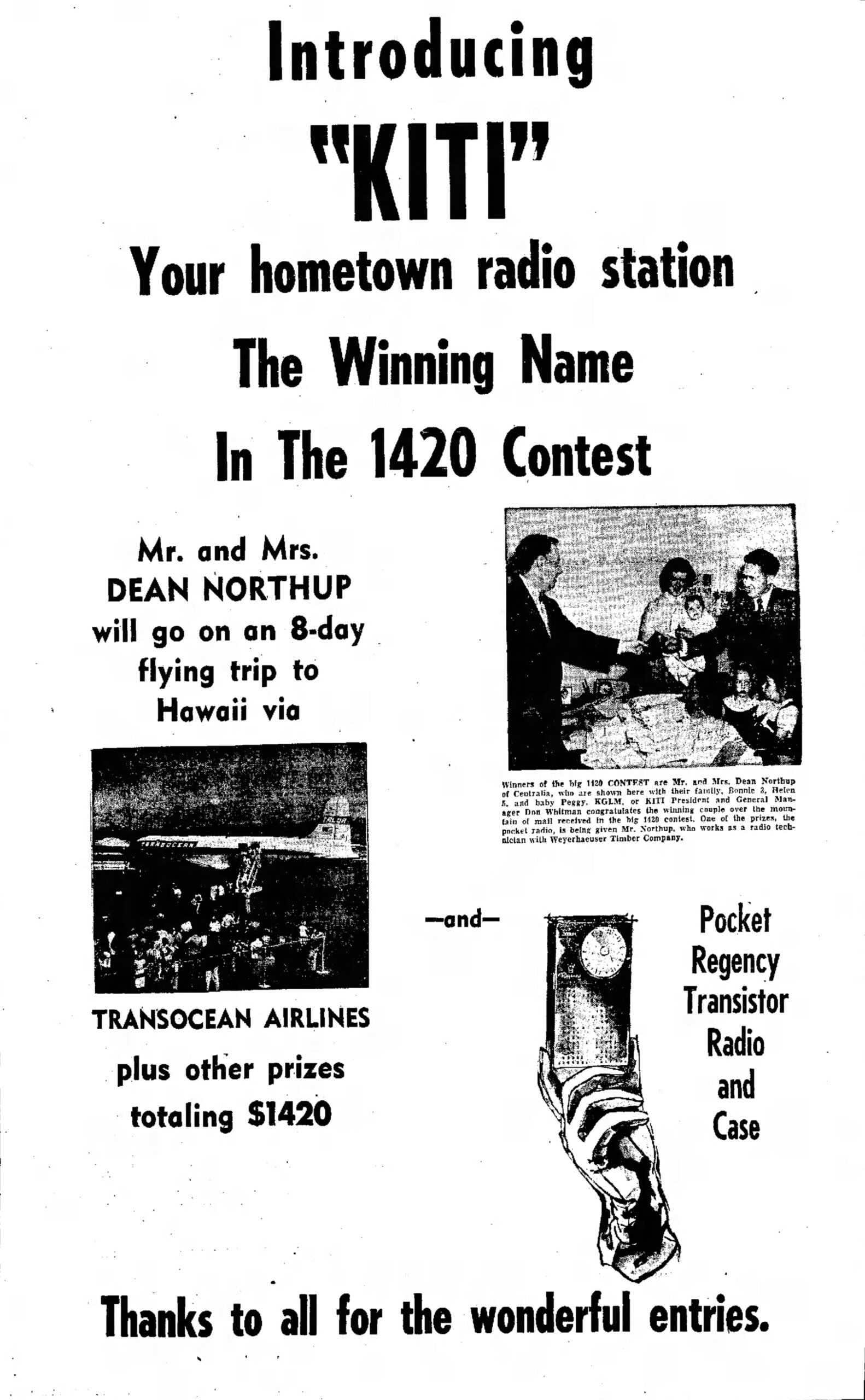 1974 KITI logo-