I bought this album when KJR promoted it on-air. I believe they were selling at Valu-Mart, the same store where we picked up the KJR Fabulous 50 Survey each week.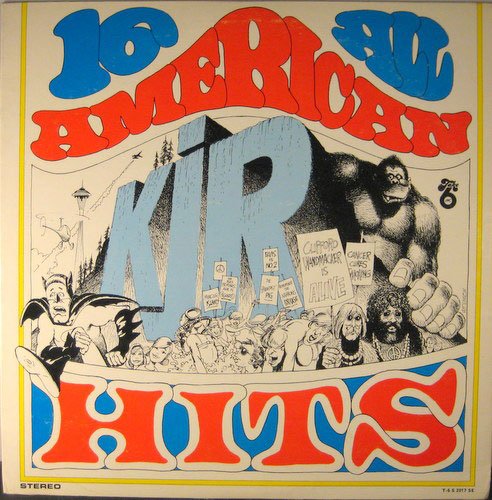 KJR 16 All American Hits – Various Artists [1967] Along Comes Mary – Association, Western Union – Five Americans, Snoopy Vs. The Red Baron – Royal Guardsmen, I'm So Lonesome I Could Cry – B.J. Thomas, Summer In The City – Lovin' Spoonful, Gloria – Them, Cherry Cherry – Neil Diamond, See You In September – Happenings, Hanky Panky – Tommy James & Shondells, Hey Joe – Leaves, Pushin' Too Hard – Seeds, You Turn Me On – Ian Whitcomb, Land Of 1000 Dances – Cannibal & Headhunters, The Witch – Sonics, Leader Of The Pack – Shangri-Las, Dirty Water – Standells.
There was a Volume 2. I didn't buy that one. The reason may have been that the songs on the album didn't appeal to me, or I did not have the cash (allowance) at the time.