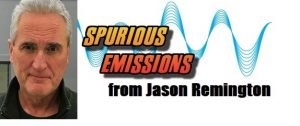 Disney is shuttering its Radio Disney division amid the ongoing restructuring at the media giant. Radio Disney and Radio Disney Country will both stop broadcasting in the first quarter of 2021, resulting in layoffs for 36 full- and part-time employees. (Hollywood Reporter) Mickey! Don't let the door hit you in the ass on the way out of the studio.
Now, can we please get rid of Wal-Mart Radio, the background music/morning zoo that is piped into the Wal-Mart Neighborhood Market where we sometimes buy groceries? Have you noticed that every store and restaurant has music blaring? I find the music to be annoying, especially in a restaurant.
In an interview with Yahoo Finance, [a name that screams credibility], Entercom CEO, David Field, said "And so three years ago, Entercom was the third largest– fourth largest company in the radio business. We acquired CBS Radio. It gave us scale and made us what we think is a broadcast group second to none in the country…"
Add, "gave us scale", to my list of hated buzz words and over-used phrases.
[Geez, Jason hates everything!]
California's n–i governor has instituted a statewide lockdown. Meanwhile, "The Kardashians spent three nights at Edgewood Tahoe filming for a show," a source told E!. "They had some of the kids with them and they all played outside and sat by the fire and roasted marshmallows. They also went ice skating on a private rink. They enjoyed a hot chocolate bar and had a big fireworks show over the lake at night."
Certainly, that was a gathering of more than ten people and not all were family. Swift punishment is due. In this case, they should all be sent to Gitmo!
PBS turns 50, and Tacoma's KBTC is featured in a story on WTOP News. WTOP is a news outlet, dealing in facts. They think KBTC is located in Seattle. To them, anything north of San Francisco and west of Denver is Seattle.