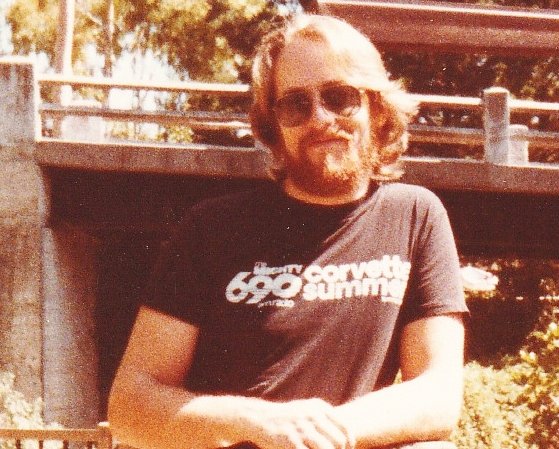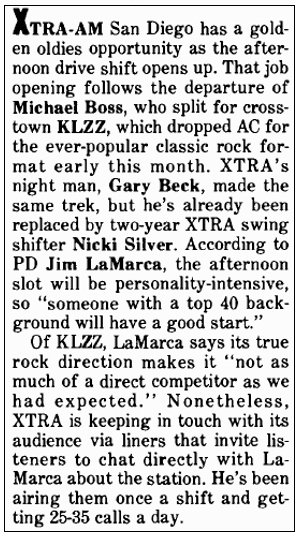 Editor's Note: This is the third installment of the Border Blaster saga by Michael Boss. While in the Pacific Northwest, he attended the Stu Martin School of Broadcasting in Seattle (1969) and was "morning deejay" at KOQT Bellingham, Washington, before embarking on a career that would lead to Mexico and the giant signal with five call letters, the famous XETRA. A couple million teenagers knew it as "The Mighty 690" and Michael was the afternoon drive guy. (For part 1 of his story Click Here) … (for part 2  Click Here). He was present when the plug was pulled on the "Superstation" and the name was changed to "XTRA Gold." Boss remained as an afternoon drive fixture and would play the music he grew up with—Elvis, Beatles, Stones and the "garage." On-air, he was a maverick, but he was not the first at the big X. There were a number of non-conformists in XETRA history. In 1980, Frank Felix and Roger Agnew achieved the impossible by disproving the myth that music on AM couldn't compete. Top 40 on FM took a back seat to their creation—border blasting Mighty 690! And when 690 went "XTRA Gold," Michael Boss and Gary Beck were the rebels that gave the "oldies monster" its progressive flavor. Boss is the first to admit that his story is self-applauding. "No one else is going to blast the horn for us," he says, "other players have had three and a half decades and still they are silent. We have to tell the story for ourselves. If the truth comes across as 'brassy' then let it be." Finally, in part 3, Michael lays out his old school radio philosophy, gives us the "dirt" on 69 XTRA Gold and details the behind the scenes power play at the oldies border blaster. He describes it as the same old story: "mavericks versus the corporate entity." Michael explains why he and Beck left XTRA to program KLZZ-FM in San Diego. He provides insight into an oldies radio war—one he described as "beginning with a whimper and ending with a whimper." What follows is Michael's free-wheeling story, told in his own words…
Among Mighty 690 fans the question has often been raised: Why did XETRA make the switch from Top 40 to oldies? There are many explanations and none of them are entirely correct, not even the "official" one. One far-fetched idea claims that FM killed 690! Whoever invented that story somehow forgot that 690 dominated contemporary hit radio in Southern California when music on FM was already "the thing." You can toss that one overboard. A major factor was Music Television (MTV) when it ushered in the "New Wave" (August, '81). Wherever the MTV channel was available, record stores were selling music that local radio stations were not playing. A great part of the Mighty 690 success story was that it played "New Wave" artists from its inception: Devo, Men at Work, B-52s. And it was first in America to play Duran Duran. But by 1984, MTV was everywhere in America and it was big stuff. New Wave was mainstream. This contributed to the demise of CHR radio in general. But it still doesn't explain why the switch was made at XETRA. Changing demographics and declining numbers were given as reasons and cited in Billboard. True, numbers had peaked and the Mighty 690 had conceded the #1 CHR position to KIIS-FM in Los Angeles. But, even so, the numbers were still good. There was no competition in San Diego, to speak of, and there was no knock-out punch. Being "on air" at the time, Kris Anderson and I couldn't help but notice that the Felix-Agnew programming machine was not exactly jumping at new song material. It was almost as if the playlist was allowed to go stale. Was it just neglect or was it, in fact, deliberate? Interestingly enough, Jeff Elliott (who later worked at our sister FM, 91X) claims to have been privy to conversations between consultant Roger Agnew and Lee Abrams associate Ernesto Gladden. Elliott has told me that Agnew was compiling an oldies playlist as far back as 1982 and that the "lifespan" and "demise" of the Mighty 690 was already being anticipated. If that is true, then the basic XTRA Gold playlist was compiled by Agnew, himself, and the decision to change formats was a more corporate one.
Wild Horses On the Loose
October, 1984—The station owners (Noble Broadcast Group) wanted an AM compliment to their new acquisition, KJOI FM in Los Angeles which, at the time, netted the highest price ever paid for a radio station—nearly $20 million. KJOI was LA's "beautiful music" station and Noble wanted an older demographic on XTRA-AM as well. This is the reason management gave when they changed the Mighty 690 format to oldies—for the "Big Chill" generation. The station banner changed to "69 XTRA Gold." I stayed on in afternoon drive and took artistic control over a Monday-through-Friday show.
When I say "took control" I mean TOOK CONTROL! My partner in radio crime was Gary Beck, who got his start in radio as a producer for the Art Green talk show on San Diego's KSDO. He honed his on-air skills at WDHA, "The Jersey Giant" (New York metropolitan market) and his 10 to 2 a.m. show at the storied KPRI-FM, San Diego, was top-rated. He had a voice like velvet and an easy on-air manner. But, perhaps, more importantly he was a maverick after my own heart. We were a tag team at XTRA. Gary followed me in his air-time of choice: 7 to midnight.
The original XTRA Gold lineup included: Kris Anderson 6-10 a.m., Steve Sande 10-3, Michael Boss 3-7 p.m. and Gary Beck 7-midnight. Nicki Silver was our part-timer and the best ever. From the start, Kris Anderson referred to Gary as "Gary U.S. Beck" (a humorous nod to Gary U.S. Bonds). About a week into the format change (November '84), Beck was hired by Jim Richards, the last of the Mighty 690 PDs. We got the music playlists from the programming office but there were no other directives. It should be noted, Gary and I were already running with XTRA Gold and in our groove before Jim LaMarca was hired as Program Director. Jim's claim to fame was his "Nostalgic Rock" show—Sunday mornings—on 91X, our FM compliment. Although top-rated in his daypart, he had no previous experience as a PD. And, suddenly, he is in charge of the big "X" out of Mexico —management on one hand and Boss and Beck on the other. What a head-trip that must have been for young Jim! For the story's sake, it is important that you understand the dynamic at the very beginning. The change was not only in format but a move toward a more "progressive" kind of oldies station. Gary and I knew the music and knew what we were about and, being the mavericks we were, we opened the gates. Wild horses were already on the loose.
AUDIO CLIP – Eric Burdon – When I Was Young/Drop-in/Winds of Change (:49)
As if you couldn't tell, "When I Was Young" and "Winds of Change" were disc jockey's choice—from an Eric Burdon special on XTRA Gold!
Boss & Beck … The Consultants
If the truth be known, Jim LaMarca was constantly pumping us for ideas. So, basically, Gary and I ended up being consultants for him in a big way. The Sam Phillips birthday bash was Jim's idea, but artist bios and trivia were window dressings that Gary and I brought to the station's trade-mark image, along with the art of segue and the occasionally "deep" music track. At the time, someone in the office made the comment: "You can't segue oldies." We ignored that and segued oldies, anyway. Some tracks fit together perfectly, whereas station jingles and the human voice help make the transition between difficult tracks. And the order, in which you play the songs, can make the difference between "whiplash radio" and a "groove." From the start, we took the playlist and shuffled the music (within the parameters of each hour). We even dropped tracks, especially if we thought a top-ten oldie was in danger of burning on too tight a rotation. We treated the songs like the gold they were. If Jim ever figured out what we were doing he never mentioned it. The end result: we made XTRA Gold sound better. When we played that "big hit" we wanted listeners to say to themselves, "you know, that really is a good song!"
A Celebrity Audience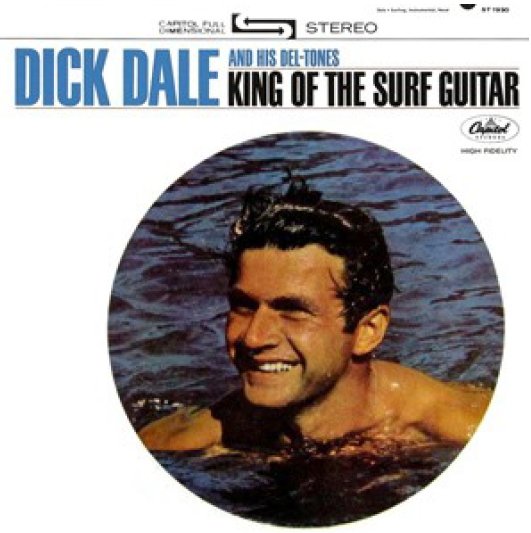 We sneaked extra tracks into the "rotation," constantly pushed an eclectic mix of oldies, pop ballads, R&B and '60s folk, and were listened to by more studio musicians than any other station in Southern California. At least that was the boast, but it was essentially true. In addition, we had a celebrity audience that ranged from Frank Sinatra and Julie London to Beach Boy Carl Wilson; and from Joni Mitchell and James Taylor to Elvira (Mistress of the Dark). There was the, as yet, unknown Quentin Tarantino who worked at a video store on Sunset Boulevard in LA, and who listened to XTRA Gold. One of my features was "The Goldmine" in which I spotlighted songs that weren't on the playlist—the George Baker Selection (for example) and things like "Little Green Bag" or the Coasters' "Down in Mexico." These were musical numbers that would later appear in Tarantino movie soundtracks for Reservoir Dogs and Death Proof. The station played Dick Dale's "Misirlou," which featured prominently in Pulp Fiction eight years later.
AUDIO CLIP – Michael Boss/Gary Beck Crossover (1985). (4:24)
Puget Sound Media asked Gary Beck to comment on what it was like to work with Michael Boss: "From day one at XTRA, I would leave early for my commute to Mexico. I always enjoyed listening to Mike while on the way. He made me want to be better than I was and work harder at my craft. Though we differed in style, we were able to play off one another. The on-air result was a back-to-back 1-2 punch!"
From Baja to Mount St. Helens
It was Gary who dreamed up the XTRA Gold phrase, "from the tip of Baja to Mount St. Helens and all up and down the California Coast." His alternate ID was, "from Baja to the Canadian Border" —one that was picked up a few years later by Lee "Hacksaw" Hamilton when the station switched to "Mighty 690 Sports."
The XTRA Gold coverage area was, of course, the same as the Mighty 690 and it was huge. At the peak, weekly cume (in all of Southern California) was estimated to be between 650,000 and 700,000, which was big for an oldies station (more than twice the number it took to be #1 in San Diego). It was an obvious choice for national buys. Gary and I were in an enviable position, in San Diego and the other markets, as we were often rated number one in AQH (average quarter-hour) shares.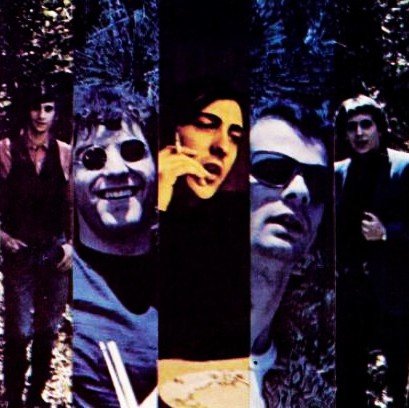 Gold Weekend Specials
Like any self-respecting radio station, XTRA Gold featured weekend specials. And, like most other stations, it was an old gimmick. You might hear something like the "Dynamic Duo" weekend with the likes of Sonny and Cher, Sam and Dave or Simon and Garfunkel. There was the inanity of the "Time Machine" weekend, which became (for the jocks) an undisciplined push over the top. Back to basics, there was the "Alphabet of Rock" featuring artists in alphabetical order. And there was always the old standby: the "Beatles and Stones." Like other station program directors, Jim LaMarca was taking his basic playlist and repackaging it in different ways. The problem is, you're still burning your music core. My philosophy always was, if you're going to call something "special" you had better deliver the product. On occasion, Jim showed surprising depth, like when he plugged in album tracks from Motown. He knew the Motor City groove and used that knowledge to advantage for the Temptations and Four Tops. It was a lead-in to their 1985 concert at Irvine Meadows. And he also added songs for our Surf 'n' Sand weekends. Still, we brought in records from home, to beef up the sound. And we added the A-1. We did this sort of thing on a regular basis. It was Gary and I who brought in artists like The Blues Project and John Mayall's Blues Breakers. The audio clip below features a crossover between "Boss and Beck" as I was wrapping up an afternoon show in the summer of '85. My question to Gary that day, "What happened to the California sunset with pockets?" was a reference to the Hawaiian shirts he usually wore. That exchange is followed by Gary's "Surf 'n' Sand" aircheck which has been salvaged in the nick of time. Although out of phase, some of the noise you hear is actually the California surf. You might also detect the faint cries of seagulls.
AUDIO CLIP – Boss & Beck Crossover – Surf 'n' Sand Weekend Gary Beck Aircheck — Summer 1985 (4:08)
The Progressive Edge
If Boss and Beck were ever accused of fomenting a radio "revolution" we would shout, "guilty!" But our revolt was driven by the music…first! We made sure there was always something going on at XTRA, in a musical sense. We aired album tracks and obscure gems, not just the hits. And, like clockwork, we kicked it loose on Fridays but we might ratchet up the rhythm any day of the week, depending on what was happening at the clubs. The ruckus usually started in the three o'clock hour.
On any day, in any given week, the listener might be treated to a half-hour with the Doors, Dr. John, or the "King" himself (including interview "bits" with Elvis). "Beatlemania!" was also one of my productions. Paul McCartney admitted to "Sneaky (Beatle) haircuts" and on the music ramp to "Taxman" John Lennon could be heard saying, "the Queen, she's a millionaire." There were half-hour sessions with the garage bands: Standells and Shadows of Knight. A grittier Sam Cooke (from the night clubs of Miami) was another offering, and there were select cuts from a jam session with Bo Diddley and Chuck Berry at Chess Records. At XTRA Gold, "Louie Louie" was not just a song but a way of life. I showcased different versions, including Paul Revere and the Kingsmen (of course), but there was also a sampling of the original by the man who wrote it, Richard Berry.
One afternoon, I invited listeners to San Francisco's psychedelic tea party (cue the raga rock!) "It's 1966, the year before the Quick and Dead and Plane and Brother caught the  world's eyes and ears…before they re-arranged the face of pop—in fact—punched out the lights of the Tin Pan, Brill Building, Beatle-beat biz…Let's take a trip back to the opening shots of the Revolution…let's tune in, turn on and dig!" (cue Beau Brummels!) In the next half-hour I played the Great Society, Vegtables, and Charlatans (their take on Buffy Sainte-Marie's "Codine"), as well as an early version of "Somebody to Love" by Grace Slick.  Jim LaMarca's inexperience was, quite often, a good thing. It is doubtless: a more seasoned PD from one of the big broadcasters would have been less tolerant of our choices in music. So, because of or in spite of Jim, XTRA Gold took on the identity it did between 3 p.m. and midnight—Billboard hits and progressive. It was an oldies station like no other.
Joan & Diamonds & Rust
And then, I dedicated a whole hour of air time to the incomparable Joan Baez. Among other songs, I was playing "Diamonds and Rust" again. She talked about her Quaker upbringing, the Viet Nam years and, of course, Bob Dylan and Gerdhe's Folk City in New York. Mothers of the world unite! San Diego's Civic Auditorium was the only Southern California venue. People drove from miles around to the concert, making it a virtual sellout and the largest audience on her entire North American tour. I received handwritten "thank yous" from Joan and her promoter.
Dreamed I Was in a Hollywood Movie … Spill the Wine!
"Liverpool had the Beatles and London, the Stones; but up in the North of England there was a band brewing that was tougher than any of them—The Animals!"
This was big!—a three hour interview special with Eric Burdon, presented in early drive time (on a Thursday and Friday) in two 90 minute segments. False modesty aside, it was a definitive view of the British Invasion from the perspective of New Castle-on-Tyne and featured all the Animals' hits in chronological order! On day two the Eric Burdon saga continued with his adventures in America, from the "gathering of the tribes" at Monterey to San Pedro and the soulful aggregation of Eric Burdon and War. Eric commented on hits like "San Franciscan Nights," "Sky Pilot" and "Spill the Wine." I also plugged his new autobiography, I Used To Be An Animal But I'm Alright Now. When Eric appeared at the much vaunted Belly Up Tavern (Solana Beach) the line of people waiting to get in was all the way around the block!
Gary Beck and I featured interview specials with Bo Diddley, Willie Dixon, John Lee Hooker, Albert King, Al Kooper, Spencer Davis, John Mayall, Johnny Otis…etc…I also made backstage recordings with the Ventures and Three Dog Night. Jim LaMarca set up interviews for us in the beginning, but more and more we arranged them on our own. Gary would pal around with Dick Dale (King of the Surf Guitars) while I was friends with Hank Ballard (original King of the Twist) and the one and only Screamin' Jay Hawkins.
King of the Twist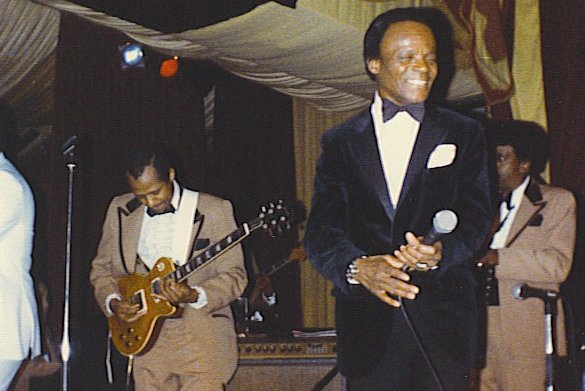 Hank Ballard was the gentleman who wrote "The Twist" and had an R&B hit with it. Dick Clark appropriated the song and gave it to his creation, Chubby Checker. Hank told me, he was in Miami when "The Twist" came on the radio and he thought, "Oh, wow! I'm getting pop play now." Hank laughed, "It was Chubby Checker with a clone version of me…he even stole my eeeh-ohh!" But Hank's version is the original and the best. I played it on XTRA Gold—alternating it with the one by Chubby. Hank was inducted into the Rock and Roll Hall of Fame in 1989.
One night I was a burr under Humble Harve's saddle blanket. Hank Ballard and his Midnighters were appearing at Mischa's Hollywood. It was KRLA night but I had the XTRA Gold van parked at the curb. Here was this out-of-towner who was stealing Harve's thunder. But Harve was gracious and called me up on stage. It was Michael Boss meets the Man from Boss Radio! Crazy! The best part was when Harve and I conversed about the "biz" afterwards.
The Outrageous and Outspoken 'Screamin' Jay Hawkins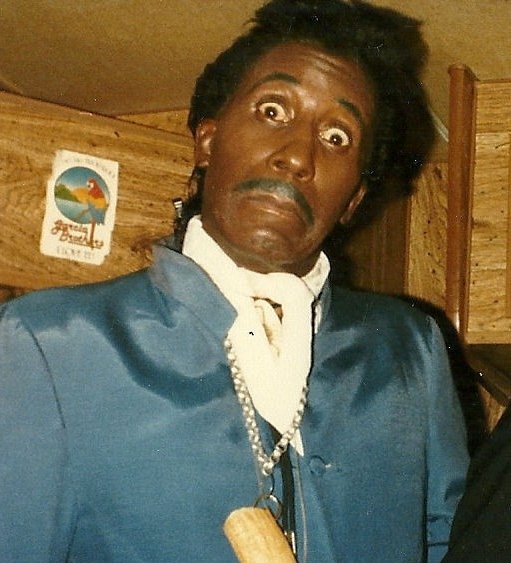 Screamin' Jay Hawkins was a headliner in Alan Freed's original Rock and Roll Shows in the 1950s and appeared—in New York—at both the Apollo Theater and Brooklyn Paramount. A cult figure since the '70s, he is best remembered for his original song, "I Put a Spell on You." His act has been described as "one part refined R&B musician, one part Bela Lugosi, and one part pure guttural opera." He was both comical and scary at the same time. Jay told me it was deejay Alan Freed who came up with the idea of him coming out of a coffin on stage! At the time, many black artists went out of their way to avoid the racist stereotypes of voodooism, cannibalism and the slightest hint of the jungle, but Screamin' Jay embraced it all with enthusiasm. Fortunately, attitudes have changed. Back then, the NAACP even frowned upon blues music. Imagine that! When he appeared in the movie, Don't Knock the Rock his part was considered an insult to black people and was taken out. But, he said, "When I did American Hot Wax (in '78) and came out of the back of that hearse looking like Zugalala—King of the Watusi—suddenly it was groovy!"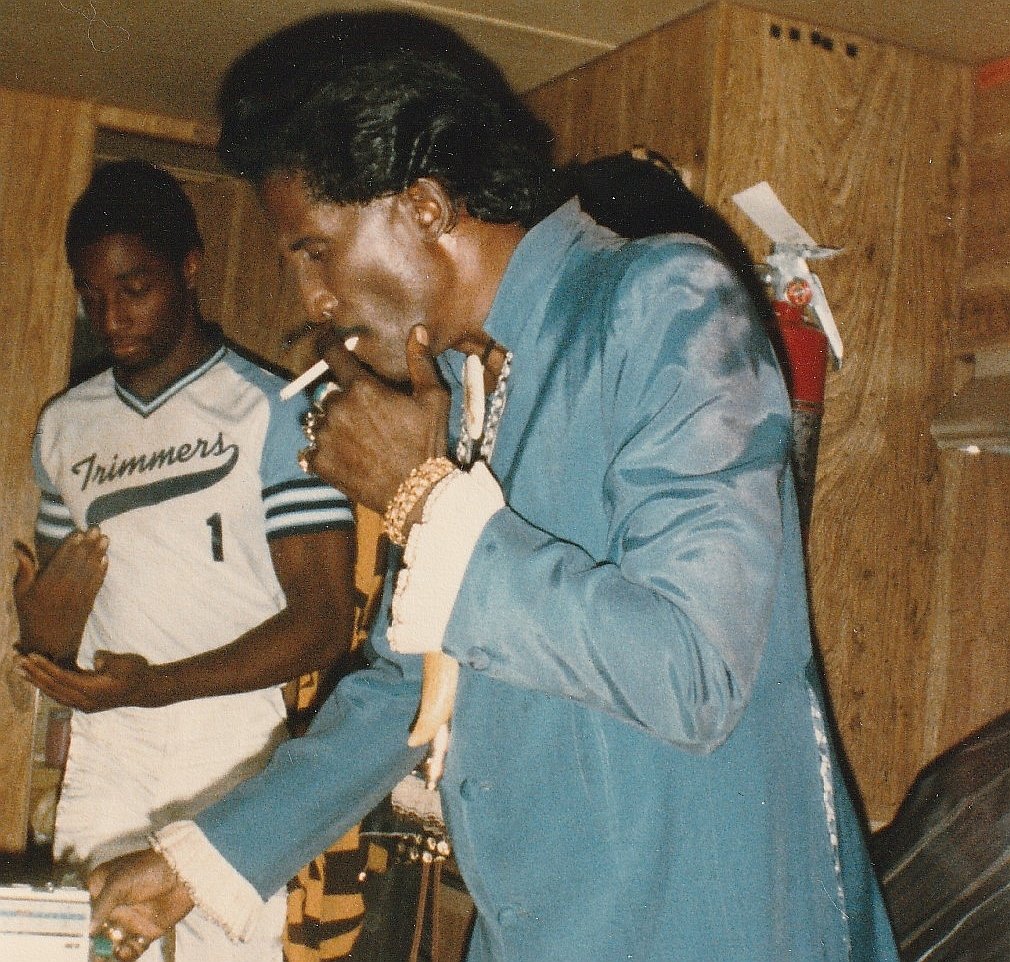 Some people like to claim Jay was spawned in Hell. He always denied that. Quite simply, he had discovered a gimmick on stage and he was shocking audiences long before anybody heard of Alice Cooper, Kiss, Twisted Sister, The Cramps and Rob Zombie — all of whom were influenced by his music and theatricality. Jay made a living with his blues-horror-comic-opera until he passed away—at age 70—near Paris, France. I am fortunate to have seen him in a number of live performances and to have been considered a friend. When I last saw him in 1986 he greeted me with a big hug. It is an understatement to say he was outspoken and a straight shooter. If he liked you he told you so, and if he didn't like you, well… Screamin' Jay Hawkins was one of the most genuine cats I ever met. "I Put a Spell on You"—penned by Jay—has been recorded by countless artists, ranging from Nina Simone to Creedence Clearwater Revival. While some may criticize Screamin' Jay's performance as "dated" and "stereotypical," a great many others consider him to have been a pioneer—ahead of his time. Without question, his song is timeless and quintessential—a real gem in the blues-rock world.
Editor's note: In a Summer '85 interview on XTRA Gold, the Bossman saw Jay's famous stage-prop coffin close-up! Beware! The video clip below is enhanced with shots of Screamin' Jay's crazy antics and viewers will also get a glimpse of Yolanda Salas, the actress who is noted for her sexy XTRA Gold and Mighty 690 Spanish speaking IDs. Salas had a role in "The Giant Gila Monster," a 1959 B-movie and now a cult classic—produced by Gordon McClendon, former owner of XETRA!
In 1985, Michael Boss visited Screamin' Jay Hawkins at his apartment and saw Jay's coffin (2:29)
The Almost Interview with Little Richard
By October, 1985, Richard Penniman (aka Little Richard) had wrapped filming for his role in the movie "Down and Out in Beverly Hills" starring Richard Dreyfuss, which included his first hit song in 16 years – "Great Gosh a Mighty." On the way home from the studio he was in a horrific car wreck. Doctors had to put 35 pins in his right leg. Two weeks later, he was out of the hospital and recuperating at home—Room 319 at the Continental Hyatt Hotel on the Sunset Strip in LA. Through his agent, I had arranged a one-on-one interview with Mr. Penniman. He had kindly agreed to an "audience." On the given day, I was standing in the hallway outside room 319—ready with my questions, a batch of brand-new cassettes and a portable tape recorder in hand. It was precisely 10 a.m. when I knocked. Behind the door I heard a male voice ask, "Who is it?" I told him my name. "Who?" I put my business card down on the carpet, slipped an edge under the door and watched it disappear faster than a cat in a Taco Bell kitchen. A moment's silence. Then the door cracked open and a pair of eyes glared at me. I explained that I was there to interview Little Richard. Never mind that it had all been prearranged. No amount of coaxing was going to work on the doorman. The answer was still, "No!" Not even Richard Penniman, himself, could persuade the man to step aside. Behind the door I could hear Richard saying, "let him in!" But the gate keeper was Little Richard's brother and brother knew best. Nobody but nobody was going to get access to fabled room 319! That was the beginning, middle and end of my interview.
Life at the XETRA Transmitter – Some Anecdotal Tidbits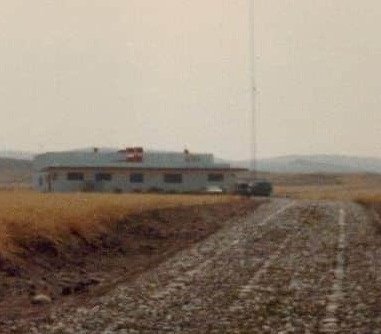 Here are five things about our Mexican location: (1) Gary always kept a few bottles of Corona in the fridge, in case anyone got thirsty. (2) The XETRA transmitter site was situated on the crest of a hill, just 1500 feet from the beach. (3) It was Gary Beck who nicknamed it "the hut by; the sea." (4) The studio picture windows provided us with the best view in radio! (5) Every weekday I would describe the sunset out over the Pacific and the Coronados, and follow that with a three-song set to match the mood and the weather.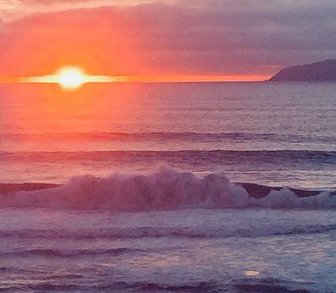 The Mexican Coronados are four largely barren and craggy islands. When they glisten and shimmer in the sun they seem to be just offshore, taunting your imagination—hinting at their mysterious past. Juan Rodriguez Cabrillo made a record of them as far back as 1542. Since then, the islands have seen a cast of characters that includes pirates, smugglers and even gambling speculators who once built an elaborate casino and hotel on the rocky cliffs of South Coronado Island. They have shared a stage with pelagic and resident fish, dolphins, whales, elephant seals, brown pelicans, cormorants, and the like. All four islands boast sheer cliffs, knife-edge ridge lines and not one drop of fresh water.
The Hunt For Red October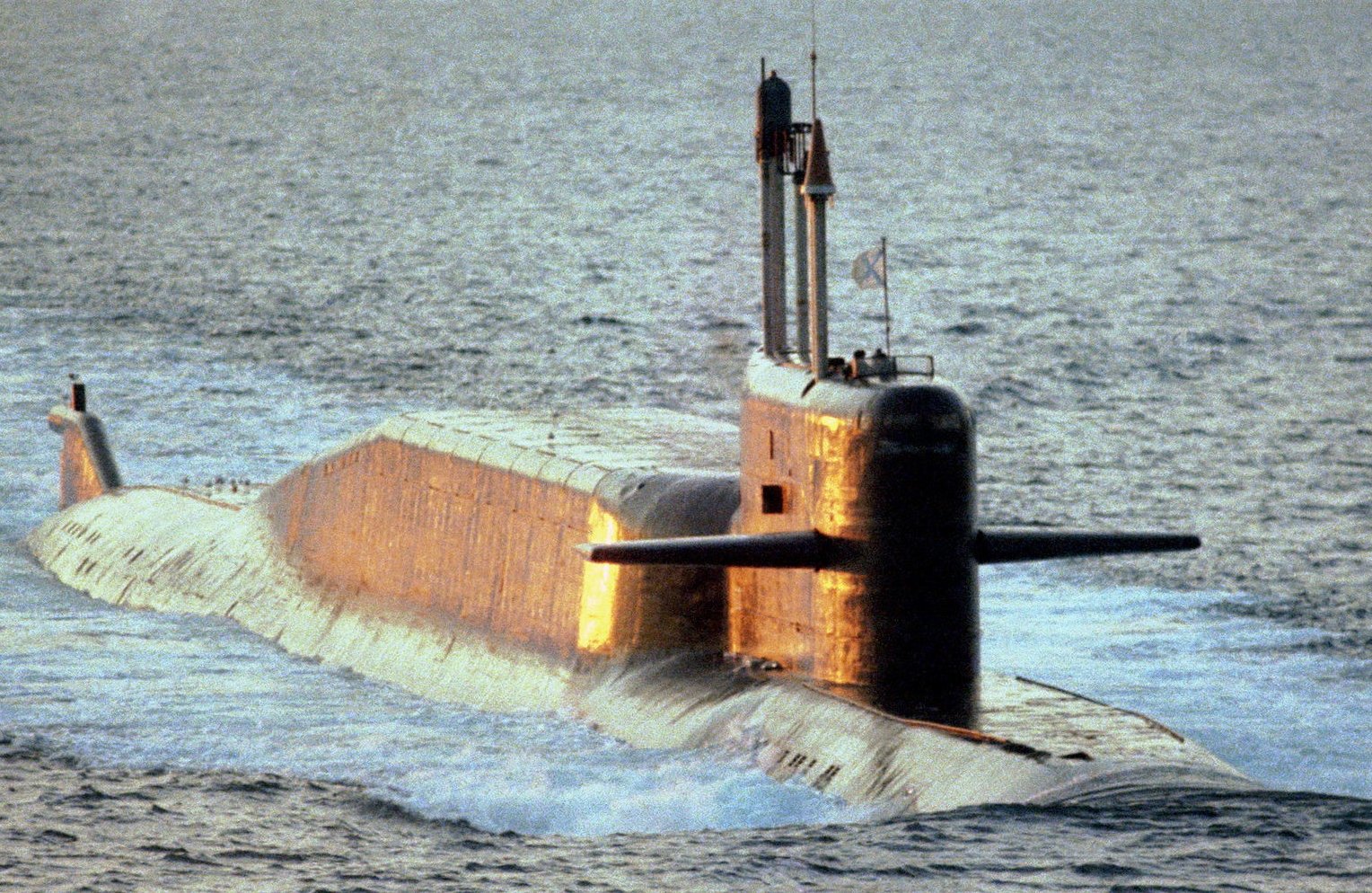 One afternoon (while playing oldies) I was looking out at South Coronado Island and watched as a Soviet Delta IV class ballistic missile submarine surfaced in Mexican waters. It was close, very close—between the island and the shore. The conning tower was burnished copper in the sun. Point Loma was in their sites and they were looking down the throat of San Diego Bay. It just so happened that the U.S. Fleet was out on maneuvers that day! A few songs later—on XTRA—the sub disappeared below the waves.  Just before sundown the sub re-surfaced again. Gary Beck saw it too. On air he said, "Nostrovia, comrades!" and then (breaking format) he played the Beatles' "Back in the U.S.S.R." If the Russkies in the galley were monitoring AM radio at the time the XETRA signal would have been about the only thing they picked up because they were in our "splatter" zone. We can only wonder if anyone aboard heard Gary's comment. This occurred in 1986, before the so-called fall of the Soviet Union and about the time Mikhail Gorbachev adopted "glasnost" and "perestroika" as political slogans. The Hunt For Red October—the novel by Tom Clancy—had been published two years earlier, in '84. But this was still four years before the movie.
"Reach Out and Touch Someone" (Phone Calls)
There were special moments at XTRA—when we played the classic "La Bamba," for example. Here is a peek behind the curtain: Richie Valens' mom called, occasionally, from her Pacoima neighborhood in LA. Gary told the phone operators to always transfer the calls to him in Mexico. She asked, "Would you play my Richie?" And Gary would reply, "Of course I will…I'd be honored."
One evening, Gary played Bobby Darin's "Mack the Knife" and made the mistake of calling Bobby "the voice." That was one of Frank Sinatra's handles! It wasn't long before our phone operator in San Diego put a call through from Palm Springs. A well-articulated female voice—on the other end of the line—said, "I'm calling for my father who has a problem." It was daughter Nancy! She was in the train room where Frank had a model layout of Hoboken, New Jersey and where guests at the bar got their drinks delivered on an "O" gauge flat car! You could hear toy trains running (in the background) and Frank insisting, none too quietly, "Tell him, g—d dammit!" Gary's cool reply was, "I know who this is and I have every respect for you and your father." (He and I both loved Frank Sinatra's music and played it on occasion). Gary praised Frank to no end and complimented Nancy on her solo efforts, as well as her work with Lee Hazelwood (in fact, he did a great job of back-peddling!) The phone call ended amicably. It was the first of several calls from Palm Springs. You never knew who might be listening to XTRA Gold! And never before, or after, did Mr. Gary Beck refer to the immortal Bobby Darin as "the voice."
King of the Surf Guitars
One sunny afternoon in '85, Dick Dale came roaring up XTRA's cobblestone road on his big Honda bike, with a blonde in a leather jacket riding behind. He was paying his respects to Boss and Beck. He would later write a song about the experience: "California's Being Told About 69 XTRA Gold." The "block-house high" (in his lyrics) was our transmitter site on the hill and "needles in the sky" was his way of saying "radio towers." The following aircheck captures Dick Dale "live" at the Coach House in San Juan Capistrano. His backup singers were the Deltonettes who, quite often, wore leopard-print dresses.
AUDIO CLIP – Michael Boss Aircheck and Dick Dale Song about 69 XTRA Gold (4:31)
Note from Boss: XTRA Gold was chosen as the official station of OMBAC (The Old Mission Beach Athletic Club) and their world famous "Over The Line Tournament." Much of the credit goes to Gary Beck for that decision. We hosted massive coming-out parties two summers running (1985-'86) with the Diamonds and Little Anthony headlining outdoor celebrations on Fiesta Island.
Buddy Love's Surf Reports
Here is an aircheck with Gary Beck and Jeff Elliott, who originated surf reports in San Diego in '76 and who was a charter member of the Windandsea Surf Club. He was also spokesman for Dewey Weber Surfboards. (For a story on Jeff and his Seattle connections Click Here.) Gary would occasionally feature him on XTRA Gold, never as "Jeff Elliott" but always as "Buddy Love" the surfer-dude. The assumed name was a whacked-out reference to the Mr.-Hyde-like character in The Nutty Professor, starring Jerry Lewis which was—apparently—one of Jeff's favorite movies. During an unscheduled Christmas Eve report there was a humorous moment when Beatriz—our Mexican secretary—accidentally broke in on the phone conversation. Hear what ensued in the audio clip beneath Buddy's "action" photo.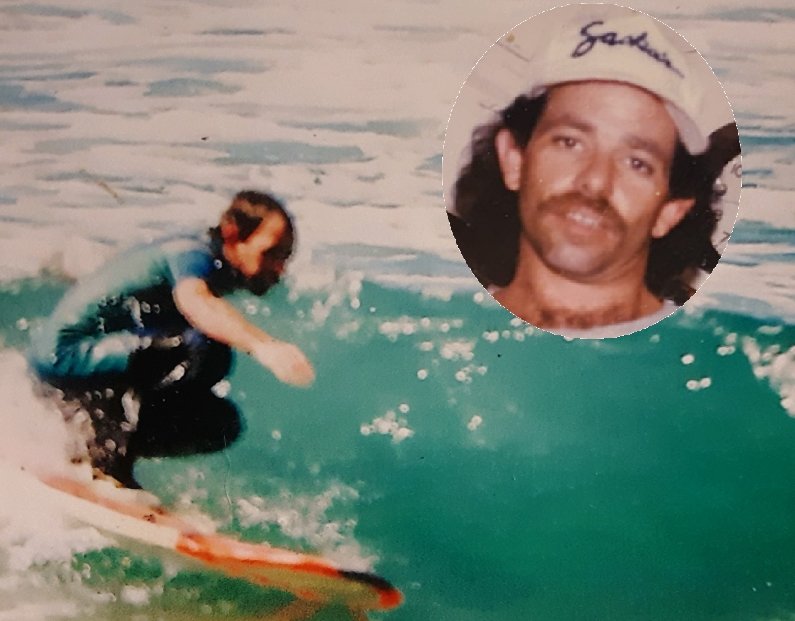 Gary Beck goes on-air with "Buddy Love" and his Malibu Surf Report (2:39)
At Home in the Clubs
Gary Beck and I developed a rapport with musicians and club owners that was pure gold. Clubs on the list included the Coach House (San Juan Capistrano), Mischa's Hollywood and the Palomino Club, North Hollywood. Another great association was with Malcolm Falk, who would eventually give us access to tape masters recorded at his Belly Up Tavern in Solana Beach. Not only were we in our element at the transmitter in Mexico, but we were at home in the clubs of San Diego and LA.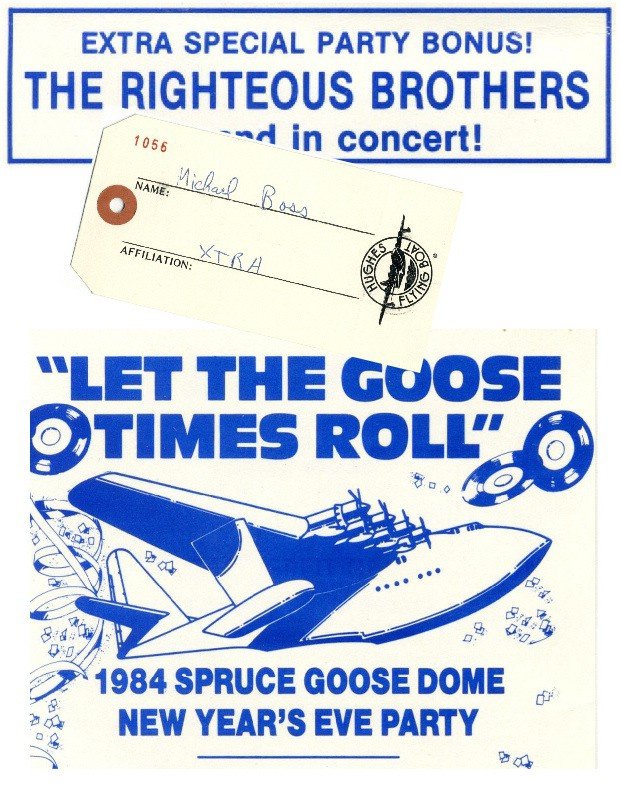 New Year's Eve 1984, I was master of ceremonies at the Spruce Goose Dome (Long Beach) with the Righteous Brothers as headliners. In the clubs, Gary Beck was introducing such notables as Fats Domino, Donovan and Junior Walker, while I did audience build-ups for Martha Reeves, Bo Diddley and Jerry Lee Lewis.
The Million Dollar Winner Who Never Was
We've all heard the phrase: "Don't try this at home." Well, programmers pay attention. Don't try this on-air. It will turn around and bite you. I was always straight up with my listeners for two reasons: (1) because I really cared about them and (2) they can spot blarney faster than a drummer can sweat ratamacues. And the Million Dollar Giveaway was one contest that was nothing but blarney. Because of the way it was structured it didn't take rocket science to figure out: nobody was going to win the big money. On giveaway day we would select a name—picked at random from one of Southern California's phone books—and if that unknown person just happened to know the magic words, "69 XTRA Gold," they would be a million dollars richer! What are the odds? Ten to one? That's eleven possible outcomes, with nearly 91% of the people not having a clue. Twenty to one? That's a 95.24% chance of a big negative. I think everybody knew. This was a real dud, nothing but hot air. For the deejay, you may as well be on a life raft in an angry sea and you've got a slow leak. Not only was this contest met with yawns, it was utterly forgettable (Gary Beck doesn't even remember it happened!)
When "payday" arrived, station owner John Lynch showed up at the transmitter in Mexico. He came in with a secretary from the office and the insurance man in tow—looking official, wearing a gray-flannel suit and packing an attache case. Picture this: we're in the air-studio with the secretary, Mr. Lynch and the insurance company representative standing in a row at my elbow. After going "live" I had the secretary select a name at random from the Los Angeles white pages. Sensing we were on the edge of disaster, I made the call anyway. I'm seeing my career pass in front of my eyes as a worst-case scenario unfolds. A little old man in Los Angeles picked up his receiver, sounding like a hundred years old. And, terror of terrors, he was hard of hearing! What? I asked, "Is this Joe Schmoe of Los Angeles?" Can't hear you, he shouts. "By the way, we're on the air right now…all over Southern California." All over where? "What's your favorite radio station?" What? "Do you want to win a million dollars? (a long pause) "No sir, it's not a prank call." When the decrepit fellow told me he didn't listen to radio I said, "Tell you what, I'll give you the answer and we'll split the million dollars anyway." But the joke was on me because the old man didn't get it. The secretary was nonplussed, John Lynch kept his thoughts to himself and the insurance man heaved a sigh of relief.
If you're waiting for a punch line, don't, there isn't one. There is no kicker to the story. No winner, no nothing…sorry…time to play a record. I may have been the only disc jockey in history that tried to give away a million dollars during drive time in one of the most ill-conceived contests ever. But it wasn't my idea. I wanted to cue up an extended-play album and crawl in a hole somewhere. I would have rather told a listener that he or she could win a phone call from Annette Funicello … Maybe even go to lunch with her?
The 1964 XTRA Gold Mustang!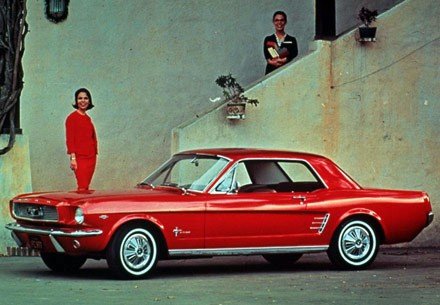 Our most successful and exciting contest was the 69 Days of Gold! One Friday and Saturday, we conducted a "fantasy cruise" around Southern California in our Sixty Four (and a half) XTRA Gold Ford Mustang. It sounded real—like we were on the street—but it was all produced in house. I was provided with wild tracks and "backseat driver descriptives" from Hollywood, Laurel Canyon and Beverly Hills. The challenge was to make it sound like we were really there. Everyday—during the 69 Days of Gold—the deejays made calls to Southern California. If a listener told us their favorite radio station was "69 XTRA Gold" they won an ounce of gold. And they received a bonus ounce if they could name the "artist of the day." If we called you on the big day (and you knew the station call letters) you got the gold. And—you guessed it—if you could also tell us who the artist of the day was (Elvis Presley) you would win the car! By the way, as part of the grand prize we put $10,000 in gold in the back seat—a minor detail. Our cherry, Ford Mustang was won by an emotionally moved and tearful Sharon from LA!
1964 Ford Mustang Contest Promo / Gary Beck Cruises the Streets of LA Summer 1985 (1:25)
Another XTRA Gold contest featured vacation trips to Las Vegas, Lake Tahoe and Cabo San Lucas. The grand prize was a cruise on the QE2 from New York to Southampton, England, two nights in London and a flight back to New York on the French Concorde! But the Everly Brothers promotion epitomized the sort of contest I really enjoyed. The prize package included a limo ride to dinner, front row seats for the concert and then the winner was whisked backstage to meet Phil and Don and receive an autographed LP. I remember the winner's name was "Donna."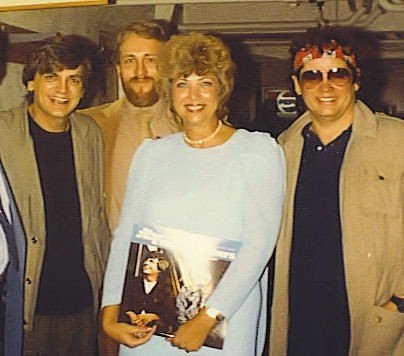 A Wet Blanket Over XTRA
The prevailing mood at the corporate offices on Pacific Highway, in San Diego, changed when John Lynch assumed the presidency of Noble Broadcast Group and Norm Feuer came over from Viacom as general manager. You always knew that John Lynch was the boss, but he was friendly, even approachable when he met you in the corridor. With Feuer, the vibe in the office changed. His management style was adversarial and suffocating. Feuer reminded me of the old stand-up-comedy line: "he's listed in the Yellow Pages under abrasives." I was glad I was in Mexico most of the time, but there was a downside. Not being in the office, we couldn't watch our backs.
Selling Out Los Angeles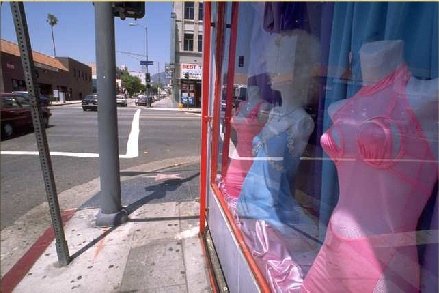 According to corporate sources at Noble Broadcast Group, the original purpose of XTRA Gold was to be an AM compliment to KJOI-FM in Los Angeles. Noble had the KJOI suite on Wilshire, and an office at 6430 Sunset Boulevard, where I often received fan mail. At some point the management gave up on Los Angeles. Why is a mystery.
Early on, LaMarca and management began to load up on "clutter," featurettes that we didn't need. They had begun the process of forgetting the product. XTRA Gold would have been better off with two full-time producers who were paid to dig out musical gems (subject to approval, of course) and provide window dressing for the same. But, here is the first mistake: XTRA Gold was airing traffic reports for San Diego only. And they were getting them from the Automobile Club of Southern California, the same as the competition. If you're going to feature traffic be original and be better than the rest. Hire the people who can give you a signature sound, and cover all of Southern California! It has been my observation that, with few exceptions, traffic reports are already old news by the time they hit the air. And anyone who has commuted for a week knows where the trouble spots are. There is no need for boring details. You've got "slowing in the usual places." Break into your programming only when there is a really big snarl. Do it in real time if possible. This is what we call show biz and theater of the mind! But, instead of making everything BIG, instead of utilizing the huge footprint and potential of XTRA, management somehow missed it! Their thinking was really very small and they were already retreating back across the San Diego County line. So, I was not surprised when they adopted the insipid and lackluster slogan: "San Diego's Oldies Connection." (Why is it so many management teams strive to be mediocre?) Word came down from the front office: don't give LA temperatures any more. Gary and I ignored the directive and played to Los Angeles, anyway. We knew we had a huge audience in the basin. We kept the LA connection to the end and played on the Mexican Radio mystique. Why would you surrender that? Gary's sarcasm was evident when he asked rhetorically, "Give up LA? You didn't cut your power in half did you?"
The Tug-of-War
We were living the limit—showing a bit of FM on AM radio, and doing it in the second largest radio market in America. It was at a time when the trend in the business was toward consolidation, monopoly and shorter playlists. Our motivation took us in the opposite direction. It was a constant tug of war with program director Jim LaMarca. But we must have been doing something right. Our adult numbers were strong. When it came to "oldies" in Los Angeles, we were, most often, out in front of KRLA. In San Diego, XTRA Gold and 91X-FM were the number one AM-FM combo. Well…usually. On at least one occasion, Gary and I saved it—when other dayparts tanked.
Jeff Elliott—who appeared late nights on 91X-FM—was aboard the XTRA Gold party-bus in October, '85. He was enroute to the Temptations and Four Tops concert at Irvine Meadows and happened to be seated next to Jim LaMarca. According to Elliott, Jim asked, "How can I control Boss and Beck"? Whereupon, Jeff replied, "You can't, they're in Mexico. And why would you want to harness them? You've got racehorses in the stable. Let 'em run."
But the tug-of-war between us and LaMarca was becoming more obvious. Gary and I had become less free with our ideas. I could be mistaken, but I had the distinct impression that Jim wanted us to succeed but perhaps not too well on our own. About every other month he would have someone drive to Mexico and confiscate our extra music tracks that we had put into play. Undaunted, we would start accumulating them again. And now—three and a half decades later—perhaps we can laugh about it over a round of martinis, with gin stirred or vodka shaken. How 'bout it, Jim?
Are there things I would do differently now? Of course there are. Having come from a theater background and having a Tony and Emmy award winner for a drama master, I am a harsh self-critic. While other people think my old airchecks are great, some of them make me cringe. At XTRA, I wanted a program director who would prod me, push me, tell me to shut up sometimes, to try this or "don't do that" and—in the process—drive me to excellence. We didn't have the advantage of having show producers. We had to do it ourselves. Yes, we strove for perfection—sometimes achieving it, sometimes not. But, warts and all, we had soul and substance. Years later I would tell Gary, "During that time XTRA had more audio-image texturing and musical depth than any major market station I've ever heard. And much of it was our doing."
AUDIO CLIP – Michael Boss – XTRA with Four Tops & Supremes and XTRA Terrestrials! (1:06)
Music Research & The Magic Bullet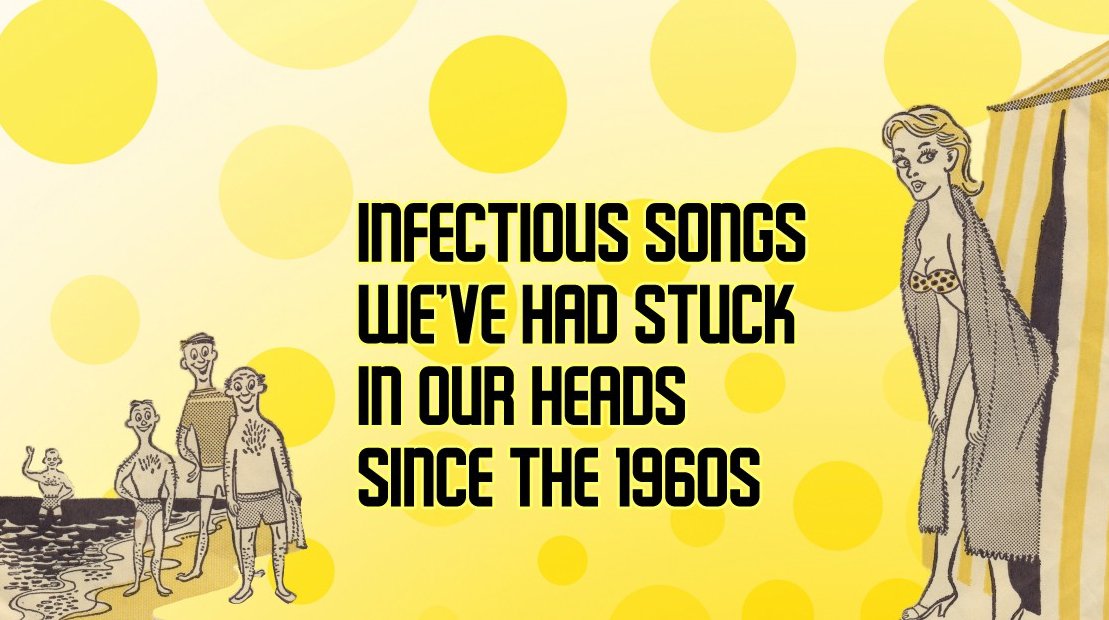 Great radio doesn't happen by committee or by the numbers. At XTRA Gold it was like the Dave Mason song, "We Just Disagree" and Gary and I were at philosophical odds with LaMarca. Jim had become increasingly enamored with music research and was spending money on it—looking for the "secret" to programming. But no matter how great a song is there will always be someone who doesn't like it. Leave your oldies music choices to research alone and you'll get diminishing returns. Back in the day, we found that if a track was good you generally got a positive response to it. That was programming. It was an artistic decision.
In the 60s, The New York Times referred to David Ogilvy as "the creative force of modern advertising." In his Confessions of an Advertising Man, Ogilvy stated, "How do you decide what kind of image to build? There is no short answer: research cannot help you much here. You have actually got to use judgment. I notice increasing reluctance on the part of marketing executives to use judgment; they are coming to rely too much on research, and they use it as a drunkard uses a lamp post, for support rather than for illumination."

Tight playlists make sense with new music—Top 40, CHR and Album Rock—you're getting new product constantly, but not with oldies. There are only so many of them and you'll burn them out quickly. Besides, you have to feed the hunger your audience has, because (collectively) they remember more songs than you probably have in your playlist. You really want a huge catalog of songs. Much of it is "special play" that has to be billboarded and window-dressed. It's all in the presentation.
Perhaps you've heard the WRME-FM success story. In 2018, the fastest-growing radio station in Chicago had no DJs, played way too many songs, targeted aging baby boomers and was so far down the FM dial it couldn't be picked up by many car radios. Also, it was not technically a radio station. Media Confidential wrote, "Three years after launching, MeTV-FM's eclectic soft oldies format turned a low-power TV signal at 87.7 FM into a top-10 Chicago radio station, confounding competitors and rewriting the unwritten rules of broadcast radio." In middays it ranked number two overall—behind only V103. (For that story Click Here.)
WRME-FM had an enormous playlist of about 3,500 songs. According to program director Rick O'Dell, the format drew heavily on mainstays such as the Beach Boys, the Beatles and Billy Joel, but also brought in more obscure singer-songwriters, one-hit wonders, deep album cuts and plenty of guilty pleasures. The public loved it!
Good radio is all about content, content, content and those "constants in motion." Keep it moving and capture the imagination! The magic formula contains the familiar, the new, the unknown and the unpredictable. To hold your audience you must provide balance between a sure thing and adventure. It is amazing how so few people in radio understand this simple concept. Do your research, analyze it, digest it and then make a judgement! That sometimes means you have to follow your instincts—which are based on prior experience and knowledge. You actually have to make a decision. Humble Harve once told me that oldies research was "asinine." I know Wolfman Jack was of the same opinion. Research can be a useful tool, but it can also kill the spirit and it won't give you the magic bullet.
The FM Competition
By August, 1986, competition had arrived in San Diego in the form of Eagle 105 (KCBQ-FM). Two years later, after the demise of XTRA Gold, an article entitled "Death of a Dream" appeared in the September '88 San Diego Magazine. It was written for Jim by Thomas K. Arnold. In that article, LaMarca made some revealing comments about his state of mind at the time: "The broadcast quality of FM is so much better than AM" and "Eventually an FM station's going to come along and get things right, and ultimately force us out of the market." It was September '86 and I was in Jim LaMarca's office when he said to me, "AM can't compete with FM." I never told Jim, but that was a defining moment for me. It was then that I made the decision to leave XTRA. I said to myself, "there is no fight in LaMarca." To me, he had already conceded the victory to KCBQ-FM. And what was management thinking? I asked myself that too, and I knew. XTRA Gold was not damaged in the least but the front office would, very soon, start looking at it like it was a sinking ship and try to fix it by drilling holes through the hull. Management had forgotten that the Mighty 690 had defied the myths of AM radio in the 80's, the myth that AM music stations couldn't compete with FM. Ultimately, XTRA leadership forsook the power of the signal they possessed.
Back To Mono
While we're at it, let's consider the subject of monaural versus stereo, and AM versus FM. The Beatles' initial album releases were mixed for mono. Many feel that the mono mixes reflect the true intention of the band. Beatle George Harrison once commented: "When they invented stereo, I remember thinking 'Why?' What do you want two speakers for?, because it ruined the sound from our point of view. You know, we had everything coming out of one speaker; now it had to come out of two speakers. It sounded like…very…naked."
Besides Harrison, John Lennon hated the stereo mix of "Revolution" (used on the 1967-1970 compilation album). Lennon said: "The fast version was destroyed. It was a Heavy Record, but the stereo mix made it into a piece of ice-cream."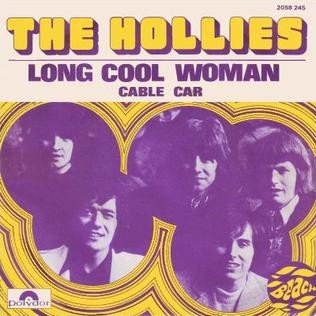 Perhaps I should have stayed and tried to convince Jim LaMarca and management that FM-Stereo was not, necessarily, an asset but could be sold as a liability. The fact is, the rock 'n' roll that we grew up with was all on AM radio and in mono! It was nothing but bass and distortion and it had a chunky sound! It could have been a big selling point—plastered on billboards throughout Southern California: "Hear it the way you remember it! 69 XTRA Gold"…"When AM was King" or … "Get that sound! 69 XTRA Gold!" And, besides that, it was a beautiful AM signal. It was not that inferior. And if you possessed an AM stereo receiver, the sound was as good as a lot of FM. A huge segment of our audience was listening on their car radios and the vast majority of songs in our core playlist (1956-1972) were originally in mono (not stereo). There were exceptions, of course. The Hollies' "Long Cool Woman in a Black Dress" was a stereo 45. But for most of us we didn't own the single, and we heard it first on AM radio! The same could be said for any number of hits, including "Brandy" by Looking Glass, or the Chi-Lite's "Oh Girl," and Elton John's "Rocket Man." Did it ever occur to management and programming that AM was still king in '72?
By the 1980's, FM had this "untouchable" aura. But the "FM is superior" mantra was just mass psychology. Sure, it's a state of mind—and a preference— but it doesn't always mean that it is better. FM stereo is not, necessarily, the sound of "rock" we want to remember. So called "Classic Rock" is a product of FM but we were the oldies station and AM was the oldies domain! And XTRA Gold had a regional footprint that "The Eagle" couldn't match! Gary jokingly referred to FM-105 as "the Albatross" because, up until the time that Gary and I left XTRA, we were calling the shots in San Diego. We forced the Eagle to play the original "Fever" by Little Willie John and "Uptown" by Roy Orbison (our songs, not Jim's). We made them dig deep, musically. They copied everything we did…I mean everything. They were stealing my bits and even doing a "psychedelic" feature, a spin-off of Gary's "Too Much to Dream."
"Too Much To Dream" (produced by Blair Schultz XTRA Gold production director) (:37)
Apparently, the people at Eagle 105 had few ideas of their own. We were the originals. Therefore, accept no substitutes. With some clever "carpet-bombing" tactics as well as promotional support from the front office, we could have steered FM-105 into the ditch. Feeding misdirection to competing radio stations had long been our specialty. Gary and I weren't afraid of the FM shadow. But we also realized, it was time to microwave our broadcasts to Mexico and to conserve our creative energies. Slight problem: we were not the program directors. And how could we convince management to spend the money so that we could broadcast Stateside? We really needed to take these issues to Noble's leader, John Lynch. But who were we to go around Jim LaMarca and general manager Norm Feuer? We weren't rat finks and it wasn't our style. Instead, we decided to bail.
It was a bit of paradise on that hill in Baja…perhaps broadcasting's Shangri-La. And, even though Gary and I never really wanted to leave the "hut by the sea," there was one other factor that influenced our decision: the border crossing. Getting there was easy. The trip home was a nightmare. I had nearly six years of it—two years more than anyone else in the organization. The long wait at the U.S. border had taken its toll.
Boss & Beck Jump Ship at XTRA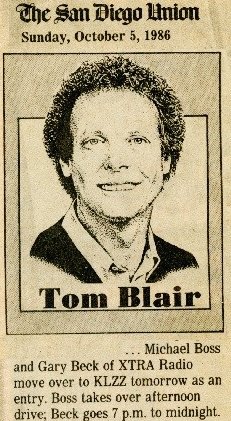 October, 1986—Gary Beck and I left XETRA and the Noble organization and went over to KLZZ-FM, San Diego. Our move got notice in Tom Blair's column in the San Diego Union and in the industry publication Radio and Records. When Gary and I walked into the KLZZ studios that Monday, the PD and some of the air personnel — who were about the get the sack — stared at us like they saw ghosts. The new KLZZ team roster looked like this: Shotgun Tom Kelly mornings; Chris Kane 10-3; Michael Boss 3-7; Gary Beck 7-midnight.
Now, the story… In September, 1986 San Diego's KPRI-FM changed its call letters to KLZZ. It also switched formats (to a proto-typical Seventies thing) and dubbed itself "California Classics." A month later, Gary Beck and I walked into the station as interim programmers (KLZZ was in the process of being sold to Edens Broadcasting). Get this: we expanded the playlist! Along with the obligatory Jimi Hendrix and James Gang we added deep tracks that ranged from the Left Banke's "Pretty Ballerina" to Buddy Miles' "Them Changes." And, since it was October, we played novelties like The Who's "Boris The Spider" (which Gen-X-ers and Millennials now insist is the first death-metal song). A new format was born on the West Coast and we were credited as the pioneers of "Classic Rock" in the October '86 Gavin Report. For the record, consultant Fred Jacobs in Los Angeles also claims that distinction. He was first to franchise it and take it nationwide but Gary and I came before that. It's a bit like asking the question, "Who was first to invent the wheel?"
We didn't even break a sweat, but we better than doubled KLZZ's numbers in one ratings book with no budget, no print ads, no billboards and no contests. It was up to the listener to discover us. The numbers were still modest (a solid 2.4 in 12 plus shares) but they were enough for station owner Ed Shadduck to negotiate an asking price of $14 million, a record in San Diego at the time. Mr. Shadduck told Gary, "I would never have sold to Edens (Broadcasting) if I had known earlier that I could get you and Boss on board." If KLZZ-FM had remained a Shadduck property, I think we could have slaughtered San Diego and returned the former KPRI to some of its glory. KGB-FM was nowhere at the time, Eagle 105 was a rip-off of XTRA Gold and the big "X" out of Mexico didn't know whether it was a talk or music station. It was a missed opportunity. However, that's another story. And there is a final irony about the oldies radio war after the disappearance of "California Classics." Within two years, both XTRA Gold and Eagle 105 vanished in the ensuing chaos. A "dark horse"—in the guise of Magic 102—appeared on the scene and picked up the pieces by implementing our basic playlist (I'm laughing, because Gary was at "Magic" at the time!)
We were with KLZZ until the end of February, 1987. Everybody got the pink slip. Edens Broadcasting came in and took the helm and that was the end of "California Classics." Edens went with Top 40. Quite literally, we were the last of the West Coast mavericks before the day came when Clear Channel marauders took over and killed radio. The Boss-Beck playlist was larger and more varied than the dreary, corporate formula that is recycled as "classic rock" on FM today. Gary would work for Greg Stevens at Magic 102 before programming Z90, San Diego where he originated the Rock-40 format. Beck acted as music consultant for WXMC (New York market), had a show on one of the Sirius "eclectic channels" and is currently a permanent fixture in the mornings on San Diego's Jazz 88. I was not so fortunate. Throat surgery robbed me of my voice—at the worst possible moment. The loss was temporary, but it ended my on-air career. I disappeared from the radar screen. I discovered that Radio programmers in San Diego wouldn't hire me. Were they afraid of me, afraid of losing their bread and butter? Perhaps, rightfully so. It might have been a different story if I had been in Los Angeles at the time. I had been considering syndication for some of my music features. Former KHJ programming guru Ron Jacobs was producing American Top 40 with Casey Kasem. He certainly knew who I was and he knew my work. I would have loved to have collaborated with him, or someone like him but moving to LA was not an option. Forced to reinvent myself, I was drawn into the web of the military-industrial complex. While making my living in the dark world, I moonlighted as host of "Jukebox Gold," heard in-flight (and in forty countries) aboard Singapore Airlines. It was a two year deal, followed by two more years as host of "Back Track" (oldies channel for China Airlines). I also did voice-overs for Sirius Satellite Radio in their formative days.
The "Wolfman" on XTRA Gold
My resignation at XTRA Gold was an item in Billboard and the vacancy in "afternoon drive" was described as "a golden oldies opportunity." As it turned out, my successor was Wolfman Jack. He had a syndicated show on KRLA which was later picked up by XTRA. When I left the Noble Organization, Wolfman Jack would come over to XTRA Gold in person. Wolfman visited the transmitter site in Mexico for the TV promotion. But there is a question as to how many shows he actually did from there. The air-studios seen in the following video clip were located at 4891 Pacific Highway, the Noble Broadcast headquarters in San Diego. In the beginning that is where his shows originated. In 1987, Wolfman Jack's return to border radio and XTRA Gold was covered by "Entertainment This Week."
Wolfman's 1987 television interview with "Entertainment This Week" (2:48)

I would drop in to chat with the Wolfman at the Pacific Highway address. And I had intended to take him a box of banana-flavored Popsicles—his favorite! I thought I would see him one more time, but… My fault, I procrastinated! By then, he was doing his show from what I believe were the Noble studios in Burbank. Later he would do his shows from home. To Jim LaMarca's credit, he fought management and convinced them to hire the Wolfman in the first place. However, it was too late. Robert Weston Smith (aka Wolfman Jack) was one of the nicest guys in radio and a legend, but he couldn't save XTRA Gold. And yet, because he epitomized "Mexican radio," it is fitting that he was XETRA's last deejay.
The Other XTRA Gold Deejays
By 1986, the late Kris Anderson (the original Mighty 690 deejay) would return to KAMX, Albuquerque as program director. It was the test market station for Agnew; Felix and the Mighty 690 format. He later jumped at the chance to work for the prestigious KOB AM-FM combo (the broadcast dynasty of Albuquerque). He fulfilled his dream of working with the men behind the voices—the radio idols of his youth, most notably Art Schreiber. Steve Sande (also deceased) was a solid sender and worked, steadily, at his craft. Years later I heard that he went to work for stations in Chicago. When Kris and Steve left, Rick Thomas took over mornings and Bob Montague was brought in for middays.
The Death of Radio
One thing I learned: The best radio has an almost tangible presence—like a fist that reaches into your chest and fumbles with your emotions. But where can you find radio like that today? In one of our verbal sparring sessions, Jim LaMarca said to me, "The days of the ragtag PD's are over." He was trying to assert himself as well as justify his research. He was right about one thing: the disappearance of the "ragtag" guys. But he was right for all the wrong reasons, because it meant the death of radio. I think Jim would have been horrified if he had realized it at the time. When the 90's rolled around, the big money was in the business of station acquisition, not great programming. Music radio got stale and stayed that way, a manifestation of what Tony Berg—A & R executive for Geffen Records—called "the glut of sameness." Wolfman Jack said it very simply: "Radio got boring."
Programmer and producer Ron Jacobs noted: "The Telcom Act of 1996 changed the rules of the radio game. Relaxation of prior license limits now allows mega-corporations to buy and sell stations by the hundreds…No amount of money will change my opinion that broadcast deregulation contributed in many ways to the diminishment of 'our' kind of radio, both as programmers and listeners."
XTRA Gold Unplugged
There is no question that Gary Beck and I were the driving force at XTRA Gold. Mark Larson (KFMB, San Diego) and Shotgun Tom Kelly (KRTH-FM Los Angeles) would be among the first to affirm my assertion. Shotgun told me, "you and Gary unplugged XTRA." And after we left, the Noble Broadcast Group began spending money like crazy. For starters, they spent $800,000 on a two-year contract for Paul Bloom and Irving Harrigan in the mornings. Harrigan (of Charlie & Harrigan fame) had been with Charlie at KFMB-AM (San Diego). Their show was heard, originally, over KLIF in Dallas (yet another Gordon McLendon creation). But Bloom and Harrigan weren't about to work in Mexico. In fact, nobody would go there by now. So, Noble forked over more money for satellite dishes and cushy studios, Stateside. And a considerable amount had to have crossed the desk of the concessionaire in Mexico in order to do it. All that money invested, but Bloom and Harrigan had never worked together before—no chemistry there. Harrigan was the old pro but Bloom was a TV guy. The morning show was a bomb.
In '87 I arranged a meeting with manager Norm Feuer and made a pitch for the PD-ship. Flat out, I told him XTRA Gold was in trouble and furnished some details, as to why. Feuer, with his usual brusqueness, waived it off. But later, I noticed that my suggestions were implemented on air. He told me XTRA Gold was doing "just fine," in spite of steadily declining numbers. Everything was wrong except the Wolfman. It wasn't long before sales manager Tom Jimenez would assume the duties of General Manager.
Gary and I watched XTRA Gold self-destruct from a distance. Jim LaMarca—recognizing the ineptitude of the decision makers at the top—expressed his frustration with XTRA's leadership in Thomas K. Arnold's previously mentioned article, "Death of A Dream." Essentially, LaMarca's take on what was occurring at XTRA coincided with ours, that management had lost all sense of direction. Trying to be like everybody else in the market, they piled up the clutter. The oldies monster was bogged down with all sorts of features that had little or nothing to do with the music, but someone at XTRA thought all this would gain an audience. After hiring Wolfman Jack they turned around and initiated a nightly two-hour sports-talk show with Lee Hamilton. Talk about schizoid! In the process, they forgot the original product: oldies. According to Thomas K. Arnold, Noble Broadcast Group spent $25,000 on a "market-research study to help Jim tighten up an oldies format." Tighten up your oldies? Are you kidding? Gary and I could have told them what the problem was, for nothing. "For starters, one of the problems is you're spending 25K to find out what the problem is!" Management stumbled on for another year before it switched to "talk" (which went nowhere) and then an "all-sports" format in 1990.
Mighty 690 Sports was, unquestionably, the best all-sports station in Southern California and dear to the heart of station owner John Lynch. It was extremely popular with the sports enthusiast and—along with WFAN, New York—was one of the top two "sports" outlets in radio. So, in the end, XETRA distinguished itself yet again.
In 1978, Ed Noble offered Lynch a five-percent ownership of the Noble Broadcast Group, headquartered in San Diego. Upon Noble's death in 1985, Lynch took over the company and during the next decade expanded into 20 stations throughout the U.S. In 1996 he sold the Noble Group to Jacor Communications for $152 million, which was purchased—in turn—by Clear Channel. It was a huge financial success for John Lynch. But, ultimately, it spelled doom for XETRA.
When Clear Channel later divested their Mexican holdings, the transmitter site and towers were dismantled. A gem—a real piece of radio magic—is now gone! The story is heartbreaking. But there is one bright spot: The XETRA transmitter was purchased by Chris Carey (aka Spangles Muldoon) of Radio Nova, Ireland. "Muldoon" was with the pirate radio ship, "Caroline" before he founded the land-based and illegal Radio Nova. It is fitting that the heart of XETRA, the big, beautiful RCA transmitter—green as the door on a Mexican house—is still alive and well on the Emerald Isle. It has found a home with mavericks after all.
___________________________
To read Part 1 of Michael's story, his colorful career at The Mighty 690 — that famous border blaster in Mexico — CLICK HERE.  To check out Part 2 of the Bossman's adventures — his career path from the United States to XETRA, Tijuana — CLICK HERE. 
___________________________
Credits: Analog-to-Digital transfer of audio clips courtesy of Billy Donati – KRTN Raton, NM; Surf 'n' Sand aircheck by Jeff Elliott; Buddy Love Surf Report by Tony Sisti, San Diego, CA. Special acknowledgment to Judy Sirois (Boss) Reeves for her photos of deejay Michael Boss and also the many rock 'n roll legends that appear in this article.