Editor's note: The radio life can be a circuitous route. On my very first radio job, and it was his second, I met Michael Boss aka Mike Paul at KOQT Radio in Bellingham, WA in 1970. He was the morning deejay and I did weekends. So here we are 50 years later and Jeff Elliott (DJ brother of well-known Seattle '70s KVI personality Greg Aust) says he wants me to get in touch with his radio guy friend, Michael Boss. What an odd coincidence! I often wondered what ever became of Mike Boss and now I know. He had a real "Boss" radio career! Mike's story is fascinating and unusual. He worked at a Mexican border blaster, not unlike Wolfman Jack, and Mike had connections with some of the Offshore Radio operators in Europe.
Mike Boss' radio career brackets the West Coast, from Bellingham to Baja Malibu (Mexico) where he was one of the best known personalities on the Mighty 690 (XETRA) the border blaster of the '80s that rocked Southern California from its studio in Mexico. The history of XETRA (or simply, XTRA) might be found piece-meal on the web and in various Wikipedia articles, but you can't find it all in one place and the human element is missing. Many are fascinated with XTRA's "Mighty 690" era. You'll find that story here, from one of the jocks who made history with the radio station. He'll also explain why KHJ in Los Angeles faded away. All of that said, I am going to let Michael Boss tell his own story……Steven L. Smith, editor
Mighty 690: Boss of the '80s in Southern California
It just so happens that "Boss" is my actual surname. However, in recent years some journalists have mistakenly thought my last name was make-believe and part of a plot to bring back "Boss Radio." In 2004, Sean Ross, VP of Programming and Music at Edison Media Research, wrote: "By 1970, Top 40 was reacting to the growth of Rock radio, and the word "boss" wasn't so, well, boss anymore. KHJ's "Boss 30" countdown became the "Big 30″…After hanging in for another decade, KHJ dropped Top 40 in 1980, prompting nearby XETRA (the Mighty 690) Tijuana to launch with a DJ named "Michael Boss" and new references to "Boss Angeles."
Truth is, coming from someone who was there at the time, it didn't happen that way, nor did KHJ prompt XETRA to do anything. In September, 1980 the ailing KHJ found itself competing in Los Angeles with KFI, KISS-FM and XETRA, that very loud "upstart" out of Mexico. By November, KHJ gave up the ghost and switched formats in an attempt to capitalize on pop-driven country, a trend fueled in part by the movie Urban Cowboy. The Mighty 690 literally invaded the airways and slayed the competition, including 13K (KGB) in San Diego. Ironically, we kept the "Boss Radio" tradition alive for four more years. And it is fitting that the disc-jockey who followed it to its historical conclusion in Southern California just happened to be named "Boss." But I was not the first deejay on the Mighty 690.
That distinction goes to the late Edmond Brennan (1956-2020). He was the "original" and widely known to his fans as "Kris Anderson." I gotta tell you, he was always "radioactive" and started his broadcast career at the age of 16 in Alamogordo, New Mexico—a desert town that is famous for being near the site of the world's first atomic blast. It was Kris who became the first deejay on the notorious 50,000 watt AM station in Tijuana known as the Mighty 690, the station that rocked the West Coast off its foundations.
During the course of his career, Kris was the afternoon-drive guy (1978-79) at KAMX, Albuquerque—flagship station for consultants Roger Agnew and Frank Felix. That city was their test market for the "clutter free" (Mighty 690) radio format that would be launched a year later in Southern California. Combined with strong on-air personalities, it was a bit of radio magic that would take Los Angeles and San Diego by storm.
In September, 1980, Kris was stolen from KAMX by Agnew and Felix. He followed his star to California, arriving two days before the Mighty 690 invaded the Southland's airwaves via XETRA—a loud and proud Mexican border blaster. The original call letters were XEAC and it had a history of firsts. In the 1950s it was the first top forty station on the West Coast (original Mighty 690). It was followed shortly thereafter by KFWB, Los Angeles. But the Mighty 690—with offices at San Diego's Mission Valley Inn and in Hollywood's Knickerbocker Hotel—originated Southern California's Top Forty survey. Then, in the mid-60s, it became the world's first "all news" station. In the seventies it was the world's first AM stereo and beautiful music station (a Drake-Chenault creation) which transitioned Tuesday September 16, 1980 to a second incarnation of the Mighty 690.
When XETRA owner Ed Noble made the switch from beautiful music to CHR, it was Kris Anderson who launched the Mighty 690 that afternoon. The first song he played was "Another One Bites the Dust" by Queen. It would hit #1 eighteen days later on the Billboard Hot 100. The Agnew-Felix creation was an abbreviated version of Boss Radio. In their weather forecasts, the DJ's were instructed to say "Boss Angeles" instead of "Los Angeles." It was a Frank Felix idea, done mostly as a joke but also with a bit of deliberation to tick off certain people in Los Angeles. The out-of-town boys had arrived, much to the annoyance of prominent LA radio stations. Not only had they arrived but they would soon dominate contemporary hit radio in Southern California.
XTRA Rocked the Ratings!
Three and a half months after the Mighty 690 went on air, I joined the team. I was hired as Production Director, which is a glorified title for "work horse." But it was exhilarating. By April (1981) I would go on-air full time. That is when I really got to know Kris. He was always the team player and he bought me lunch that day before we ventured into Mexico. Yes, our shows actually originated in Mexico! We had Mexican engineers (a great bunch of guys) and a little, white, short-haired, flea-bitten mutt for a mascot—named Gringa. The transmitter site was just north of Rosarito Beach at Baja Malibu (known in the day as San Antonio Del Mar). It was a classic, cinder block structure painted white with five towers (count 'em!) five in a row on the crest of a hill. It overlooked the Pacific and the Coronado Islands. The air studio had big picture windows and the best view in radio! Gary Beck, who later worked with us at XTRA, called it "the hut by the sea." I can't tell you how surreal it was being on the air and providing listeners with temperatures in San Diego and Los Angeles while, at the same time, watching milk cows munch on the flowers outside. But this was the "big time" and XTRA's gorgeous signal in AM stereo was the loudest thing in downtown LA.
AUDIO CLIP – Two Mighty 690 Top of the Hour IDs with jingles, Jock voice – Michael Boss (Run time :27)
By the way, that "Mighty 690" jingle package was the same one used at 93/KHJ during it's "rhythm of Southern California" era in the late 70s!
We were first to promote Duran Duran in America and also supercharged Michael Jackson's career (his Billie Jean and Thriller era). The Mighty 690 quickly became California's "super-station" and dominated contemporary hit radio on the coast. We knew it was BIG but we didn't know just how big. We were young, just doing our thing and enjoying the headiness of the time. It would be many years later before Kris and I realized that we once shared the largest fan base on the West Coast. At its peak the Mighty 690 had a monstrous 37 share with teens in LA but we even topped that with a 40 share in Orange County. XTRA was ranked #7 in the nation by Advertising Age, solely on the basis of the Los Angeles audience (1,150,000 weekly cume). And we had 415,000 more listeners than our nearest LA competitor KHTZ-FM. But XTRA was also #1 in San Diego and dominant in Orange County, Riverside-San Bernardino, Santa Barbara, Bakersfield and Palm Springs. In total audience numbers (combining all seven Southern California radio markets) XTRA was most likely the #1 CHR station in America. Occasionally, we would receive fan mail from as far away as Australia and Japan, and sometimes Sweden.
The Mighty 690 was a consistent top-eight contender among a pack of 90 signals in Los Angeles. And it should be noted that #3 KMET had a weekly cume that was only 38,000 more than XTRA's. KFI won with Lohman and Barkley in the mornings but we slaughtered them in afternoon drive. Our biggest audience shares were between the hours of 3 and 10 pm—when school was out! Every day at three you could tune in to the Mighty 690 when I counted down "the ten most requested songs in Southern California." Kris Anderson would count 'em down, again, at 9 pm! We claimed we were Southern California's original Top-10. That was a stretch but there was no question that our countdowns were the most popular. They were based on listener phone-in requests which averaged 30,000 calls per month!
AUDIO CLIP – Top 10 Countdown with Michael Boss, August, 1984 (Run time 4:08)
Those Fabulous Mighty 690 Contests!
In his book "Aircheck: The Story of Top 40 Radio in San Diego," David Leonard included a section on the Mighty 690 border blaster. He asserts: "the station offered spectacular promotions that gave away cars, houses, and cash awards as high as $1 million." While it is true that we gave away automobiles (Corvettes and Renault Encores) we never actually gave away houses, although we considered doing it. As for the million dollars, it was never awarded to anyone. I know, because I was the poor sap who tried to give it away during one afternoon drive. It was an ill-conceived contest that occurred post Mighty 690, during the XTRA Gold days at the Mexican legend. It wasn't my idea, but I may be the only disc jockey in history who tried to give away a million dollars to an unknown person, picked at random from the Los Angeles telephone book—no such luck! We'll save this rather sad story for later.
During the summer of 1981 the Mighty 690 conducted not one but two $50,000 treasure hunts—back to back! They were wildly popular throughout the "Southland" and listeners were encouraged to stay tuned for late, breaking clues to the locations of the purported treasures. Ted Ziegenbusch, who hired me as XTRA's production director, claims credit for the idea. Hunts of this sort had been a staple of radio for decades—even at that time. We could down several rounds of cocktails while Roger Agnew and Frank Felix discussed whose idea it really was. These are the guys who kicked off the Mighty 690 in the first place. Frank Felix was 690's programming genius and he gave Kris Anderson and myself the job of writing all the clues for the $50,000 hunts. We wrote them but had no more idea than anyone else where the "booty" was actually located. But that summer, the Mighty 690 managed to stir more than a few imaginations and incite "$50K fever" in all seven Southern California radio markets!
In December, 2018 the Orange County Weekly featured an article entitled, "How Border- Blaster Radio Station The Mighty 690 Led an Early-'80s Treasure Hunt." It was penned by Alexander Hamilton Cherin who was an eleven year old kid in 1981. His brief article is a prime example of how old school radio could create theater of the mind and leave indelible, if not entirely accurate memories: To read the story in the OC Weekly  CLICK HERE
The first $50,000 stash was not found in Redondo Beach. And no digging was required. A certificate, in the form of a placard, was placed behind the rear license plate of a 1969 Buick Riviera parked on a side street on Balboa Island (Newport Beach). Marjorie Linyard Clark, whose family located the first $50K "treasure" has commented, "I was 14 at the time and my brothers were 16 and 17…(we)…worked tirelessly on the clues that summer…There were clues like "X marks the spot and an elephant has one too" …The car was dirty and covered in leaves after being left there for so long… The payout was not $50,000 cash. It was $500 a month for 100 months…All this being said it was probably the most fun I had in all the summers as a teenager…I still have great memories of the search… Thanks Mighty 690 for the fun memories."
Bonnie Worley was there when the second cache of $50,000 was found. "It was inland from Del Mar in San Diego County," she writes, "I followed the clues with my daughters for over a month and drove from Westlake Village to the park (where) it was found… We (got there) around 10 a.m. and the prize was found about 4 hours later when at least 1,000 people had arrived."
The Mighty 690 brand was nothing but a great big juke box with fun contests! I gave away a half-dozen copies of the Go-Go's "Talk Show" album, each with a pair of tickets—good for either Merv Griffin or the Tonight Show with Johnny Carson. Winners got an NBC television studio tour and "a chance to meet the stars." I rewarded one listener with the "world's biggest diamond" (Diamond Head). The station flew the winner and five of his friends to Honolulu, Hawaii for a week. An added bonus: up-front seats for Huey Lewis and the News in concert! During our "Corvette Summer" (1982) we cross-plugged Prince and his Little Red Corvette. And you could win the car! How about this: "Your chance to Eat It is coming up!" Meaning? A limo ride to dinner with Weird Al Yankovic and your favorite Mighty 690 dee-jay! Plus you get concert tickets and backstage privilege! Now…"Don't touch that dial! Sometime in the next 15 minutes I'll be giving away Michael Jackson's sequined glove!" It was a mass-produced souvenir glove but the idea was just plain fun! In all seriousness, we were the first station on the West Coast to give away tickets to a Jackson's Victory Tour concert. In the aircheck/video below Michael Boss gives you your chance to "Eat It" with Weird Al.
"Eat It" aircheck/video with Weird Al & the Bossman, 1984 (Run time 3:17)
What was termed "the biggest cash payoff in the history of Southern California radio" was our $10,000 Duran Duran pay-off set. I believe the contest was in March, 1984 and I'm not sure whose brain child it was. We had a full-time copywriter (Tim Hackett) as well as a full-time promotions staff headed by Rob Tonkin. But any promotions ideas had to be approved by consultant Frank Felix and that included any on-air promos. The $10,000 winner received the full amount in a single payment! Winning was easy if you had stamina and a good dialing finger. The Mighty 690 audience was instructed to listen for three Duran Duran songs (played in a row and in any order): Rio, Union of the Snake and New Moon on Monday. They were told to wait for the last song to end and then dial the 1-800 number to the Mighty 690. It was that simple, if not aggravating when hundreds of calls jammed the switchboards. But the sixty-ninth caller would win! The following aircheck is extremely rare, one of the few remaining recordings of Kris Anderson.
AUDIO CLIP – Kris Anderson and Michael Boss give away $10,000 (Run time 3:33)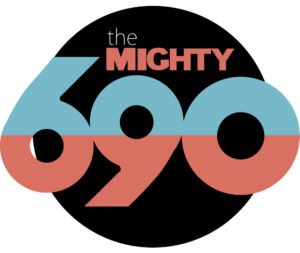 "If you lived in Southern California during the 1980s, you no doubt remember 'The Mighty 690' as the place to tune for the hottest hits! This station was one of America's last big Top 40 AM outlets, ruling the airwaves with the latest tunes, exciting contests and strong air personalities." – Quoting RadioGeekHeaven.com
When evaluating a radio station's format and presentation, it makes sense to seek the opinion of a knowledgeable radio professional. Down in San Diego, veteran deejay Jeff "50K" Elliott was an XTRA listener back in the day. He said, "the Mighty 690 was a well-oiled machine! Cranking out the top hits! At that time no station in San Diego had a cume to match XTRA! The Mighty 690 was kickin' butt in Southern California! They were everywhere with 100,000 watts of power! The music format fit Disc Jockeys Kris Anderson and Michael Boss like a glove! Real tight playlist of all the hits and reaching Los Angeles was just the icing on the cake! The Mighty 690 was Hot Stuff in the early 80's."
The Mythology of the Border Blaster
(Michael Boss continues his narrative…) In retrospect, Kris Anderson and I realized just how short the list is—of gringos who actually saw "active duty" on Mexican border blasters. I drove to Mexico in tough MOPAR Dodges with heavy duty suspension, but some days the commute to and from the transmitter site could be described as "death defying." You might get there in the driving rain and do your show but the road home—the same road you traveled on four hours earlier—was now pitted with chuckholes the size of Volkswagens. What an adventure! There were ten Mexican border-blaster cities and six of them had "rockers" at one time or another. Those that "rocked" were: XERF, Ciudad Acuña—the station that made Wolfman Jack world famous; XEROK-AM, Ciudad Juárez; XER, Nuevo Laredo; XEG, Monterrey; XERB, Rosarito Beach; and XETRA-AM, Rosarito Beach (San Antonio Del Mar). The music died on the big boomers years ago, but it is gratifying just knowing that Kris and I were a part of that legacy.
The mythology of the border blaster has been captured in music, with examples being ZZ Top's "Heard It on the X"; the Blasters' "Border Radio" and "Mexican Radio" from Wall of Voodoo. There is no denying that the border station has a certain sex appeal, that it has the aura of being slightly illegal, that the deejays are revolutionaries and just a little bit bad —the Pancho Villas of the airwaves. After all, they are invading somebody else's "air" space. It's all part of the mystique.
The first "XTRA" broadcast was from the Agua Caliente resort in Tijuana on January 7, 1934. Original call letters were XEAC and it was located at 820 or 815 on the AM band. By 1936, the station was owned by Jorge Rivera; and in 1938 it transmitted on 980 kHz with 5,000 watts. The North American Regional Broadcast Agreement of 1941 prompted a major shuffling of radio station frequencies and XEAC wound up on 690 kHz. It was a move that would greatly impact the future of the station.
In 1957, a new group known as California Broadcasters, Inc., with headquarters in the Knickerbocker Hotel in Hollywood, was formed with Rivera to manage U.S. Sales and programming rights to the station. Call letters were changed, again, from XEAC to XEAK and power was upgraded to 50,000 watts. At that time the transmitter was located at La Presa, Mexico (near Tecate). XEAK was known as "The Mighty 690", a moniker that its XETRA-AM successor used in the 1980s. The original Mighty 690 was a Top 40 station, playing the biggest pop hits in the U.S.
A side note: AM stereo was first demonstrated on XEAK, Tijuana in 1960, using the Kahn independent sideband system.
In 1961, radio maverick Gordon McLendon obtained enough financial control of the U.S. Subsidiary to assert control over the station's programming. McLendon, working with the concessionaire, had the transmitter moved closer to the beach at its Rosarito (San Antonio Del Mar) site, improving its conductivity and coverage into Los Angeles. It was a brilliant engineering move. There were five towers in a row, in perfect alignment, angled out over the Pacific. Why? You may ask. Answer: If you look at a map you can see that those towers would be in a direct line with the "target" (the Los Angeles peninsula). The signal literally skipped over the water to LA, 150 miles north!
There is a lot of mythos circulating on the web about how much power XETRA actually generated. Some claim 100,000 or even 250,000 watts. It is true, we had five towers and the ground wires were always wet, being so close to the Pacific Ocean. That was a real factor. Optimod audio processing and an AM stereo side-channel also boosted our volume. That big, beautiful RCA transmitter literally breathed. It was "alive" and the loudest thing on the dial in Los Angeles. XETRA was licensed for 50,000 watts but what was the effective radiated power? It probably was equivalent to 100,000 watts, as some have claimed. You could pull in the signal halfway up the San Joaquin Valley and that was in the daytime.
Back to the history… At the new Baja Malibu transmitter site, Gordon McClendon created the first all-news-radio format in the World. On May 6, 1961, XEAK yielded to XETRA. The station was known as "X-TRA News" and described itself as "everywhere over Los Angeles." In the beginning it was primarily a "rip-and-read" operation that sourced the Associated Press and UPI news wires. By 1966, X-TRA boasted a staff of fifty. When "all-news" KFWB arrived in Los Angeles it pushed X-TRA out of the format. McClendon changed to an automated "beautiful music" format known as "X-TRA Music." Later, McLendon divested his interest to the Mexican concessionaire.
Just when Ed Noble took ownership of the station is indeterminate. But we do know that Noble owned XTRA-AM and FM when the second incarnation of the Mighty 690 was launched in 1980. Ed was heir to the Life Savers fortune and in charge of the Noble Group, a grain and cereal combine with large operations in Mexico. Presumably, he was the son of Edward John Noble, the industrialist who co-founded the Life Savers Corporation (1913) and also organized the American Broadcasting Company when he purchased NBC's Blue Network in 1943. By the time I started work for Ed Noble (January, 1981), XETRA already had an impressive pedigree.
XTRA or XETRA? … Which Is It?
XTRA, the four-letter designation, was used stateside as a "moniker" and seen in print in the U.S. Media. XETRA, the five-letter designation, was the station's true identity, the call letters and announced in Spanish during the legal Mexican ID. In the Mighty 690 era, the legal ID was "buried" under a pre-recorded jingle music ramp and was barely audible. The ID presented here is front and center and is inserted into the Mighty 690 "mix" as an example only. The first and third cuts show how the legal ID was presented in the post Mighty 690/XTRA Gold era. The ID–itself–has become iconic. The voice belongs to Yolanda Salas, a well known radio "actress" from Mexico City. Above this next audio clip is Yolanda (left) and her date in a movie still from "The Giant Gila Monster" (b-movie and cult-classic) released in 1959 and co-produced by that same Gordon McClendon mentioned above! This shot, of the two teens necking in a car, depicts the moment just before the giant gila monster pushes their automobile over a ledge and into a ravine.
AUDIO CLIP – XETRA Mexican ID, three examples (Run time 1:30)
Life at the XETRA Transmitter – Some Anecdotal Tidbits
To the casual observer, everyday life at XETRA's Mexican transmitter site resembled its counterpart stations north of the border. "Resembled" is the operative word because, in many ways, XTRA was not like any Yanqui operation I had ever seen. It was all about culture. First of all, the engineers were named Juan Ramón, Federico and "Raffa" and there was Simón, the Mexican-Indian handyman. Secondly, how many Norte Americano stations do you know that were approached via a cobblestone road? And thirdly, you could get jazzed on the El Marino coffee, of Mazatleco origin—strong but good. One Cinco de Mayo we kicked back with a carne asada cookout. The engineers' wives brought an outdoor grill and the niños. I remember there was a wash tub full of ice and cold bottles of Orange Crush.
Then, there was all that radiated power and a phenomenon known as the "rainbow effect." It exists around some of the radio powerhouses in the continental U.S. but I had never experienced it so dramatically before. Within a mile of the transmitter (in any direction) the only thing you could get on the AM band was the Mighty 690—the only thing! It didn't matter if you were at 535 kHz or 1705 kHz it was just as loud as if you were tuned to 690. Blondie and the Man from Mars (the one who eats cars) were playing "Rapture" inside your head! On a rainy night the hair on your arms would stand up.
XETRA had a secretary on site (Beatriz) as well as a manager (Eduardo). Eduardo's last name escapes me but I remember that his uncle was Tijuana's chief of police at the time. Maybe that's why I never really worried about being stopped in TJ by la policia. There was a "past" manager at the station who drove big cars and spent a considerable portion of  XETRA's earnings on expensive prostitutes. In a moment of excess, he had the manager's office paneled with dark mahogany. The Mexican engineers always referred to him as "Señor Dracula."
One afternoon a rattlesnake slithered into the transmitter room. I was on the air at the time. The next thing I knew, the studio door cracked open and there was Simón, holding a four-foot rattler and giving me a great big grin. It was dead, of course. And what song was playing on the Mighty 690? – "Another One Bites the Dust!"
No Cheeseburgers But a Tunnel to Paradise
I have been asked to say a few words about the little tunnel you squeezed through on the way to Border Blaster Land. The words painted above the entrance are all you need to know.
The XETRA "exit" was off 1D, the Ensenada Highway—seven miles south of TJ's beach. In the photo, I am at the portal. Immediately to the right is the village of San Antonio Del Mar. On the other side of the tunnel, a cobblestone road climbed the hill to radio paradise. But wait a minute…is that a half-eaten Chiquita banana in hand?
The Mighty 690 and The Pirate Radio Connection
When the Irish came to America it was The Mighty 690 they wanted to see. The same could be said for the Brits and Europeans. The Mexican mystique captured their imagination and we were on their bucket list and they made pilgrimages to the "hut by the sea." I remember the Irish weren't particularly interested in the cushy studios stateside. They wanted to see XTRA's Mexican operation! During one of my afternoon drive sessions, three guys showed up at the station. They were from Radio NOVA, Ireland and hung around for an hour or two. I still have their "thank you" on NOVA letterhead (somewhere!). Alas, I can't remember their names, but I wouldn't be surprised if one of the visitors wasn't Chris Carey (Spangles Muldoon) himself. Carey — as Spangles Muldoon — was a pirate broadcaster with the "Caroline," the notorious radio ship that broke the BBC monopoly in England. He later worked at Radio Luxembourg 208 and NOVA. When the XTRA-AM broadcast site was dismantled (early 2000's?) the AM-transmitter — the same one that blasted music from Mexico to thousands of listeners in Southern California — was purchased by Chris Carey for use in Ireland by NOVA radio.
In the 1970s, the late A.J. Beirens was a radio producer with various pirate stations, including Radio North Sea International and Radio Atlantis. They were illegal radio stations that broadcast from the Mebo II, a ship anchored in the North Sea. While attending an American broadcasting convention in the early '80s, A.J. discovered "Southern California's Mighty 690." He was so fascinated by what he heard that he made arrangements for a company to record an hour of the Mighty 690 every week and ship the recordings to him in Belgium. The show tapes were re-broadcast on Radio Dynamo in Knokke-Heist, Belgium and on Radio Paradijs, Amsterdam. The Mighty 690 DJ's were on the air in Europe, and even had a cult following, but we had no knowledge of it until many years later!
A.J Beirens also contributed to Radio Luxembourg, the world's most powerful radio station at 1.3 million watts. It is not clear if Beirens ever delivered his "pirated" Mighty 690 recordings to "208 …the station of the eighties." It is certain, however, that 208 adopted the Mighty 690 jingle package and it played in Europe.
The Cult of the Mighty 690
Sadly, with XTRA dismantled, it can never pose a threat to LA radio ever again. But it did once upon a time, and the memory lives on…
_________________________
To read Part 2 of Michael's story — his career path from the United States to border blaster XETRA, Tijuana — CLICK HERE.  To check out Part 3 of the Bossman's adventures — The Mighty 690's transformation into XTRA Gold (and the tale of the one million dollar contest winner who never was) —  CLICK HERE.
___________________________
Credits: Analog-to-Digital transfer of audio clips courtesy of Billy Donati – KRTN Raton, NM; Surf 'n' Sand aircheck by Jeff Elliott; Buddy Love Surf Report by Tony Sisti, San Diego, CA. Special acknowledgment to Judy Sirois (Boss) Reeves for her photos of Michael Boss that appear here.
1 visit(s) today