May 18, 1969 — Victor Stredicke — Broadcast coverage of the Indianapolis 500 race and time trials will be carried on radio-only again this year. The TV version will be peddled to theaters by a closed circuit's.
Included in the "Speedway Network" are KWYZ Everett; KTNT Tacoma; and KOMO Seattle. Trials are underway this weekend; the race is May 30.
KSND is a cosponsor of the Northwest Dragboat championship at Alexander's Beach on Lake Sammamish today. Brian Lewis, Norm Clark, Mark O. Marks and Bob Jeffries will copilot boats in a feature race.
Yesterday concluded the Tacoma Jaycees cleanup week, and KTNT AM was on hand with a mobile broadcast unit to describe festivities at the city dump. "This was probably the only broadcast in the world to originate from a sanitary landfill," Bob Walker noted.
June 11, 1969– Nearly 40 television stations in eight Western states will carry live the Pat Boone Celebrity Classic golf tournament on Saturday and Sunday, June 21 and 22. Locally the show will be seen over channel 7 from 3 until 5 PM both days.
It's traffic safety month at KBLE AM, and that gives Rod James and his puppet character, Basil, plenty to talk about on Basil's Bumper Buster camp club. The program is heard at 4:35 PM on weekdays.
Fan mail last week indicates the to need a few more listeners. An Auburn listener, Bonnie Day, wrote the station that she was following a truck on the freeway to Bellingham when an empty oil barrel fell out. The listener said the barrel rolled in front of her automobile and "we got a busted bumper" while listening to the show.
The program features up-tempo gospel music and some slick, up-tempo humor from Basil.
Tracy Smith, the occasional part-timer at KVI, has switched to regular weekend work at KOMO… Joe Armey continues his phone-in talk show on KREN and works as a newsman at KXA… Ward Lucas continues his talk show on KBLE AM but has jumped from short-term or at KSND to part-time weekends at KIRO AM… Al Workman, KBLE FM's afternoon disk jockey, has been named program director of the hi-fi country music station… Gary Shannon of KJRB, Spokane, will be moving to KJR, where he will be a replacement for Buzz Barr. KING radio personnel are operating under a "temporary schedule" since John Spring left (to become John Pricer at KIRO AM) and while waiting for Buzz Barr to leave KJR.
June 12, 1969 — ABC sportscaster Keith Jackson will be the anchorman for two telecasts that will be in the 1969 Pat Boone Celebrity Classic golf tournament live to nearly 40 television stations in eight Western states from Ocean Shores.
Assisting Jackson on the telecasts which will air locally from 3 PM to 5 PM on Saturday and Sunday, June 21 and 22nd, broadcast on channel 7, will be KOMO's Bob Blackburn, Bob Robertson of KTNT and KVI, Clay Huntington of KLAY FM Tacoma, and Gary Morrel of KIRO TV.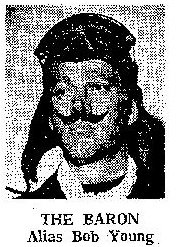 June 13, 1969 — Aerial traffic reporting will be perked up this month when Baron Von Kay Sound, with a German accent and all, begins reporting for KSND. The Baron, alias Bob Young, was due to land his 1929 Student Prints by playing at Boeing Field today. The traffic reports will begin as soon as a small matter of insurance can be settled, Ron Strother, station manager, said.
When the weather turns, KSND will offer its "Road Reconnaissance Reports" from a 1938 Harley Davidson motorcycle.
Mark O. Marks, program director, explained that KSND listeners have been following "cross-continent progress reports" as the Baron "flew" to Seattle. But he also confided that one of the delays was finding puffy knickers, trooper boots and spiked helmet for the Baron's personal appearance states plans call for the plane to be up one a half hours each weekday morning and afternoon.
June 15, 1969 — Bwana Johnny, who left KJR's morning slot abruptly this month, is bouncing all over the clock on KYA San Francisco's peppy rock station. He has been doing morning, afternoon, evening and late-night work, filling in on vacation shifts and getting acquainted with the town.
"Let's just say extenuating circumstances and the lack of communication caused us to separate," Johnny said. "And it is really too bad because I like Seattle and I liked working at KJR."
June 18, 1969 —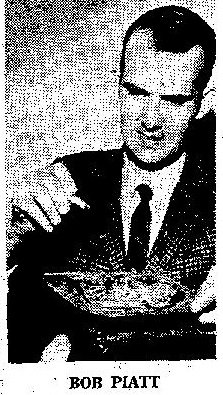 When the Bonneville stations announce they would refuse to accept cigarette advertising beginning in June, the King County Tuberculosis and Respiratory Disease Association jumped into action.
Thus, KIRO AM and TV are backing that organizations "Kick the Habit" to the hilt.
There are big red "Quit!" signs observable throughout Broadcast House.
One of them hung over the desk of Bob Piatt, evening disc jockey. Piatt moved to KIRO AM from KIT Yakima, about three months ago.
Piatt, it seems, was the only smoker in KIRO's new roster of announcers and their personalities. George Toles and Dick Harris, for instance, had never smoked, Jim French gave it up five years ago.
"The boss said I didn't have to quit puffing to keep my job," I said. "But on the other hand, he did ask why this wouldn't be a good time to stop.
"I had tapered off or quit a few times before," Piatt explained. "But this time I'm going to do it for good."
Piatt's right thumb was thrust into his fist, giving him something to clutch: "haven't had one since Thursday."
Piatt said he smoked from 1 to 1 1/2 packs in a shift.