This summer while working on a biographical article with well-known Seattle radio personality Ichabod Caine, I was searching for a copy of the audio for the time 30 years ago when Icky sat in for Bob Kingsley on American Country Countdown (ACC). I had owned a country radio station in Bellingham and I heard that very show. I remember driving around one weekend and ACC came on the radio. I heard a voice that I knew was not Bob Kingsley, yet I thought to myself "I know that voice."  And I did. It was Icky from KMPS-FM in Seattle. I had met him when he'd been at KPUG in Bellingham, as Randy Evans, nearly 20 years before. It is strange how small the world we live in really is. After you read the story below, I think you will agree with that hypothesis.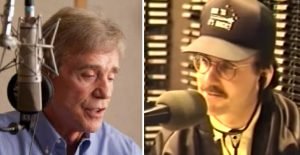 As part of the feature article on Ichabod, I wanted audio from his appearance on ACC. In searching online in July 2020, I found a collector in Belgium named Martin who had copies of many ACC shows and he had even more copies of American Top 40 with Casey Kasem. Martin had the ACC show I needed and his price was very reasonable, around five dollars U.S. He emailed me the four hour show and it sounded great. Except, there was a glitch in the Top 10 segment: digital pinging at survey numbers 10 and 9. I thought the defect might have been a local error in the transfer, but Martin said his master file had the same issue. Well, that was no big deal to us since the recording was 30 years old. Actually, Ichabod and I were pretty surprised to come up with any portion of that recording. When he learned we had a usable copy of his old ACC show, Icky's comment to me was, "weird and a tad unnerving to think everything we have done is floating around somewhere in cyber space."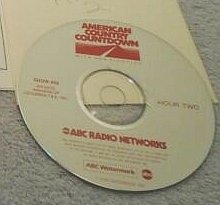 Now here is the rest of this story of international intrigue. The article called Raisin' Cain with Ichabod Caine (CLICK HERE) was published at the end of July. Two weeks ago, one morning I opened my email and found this message: "Steven, yesterday my German wholesaler delivered a copy of a non-damaged version of Ichabod Caine's American Country Countdown from Nov. 3, 1990. It includes number 10 and 9 in perfect quality. My source bought it directly from Shannon Lynn (very expensive), but I received it for free. Within the next hour you will receive a copy of the file with collector's greetings"…..Martin
At Puget Sound Media we ended up with a perfect copy of Ichabod's guest appearance on ACC. It is fascinating to me that there are collectors in Europe who are able to get their hands on all sorts of esoteric material. Nobody in the U.S. was offering these shows, or at least promoting that they had copies. Maybe Westwood One has a copy buried somewhere, but this European connection was much more accessible and efficient.
Since we now have an excellent copy of the ACC show, I think we ought to feature a scoped version of the last hour. Below is a condensed 16 minute aircheck of Ichabod Caine, as the guest host of ACC, counting down the Top 10 hits from 30 years ago.