Following business man Birt Fisher, we find that the KOMO call letters were positioned on KTCL (the former KFQX, operating at 305.9 meters), prior to the involvement of the Fisher's Blend family.
Birt Fisher had eyes on a facility to be built at Harbor Island which would be radio station KGFA for a short few months, the birthplace of what we now know as KOMO radio. Birt Fisher, no relation to the Fisher's Blend Fisher-family, was operating radio station KTCL at the time, under a lease agreement with Roy Olmstead, who had operated the station as KFQX until he was arrested, tried and convcted of racketeering in 1924. The Harbor Island operation was financed by the Fisher family, owners of Fisher's Blend Flour Mill.
Birt Fisher acquired the KOMO call letters and switched the KTCL call letters to KOMO, by the authority of the Federal Radio Commission on August 31, 1926, later taking over the Harbor Island facilities, and using the KOMO call letters at the same 305.9 meters in December under Totem Broadcasters.
KTCL NOW KOMO--Seattle_Daily_Times_1926-09-02_14

When Birt Fisher's KTCL lease ended, the KGFA call letters, equipment and facilities were sold off to Vincent Kraft. By December 1926, the Fisher family, owners of the Fisher's Blend Flour Mill, purchased the fairly fresh KOMO, with Birt Fisher staying on as Business Manager. The "new" KOMO, under Fisher's Blend ownership, (Totem Broadcasters), first broadcast was on December 31, 1926, from the new facilities on Harbor Island.
Fishers Blend KOMO-Seattle_Daily_Times_1926-12-30_11

KTCL-KGFA had gone silent as Birt Fisher's lease with Olmstead ended and remained off the air until February 23, 1927. Vincent Kraft had sold his interest in KJR and had purchased the KTCL facilities. KTCL returned to the air, testing on 288 meters, with a musical program featuring The Levienne Trio, violin, cell and piano.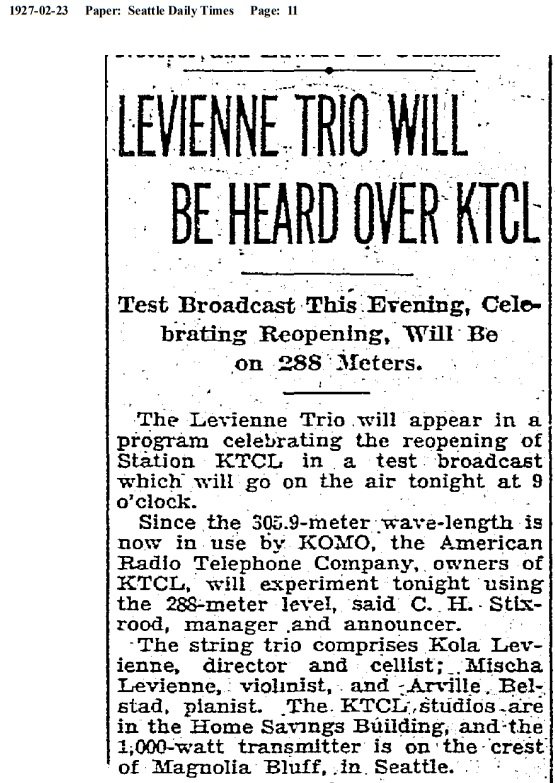 On October 1, 1927, Vincent Kraft changed call letters of KTCL to KXA.


(Source material: Seattle Daily Times and David Richardson's book "Puget Sounds")