Editor's note: In 1974, I was a disc jockey at top 40 radio station KPUG in Bellingham. Two of the biggest hits we played that year were "Takin' Care of Business" and "You Ain't Seen Nothing Yet" by Bachman-Turner Overdrive. Little did I know that Randy Bachman, a principal in BTO and before that in the Guess Who, would a year later move to Whatcom County. Living near the Canadian border in Whatcom County myself, I had grown up listening to the Guess Who on CKLG radio out of Vancouver B.C. After school I watched "Let's Go," a teen music show on Canadian TV. The house band on the Winnipeg version of that show was the Guess Who. When I was at KPUG, we took a bus load of local teens to a Guess Who concert in Vancouver. Old memories. Then in summer 2022 local authors were compiling a book on the history of rock music and radio in Whatcom County. Randy Bachman was a topic in the book. I helped with the research and located a wealth of multimedia material that lent itself to telling the story of Randy Bachman's time in the Pacific NW. What follows is that article.
Young Musicians
Randy Bachman was an original member of both the Guess Who and Bachman-Turner Overdrive. He ranks as the most famous musician to have ever lived in Whatcom County. In the NW corner of Washington State, his home was in the small city of Lynden. Bachman didn't begin life in the United States. A Canadian by birth, he was raised in Winnipeg. At age five, his folks arranged for violin lessons. Randy acquired a guitar at age 13. He was learning to play the instrument when he met a fellow Winnipegian teen named Lenny Breau. By an early age, Breau had become an accomplished jazz guitarist. Bachman refers to the late Breau as his guitar mentor. The lessons were unconventional: Breau didn't speak to Bachman. Instead Randy learned to play by watching Breau, who was a proponent of Chet Atkins' style guitar pickin'.
Becoming the Guess Who?
Bachman was a talented member of Canada's groundbreaking rock band the Guess Who. Their first internationally charted single was a 1965 cover of "Shakin' All Over." When they recorded the tune, the Winnipeg based band's name was Chad Allan and the Expressions. However, in the U.S. and some other countries, the artist credit was attributed to an anonymous band called "The Guess Who?" Reason: Record industry execs wished and hoped the public would assume the Guess Who? was a famous British band going incognito. The Guess Who name, less the question mark, stuck. Below is a 1965 photo of the newly renamed Guess Who?. These six guys recorded "Shakin' All Over." (Click on the record to hear the song.)
Of the band members in the above photo, Bob Ashley left the group in 1966. He was replaced by Burton Cummings. Then Chad Allan, the lead singer on "Shakin' All Over," departed and that's when Burton Cummings became the lead vocalist. Bachman and Cummings worked well together. By the later '60s, as a songwriting team, they penned the Guess Who's most enduring hits.
Stardom was elusive. The Guess Who went through some lean years before they made it big. The most successful incarnation of the band's lineup (1968-'70) consisted of Bachman and his guitar, Cummings on piano and sometimes guitar, Jim Kale on bass guitar and drummer Garry Peterson.
"Let's Go" on CBC Television
Early in 1967, prior to their first international hit, the Guess Who was hired as the house band for the teen dance show "Let's Go." It aired after school on the CBC television network. Initially the band played cover versions of other performer's contemporary hits. But as the show matured, the Cummings-Bachman songwriting team wrote more original material that became part of the "Let's Go" repertoire. Many of those songs became hits in Canada.
Lorayne Stevenson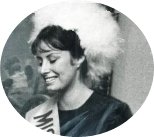 Lorayne Stevenson's story is integral to this narrative. Lorayne had been a beauty pageant contestant in Canada — Miss Saskatchewan Rough Rider in 1965. Lorayne, at age 21, represented her province in the Miss Grey Cup competition. The girls vying for the title were cheerleaders with the nine Canadian Football League teams. The Grey Cup is the CFL's championship game. Only larger Canadian cities have CFL teams. The western division consists of Vancouver, Calgary, Edmonton, Regina, and Winnipeg. The eastern division teams are Toronto, Hamilton, Ottawa and Montreal.
Randy first met Lorayne in 1966. He was on the road with the Guess Who in Regina, Saskatchewan when he had the opportunity to see Joni Mitchell perform at a club. Lorayne and her sister went to the same show. Lorayne, who lived in Regina with her parents and siblings, met Randy when they ended up sitting together at a table. They talked and agreed to go out on a date the next night. A few years later, in 1969, that "date night" led to the Guess Who's first Gold Record. Below are 1965 photos of Randy's soon to be girlfriend.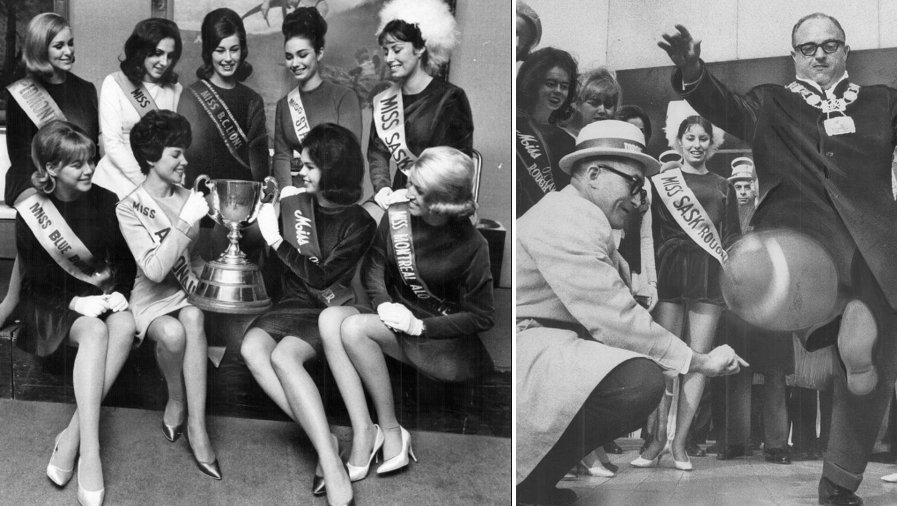 "These Eyes" – First Gold Record for a Canadian Band!
On the night of their first date, Randy arrived at Lorayne's parent's house early. Her brother answered the door. He said his big sister was running late and he invited Bachman inside. To pass the time, Randy went over to a piano that was in the room. He could plunk away at the piano keys even though his expertise was with the guitar and violin. Playing around, he came up with a song intro that was a keeper. In his mind, the working title was "These Arms." After about an hour of waiting and plunking, Lorayne appeared and they were off for a night on the town in Regina.
Another day, when Bachman shared his catchy but unconventional piano intro with Burton Cummings, it took the two songwriters about 20 minutes to complete the tune — and to give it a new name. "These Arms" became "These Eyes." The record was a giant hit — reaching No. 6 in Billboard's Hot 100. Bachman and Cummings refer to it as "the song that changed their lives forever." Had it not been for Lorayne Stevenson taking her time getting ready, putting on her makeup and nylons, the Guess Who might have missed out on their breakthrough international smash.
His Girl…Marriage to Lorayne
The girl in Regina became an even bigger part of Bachman's life in December 1966. That's when, at age 22, Lorayne Stevenson married 23-year-old Randy Bachman. Lorayne's parents were Mormon. Lorayne was a Mormon. Randy became a Mormon, converting to the faith, when they married. Lorayne's American dad had met her Scottish born mom in Ireland during WWII. Lorayne's dad's work took the family to Regina.
On the day of the wedding, the soloist was a young Canadian rock singer named Burton Cummings. John Lennon had described the Guess Who's Burton Cummings as his "favorite singer." Robert Plant of Led Zeppelin rates Cummings as one of rock music's "greatest voices." As the wedding bells rang for Randy and Lorayne, "His Girl," the Guess Who's newest single, was climbing the Canadian music charts (listen to it HERE). Burton Cummings was the lead vocalist, but the song wasn't written by Cummings-Bachman. It was released prior to their years as highly successful songwriters.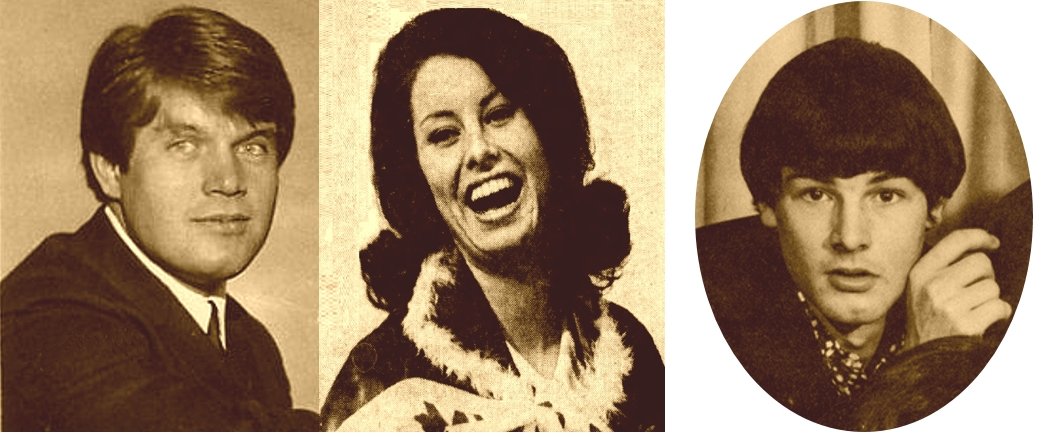 American Woman
In the late 1960s and early '70s, the Guess Who recorded their most popular hits: "These Eyes," "Laughing," "Undun," "No Time," "No Sugar Tonight/New Mother Nature," and "American Woman" (a Billboard No.1 smash). Those songs were written by Cummings-Bachman, except all of the band members were credited with creating "American Woman." (Click on the record below to hear the song.)
As "American Woman" topped the Hot 100 charts in the U.S. in mid-May 1970, Randy Bachman played his last gig with the Guess Who. Conflicts had arisen within the band. In the four years since Bachman had taken a Mormon bride and converted to the faith, a big chasm opened up between the typical rock and roll lifestyle and his Mormon beliefs. Bachman described his reasons for splitting with the Guess Who, and forming a new band, in the 1983 documentary "Together Again."
Cut 1: Why I quit the Guess Who (:43 sec)
Randy Bachman's objections to being around drugs, booze, and the bawdy behavior of rock stars, was widely reported by the press. Bachman said that other personal and professional pressures played into his decision to leave the Guess Who.
Cut 2: Living the dream (1:20)
Brave Belt to BTO
 After cutting ties with the Guess Who, Bachman (and Chad Allan, founder of the original Guess Who), formed the Winnipeg based country-rock band Brave Belt. After a brief stay, Allan departed the group. The guys cut a few demos and records in the early '70s, but nothing clicked commercially. That was true until a Mercury record company executive heard a Brave Belt demo and signed the group to his label. When the band formerly known as Brave Belt released a new album in spring '73, their name had changed to Bachman-Turner Overdrive or simply BTO.
BTO was a heavy-duty rock band very different from the sometimes mellow and pop-oriented Guess Who. Bachman's friend Neil Young was partly responsible for that BTO sound. When Randy quit the Guess Who, Young said that any new band he created risked being second rate: Bachman's vocals paled in comparison to those of the Guess Who's Burton Cummings. Young told Bachman he should try something different that didn't beg comparison to the Guess Who. Randy heeded the advice. BTO was sometimes referred to as a "freight train" rock band. Bachman called it "guy" music. He said that looking into the audience during concerts he saw very few girls. The fans were mostly young guys, nicknamed "Gearheads." That term referred to BTO's distinctive gear logo that appeared on albums and in advertising.
Go West Young Men
In fall 1972, the band members of Brave Belt, and family including Lorayne and the Bachman kids, migrated from the Canadian prairies to the municipality of Surrey, British Columbia. That's close to the large city of Vancouver. A glimpse into Randy Bachman's life in British Columbia was visible in a short clip from the 1975 documentary "Bachman-Turner Overdrive – Takin' Care of Business."
Stardom 1973–1976
BTO's success was phenomenal. When the band began topping the charts the four member lineup was Randy (lead guitar/vocals), Fred Turner (bass/vocals), Bachman's brother Robbie (drums), and Blair Thornton (rhythm guitar). Thornton had replaced Tim Bachman, part of the original lineup, who was fired by Randy for violating the band's strict morality code that called for abstaining from drugs, booze, smoking and premarital sex.
BTO's most memorable hits are the monster 1974 singles "You Ain't Seen Nothing Yet" and "Takin' Care of Business" (Billboard Hot 100 No. 1 and No 12 respectively), "Let it Ride," "Roll on Down the Highway," "Hey You," and the jazzy "Looking Out for Number 1."
BTO played three concerts in Whatcom County, all prior to the Bachman family moving to the county. The first two shows, on consecutive nights in August 1973, were at a seemingly unlikely venue. On a weekend they performed at the Breakers – a bar in Point Roberts, WA. Americans from the Lower 48, who traveled to the Breakers by land, had to first cross into Canada and then drive back across the border into the U.S. to reach the tiny enclave town of Point Roberts.
The other local BTO concert was April 19, 1974 on the campus of Western Washington State College. That was a banner night for music in Bellingham. BTO played at Western and blues legends Buddy Guy and Junior Wells performed across town at the nightspot Boogie Mac's on Cornwall Avenue.
Bachman-Turner Overdrive maintained a relentless touring schedule. From 1973 -1976, the band logged 100,000 air miles and 300 days a year on the road. On one tour, they completed 18 European shows in just 21 days. Bachman didn't have much time left over for family. Meanwhile, back home in B.C., another problem had arisen: overzealous fans and kids in the neighborhood had identified the Bachman residence. Interlopers were invading the family's privacy and trespassing both day and night. Randy knew he had to relocate, but he understood that he couldn't stray too far from the big city: Vancouver was a hub of the Canadian music industry. The Bachmans decided to stay close to Vancouver, but they'd live on the U.S. side of the international border.
Building a Mansion
The Bellingham Herald reported in 1975 that the Bachmans were building a mansion in Lynden at 776 H Street Road — about a half-mile south of the Canada-U.S. border. The 15,000 square foot Tudor style structure — eleven bedrooms, seven baths, a swimming pool, a bowling alley, a basketball court, an elevator that traveled between four floors, an eight car garage, with a trout creek, a lake, two maids and a security fence with a guard tower — was set on 30 acres. A large canning kitchen and a room with refrigeration accommodated the storage of large quantities of food, water and emergency supplies. Self-reliance is a tenet of the Mormon faith.
A rumor persists that the Bachman's spent $3 million creating their mansion. That is possible, but when construction was completed in 1976 the county assessor valued the property at $377,000. At that time, it was the most expensive home ever built in the county. Any dwellings approaching that valuation (for comparison other costly homes were valued in the $200,000 range) were located in Bellingham's upscale Edgemoor neighborhood or along scenic Chuckanut Drive.
Gingerbread Houses
The Bachman mansion was imposing, but the Bachman family's relationship with Whatcom County was of greater interest than the home itself. When they moved to Lynden in 1976, Randy was still on the road with BTO. Lorayne and the Bachman kids were in Whatcom County, but much of their time was spent in the mansion. Their outside activities often focused on church functions. At a 1978 Christmas bazaar, held at the Ferndale Mormon (Latter-Day Saints or LDS) Church, Lorayne taught parishioners the art of making gingerbread houses. The Bellingham Herald printed a half-page story on Lorayne's presentation.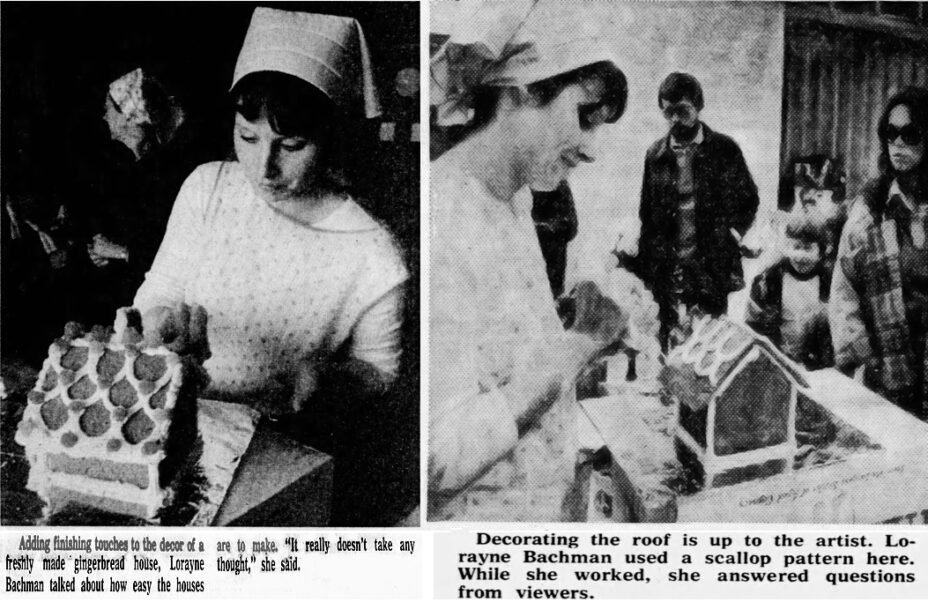 Randy became more visible locally and regionally after he stopped touring with Bachman-Turner Overdrive in 1977 (other key members of the band continued on until 1980, but the group was identified solely as "BTO" — in an agreement with Randy they dropped the name "Bachman-Turner Overdrive"). Come 1980, when Randy and Lorayne were living in separate residences, a new Mormon Chapel and Cultural Center opened in Ferndale. The rock star agreed to be the publicity chairman. Prior to that in the later '70s, Randy, Lorayne and sometimes their kids appeared at family night events for LDS churches in the U.S. and Canada. A church elder himself, Randy had his own presentation on the challenges of being both a rock star and a Mormon. Newspaper clippings from the late '70s that promoted those personal appearances are shown below.
Too Busy to Take Care of Business
It was in spring 1977 that Bachman left touring and BTO behind. A big reason for his departure was to spend more time on the home front with his wife and kids. Unfortunately, the decision to quit touring was probably too late.
On the road, Randy Bachman stayed away from booze, drugs, groupies and the usual temptations that trip up rock stars. A big problem in the marriage was his ongoing absence. The Vancouver Sun newspaper reported that, even residing inside a mansion, Lorayne was unhappy with such an isolated life — living in a small rural community and raising six kids with a seldom seen husband.
It was May 1979, about two years after Randy had split from BTO, when Lorayne moved out of the mansion and into a house in Lynden. She took all the kids with her. By the end of 1979, Randy had also vacated the mansion and taken up residence at a smaller home in Lynden. In July 1980, appearing before a judge in Vancouver B.C., the couple hashed out the distribution of $2 million in assets that were held in Canadian financial institutions. Other contentious issues they negotiated, as part of a divorce settlement, included spousal support for Lorayne, child support and child custody.
End of a Marriage
On Jan. 21, 1981, after 15 years of marriage, the Bachman's divorce was finalized in King County, WA. They were no longer husband and wife, but the couple was still financially and jointly tied to debt related to the then vacant mansion. Several years later, Randy would attribute his failed marriage to the whirlwind life he led with BTO: "We were on the road 300 days a year; three years in a row. I just wasn't home. I was hell-bent on making it, as good as or bigger than the Guess Who. And we did! But when you have your sights set like that, you're looking so far ahead you've lost your peripheral vision, your contact with everything around you. You're bulldozing, steamrollering ahead. You get there, say 'I'm here,' look around, and it's not as great as you thought. Once you hit number one there's nowhere else to go but down."
Bachman has described himself as a songwriter, and a guitar player, but "not a singer." When he quit BTO, he planned to refocus his professional career — more songwriting, more session work, producing more records (he'd had prior success producing the Canadian band Trooper), and he wanted to record a solo album. CBC Television proposed that Randy serve as host of a series of music specials that featured appearances by celebrity guests. And his rift with the Guess Who was seemingly on the mend; Bachman hoped to perform live shows, appear on TV, and to record with Burton Cummings and his former bandmates.
Life Goes On
Randy Bachman achieved many of his professional goals after he exited BTO. Bachman and Cummings appeared together on the PBS show "Soundstage" — filmed in 1977 and broadcast in 1978.  (Watch that show by clicking HERE). In 1978, he released the solo album "Survivor, with Burton Cummings on background vocals and piano.
Randy built a state of the art recording studio in the barn at his mansion. Nicknamed "The Barn," it was completed in 1979 (the same year the Bachmans vacated the mansion). The Beach Boys, Trooper and jazz artist Stanley Clark reportedly laid down tracks in "The Barn" studio. Many of Bachman's professional goals were overshadowed, or derailed, by the timing of his divorce and the inevitable financial stresses.
New Music
Within two years of leaving BTO, Bachman formed the band Ironhorse. Active in 1979 and '80, Ironhorse opened for the Beach Boys on a national tour. In 1981, Ironhorse became Union. Union should have been a bigger deal than it was. Fred Turner, the other principal with Bachman in BTO, was part of Union. Both Ironhorse and Union struggled in their formative years because Randy, bogged down with his marriage problems, was unable to tour. Ironhorse and Union recorded some demos and records, but neither band was a commercial success.
When Randy Bachman lived in Whatcom County his career began transitioning from that of chart-topping rock star to that of rock legend. In 1981, Bachman told a Bellingham Herald reporter about life in Lynden. "I really like the town of Lynden. I like what it stands for. It's clean. People take pride in their yards, their families. The schools are nice. Sports are excellent. I am happy to be here and to be part of the community. I am treated pretty normally here. I can't come close to the basketball stars. They're the town heroes. It is important for my kids to be treated fairly normally too. It's a lot easier."
In the early '80s, Bachman and Union volunteered to play benefit shows for the Lynden Pioneer Museum at $3.00 a ticket. There was another benefit show for a local woman in need of brain surgery. Both concerts were staged at Lynden public schools. The local barbershop chorus, the Mount Baker Toppers, appeared on the same bill as rock legend Randy Bachman.

Bachman was a world famous rock star when I was at KPUG in 1974. A few years later, he was playing charitable benefits in the county and performing in small venues. Union, along with singer Denise McCann (Randy's soon to be second wife), performed at one of Bellingham's better-known nightspots: Good Times, formerly Goodtime Charlies, and satirically nicknamed Hard Luck Chucks.
The Dream Fades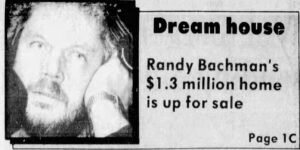 For several years, even after their divorce, Randy and Lorayne were jointly encumbered with debt and financial obligations. The mansion went on the market in 1980 at an asking price of $1.3 million. It didn't sell right away, sitting mostly vacant for seven years. There were reasons for that: A house with a million dollar price tag was beyond the means of most 1980's home buyers. Add to that, the housing market was stagnant with the economy in a slump. It finally sold in 1987 for $725,000. The purchasers operated a drug and alcohol treatment center. The company moved in and, by the early 1990s, they were bankrupt.
Denise McCann
Randy married Denise McCann in May 1982. They were living in White Rock B.C. when the treatment center at the Lynden mansion folded. Lorayne was living in Logan, Utah. A decade after their divorce, legal notices in the Bellingham Herald indicated that Randy Bachman and Lorayne Stevenson were once again joined in debt related to their dream house. Years later, looking back on the Lynden mansion, Randy told a reporter that when he built it "he was worth $10 million." By 1982, as a result of his divorce settlement, legal expenses, and some bad music business deals, "he was $1 million in debt."
The Rock Legend
In the past three decades, Bachman has pursued his life as a rock legend. For 11 months in the mid-1980s, he opened for Van Halen. Come 1995, he toured with Ringo Starr's All Star Band. For 16 years, he hosted the program "Vinyl Tap" on CBC. That show, revealing the stories behind the songs, continues on as a podcast and it's heard on classic rock radio stations in Canada. Bachman has appeared on television and in concert with reconstituted lineups of BTO and the Guess Who. Randy's solo albums include a George Harrison tribute, "By George," released in 2018. Bachman opened for Lynyrd Skynyrd on the band's 2018 Canadian tour. COVID has interfered with entertainer's lives, but during the pandemic Randy and his musician son Tal got out their guitars and performed weekly on Facebook. Calling themselves Bachman and Bachman, they often tour together. In late 2021 and into 2022 Cummings-Bachman once again took their "Together Again" tour on the road. In autumn 2022, Randy Bachman is appearing in a number of U.S. and Canadian cities and his schedule extends into 2023.
Bachman's career has spanned 60 years. He has sold over 40 million singles and albums and he's amassed more than 120 silver, gold and platinum records from various countries. Bachman has seven children, one with Denise. Two of his six children with Lorayne have become entertainers: son Tal, who had the hit "She's So High" in the '90s shares a house with his dad in British Coumbia, and daughter Lorelei is a succesful singer and an author in Canada.
Randy Bachman moved out of Whatcom County in the early 1980s; however, his legend as an international rock star continues to evolve. Wrapping up this story, here's a classic music video of Randy and BTO performing their biggest hit.
Mansion and Epilogue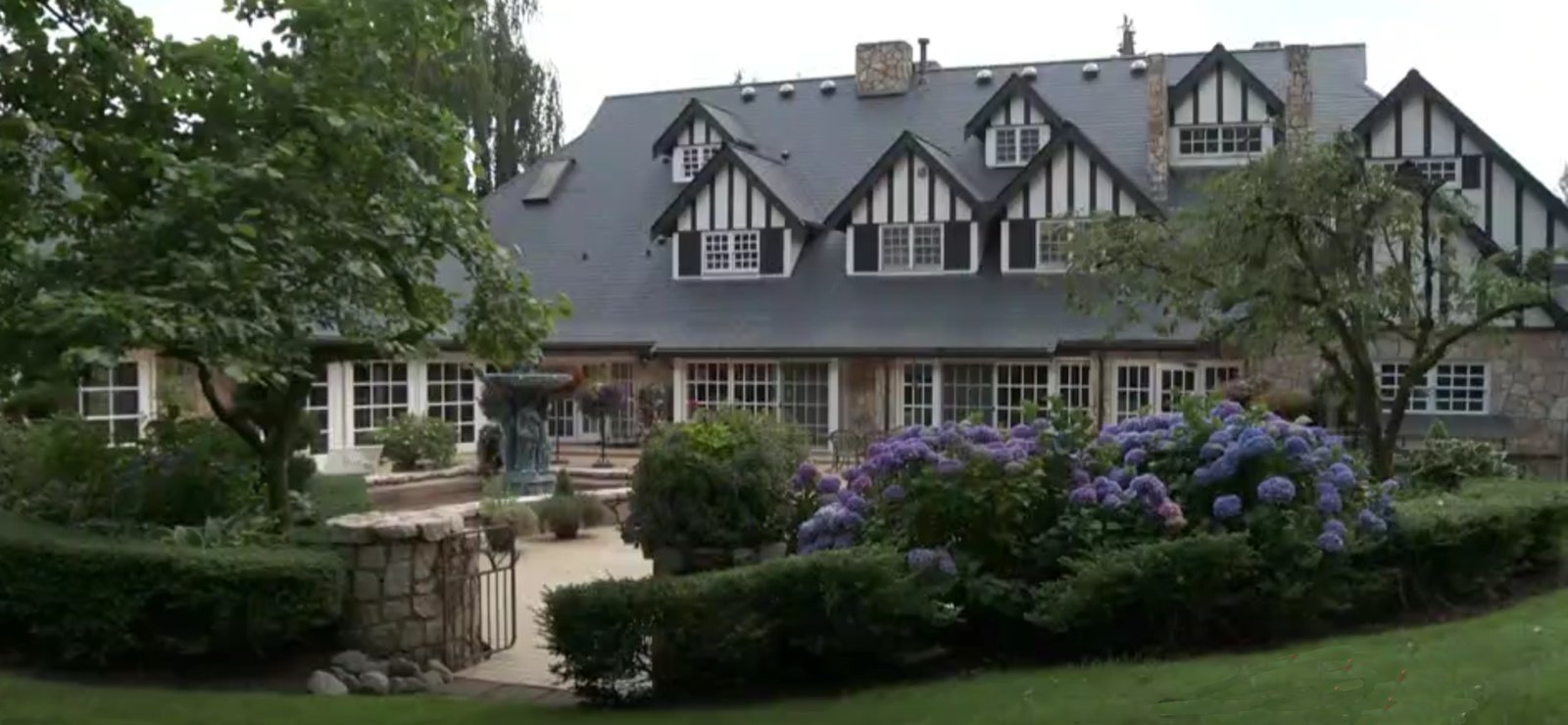 The Lynden mansion has had several different owners since it was built by the Bachmans in the mid-70s. It has served as a private residence and as a business. It's now owned by the Bellingham-based bible software company Faith Life. Selling price in 2018 was $1.9 million. Called Gracewood Manor, it has been renovated into an elegant corporate retreat center. Some memorabilia from the Bachman family is on display. After divorcing Randy Bachman, Lorayne Stevenson remarried. An American, she resides in Utah. Randy Bachman and Denise McCann split in 2011. Denise McCann, who is American, lives in California.
To visit Randy Bachman's website, please click HERE.