Who The Heck Is Baby Sandy?
Most of us have heard of the iconic child star of the 30s and 40s, Shirley Temple. There's no denying she was the early darling of films and was Hollywood's #1 box office draw as a child actress from 1934 through '38. She eventually retired from films in 1950 at the age of 22. Following her movie career she was surprisingly successful as a diplomat. Temple was the ambassador to Ghana (appointed by Gerald Ford) and Czechoslovakia (appointed by George H.W. Bush). If a child movie star of early Hollywood films is the subject, chances are most will think of curly haired Shirley, but what about Sandy? "Baby Sandy" to be specific. And what did Spokane's actor-crooner Bing Crosby have to do with helping to launch her meteoric but brief career?

I discovered Baby Sandy quite by accident. I was looking for some information about an old time radio actor and came across a slew of old movie and radio fan magazines and on the cover of a couple was Baby Sandy. I thought, who the heck is Baby Sandy? In reality it wasn't all that easy to discover her story, but with a little persistent detective work, gradually my question was answered. Here's what I unearthed.

Sandy's real name was Alexandra Lee Henville. She was born Jan. 14, 1938 in Los Angeles and was only 11th months old when her father, a Los Angeles milkman, read in the newspaper that Universal Studios was looking for a baby for a soon to be filmed Bing Crosby movie. He decided to leave some pictures of his daughter on the doorstep of the film's musical director Charles Previn (father of composer, conductor, jazz pianist Andre), along with the morning milk delivery. One look at the photos of the milkman's daughter by studio casting and she was hired. It is said that Sandy was on the set of the film for two days before most realized she was a girl. The original script for the Crosby film called for a boy, but the sex of her characters in subsequent films seemed, for the most part, unspecific.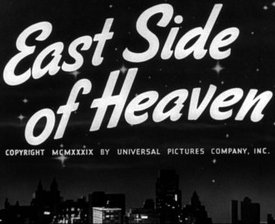 Her appearance in that 1939 Crosby comedy, "East Side Of Heaven," marked her screen debut and made her the youngest contract player in films. She was a hit. Her expressions and big doe-like eyes had won her that first movie role, but it was her happy temperament on set that won her a $50 a week contract from the studio. Soon there were Baby Sandy Dolls, mugs, paper dolls, diapers, baby food, story books and coloring books. Both movie mags and some major magazines of the day featured cover photos stories of Sandy. The Aug.14, 1939 issue of Life Magazine featured Sandy on the cover with a 2-page spread. There was also a 4-page article in Look Magazine.

Sandy's popularity in the Bing Crosby film caused Universal Studios to launch a "Baby Sandy" film series. She was considered Universal's "wonder baby" and their answer to Shirley Temple. The series, produced by Universal through 1941, consisted of 6 films … the last of which was "Melody Lane." In the first few films her character was supposed to be a boy, but in the end the series never did specify Baby Sandy's sex.


That original film, "East Side of Heaven," was partially produced by Bing Crosby. Under his contract with Paramount, Crosby was allowed to make one outside production a year. The movie starred Bing and Joan Blondell. Crosby plays the part of a crooning telegram messenger who through complicated circumstances loses his job, but lands a new job as a cruising troubadour for a taxi company when a baby, played by Baby Sandy, is left in his cab.


So, Crosby's movie character attempts to find the baby's parents and in the process eventually discovers the baby is the grandchild of a man who is the owner of a radio station. The film's story has the usual movie plot twists and turns, but eventually Crosby's character discovers the identity of the missing baby's grateful parents. The grandfather, and radio station owner, rewards Crosby's character with a permanent job crooning at the radio station. This happy circumstance results in Crosby finally being gainfully employed and ultimately being able to marry the Joan Blondell character. And, believe it or not, everyone lives happily ever after.

Bing sings the movie's title song, "East Side of Heaven" for Joan Blondell and Baby Sandy (run time 1:54).

What happened to Baby Sandy? By 1948 she was basically a has-been in films.

 She eventually became a legal secretary for the city of Los Angeles and fortunately the money she made from her films, products and endorsements kept her afloat for most of her life. She had two sons and was married and divorced twice. When she retired she moved to North Carolina to be close to one of her sons. Her final appearance as an actress was in 2005 when she appeared in a Life Alert commercial for television.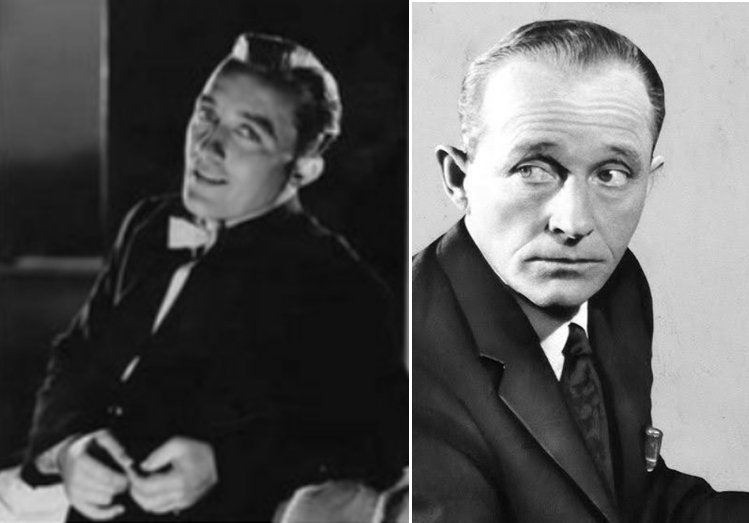 And what about this Bing Crosby guy … what became of him? From what I understand he kept on singing and acting in movies and 6 years later, in 1945, he won a Best Actor Oscar for his portrayal of a priest in the film "Going My Way." A few years earlier Bing was the first to sing what would become a Holiday classic "White Christmas," written by Irving Berlin. In the film "Holiday Inn" Bing sings "White Christmas" as a duet with actress Marjorie Reynolds (whose vocals were actually sung by Martha Mears) and that performance won the song an Oscar for Best Original Song in 1942. So, all in all, you might say the crooner, born in Tacoma and raised in Spokane, had a fairly successful career. For sure he had a few blemishes in his personal life … but don't we all. On Oct.14, 1977, after playing a round of golf with friends at a golf course near Madrid Spain, he collapsed about 20 yards from the Clubhouse entrance and died instantly of a massive heart attack. He was 74.