Editor's note: As 2020 winds down, Gary "Shannon" Burleigh and Bill Ogden sent a NY Times article on the Pacific Northwest's own Delilah. She's the most listened to woman on American radio, receiving up to 30,000 listener calls a night on her syndicated show broadcast from her home in Port Orchard. Much of the NY Times feature is summarized on this page, including The Daily podcast, because at Puget Sound Media experience has taught us that if we post a link to someone else's story, inevitably the link dies and our article ends up full of holes. To view the complete article at the NY Times (CLICK HERE).
Delilah
With snippets of love, loss and struggle soothed by music, she has become one of American radio's most popular — and trusted — voices. We decided to give her a call.
The radio host Delilah lives on a farm outside Seattle with her menagerie, which includes goats, horses, sheep, emus and even two zebras. She also has 15 children, and she's on her fourth husband. She currently lives with her ex-husband's parents, whom she calls her "out-laws." Everything about her — including her full-body laugh — is larger than life.
Delilah goes simply by her first name. I first learned about her a few months ago, when my colleague Andy declared that her radio show had been one of the highlights of his pandemic. It turns out that she's been on the air, in some form, for 45 years. Her show airs daily and lasts five hours, and over the years her formula has stayed consistent. She takes calls from listeners, offers them advice and then dedicates a song to someone in their life.
After all the decades Delilah has been in radio, the field is still dominated by men. Of the top 20 radio shows in America, only three are hosted by women. Ten of those shows are conservative talk radio, and three are broadcast on NPR. Delilah's show is the only one that speaks directly about love, be it romantic or familial. Of the shows hosted by a woman, Delilah's has the largest audience. She is the most listened to woman on American radio.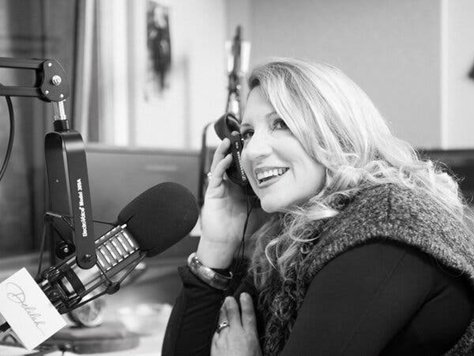 Becoming a late-night respite for the lonely
Delilah grew up in the coastal town of Reedsport, Ore. Her father was blind and hiding a secret family that lived 30 minutes away. Her local AM radio station, KDUN, would provide weather reports and alerts about men lost at sea. She began working there in high school, and the staff became her family by proxy.
After high school, she began her career as a professional D.J. She had her first child at 24 and set up a mattress for him to sleep in the studio. From the moment she debuted on air, she developed a dedicated fan base.
Her show became a haven for the lonely, who called her late at night. Off the air, while the music played, she'd talk with them. One man asked for help with his bingo numbers. A teenager struggled to write an essay. A truck driver had a fondness for his local waitress, but knew he'd never have a chance. He just wanted to express his appreciation for her, so he called Delilah for advice.
Overcoming professional setbacks and family tragedies
Delilah's ratings were consistently great, but it took her years to become nationally syndicated. One boss told her that the phone call format just wouldn't work, and she once overheard an executive say, "Can somebody just tell that broad to sit down, shut up and play the damn music!"
But a strong work ethic, solid ratings and a best friend carried her through. That friend, Jane Bulman, became her first employee and producer. The two lived together for nine years, sharing a car and making the show. When Delilah gave birth, Jane was by her side, coaching her to push.
After years of switching stations and amassing audiences around the country, Delilah's show was finally syndicated in 1996, when she was 36 years old. Her audience took off from there. Today, she is a radio icon and a multimillionaire.
Part of Delilah's success is her ability to connect with listeners by offering a piece of herself. She opens up about family members who have suffered from addiction, and the loss of two of her children — one to sickle cell anemia, and another to suicide.
She sees her show as a place to bring people together, and a refuge from the politics that divide us. "When anybody listens, I want them to hear love," she said. "I want them to hear peace. I want them to hear hope — especially now."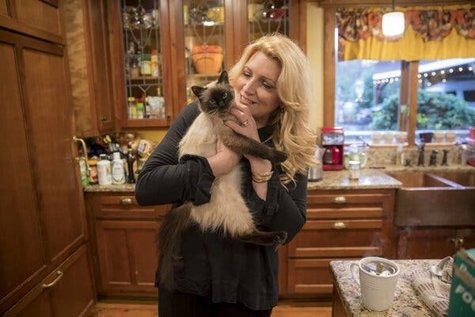 Delilah interview: The Daily, powered by The New York Times' newsroom. This episode is hosted and produced by Andy Mills and Bianca Giaever, with help from Leslye Davis. It was edited by Sara Sarasohn, Wendy Dorr and Lisa Tobin. (Run time 32:26)
Credit: Read the complete Dec. 2020 story in the New York Times (CLICK HERE).