Greg Aust was 22 years of age when he was hired by KVI-A.M radio. In the two years prior to his arrival in Seattle, Aust had been a DJ at some of the highest profile Top-40 radio stations in the country. The young jock had talent, but media buzz helped propel him along: Billboard Magazine's radio columnist, Claude Hall, was enamored with Aust (on-air name at the time Chuck Williams, examples of Hall's comments are below.) Aust used other on-air names throughout his career, including Austin in Boston, Greg Austin, Steve Austin and Chuck McKay. Another early career booster was the admiration Drake-Chenault consultants had for Aust. The company advised many major market clients, and Drake was impressed. When their client stations had job openings, the firm often recommended Greg Aust as the guy to hire.  In summer 1972, Aust landed at KVI — a young guy with a dynamite resume per Billboard Magazine: WNHC-AM New Haven; CKLW-AM Detroit/Windsor; *WRKO-AM Boston; WLS-AM Chicago; and  KFRC-AM San Francisco. Note: Tom Kennedy was at WRKO in '70. He says Billboard got it wrong and Aust didn't work at WRKO. Also, prior to his WNHC gig, Aust was a jock at KEWI-AM in Topeka, KS.

KVI's decision to hire a youthful Drake trained disc jockey was an unusual move at the time.  KVI was an adult format personality driven station that targeted 25-54 year-old demographics. Word was that management wanted to skew toward a younger audience. Aust was hired to host middays, replacing veteran broadcaster Ray Court. Seattle was one of the few radio markets where Greg Aust went by his real name on-the-air. Seattle legend Bob Hardwick handled morning-drive, then Greg was on from 10:00 am-1:00 pm, followed by Seattle icon Jim French. The ever popular KVI afternoon super-commuter, Jack Morton, followed French. Two of the three men in that lineup, French and Hardwick, were double Aust's age. Even the somewhat younger Morton had 15 years on him.

Aust's voice would easily pass for a 35 year-old, although he was actually in his early 20s. Greg came across on the radio as mature in a not very serious way, and he was creative and funny.  I know of only one aircheck from his days at KVI. It, and the other recording featured here, have been scoped to highlight the KJR Cash Call and the misnomer KVI Cash Call.
To get in the mood, let's listen to an actual KJR Cash Call. Here's 19 year-old Kevin O'Brien (the late Kevin Metheney). Yes, KJR had a jock who was younger, and he sounded younger, than Aust. The voice on the KJR Cash Call promo itself is none other than Mr. Seattle radio Pat O'Day.

Kevin O'Brien, KJR Cash Call-1973 (Courtesy of Sam Lawson)

With the previous aircheck freshly in mind, here's Greg Aust's version of Cash Call. Greg had no money to give away, he didn't even have a legitimate promotion, but he did have Pat O'Day's voice down pat (pardon the pun). In this segment, you will hear an amusing interlude that is typical Aust — it involves Elmer the fictional janitor.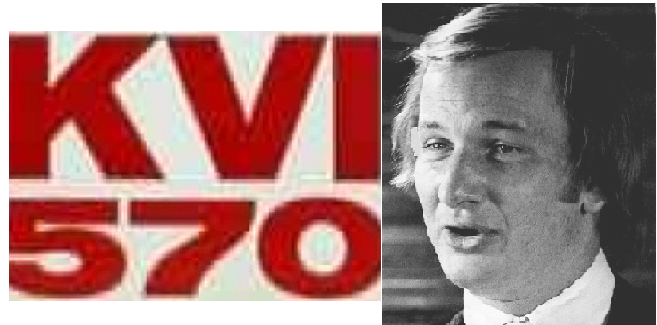 Greg Aust, KVI Cash Call-1973 (Courtesy of Sam Lawson)

In the janitor weather bit, Aust tossed in a plug for Billboard Magazine columnist Claude Hall. We know that Hall was a strong promoter of Aust, but maybe it worked both ways. I am sure most KVI listeners had never heard of Claude Hall, so it was sort of an inside joke. Then Greg suggested that Elmer the janitor should take over that day's radio show, since KVI "management" would probably have a higher opinion of Elmer's skills than his own. That reference to "management" was a grimace and a scowl toward longtime KVI general manager and Golden West Broadcasting executive Jack Bankson. I knew Jack. He was a strong manager — capable, authoritative and bluntly direct,
also not one to be trifled with. After Greg left KVI, Jack told stories of his adventures during the nearly two years he spent attempting to manage Greg Aust. 
When I began this article a month ago, I planned to conclude by stating that Greg Aust passed away in Phoenix in 2008. That had been the industry rumor for the past six years. I had never questioned the rumor. Then I was unexpectedly put in contact with one of Greg Aust's estranged siblings who is searching for him. Through that connection, I became privy to new information about Greg Aust — details of his birth, family, lifestyle, etc. From that data and our own research, Puget Sound Media can now confirm that Greg Aust did not die as previously described (reportedly as one James D. Welch) in Phoenix in 2008. The factual error was an honest case of mistaken identity. Consequently, the website that first reported Aust's death in 2008 has been contacted and they have updated their information to reflect current findings.
Let's move to the next logical question: Is Greg Aust still alive? Our best answer so far is maybe, we don't know. We have yet to locate public records that indicate he has died. His sibling believes him to be alive and living in the San Diego area. This part of the story is still developing, we are attempting to track Greg by contacting his colleagues and friends. One lead always leads to another, so we are hopeful that we can determine Greg Aust's status in the future. Puget Sound Media will release more information as it becomes available.
Greg Aust had great potential and talent, but he never became a radio superstar. That is probably because he burned too many bridges along the way, and he didn't stay in any one place for long. That being said, in radio lore, Greg Aust/Chuck Williams/Austin in Boston/Greg Austin/Steve Austin/Chuck McKay is infamous. Or, if you don't consider him infamous, admit that he is at least notorious. As Chuck "Hot Ticket" McKay, at CKLW-AM (Detroit/Windsor) in February 1975, he was described as "melting down" during his all-night shift. That notorious aircheck (click here to listen) went viral online. Its been heard by thousands of people and the recording has been analyzed and dissected by broadcasters and the public for 20 years. Furthermore, in the mid-1970s, Aust was a key figure in — but not the planner of — a promotion that cost a Miami FM radio station its FCC broadcast license. That is a narrative for another day, one of many interesting stories that I became aware of as a result of this project.

As I write this post, Aust would be 69 years-old.  His job history, especially so after KVI, is sketchy. From what I can gather, he might have been employed by KVI longer than at any other radio station. Previously, I referenced stations he worked for prior to coming to Seattle. There may be omissions and errors in this list. My goal is to provide a preliminary chronology of Aust's post KVI  work history from mid-1974 into the mid-1990s:  WVBF-F.M. Boston; CKLW-AM Detroit (more than once); KRIZ-AM Phoenix; KCMO-AM Kansas City; WMAQ-AM Chicago, a country format; KFI-AM Los Angeles; KOPA-FM in Scottsdale; KLSI-FM Kansas City;  K101 FM San Francisco; KWFM-FM Tucson; KLLS-FM San Antonio; KTSR-FM Bryan College Station (Texas); and KMEN-AM San Bernardino. He almost assuredly was employed by other stations in a number of states including Arizona, Texas, Kansas and California. However, I have restricted the entries to properties I could verify as accurate, or believed to be accurate, through sources such as Billboard Magazine and the recollections of Greg Aust's colleagues, friends, and family. If you knew or worked with Greg Aust, please leave a comment, or Email me your contact information through this website. I am collecting true stories that document Greg Aust's erratic life in radio broadcasting.

UPDATE Dec. 10, 2018: Research by Puget Sound Media has revealed that Greg Aust passed away in 2015. Click here to read  Searching for Chuck McKay and Finding Greg Aust (The Final Chapter).
Special thanks to the people who helped with my research for this article: Peter Boam, Bill Hennes, George Johns, Kim Elliott, Famous Amos, Harley Davidson, Michael Hagerty, Bill Ogden, the Sam Lawson Aircheck Collection.