This blog post is themed for the Veteran's Day holiday. It's a factual article about a famous American soldier who, unfortunately, ended up having more bad luck than good luck. Staff Sergeant Barry Sadler's story is rather depressing and not representative of the way things work out for most veterans.
Anyone who was a disc jockey, or living in the U.S. back in 1966, will remember the patriotic song The Ballad of the Green Berets.  A couple years later, Hollywood released a movie about Green Berets, starring John Wayne, and you can guess the theme song on the movie soundtrack. Staff Sergeant Barry Sadler, the performer/songwriter of this hit, was a Green Beret in real life. The Green Beret troops were elite Special Forces, a part of the army. They gained a boost in popularity in 1961 when President John F. Kennedy spoke highly of the Special Forces and then sent 400 Green Beret advisers to South Vietnam.
Shortly after his single came out, S. Sgt. Barry Sadler appeared on the Jimmy Dean show. He didn't just sing the song, Jimmy Dean interviewed Sadler. It is clear, from the studio audience's reaction to Sadler's comments in the short clip, that in 1966 the American public had yet to sour on the Vietnam War. Click below twice (first to go to Vimeo and again to start the video, to watch the interview.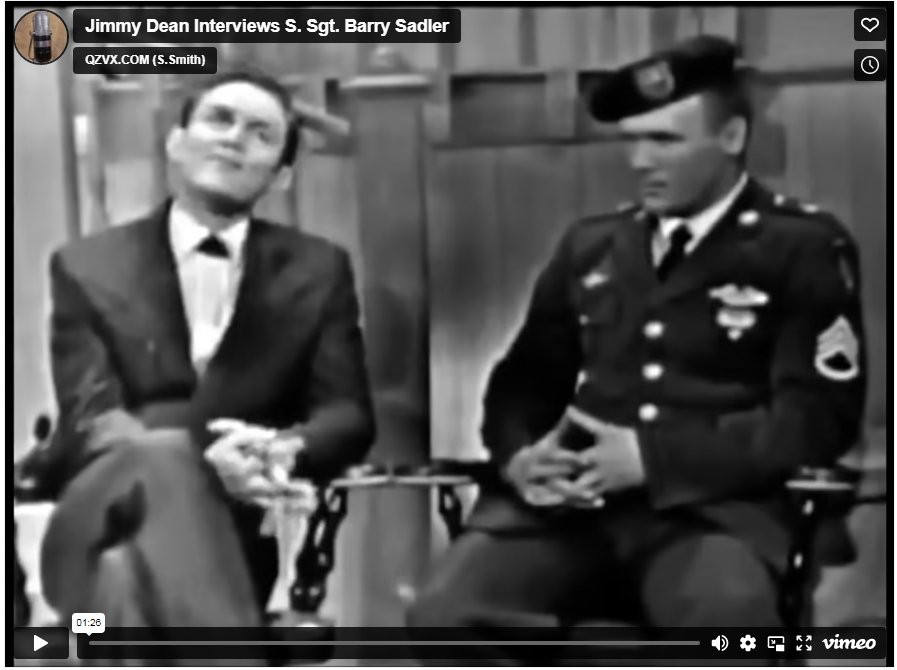 Sadler was portrayed in public as the clean-cut All-American Boy. We need only scratch the surface of his history to find that Sadler did not live an idyllic life. His parents divorced when he was only 5 years of age, and his dad passed away soon after the divorce. Barry didn't complete high school — he dropped out and enlisted in the Air Force. After his discharge, he switched to an army career and volunteered for Special Forces. Sadler became a Special Forces medic and served in Vietnam from December 1964 until May 1965. Chances are he would have been there longer, except he received a serious knee wound from an enemy punji stick. Barry was shipped back home to a military hospital. While recuperating stateside, he played guitar, sang and wrote a few military type songs. One day a TV film crew dropped by the hospital. They caught Sadler on film singing his self-penned The Ballad.
The TV station aired the film clip and public opinion was overwhelmingly favorable: RCA picked up the song and signed Sadler to sing it. A newly recorded professional rendition of The Ballad, with studio musicians, shot up the Billboard Hot 100 chart. The single remained in Billboard's Top 10 for nine weeks, in five of those weeks it was at #1. The Ballad was the top song in the U.S. for all of 1966 and it crossed over reaching #1 on Billboard's Easy Listening chart and #2 on Billboard's Country chart. The single sold 9 million copies worldwide.
Almost immediately after his initial chart success, Sadler's musical career stalled. He participated in a USO tour, but his songs were not selling well. Even the second single release, The A-Team, was only a modest hit. After his military career was over, Sadler moved to Tucson and sought other work, including opening his own bar and founding a movie production company. By 1973, after those businesses faltered, Sadler moved from Tucson to Nashville. In Music City U.S.A. he hoped to revitalize his performing career by focusing on performing country music. That effort didn't work out. In the annals of time, The Ballad of the Green Berets may have been the most successful novelty song in U.S. history. It was certainly his greatest achievment.
Beginning in the late '70s, and for about ten years after, Sadler wrote a series of 22 pulp fiction adventure novels that took place in Roman times. The main character was Casca: The Eternal Mercenary. The books had a following and Sadler was said to have made good money as an author.
In December 1978, prior to his writing career taking off, Sadler's personal life took a nose dive: He shot and killed a Nashville songwriter. The appalling situation was best described as a lover's triangle involving Sadler, Sadler's female lover, and the male victim. Sadler pled guilty, but he claimed the other man was, also, drawing a gun at the time of the shooting. Sadler was found guilty; however, he had good defense attorneys: Barry spent only 28 days in jail on a second-degree manslaughter conviction.
In 1983, Sadler moved to Central America. What he was really doing with his time down there is up in the air. Some sources say Sadler was politically and economically involved in training and arming Nicaraguan Contras. He could write adventure books anywhere and other observers say Sadler had relocated to Central America to enjoy life, party (he liked to drink), and to take advantage of the low cost of living.
In 1988, Sadler was returning by taxi to his hilltop residence in Guatemala. Somehow and someway, he was shot in the head – not fatally, but Sadler lost much of his brain function. Why and how this injury occurred is in dispute. Some reports said he was the victim of an armed robbery, other speculation focused on an assassination attempt related to Sadler's activities in Central America.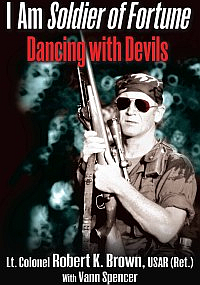 A decade ago, after I wrote and posted online an article similar to this one, I received a telephone call from a friend of Sadler. The friend was Lt. Col. Robert K. Brown, a former Green Beret and the owner/executive editor of Soldier of Fortune magazine. Sadler had worked for Brown as a Soldier of Fortune columnist. After Sadler was shot, Brown paid to have him transported back to the U.S.  Brown asked me to disclose the true story of Sadler's shooting. Then, based on his investigation into the matter,  he told me the following:
"Sadler wasn't involved in dealing arms to Contras or anything secretive or political. His gun shot wound was not an assassination or a murder attempt, despite that story making for interesting folklore and intrigue. Truth is Barry drank too much and he liked to party. After a night on the town, he and a female companion were in the back of a taxi riding back to his home. Barry had his pistol out, showing it to the woman at the time he was shot. It was an accident: The weapon that discharged was Sadler's own firearm. There were two eyewitnesses to the shooting — the female passenger in the back with Barry and the cab driver."  Per Lt. Col. Robert K. Brown (Personal Telephone Interview 9/27/2008)
There you have it, we have differing explanations as to the cause of the shooting. You can take your pick and believe whichever one suits your fancy. Personally, I thought Brown was highly credible. Regardless of the circumstances of Sadler's shooting, after returning to the U.S., he was cared for by his mother. S. Sgt. Barry Sadler died of heart failure in 1989 at his mother's home in Tennessee. He passed away only four days past his 49th birthday.
This prominent Green Beret, who had once conquered the pop music charts and dominated radio airwaves, died 23 years after achieving a #1 hit. Barry Sadler, in his own sad way, was an American tragedy.
If you would like to see S. Sgt. Barry Sadler perform his famous song, here's a 1966 clip from the Jimmy Dean Show. Click below to watch it on Vimeo.
…..by Steven L. Smith
Video Credits: RFD-TV