Editor's note: This article provides more detailed information on a story that was reported earlier today at QZVX.
Sports fans in Whatcom County learned Tuesday morning that well-known local sportscaster Mark Scholten passed away on Monday, August 14, 2023, at his residence. The cause of death was reported to be natural causes. After graduating from Bellingham High School, Scholten began his broadcasting career at KGMI — slightly more than 30 years ago. When SAGA Communications purchased the five commercial radio stations in Bellingham, in the late 1990s, Scholten stayed with the company but he was most often heard on Saga's KPUG — the sports leader station. Mark hosted the popular sports talk show "The Zone," originally with Doug Lange, and later on his own. That show had first aired on KGMI and then it moved to KPUG. Up until the time of his passing, Scholten's sports reports were heard on both KPUG and KGMI.
For more than seven decades, Bellingham radio has had three local sports personalities who would qualify as pillars of the community: Haines Fay beginning in the 1940s, Dick Stark beginning in the '60s, and Mark Scholten since the early '90s. Their familiar voices and faces were "fixtures" at high school basketball and football games, championship games and sports award banquets.
With the passing of Fay in 2014, Stark in 2022, and now Scholten's early passing at age 54, it has left a big void in Bellingham sports radio with no obvious heir apparent to fill that iconic role. Read more about Mark Scholten by clicking HERE.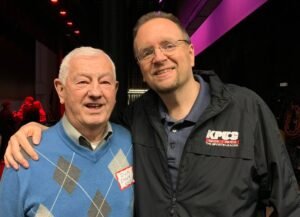 1 visit(s) today