Music is a powerful force. We all know that sometimes an old tune will trigger a memory of a past event. On occasion the tune leaves a more lasting impression than the event itself. Here's such a story.
Late fifties and early sixties, I used to pal around with grade school friends. On Saturdays we went to the Bellingham Public Library. Part of the experience was stopping at The Shack Drive-In on Cornwall Ave. across from Bellingham High School. A burger was 19 cents so, as long as I had 50 cents in my pocket, I was good to go.
The Shack was there for a long time (later called Russ'). It endured through my high school days. My wife recalls being in a speech class at Bellingham High. One kid, for his "demonstration" speech, went across the street and got a "beefy." Up in front of the class, he wadded it up like a child might do with a piece of angel food cake and downed it in a gulp or two. The title of the demo was "how to eat a burger in less than a minute," or something like that. There is no record of the letter grade he was awarded for his stellar effort. It is fortunate he didn't choke. I don't think anyone knew the Heimlich maneuver back then.
The Shack had a small indoor dining area, but it was mainly a mystery to me. I always grabbed my burger and fries in a bag and rode off on my bike. That changed one rainy day when a friend's mom drove us to the library and then treated us to indoor dining at The Shack. The Shack was a cool drive-in for teens and kids. Russ, the owner, promoted with KPUG. This 1959 ad predates the station's format change to Top 40 music full-time. That happened in 1962. But, by the late 1950s, KPUG was hosting weekend record request shows, where the deejay would play pop songs. The Shack was one of the sponsors.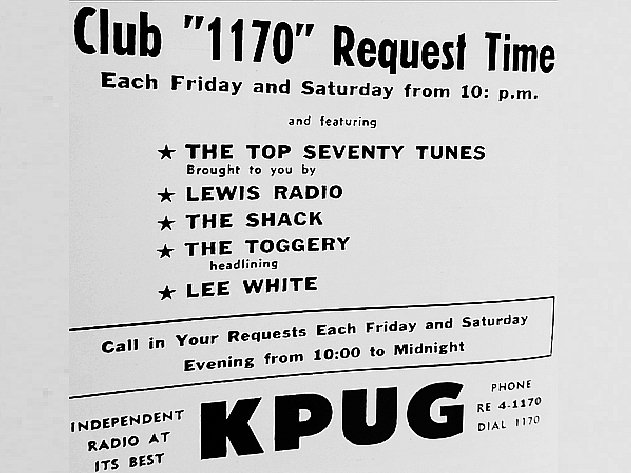 Once we were settled inside The Shack, I saw a big jukebox in the corner. I guess it was loaded with the popular hits of the day. My dad liked Hawaiian instrumentals and Lawrence Welk's show, and my mom favored exclusively Broadway show tunes and that is what I heard at home. So I was not a connoisseur of the hits, they were lost on me. However, my friend wanted to play one song on the jukebox. It is good he didn't have higher aspirations, because he had only one coin. After much thought and indecision, he chose "Blue Velvet" by Bobby Vinton. I know now it was a giant in 1963 — #1 for weeks on the Billboard Hot 100. "Blue Velvet" probably had even more staying power after David Lynch's unsettling movie of the same name was released in 1986. Speaking of staying power, as I write this in Feb. 2021, Bobby Vinton is still with us and he lives in Florida.
Looking back on that day nearly sixty years ago, I find it strange that I remember listening to Bobby Vinton sing — an artist I'd never heard of prior to that day — yet I can't identify my friend and his mom. I have a guess who they were, strictly through the process of elimination. I had undoubtedly been exposed to other background noise from restaurant jukeboxes, but that is the first song I was aware of hearing on a jukebox. This story gives insight into how radio advertising jingles are supposed to work. Whether you appreciate them or not, some of them won't fade away in your head.
Another interesting phenomenon I have discovered recently is that some jukeboxes have the ability to take a person back in time. There is no need to insert a coin, we will give you a free play. Just click on the start arrow on the classic Seeburg jukebox below and images of Bobby Vinton will soon be dancing in your head. (Click 2x on the start button, first time to get to Vimeo and second time to start the video once you're on Vimeo.)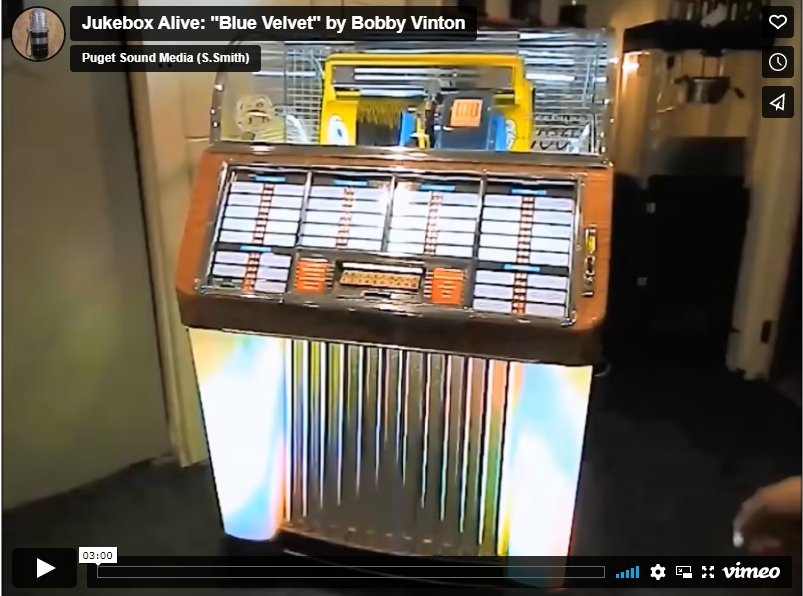 Story Credit: Wes Gannaway and Kent Holsather for photos of The Shack from "Drive-Ins, Drive-Ups and Drive-Thrus"
Click on the names below to read about these broadcasters who were popular in Bellingham and Whatcom County, including nearby Canadian legend Red Robinson:
Danny Holiday (KPUG)
Dick Stark (KENY & KPUG) 
Kirk Wilde (KPUG)
Gary Shannon (KPUG)
Mike Forney (KPUG)
Jay Hamilton (KPUG & KBFW)
Bob O'Neil & Marc Taylor (KPUG)
John Christopher Kowsky (KPUG)
Haines Faye & Rogan Jones (KVOS & KGMI)
Tom Haveman (KENY & KVOS)
Red Robinson (Vancouver B.C.