In doing some newspaper archive searches in the "Western Front" (student newspaper of Western Washington University), I found a couple interesting pieces of memorabilia associated with KISM in Bellingham. KISM was originally the FM owned by radio innovator Rogan Jones, and it was sister station to KGMI-AM which, before those call letters, was KVOS.  The first newspaper ad is from February 1972.  KISM was very much an automated oldies station at that time. And in those days, most of the oldies they played were not all that old!
The next ad is from six years later, October 1978, right before Halloween. Mike Bettelli, in the photo, went on to KOMO in Seattle. And occasionally he pops in here at Puget Sound Media. Maybe he will fill us in on some of KISM's history. Going way back, I recall that the early calls were KVGM. Since Rogan Jones was the founder of International Good Music (IGM) his home base call letters, in the sixties, translated to  "K-Good Music Incorporated" (KGMI-AM) and "K-Very Good Music" (KVGM-FM). KVGM and it's elevator music really never caught on. When Mike was the PD at KISM, I used to see him around town with the late Pat Rowe, who was also closely associated with KISM.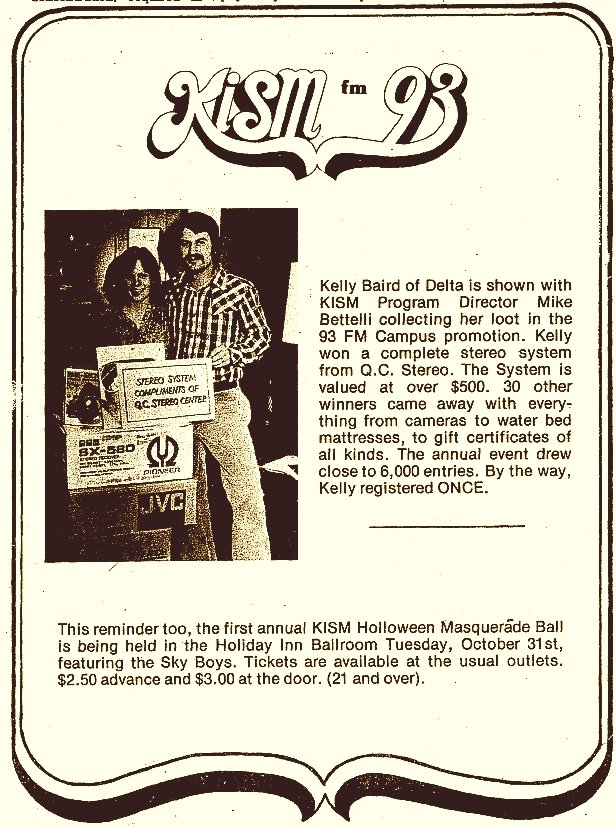 Thanks to a tip from John Fortmeyer, who checks in on Puget Sound Media, we are able to provide a demo tape of the Draper-Blore automated Olde Golde format that was distributed by IGM. Again this is not an actual KISM aircheck (although I believe I may have one somewhere) but it is characteristic of the early '70s sound of the Olde Golde format — less the local content.
Draper-Blore format: Olde Golde (run time 19:30)