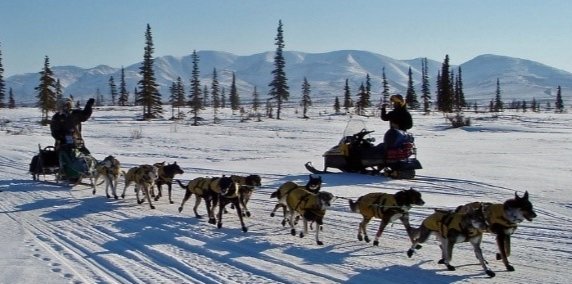 It's a Dog's Life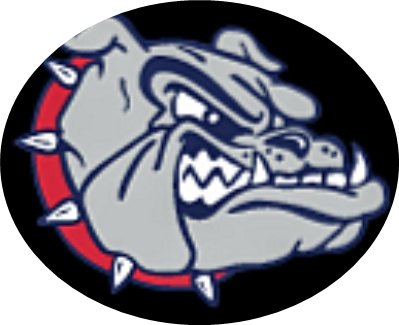 Spokane sportscaster Greg Heister has gone to the dogs and it has contributed to him and his production company winning a number of regional Emmy Awards. Northwest sports fans will recognize Heister as the television play-by-play announcer for the Bulldogs of Spokane's Gonzaga University. He is also the co-host of "The Mark Few Show," featuring the popular Zags coach who is an obvious future inductee into the College Basketball Hall of Fame. In all likelihood most sports fans (especially West of the Cascades) would be surprised to learn of Heister's connection with those other dogs. The ones who literally run their tails off over 975 to 998 miles of rugged Alaskan terrain in the most famous of all dog sled races, The Iditarod.

Heister, is executive producer of the television feature "The Iditarod Trail Sled Dog Race" since 2006. Greg has led an expedition to cover the race providing hourly video updates for Iditarod fans around the world, culminating into a 2 hour documentary of each year's race.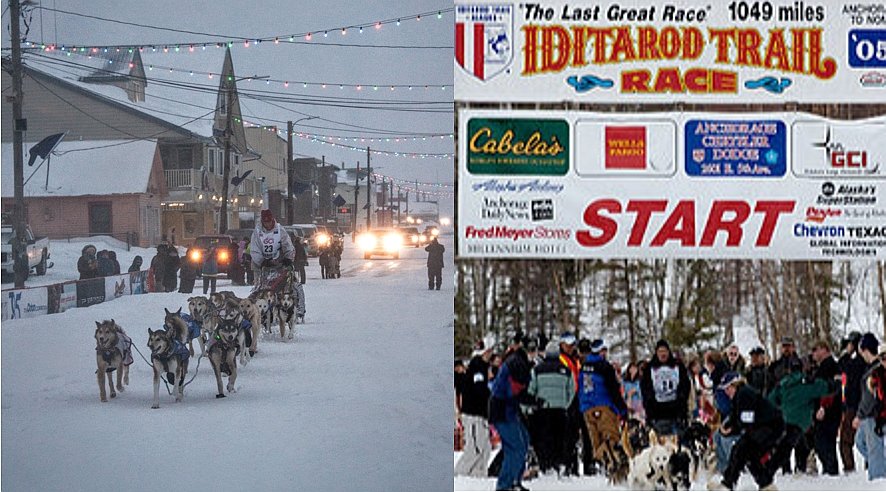 If you're of the opinion that our premise of Heister going to the dogs is a little fishy, allow me to take you on this additional Heister fact-finding fishing trip. Beginning in 2005 Greg began producing and hosting an adventure show for NBCSN ~ Outdoors. The show, "Seasons On The Fly," became an award winning documentary series featuring fly fishing enthusiasts and their adventures on rivers in Alaska, the continental US and beyond.  Heister is owner of Green Highlander Productions, Inc. a full service video production company specializing in documentaries and the winner of 15 regional Emmy Awards.



Greg found himself at KHQ-TV in Spokane in 1997 following a stint with KIMO-TV Anchorage, Alaska as their Sports Director beginning in 1991 … eventually evolving into him becoming engaged in the Iditarod Dog Sled Race in 1992. Before moving to Anchorage he had been with WJW-TV in Cleveland as a sports writer/editor/producer and was a graduate of Ashland University in Ashland, Ohio.

In due time, after arriving in Spokane, Heister became the voice of Gonzaga University basketball in the fall of 2001. At the time, he was the 4:30pm co-anchor and former Sports Director at KHQ-TV. Gonzaga and Heister entered into an agreement to broadcast Zags basketball on 50,000 watt KGA-AM with simulcasts on KHQ-TV. Eventually the radio portion of Zags basketball broadcasts was taken over by Tom Hudson with Gonzaga legend Adam Morrison joining Tom in 2017 to do color commentary (The Puget Sound area Zags radio affiliate is KIXI- AM).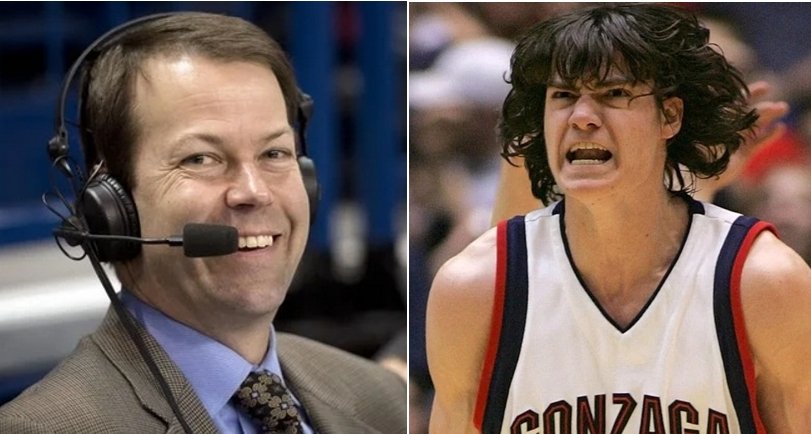 Once Hudson joined the Zags broadcast team, Heister was able to focus, each basketball season, solely on the TV broadcast and co-hosting the popular weekly "Mark Few Show," featuring the legendary coach who (as of the 2020-21 NCAA season) has amassed over 600 wins and is set to take the Bulldogs to their 22nd consecutive NCAA Tournament appearance and another WWC (West Coast Conference) championship. The popular coach's show is seen on KHQ-TV in Spokane and rebroadcast on Root Sports for Zags fans to enjoy throughout the state. Root Sports also broadcasts all Gonzaga/WCC games not carried by ESPN and other major networks.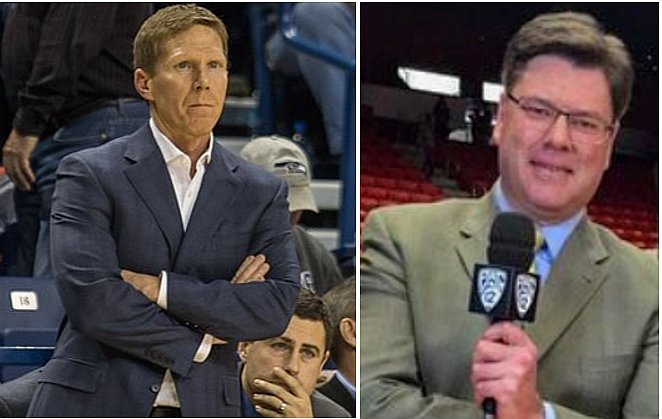 Heister's keenness to be part of Gonzaga University sports is easily apparent. His knowledge of the school, the basketball coach and the players is overtly obvious. His play-by-play style is enthusiastic but never annoyingly so. Unlike many other play-by-play announcers he never strays far from the action of the game presently being played. Seldom do Heister and his color commentary partners, Dan Dickau and Richard Fox, wander into chatter involving everything except the current action on the court. Which, exasperatingly, is often the case with too many sportscasters. Greg, Dan and Richard managed to interject priceless insight and Gonzaga sports history without losing focus on who just made that three-pointer or slam dunk. In recent years, with the Zags becoming a national collegiate basketball powerhouse with more of their games being coveted and broadcast by ESPN and other national sports networks, Heister has also joined the Pac-12 sports Network, frequently doing Washington State Cougar Basketball with Dan Dickau as his color commentator.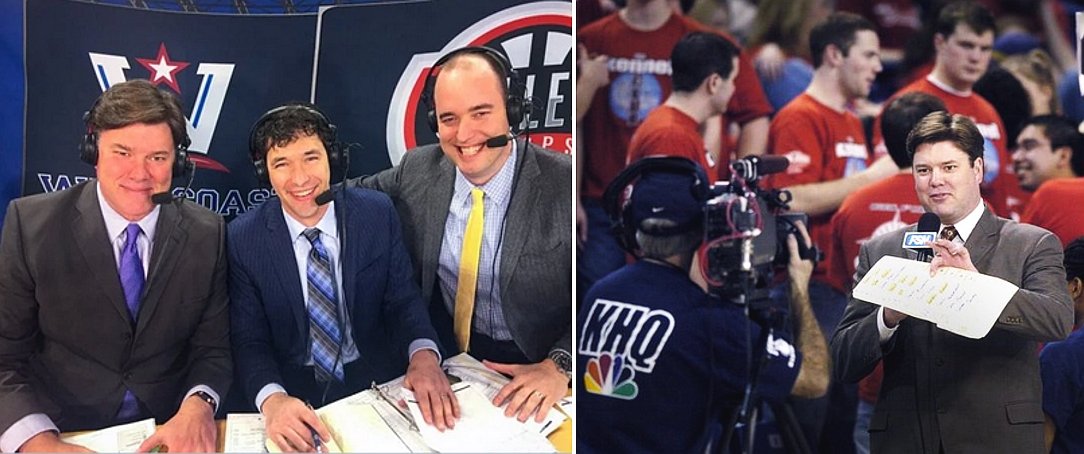 In the case of "The Mark Few Show," Heister's easy style lends itself to insightful interviews with  the young collegiate players. His genuinely thoughtful technique seems to solicit meaningful responses beyond traditional "sports speak" from Bulldog athletes. His friendly banter with Coach Mark Few reveals they are obviously friends. Few, who is a world-class enthusiast when it comes to fly fishing, has also been featured on the Heister's NBC Sports~Outdoors Channel's fishing program.

It may seem there's something a little fishy about our original premise, with Greg Heister going to the dogs, but be assured no animals were harmed during the process of creating this piece and a lifelong dues paying member of the local Humane Society was present at all times.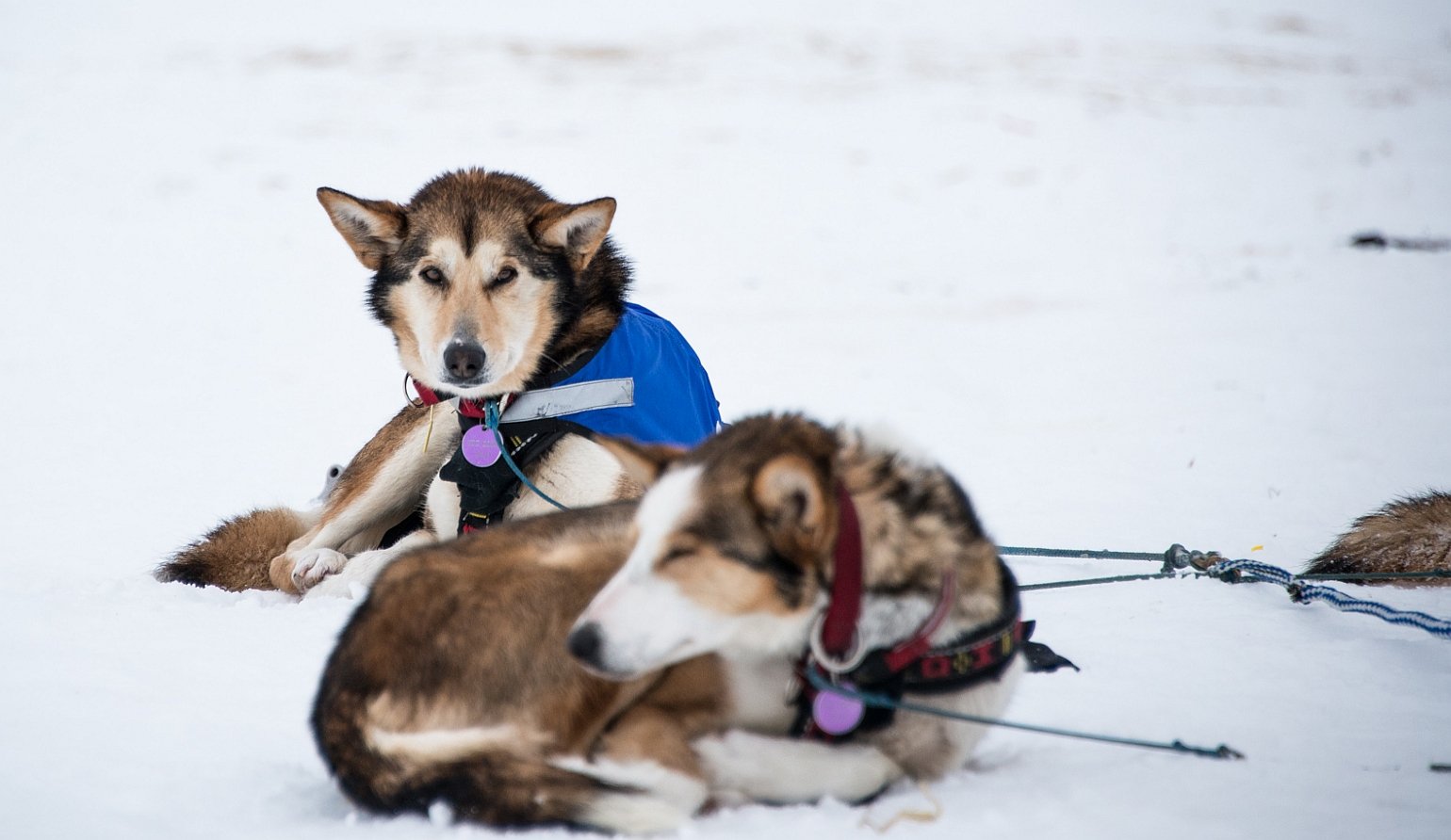 Here's a look at the multi-talented Mr. Heister, along with amazing scenery and some mighty big fish.

1 visit(s) today