A couple weeks back we went into the land of dancin' with "Wicked" Wilson Pickett. This week let's focus on the stage presence of the undisputed "Godfather of Soul."
"It's a Man's Man's Man's World" was written by James Brown and his girlfriend at the time one Betty Jean Newsome.  The song was recorded in two takes in Feb. 1966, with a studio ensemble that included members of Brown's touring band "The Famous Flames" and a string section. The record was a big hit — No. 1 on the Billboard R&B chart and No. 8 on the Hot 100.
The song had staying power. In 2004, "It's a Man's Man's Man's World" was ranked number 123 on Rolling Stone magazine's list of the 500 greatest songs of all time. Brown's girlfriend and co-writer/lyricist, Betty Jean, said she wrote the words based on her own thoughts about the relationship between men and women.
Now here's an interesting historical sidebar that ties in with the song: A female chorus was present at the recording session, but their voices were edited out onto the cutting room floor in the final master. Looks like it really was a "man's world" back in 1966!
The song became a staple of Brown's live shows. This performance was from "The Ed Sullivan Show." In '66, just about the same time the record was a hit, I saw this very appearance by James Brown with my own two eyes. (The video is at ad free Vimeo, so click on the play button 2x, once to get to Vimeo and then again to start the video.)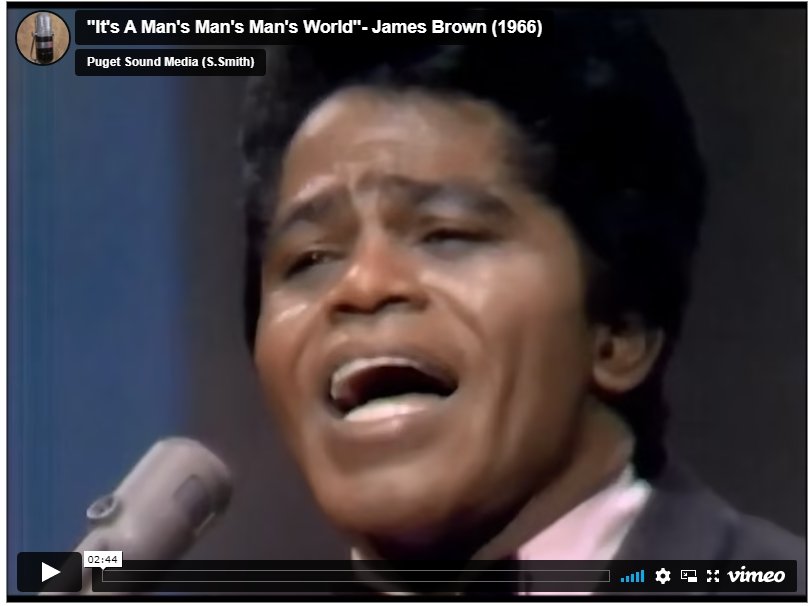 1 visit(s) today