Jay "Hamilton" Himmelsbach had a long radio career in the Pacific Northwest, including on-air at stations in Moses Lake (KSEM), Bellingham (KPUG & KBFW), Seattle (KOL in the rockin' sixties & Country Music Giant KMPS-FM in the 70s and '80s). He also worked in Eugene & Portland OR, Ventura CA, Austin TX, and Missoula & Great Falls MT, among other markets. As Jay followed the music, he spent several years in Hollywood. This, Part 2 of Jay's story, was written by Jay and it tells of his trials and tribulations in "La La Land."  CLICK HERE  if you missed Part 1 of Jay's biographical stories……Steven L. Smith, editor (September 2020)
If you're expecting stories of a jock bouncing from radio gig to radio gig, along with the other deejays he conspired with … well you've come to the wrong place. As with most jocks I've known, (I'm reminded specifically of Gary Bruno [aka: Jack Sunday, Gary Taylor • KJR, KISN, KNEW, etc.] in my view a great jock and PD, who spent large chunks of time away from "actual" broadcasting while at The Gavin Report and as the Executive Director of BPME Image Magazine … among other ventures), I too found myself taking a detour from queing up 45's, spinnin' records and BSing over the airwaves. This time it took me to Southern California, where many had already designated the City of Angels as "La La Land"!  So, if nothing else, this is one individual's personal history in the latter half of one of the more extraordinary decades in the past 80 years. The 1960s.
As I drove south from Eugene, leaving my position as PD/MD and jock at KASH behind, I was optimistic, with a tinge of regret and some concern for the possibility of a rough road ahead. I'd made arrangements with my LA deejay friend John Carver (Mike Archer of KPUG) to crash at his place until I found some source of income and my own place to call home.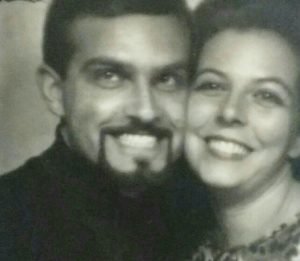 I was acquainted with a number of LA music industry folks through my capacity as a radio station music director and PD, so before leaving Eugene I contacted a few of them, letting them know I'd be in Los Angeles and I'd attempt to stop by and say hello. I initially didn't reveal my permanent exit from KASH, deciding to wait until meeting face-to-face before I mentioned I was seeking a change of venue and a career in the music industry … hopefully developing long-term as a record producer and songwriter. At the time I was completely unaware that this LA diversion would eventually lead me right back to a long career in radio.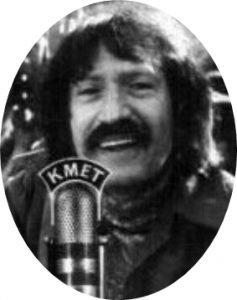 I had no sense that I was driving into the middle of what turned out to be the very turbulent, transformative, culture shifting mid-to-late 1960s … and into Los Angeles, for crying out loud, one of the era's super meccas for strange adventures. Among those 1960s transformations were some interesting and innovative directions in radio programming. FM Radio would finally acquire an audience after years of AM's dominance. Among the new FM formats, that eventually morphed into Album Rock, but in its infancy had its LA origins with a shamelessly late-60s label was … "Underground Radio." One of its paramount proponents was the legendary B. Mitchell Reed at KMET-FM. I had listened to a number of Top 40/Rock stations during my time in LA and had enjoyed the fabulous Gary Owens on KMPC, but after "Sargent Peppers" I definitely preferred "Underground Radio."The magic of music continued to have its strong hold on me and, although radio had kept me in the music mix, it hadn't given me much opportunity to personally create music … beyond my extraordinary "goal altering" experience with The Unusuals and "I'm Walking Babe." As a teen I was a member of two different rock 'n roll bands and a modern jazz quintet. Without a doubt I'd enjoyed the creativity radio afforded me, but I still longed for that unique artistry found in the actual creation of music.
GOT THE MUSIC IN ME
In one form or the other music had always been a constant in my young life. My mother played the piano and our family often gathered around our old upright piano to sing popular songs of the day. Neighborhood kids sometimes joined in. One of my aunts taught piano and offered free lessons to my siblings and me. Starting in Jr. high, I began playing drums in the high school band as the school provided the instrument. I received a $12 acoustic Silvertone guitar one birthday and taught myself to play. We also had an old hand-me-down record player. I was the family member going to the record store in Grandview to buy 78-rpm rock 'n roll records. The store clerk was the mother of Dick Ruthardt, bass player of The Rumblers … one of the area's first teen rock bands. She was strongly aware of my interest in music and introduced me to many great records not heard on any local radio stations, including Little Richard and The Cadillacs. Inspired, I eventually acquired a solid body electric guitar and electric bass. Meanwhile, my brother was attending Gonzaga University in Spokane and in 1957 he acquired tickets for a huge rock 'n roll show at the Spokane Coliseum.
One of my better memories, during this period, involved taking the train to Spokane to attend this really spectacular concert featuring Chuck Berry, Fats Domino, Lavern Baker, Bill Doggett and more. Attending this show was truly a pivotal moment. It helped solidify the idea that I wanted a career in the music industry. At the time I had no idea what that career might entail or where it might take me. All I knew is I just wanted to go there … wherever "there" might be!
While attending school in Yakima, I became friends with a schoolmate Mike Mandel, a blind piano player who was a couple of years younger and a truly remarkable musician. Mike played piano in the style of Jerry Lee Lewis, Little Richard, Ray Charles and Fats Domino. He was extremely talented for his age. We often got together as Mike played for me the latest hits he'd taught himself on piano. He went on to owning a recording studio in New York City and having a successful career in jazz, including keyboardist for the award winning jazz/fusion guitarists Larry Coryell's band, The Eleventh House. A favorite Mike Mandel memory of mine happened a number of years after high school. Mike and I hadn't been in contact for years. I'm fairly sure I was in Seattle for the World's Fair when I heard a radio ad for an Etta James appearance at a Seattle jazz club, accompanied by a group headed by Mike. I, of course, went and during the group's intermission, I approached Mike and said nothing more than "Hi Mike"! Now remember, Mike's blind and we hadn't had any contact since we were both playing in Yakima bands many years earlier! Mike's immediate response, over the din of that night club was, "Hi, Jim! How you been?" Let me tell you, it truly blew my mind! He really was an all-around remarkable guy!

After high school Mike was in the local (Yakima) rock band The Checkers with Coryell and I was in two different area rock bands; Jimmy & The Pacers and The Emanons. Jimmy & The Pacers was a band I led, performing mainly in the Pullman and Moscow, Idaho (University of Idaho) area while I attended WSU.
We played frat parties, dances at the Compton Union Building (CUB) on campus and a few high schools in the area. I was fortunate to have some really great talent cycle through The Pacers, including Hal Lotzenhiser (guitar) of the Spokane band The Demons and Les Clinkingbeard (sax) & Ned Neltner (guitar & vocals) who later gained fame in the Seattle area and on records with their band Jr Cadillac. My band's name (The Pacers) had nothing to do with the NBA team. It was a tribute to the Yakima musician Jerry Merritt (eventually inducted into the Rock-a-Billy Hall of Fame) once his band, the original Pacers, disbanded and he became the lead guitarist for Gene "Be-Bop-a-Lula" Vincent & The Blue Caps. Both versions of The Pacers existed at least 8 years prior to the creation of the pro basketball team.
I also played bass in a west coast style jazz group, The Norm Bellas Quintet, during this period. Norm, who played vibes, piano & baritone horn, also had some great musicians cycle through his group, including saxophonist Les Clinkingbeard and trumpeter Marcus Doubleday. Mark went on to play with Jimmy Hanna & The Dynamics, in Seattle, and  eventually with the Columbia Records group (headed by Mike Bloomfield and then drummer Buddy Miles) The Electric Flag.
Back in Yakima (1960-61), I formed a band with high school friend, drummer John Simpson. We played our first gig (following a high school basketball game) before we'd decided on a band name. The school was anxious to promote the dance and asked for our group's name. On the spur of the moment, a band member told them The Emanons (simply "no name" spell backwards) figuring it would be a one-time thing, but to my personal chagrin the name stuck! Our repertoire consisted of some original tunes, but we mainly played covers of the Top-40 hits of the day. Ray Charles' "What'd I Say" and the Rockin' Robin Roberts arrangement of "Louie Louie" were always requested and a must at every dance. We played around Yakima and the Yakima Valley, including a new Yakima teen dance venue, The Enchanted Gardens, which KIMA deejay "The Real" Don Steele was somehow involved with.
Steele (nee: Donald S. Revert) came to a number of our dances to introduce The Emanons and then disappeared for the rest of the night. There was a legendary Steele story that made the rounds at the time. Told to our band by a friend of The Emanons who frequently helped carry in our equipment at gigs. He was also a "radio groupie," hanging out at KIMA during Don's airshift. In the 50s, teens with customized cars would "drag the Ave." (Yakima Ave.) from the Dairy Queen on the east side, to the Frosty Freeze on the west … blaring music from KIMA on their radios…reminiscent of scenes from "American Graffiti." One evening after Don's shift, this "radio groupie" friend accompanied Steele, in his Cadillac, to "drag the Ave." Don was cruising along a little too quickly and was pulled over by the police. The cop was approaching Don's driver side window…but before he could say a word, Steele indignantly declared: "Do you know who I am?! Do you know WHO I am?! I'M "The Real" DON STEELE!!!" With each line delivered, Don's voice rose with indignation and annoyance. According to our friend, the officer wasn't impressed and, alas, Steele was ticketed. Based on our personal interaction with "The Real" we found the story to be totally credible. I figured Don had simply neglected to leave his "on-air persona" at the station! There are those who say Steele never used "The Real" moniker at KIMA-Yakima. All I can say, in response, is it's an absolutely clear memory of mine…and that's for real!

Meanwhile Back In LA
My friends John and Ruth Carver we're amazingly accommodating. I stayed with them until finding a place of my own in the Fairfax District of West Hollywood. It was mid Nov. '66. I'd heard about a weekend deejay position at KACY Radio-Ventura/LA, which I applied for and got. I wasn't at KACY long before I discovered the perfect introductory music business position in the heart of Hollywood. Deejaying at KACY eventually became history once I began promoting records. There was some feelings of a conflict of interest!
I'd mentioned to Irwin Zucker, of "Promotions In Motion" in Hollywood, that I'd be coming to LA. We'd established a phone relationship over the years. Erwin had recognized me as the first west coast Radio Music Director to add "Psychotic Reaction" by The Count Five to our station playlist. It went on to become one of Zucker's major promotional successes peaking at #5 on the US charts that year. I gave him a call and he invited me to lunch. When I explained my plan to become a permanent LA resident, he suggested I contact Don Blocker, who had recently left his position as head of Liberty Records and launched his own record distribution/promotion firm. I called Don, interviewed and joined the staff of Talent Artists Productions (TAP) the day following the interview.
Don's office was located on Argyle near Hollywood Boulevard. I soon discovered that was how the Hollywood Argyles, of the hit record "Alley-Oop" (#1-1960), got their name. Kim Fowley, independent producer of "Oop" (with Gary S. Paxton) was a frequent visitor at TAP. Kim struck me as an odd bird but a great source of LA indie producer methods and history. Perhaps better known for his connection years later with Joan Jett & The Runaways, Kim had also been producer of Skip & Flip – "Cherry Pie" (1960), B. Bumble & The Stingers – "Nut Rocker" (1962) and "Bumble Boogie" ('61) … among others. He'd enjoyed a successful career during the early hayday of indie producers. He was exactly the type of guy I'd hoped to meet and mine for data.
I told Kim, coincidentally, I'd met Skip (of Skip and Flip) in '64 while stopping for a beer at a place on Sunset Blvd., while I was attending The Don Martin School of Radio & TV Arts & Sciences in Hollywood. (Sidebar: the same Radio School "The Real" Don Steele had attended). Skip was the only other customer seated at the bar and eventually we began to converse about radio and records, leading to the revelation that he was Skip of Skip & Flip. I discovered years later he was Clyde "Skip" Battin who'd become the bass player for the Flying Burrito Brothers, The Byrds and The New Riders of The Purple Sage. Skip's career and physical appearance is a perfect example of the culture shifting dynamics from the early to late 1960s in LA and throughout the music business, before and after The Beatles first appeared on the music scene.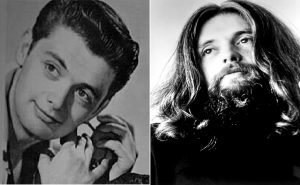 Don Blocker was the perfect mentor. He owned and loved his '64 blue Mustang convertible, which we'd cruise Sunset Boulevard in weekly. As a young man he'd left Omaha, Nebraska coming to Hollywood in hopes of becoming a movie actor. He'd gotten a job at a record store, at the corner of Sunset and Vine, to pay bills and ended up in the music business for decades. He'd been Director of A&R for Liberty Records from 1963 to the fall of '66 when he opened TAP. He knew, and was friends with, a remarkable array of music business people. His closest friend was record producer Snuff Garrett ("Run to Him" (#2-'61) ~ Bobby Vee, "This Diamond Ring" (#1-'65) ~ Gary Lewis & The Playboys, etc.). I recall Snuff (a former Texas DJ and eventually a member of the Texas Radio Hall of Fame) inviting Don and me to lunch and upon arriving at the Italian Restaurant he introduced us to his lunch companion…Petula Clark ("Downtown" #1-'64)! I'm in LA less than 3 months and here I am having lunch with Petula Clark, the biggest female star (next to perhaps Dusty Springfield) who was part of the British Invasion! It was difficult, but I tried not to stare too much over lunch…but I may have gasped out loud!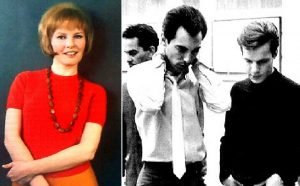 I met and worked with Brian Ross (Bercov) indie producer of The Music Machine ~ "Talk Talk" – who was a TAP client. Other clients included old-time film star Mae West who I briefly met while delivering to her apartment some of her Christmas LPs we were promoting. Shades of Mae West's famous movie line: "Why don't you come up and see me sometime"?… but not quite. ("Is that a gun in your pocket or are you just happy to see me?"). Her door was answered by her long time companion Paul Novak, a 40-something Muscle Beach type, who ushered me in for my brief meeting with Ms. West.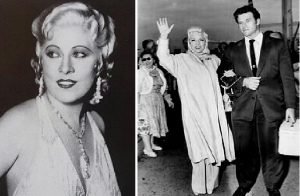 Don Blocker was already familiar with Northwest recording artists. He'd worked with The Ventures and The Fleetwoods at Liberty. So, it wasn't surprising to me that Tacoma's Fabulous Wailers were clients. Band members frequently stopped by TAP and singer/keyboardist Kent Morrell and bassist Buck Ormsby and I would reminisce about our home state and the music it produced. Kent and I had a mutual friend he knew from his days at Tacoma's Bellarmine High and I'd met at WSU. TAP introduced The Wailers to Andy DiMartino ("Rhythm Of The Rain" #3-'63 ~ The Cascades) who produced their next two albums.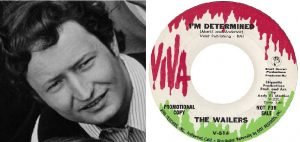 Don sent me on pilgrimages to Southern California radio stations with an armload of records we were promoting. I enjoyed connecting again with radio and music. For sure, radio was still in my blood. However, around this time, I began to notice the 24/7 aspect of running his own business was wearing on Don. Shortly after joining TAP he moved our officers to new digs on Cahuenga Boulevard. He'd gotten a tremendous lease deal on the new space. Then he began receiving overtures from Columbia Records to join their staff. For me, my experience with Don had been extraordinary. I had met a staggering array of Industry people and gained invaluable insight concerning the dance of the indie producer. Even our office manager, Jo Ann Marks, who'd worked with Don at Liberty, was a splendid source of record industry information. Her son David Marks, was one of the original Beach Boys (2nd from left – Beach Boys 1963 "Surfer Girl" album cover). David offered me genuine introspection into the ups and downs of fame in the industry.

 Tapped Out
Don eventually began talking about folding TAP, for other options, and suggested now might be a good time for me to begin pursuing my indie producer dreams and he would happily help in any way he could.  I left TAP and began setting up Jay Hamilton Productions. Brian Ross told me he'd only spent
$150
at RCA Studios to record and produce "Talk Talk" and its flip side. He then submitted the record to nearly every record company in LA and New York, but received only rejections. As a last-ditch effort he took it to Art Laboe at Original Sound Records; a smaller record company specializing in oldie but goodie releases. They had had a top-5 hit back in 1959 with drummer Sandy Nelson's "Teen Beat" and a #14 that same year with "Bongo Rock" by Preston Ebbs, but nothing since then. So, it was a little surprising that Art (another former deejay at KDAY/KPOP, etc.) decided to take on "Talk Talk." The record eventually became a Top 15-US hit. Brian often emphasized these points to me. Keep your recording costs low and never ever give up seeking a record release deal.
While at TAP, Brian graciously gave me the chance to be an assistant producer at a number of his recording sessions. Through him I met a number of local musicians, songwriters, legendary LA recording engineers and artist management people. John C Farley III, manager of the band Rain (whom Brian had produced) approached me and offered his services (gratis) with Jay Hamilton Productions, in an effort to widen his knowledge in that field. John was familiar with the LA music scene and could connect me with local bands and musicians. Gratis sounded pretty good to me!
From this point until early July 1970 my life became a whirlwind of activity. I don't believe I've jammed as many projects into my life, in such a short period of time, ever again. At the time, It seemed very laid-back and normal. It's only in retrospect that I'm completely astounded by my many activities. I suppose it reflects the energy level of someone in their early 20s.
I'd set money aside for Jay Hamilton Productions operating costs, but personal monthly expenses still need to be covered. So, just as Don Blocker had done when he worked at the record store to supplement his early LA income, I began seeking an additional source of revenue. Through an ad, in either The Hollywood Reporter or Variety Magazine, I applied for and got a position with Mattel Toys. I had already signed a number of artists and songwriters to my Production/Music Publishing firm. I'd completed several recordings and was seeking record company deals, which involved a lot of wait and see. I worked at Mattel during the day and continued with my record studio projects in the evening. John Farley filled in for me when needed. My Mattel supervisor was super accommodating, and graciously allowed time off when needed for my music business.
Toy Story 0.5
M
attel was easily the best job ever! The only drawback…it only occasionally involved music and eventually it would peter out. One of the better aspects of working at Mattel was their attitude. They hired what they considered creative people and left them to their own devices to implement their creativity. Nobody ever looked over your shoulder. Once familiar with the parameters of the job, supervisors left me alone to complete assigned projects within a reasonable time. They completely trusted my methods and creative abilities. Many broadcasting skills (especially production room skills) came in handy at Mattel.
I was employed as a writer/producer in the Research & Design Department ~ Talking Toy Division of Mattel Toy Company in Hawthorne, CA.  If NBC-Burbank was as secure as Mattel R&D, I would have never been capable of conducting my "self tour" of that network giant back in 1962. Everyday, upon arrival at Mattel, I was required to show my R&D security badge, sign in and only then did a uniformed guard push the magic button to allow me access to Mattel's R&D Department. In 1966 the toy business was a super competitive, super secretive and slightly ruthless business. Employees informally took vows of secrecy concerning any of our activities behind those closely guarded doors.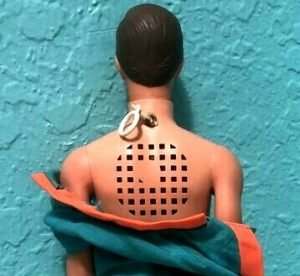 The technical aspects of my job were, let's say, complicated. On the creative side I wrote dialogue scripts for newly created talking toys I was assigned. I'd audition and record voice actors to perform those scripts … choose the actor for the toy's voice from those auditions … then supervise the final recording sessions of the finished script. When completed, I'd prepare those tape recordings for transfer to the toy's voice unit. There were no computer programs to handle any of these details, so these preparations were the technical aspects. Now remember, I was with Mattel in 1966 and although the first microchip was invented in 1959 it wasn't until 1975 that Microsoft began, so this is a decade or more before anyone would see anything like "talking greeting cards." All types of technical advances, for the most part were still lingering in the world of science fiction, but not in 1966 facts. These technical features of my job were still very primitive compared to even the early 2000s. However, if you'd enjoyed using a radio station production room (of that era), producing radio commercials and the like, this was absolutely pure fun! If you were the least bit competent at using a razor blade to splice audio tape and understood how to use a VU-meter and what decibels were…then any of the technical aspects of this job (thought a wee bit complex) were a breeze, but certainly not riveting reading. Unless you're a big fan of Ikea Instruction Manuals!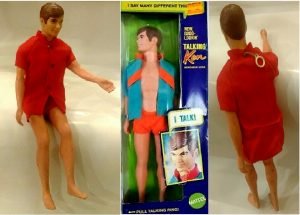 It was unusual for a writer/producer to become the voice of any Mattel toy. Nevertheless I was the voice of several. My first voice was of Barbie's boyfriend Ken. It wasn't one of my assigned projects, but when Mattel auditioned voices for the soon-to-be-released talking Ken doll, they asked me to make a sample test recording, because of my baritone/bass voice. Previous recordings, using actual young teenage boys, resulted in high-pitched, more female, sounding voices in the petite voice unit and speaker developed for the compact body of the toy. They tested to see if a deeper voice would sound more male in the tiny unit. My test recordings we're so successful it was decided there was no need for further voice talent auditions and Mattel made the decision to use these tests recordings for Ken! When I was no longer a Mattel employee I continued to receive call backs to record dialogue for updated versions of Ken. I was also asked to be the voice of Major Matt Mason, Mattel's astronaut.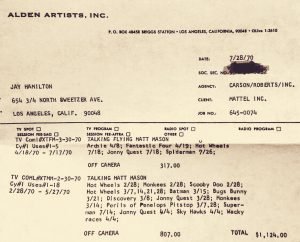 For a number of years I received residual checks because of national television commercials using my voice as Ken and Matt. I also wrote dialogue and did the cartoonish voice for two talking "plush toys." Plinky Plunker, a talking piano, and Boomy Boomer a talking drum. I also recorded the voice for a pirate and a clown on different Mattel See 'n Say toys.

The first Christmas, following the release of the talking Ken doll, my mother was visiting my sister in upstate New York. They were Christmas shopping in a large department store and found themselves in the toy department. When my mother saw the Ken doll display she began pulling the string on the doll to hear my voice. Eventually a salesperson approached her to ask her if she could be of assistance. My mother pulled the voice activating string one more time on the doll, listened to my voice, and proclaimed to the sales clerk "that's my son!" The deeply concerned look on the sales clerk's face told the complete story. From her point of view she was dealing with one crazy lady! My sister and mother left before the clerk had time to call for backup from store security!
Because the main apparatus in the talking toy unit is basically a petite phonograph record, in 1971 Gwen Florea (the voice of Barbie) and I were given the tongue-in-cheek award, by Mattel, of a Platinum Record Award for over 5 million records sold! By 1971 I was no longer with Mattel so my actual award wasn't much more than a good story to tell.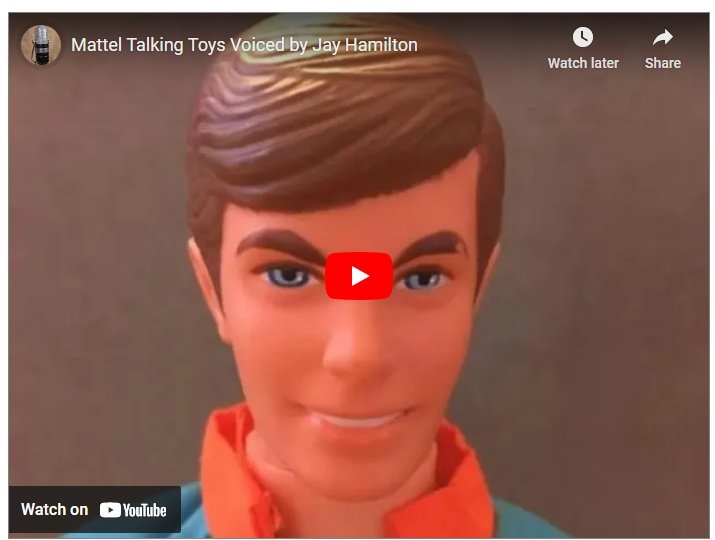 Mattel Talking Toys (Run time  2:12)
Name Dropping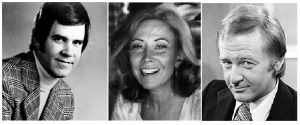 So, what would be the purpose of being in a business that allows you to come in contact with numerous celebrities, ne'er-do-wells and interesting people without doing a little name dropping here and there? So, let me get to it!
While at Mattel I was continually amazed at the quality of talent who auditioned for "only the possibility" of becoming the voice of a Mattel talking toy. For example, one of my projects involved writing dialogue and securing voice talent for a talking fat little piggy bank. This piggy bank would make a comment each time money was dropped into its coin slot. Because of extensive production costs, the toy was never actually produced. However, that particular project offered me the opportunity to spend an entire afternoon with some of the best voice talent in Hollywood … each hoping to become the voice of a Mattel talking piggy bank! Auditioners included the great and funny KMPC Radio deejay, Rodger Ramjet's cartoon voice and TV's "Laugh-In" star Gary Owens. Plus, two of the best comic impressionists of that or any era … Rich Little and John Byner, who both frequented the "Johnny Carson" and "Ed Sullivan" television shows. June Foray, one of Hollywood's most prolific voice talents, who was the voice of Rocky Squirrel, Natasha and a ton of other Hanna Barbera characters, was also at the day's tryouts. She'd been the voice of Mattel's very first talking toy, Chatty Cathy.
For years I had a hilarious tape of outtakes from this remarkable afternoon, but regrettably it was lost somewhere along the way. I do, however, recall my favorite Gary Owens bit Included on that tape. It began with Gary saying, in his trademark absolutely official sounding radio announcer delivery, "We now take you to Earl C. Festoon in the fish tank aquarium in our beautiful KMPC lobby for today's address." He then placed his index finger lengthwise between his upper and lower lips and rapidly moved it up and down, mimicking the sound of someone speaking from underwater. (You can try this is at home if you like. The bit is funnier if you do). Then in this gurgling voice he said,  "Thank you very much. Now, here is today's address … which is 5858 Sunset Boulevard, Hollywood, California! (pause) Now we return you to our regularly scheduled programming!" It was absolutely pristine Gary Owens shtick! Both of the comics ran through impressions of everyone from Ed Sullivan to Jimmy Stewart to Porky Pig.
From 1968 to 1971 "Julia" was a popular and groundbreaking NBC sitcom. It starred Diahann Carroll, the first Black person to star in their own TV series. Her character, Julia, was a nurse and Mattel was already producing a Julia doll similar to the Barbie. I was lucky enough to supervise Diahann Carroll's recording session for this new talking version of Julia. What an extraordinarily charming and strikingly beautiful woman she was! It was such a pleasure and really lucky opportunity for me to work with her on this project.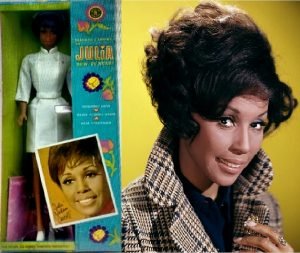 In reality, the great pleasure of my time at Mattel was my coworkers. Like me, a few had radio backgrounds and a few came to LA with hopes of careers in showbiz, but all were talented and exceedingly clever. My favorite was my friend Jeff Ehrhart, who'd come to LA from Bloomington, Indiana and had worked for a time as a page at one of the major TV networks. To my mind he was a comedic genius. Mesmerizingly clever, his comedy was both visual and oral. Jeff could make it appear nearly any object he'd attempt to hand over to you would somehow become stuck to his fingers. He would frantically shake his hand, attempting to loosen it but eventually he'd use his other hand to pry it loose … and sometimes it would become stuck to that hand! I attempted numerous times over the years to master that technique, but always failed miserably. If forced to compare his original comic style, it would be closest to Steve Martin's weird off the wall approach. But for me, at the time, it was entirely unique because Martin's comedy wouldn't show up until eight years or more later. We remained friends long after both of us left the toy company. Because producer/host Chuck Barris was a huge fan, Jeff often appeared on his zany TV game show series, "The Gong Show," as his bizarre character The Trumpeting Fool, who would often times appear with his equally bizarre background singers The Fooletts. Jeff should have been a stand-up comic. He was so very clever and hilarious. Each Christmas, for years to follow, I anticipated receiving his self-created, self-deprecating Christmas cards, usually built around some totally awful, yet priceless, pun.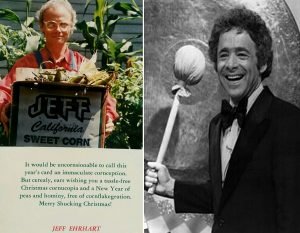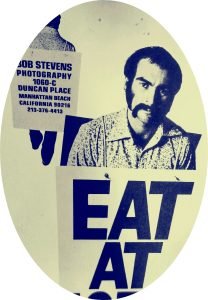 Sharon the secretary for our division at Mattel was married to a young aspiring photographer named Bobby Stevens. Bobby and I had a lot in common, including our sense of humor, and became good friends. He was the owner of an orange/rust colored dog named Peaches and a great cat named Merkin (look that one up in your dictionary)!  As an apprentice/intern for a successful LA photographer he was allowed to use those studios after hours to practice his art and put together a portfolio of his own work. Bobby asked if I'd consent to him taking photos of me for that portfolio and I agreed. He really was a natural and had a great eye for photography. He went on to become a very successful photographer in Hollywood and had a studio of his own on Santa Monica Boulevard, directly across from the famed live music venue, The Troubador. I remember, even quite early in his career, one of his clients flew him round trip to Germany just to photograph a house!  I'm proud to say my friend "Bob Stevens • Photographer • Director" continues to be one of the more successful visual and print advertising photographers and directors in Hollywood. If you'd like to take a peek at his work, here's a link to his website: http://www.bobstevens.com/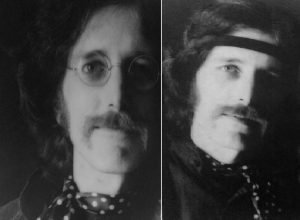 Also among my Mattel coworkers we're Gary Grayson and Dick Zimmerman, two professional magicians, who both frequently appeared at Hollywood's famed Magic Castle. I'm unaware of the protocol today, but in the late 60s an invitation was required from a magician member to enter The Castle. Gary and Dick often invited coworkers to the exclusive Hollywood night spot. After entering the main lobby our magician friend said the "magic words" which opened a secret passageway, hidden in a bookcase, to enter the actual club where several magicians were continually performing. Obviously I went every chance I got and it really was a very magical place!
Carla (everyone called her Chuckie) another favorite co-worker at Mattel, was married to a talent agent at the William Morris Agency. Because I already had some successful voice work at Mattel he signed me to a contract representing me as a voice talent.  We put together an audition tape of my voice work for him to use. Regrettably, I wasn't able to devote much time and effort in this area because of multiple pans in multiple fires. Simply, I was spread too thin. He showed a real interest in helping me succeed in the lucrative voice talent field in Hollywood, but I simply didn't devote the time necessary to validate his confidence in me. I did remain signed to William Morris, but as you might expect his enthusiasm eventually shifted to concentrating his efforts on his more involved clients, which seemed completely reasonable to me.
Among my other talented Mattel co-workers was Alex Valdez, lead singer of the pop group The Yellow Balloon who had the 1967 hit "Yellow Balloon" on Canterbury Records. [Sidebar: Canterbury Records was owned by Ken Handler. Ken was the son of the owners of Mattel and the namesake of the Ken doll.]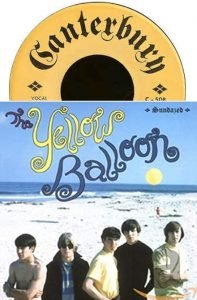 One of my more unexpected encounters with Hollywood talent happened directly across the courtyard at my apartment complex. My neighbor Connie Cezon owned a pet supply store directly across the alley and fronting on Melrose Avenue. We became good friends because we were both cat owners. I had a great cat I'd acquired while at KPUG in Bellingham. A listener called the station asking if I'd announce she had a cat to give away. She was moving and was unable to take the cat with her. That cat ended up with me. Connie had more cats than I could count. However, her real claim to fame was her long career as a television and movie actress. Her credits included the role of Gertie, Perry's office receptionist, on the "Perry Mason" TV series. There were also many appearances on both the old "Abbott & Costello" and "The Three Stooges" TV shows. She was a wonderful comic foil. She had tons of minor roles in motion pictures and was the screen double for famed actress Bette Davis. Episodes of those old TV shows, featuring Connie, often show up on cable television. She shared with me many wonderful stories about her career and the people she worked with. We became good friends/neighbors during my time in LA and she also bestowed many free gifts, from her pet store, on my cat.
 What's It All About Alfie?
My friend John Carver was employed at KABC as a studio engineer. He'd auditioned at a repertory theater in Venice/Santa Monica and suggested I should attend their next tryout. I had done theater in high school and college and enjoyed performing on stage. My production firm was shopping our product to major record labels and developing new songwriting material with writers we'd signed, so at the time I felt I had a window of opportunity to try my hand at acting again. I auditioned at The Bryzin Playhouse and the next thing I knew I had joined a repertory theater group.

I was involved in a number of plays over the next few months, but my favorite role was that of Humphrey, in the west coast stage premiere of English playwright Bill Naughton's "Alfie." I even received some positive reviews for that particular performance. Eventually, because of my involvement with my record production company, I was forced to turn down even minor parts at Bryzin. Unfortunately it became impossible to continue with both my company and the theater group. I had left radio to do music and when push came to shove music always won out.
 Mustachio Music
Jay Hamilton Productions eventually evolved into Mustachio Music. I'd signed a number of artists, done recording sessions and shopped masters to record labels. John Farley and I became full partners in this new endeavor. I covered the artistic side (supervising recording sessions, working with songwriters and song arrangements, etc.) while John's focus was the business side at Mustachio. John was also a second ear during the recording process. We eventually discovered a great recording facility, Whitney Recording Studios, in Glendale. The studio was known for its huge pipe organ and was used primarily by religious choirs and musical groups. Their studio engineer told me we were among the first rock acts to record there. By 1978, however, the studio gained such a positive image it was purchased by MCA and everyone from Aretha Franklin to Captain Beefheart recorded there. As a nod to radio, every recording studio control room we used featured a small car radio speaker for use during final mastering so we could hear how our mono mix would sound on the average car radio.
The first act signed to Jay Hamilton Productions was an all-female rock band which had just been released from their Capitol Records contract. They had a 2-record deal with Capitol, but never cared for the musical direction the label had taken them. They'd performed under a number of different monikers, including The Moon Maids, The Four Queens and The Girls.  Based on the musical direction they were aiming for, we recorded them under the name The Paisley Flower. The band was comprised of sisters Diane, Margaret (Margie), Rosemary, and Sylvia. I was apprehensive about the feasibility of getting a major record label interested in an all-girl rock band, but I wanted to give these talented females our best shot. Joan Jett & The Blackhearts didn't have their 1st hit, "I Love Rock 'n Roll," until 1982, The Bangles had their first #1, "Walk Like An Egyptian," in 1987 and even Heart's "Magic Man" didn't happen until 1976 … nearly 10 yrs after we signed our all-female band…and technically speaking Heart isn't an "all-girl" band. While shopping our first Paisley Flower master and receiving a "sorry they're not quite what we're looking for" turn down from Terry Melcher (the son of singer/actor Doris Day) at Columbia Records, I left his office and headed for the elevator. Before the elevator actually arrived, Terry appeared and joined me for the ride down. It was the standard elevator ride with no talking and eyes forward. However, all the way down Melcher, apparently unaware, kept humming the melody to The Paisley Flower song he'd just turned down! A little bizarre maybe, but funnily enough this was typical! When I went to Elektra Records they seemed more interested in playing for me their most recent acquisition … rather than giving my acetate an honest listen. The song they played, by a new group they'd just signed, was "Light My Fire" by The Doors!  There was a similar incident at Atlantic/Atco Records. After listening to our Paisley Flower single, they were anxious to play me a tune titled "New York Mining Disaster 1941" by their recent signees The Bee Gees. Both labels kept copies of my acetate, saying they'd get back to me, and eventually turning it down with similar explanations of "no new signings right now." I did get feedback from a few labels with the belief an all girl rock band couldn't be commercially successful, although they'd personally liked the recording. My feeling was the public was probably ready, but record labels didn't want to put forth the time and effort to see it happen.
These stories of shopping our record production product to major record labels are examples of almost scripted routines over my time in Hollywood. Labels would appear to be super enthusiastic about a particular recording, giving me high hopes, then for a multitude of reasons their interest waned. Sometimes it was simply that my contact at a record company would leave that label before a deal was finalized.
Our main focus, once we shifted gears to Mustachio Music, was the rock trio formerly known as Rain. My partner John had been their manager when Brian Ross was their record producer. They'd had a couple of releases on London Records. The band consisted of three terrifically talented young musicians: Larry Self, Greg Ciebiera and Bobby Metke. They were all first-rate rock songwriters. They all had excellent voices and harmonized well. The first time I saw them perform I was simply blown away. Larry's lead guitar was as strong and original as anyone I had ever heard. Greg played a Paul McCartney style Hofner bass and was excellent. Drummer, Bobby "Crusher" Medke, is still one of the absolute best drummers I've ever seen. Bobby nailed down his trap-set to the stage before every gig and beat the crap out of those drums with the most beautiful precision! I truly felt incredibly lucky to have signed them to Mustachio. Gene Krischer, a charismatic singer with a Mick Jagger stage presence, was added to the group and we began heavy rehearsals under the new group name Foxglove. Foxglove is a flower, but it's also the source for digitalis which is used to get a stopped heart beating again. We felt that if any rock band could get your heart beating … this was the band!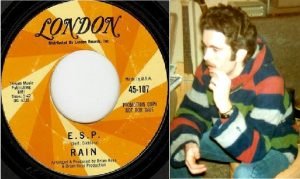 Their sound was part Beatles, part Cream … but definitely all Foxglove. We arranged bookings at several clubs around LA and the audience response was phenomenal. We were all set to book recording studio time, when our new lead singer, Gene Krischer, was offered a major role in the Hollywood production of the Broadway musical "Hair" at the Aquarius Theatre on Sunset Boulevard. It absolutely wasn't something he could turn down at this point in his career. Gene remained a cast member of "Hair" through its long LA run and with the show's touring cast into the '70s. His acting career continued, including appearances on TV's "Kojak" and "Wonder Woman."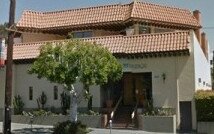 Gene's split from the group eventually evolved into a slow disintegration. Musicians, like the rest of us, have bills to pay. Larry and Craig had significant others who'd been the main breadwinners, while the boys pursued their careers in music, but their patience was drawing thin. Bobby Metke's drumming talents were being courted by a number of Los Angeles rock bands. So, the Foxglove project got put on hold. Larry, in the meantime, was working on a concept album idea; "TOA • These Are One." We booked studio time and recorded most of the instrumental tracks, but hadn't added vocals, when I contacted Gil Bateman at Elektra Records, in hopes of getting label interest in the project. I'd known Gil from our days when we both were involved with Jerry Dennon at Jerden/Panorama Records, in Seattle. After listening to what we had, Gil was positive and offered to play the tape for others at Elektra and get back to me. Of course, it wouldn't be the only project on Elektra's table, so it could be awhile before I would hear anything … if at all.
I have little recollection of when I met publicist Billy James. I was aware he'd written the liner notes for The Byrds first album "Mr. Tambourine Man" and been involved In the LA music scene for some time. Somehow we met and somehow our conversation got around to songwriting and songwriters. Billy graciously invited me to his place in Laurel Canyon to show him some of my songs. He gave me directions, we set a date, and I put some songs together to run by him. When I arrived at his place, I was aware someone was rehearsing songs in a lower level of the house. We spent an hour or so talking music and playing tunes. Although Billy was very kind and hospitable, he was also somewhat distracted by the music emanating from below us. He'd offered me a few brief critiques of my songs and made suggestions. As I was preparing to leave, he mentioned the singer I could hear was someone he'd just made a record deal for at Elektra Records. The singer was currently working on material he'd written for his first LP. He said his name was Jackson Browne!  At the time, I had no idea the music Jackson was working on would eventually become one of my all-time favorite singer/songwriter LPs. I swear, a year or so later when I had the opportunity to listen to that album, the song "Doctor My Eyes" sounded hauntingly familiar to me!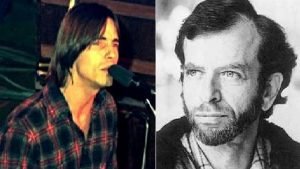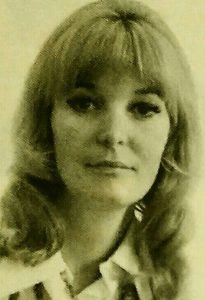 Gwen Florea,  my supervisor at Mattel and the voice of the talking Barbie Doll, was getting married. The wedding itself was a small private affair, but the reception was hosted by Jack Ryan. Jack was the multi-millionaire inventor of the Mattel "voice unit" for their talking toys. Among other achievements, he'd eventually become (I believe) the 6th husband of actress and Hollywood socialite Zsa Zsa Gabor!  I was no longer at Mattel but Gwen and I were good friends, so she sent me a special invitation to this soiree. My photographer friend Bobby Stevens and his wife Sharon joined us and as we arriving at the gate to Ryan's mansion in the hills above Beverly Hills, I was required to present my special invitation to valet parking who then parked my car. We all walked up a winding drive to Jack's house. What followed was truly a stunning experience. It was as if we'd found ourselves in the midst of a huge international party in a James Bond flick. Some of the partygoers were friends of Gwen's, but most were friends of Jack's. There were folks of every persuasion and nationality. From second-tier movie personalities, to long-haired hippies, to ladies draped in jewelry, to ladies draped in hardly anything. There was a combo playing dance music and people dancing. A constant supply of hors d'oeuvres came our way. People were smooching, laughing, a wee bit tipsy and some were smoking weed in the courtyard. We collected a plate of food and headed for a stairway leading to a remarkable tree house in an enormous tree where we'd spend most of the evening people watching. From that perch I eventually saw Gwen, congratulated her on her day and thanked her for the invitation and the opportunity to see Jack's remarkable home. She said Jack had insisted on throwing the shindig (as it wasn't her idea) but it was difficult turning down his invitation without seeming ungrateful. She invited me to her "real wedding reception party" at her small apartment in Manhattan Beach the following week. In 2001 Gwen wrote a book titled "Barbie Talks" about her life and career as supervisor of the talking toy division at Mattel.. The closest thing to a mention I received in her book was at the bottom of page 396 where she writes: "Gwen had added several more employees to her department. She almost had an equal number of men and women working for her."  Well, I'm here to tell you, I was one of the men!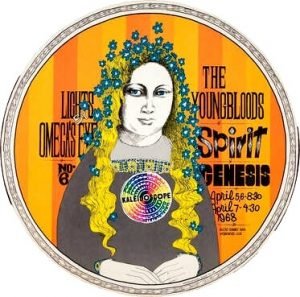 One day I received a call from drummer Bobby Metke. I was aware that after Foxglove crumbled, Bobby had joined a band named Genesis and they had released an album on Mercury Records. (This was nearly 10 years prior to the British band of the same name.) Bobby asked me if I would produce their next recording sessions. I felt this could be a great opportunity for Mustachio, so I accepted and booked time at Whitney Studios. This was around the time Cream and Jimi Hendrix we're making their initial impact on the music scene. Genesis had one hell of a guitar player named Kent Henry. They had a girl singer, Susan Richman, with a nice voice and a folk/rock delivery. Jimmy Chappelle was their bassist and Jack Ttanna was their front-man/singer who'd been well-known around the LA music scene for years. Jack also wrote most all their material. We'd booked session time at Whitney from 8 'til midnight. We soon discovered the band following us in the studio at midnight was Alice Cooper who had a reputation at the time as the worst band in Los Angeles. This was Alice Cooper when it was still the band's name (before singer Vince Fernien legally changed his name to Alice Cooper and assumed the persona) and they were being produced by Frank Zappa for their 1st two LPs on his Straight Records which left them $100,000 in debt from production costs, poor record sales and tour costs. After each of our recording sessions we'd be removing band equipment from the studio as Alice Cooper moved their equipment in and on most nights the studio would become an aromatic smoke-filled haze before we were able to exit the building. I have no proof, but I'd wondered if that haze contributed to their record sales!

Jack Ttanna had written a tune, "The Long Road,"  that Genesis wished to record about a guy losing everything to drug addiction. I hoped to embrace musically the theme set in Jack's lyrics with in-studio production features. We chose Susan for the lead vocals and looked forward to featuring the spectacular guitar wizardry of Kent. I was proud of the end result and thought the final stereo mix displayed the talents of Genesis and gave credence to my ability in studio. The final mix sounded especially strong with good headphones. Unfortunately, lightning can apparently strike numerous times in the music business. Just as we completed our master for "The Long Road," John Kay offered Kent a gig with Steppenwolf as their lead guitarist, which eventually led to the defection of other band members. So what can I do with a terrific recording by a band that no longer exists? Fortunately it didn't go to waste. My production of "The Long Road" by Genesis appears on a first-rate compilation album, "First Vibrations," on side two right between The Beatles' "Nowhere Man" and Eric Burton & The Animals' "When We Were Young"! Listening today, the recording definitely has that late '60s feel, but certainly verifies this group was one talented bunch of musicians.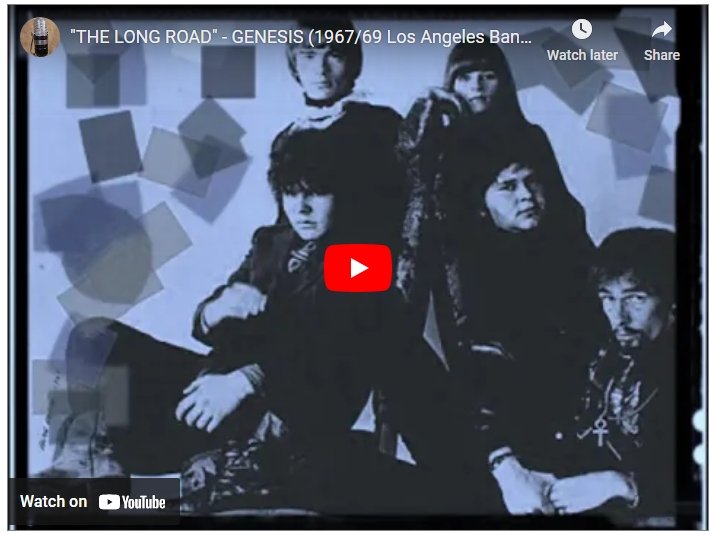 Genesis (Run time 4:50)
Time To Get Out Of Dodge
Eventually it became obvious that I may have delayed heading to Los Angeles and trying my hand at independent record production a few years too long. By the late 60s it was becoming more difficult to acquire new talent to record. Major record labels began the practice of offering fifty to sixty thousand dollars front-money packages to rock artists. The competition was fierce among major labels to sign the next big thing. Acts were holding out for their perceived big payday. Mustachio Music was able to offer studio time, plus our special rider to artists contracts allowing their contractual release if we hadn't acquired a major record label deal for them within six to eight months. As the record business entered this new phase many major labels no longer accepted outside (indie) production. The interest some majors had previously shown in Mustachio products, began to dry up as label after label shifted to an "all in-house" policy and many of my personal label contacts had moved to other pastures. Indeed there was always the possibility I wasn't skilled enough at my chosen endeavor, thus the lack of outrageous success, but, of course, I thoroughly reject that scenario!
To be clear, it wasn't just the music business experiencing big changes. This was the stimulating and turbulent mid-to-late 60s. The Beatles' music had gone from the sweet innocence of "I Want to Hold Your Hand" to the psychedelia of "Lucy in The Sky With Diamonds." This was a time of anti-war protest, "Love-it Or Leave-it" bumper stickers and Timothy Leary with "Turn on • Tune in • Drop out." It was the beginning of the Women's Liberation Movement and shoulder-length hair on men. There were Love-ins and Be-ins and John & Yoko's "Bed-In" and "Give Peace a Chance" and the Monterey Pop Festival and Woodstock. Specifically, in LA,  I personally witnessed the "1967 Century City Anti-War Protest March" from the roof of the KABC News Van with my friend John Carver (employed at KABC). The march appeared to be moving along peacefully when suddenly out of nowhere we observed police, seemingly unprovoked, running down war protesters, including little old ladies, with their nightsticks and beating them to the ground! It shook both of us to the core! John and I felt extremely fortunate to be safely atop the ABC News Van or we, no doubt, would have been beaten and bruised victims of the melee.
I was watching TV when, shortly after midnight on June 5th 1968, I witnessed Robert Kennedy's assassination at LA's Ambassador Hotel. Then, a little over a year later, Sharon Tate and others were victims of the Manson Family. For this small town kid from the Pacific Northwest, big city living was becoming measureably less attractive. On top of that the LA Basin smog problem was still basically unchecked and worsening by the day. I had also decided to quit smoking cigarettes cold turkey which turned out to be more of a challenge than I had expected … although I eventually won that battle over nicotine addiction. My little diversion to LA had not produced the results I had hoped for, but it had delivered some memorable adventures (good and bad) that were well worth this brief sabbatical into La-La Land.
So, what does one do in 1970 when all the air is let out of your dream balloon? Like many hipsters of the era I bought myself a van. Mine was a 1970 blue Dodge Craftsman. I packed it with all my worldly goods (such as they were) traded in my S&H Green Stamps for camping equipment and hit the road to start over again. But exactly where to start was the burning question. For the first time in my young life my plans forward were totally open-ended.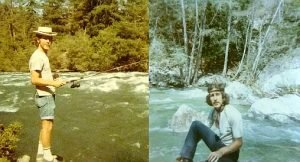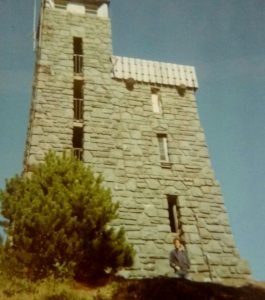 Driving out of LA there were a few things I knew. I wanted to see some of the country, do a little camping and leave any residual disappointment behind. However, beyond that I had no clue! Instinctually, I headed north, camping in Sequoia National Park, the Redwoods near Crescent City, then the Oregon Caves National Monument and eventually up the Oregon coast. Some stops were for a day or two, some up to a week or slightly more. When I reached Washington I detoured to the Yakima Valley to spend some time with my folks and then immediately headed back to the coast. While making a stop at Mount Rainier I ran into Keith Stottlemyer (Yankee pitcher Mel's younger brother who also played Major League Baseball for a few years as a catcher). I was surprised he'd recognized and then approached me as we hadn't seen each other since my sophomore year at Mabton High School. I drove on to Aberdeen and then north, camping along the coast. I continued north up the Olympic Peninsula before heading east to Port Townsend. I stayed for awhile in PT before taking a ferry to Whidbey Island, then another ferry to Orcas Island where I set up camp again. During one of my explorations of the island I took the stairs to the top of the CCC Lookout Tower (the highest point on Orcas or for that matter any island in the San Juans). From that vantage point I looked east towards Mt Baker and my favorite northwest city … Bellingham. I decided to head over to Larrabee State Park on Chuckanut Drive south of Bellingham, pitch my tent and then take a look around to see what changes occurred since I was last in B'ham.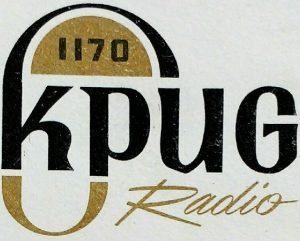 On my first day there I stopped by KPUG simply for a visit and to see who might still be part of the station's staff. Jim Tincker was still station manager. He was in his office, just inside the front door. Within minutes after entering Jim's office he offered me the position of afternoon drive announcer. I quickly explained I hadn't been on the air in years and I was obviously damn rusty … and I was currently living in a tent just off Chuckanut Drive. He was undeterred. He offered to give me time to find a place to rent and get settled. We agreed on a start date … and just like that I was back in radio!
Coming up in Part #3 of the Hamilton Saga, Jay will cover his adventures at Country KBFW-Bellingham, his time in Portland at "Rockin' Country" KPOK and in Austin at "Super Rock" K-98 (KHFI-FM) including his experiences in that Texas city during its late 70s musical renaissance. He'll give us a look at his time at Seattle's "Compass Country" KMPS-AM&FM as a deejay and then later as Promotions Director. Plus, he'll fill us in on the plethora of radio talent he worked with at the Seattle Country radio giant. He'll also cover his time as Program Director/Operations Manager in Missoula and Great Falls, Montana and his stint as a National Radio Consultant with Broadcast Programming. He'll pass along insight into his radio friends and singer/songwriter friends he made along the way.
Click on the names below to read about these broadcasters who were popular in Bellingham and Whatcom County, including nearby Canadian legend Red Robinson:
Danny Holiday (KPUG)
Dick Stark (KENY & KPUG) 
Kirk Wilde (KPUG)
Gary Shannon (KPUG)
Mike Forney (KPUG)
Jay Hamilton (KPUG & KBFW)
Bob O'Neil & Marc Taylor (KPUG)
John Christopher Kowsky (KPUG)
Haines Faye & Rogan Jones (KVOS & KGMI)
Tom Haveman (KENY & KVOS)
Red Robinson (Vancouver B.C.)