This article is dedicated to Seattle legend Pat O'Day, one of those great radio personalities who was well-known to listeners in the Pacific NW. Pat was a deejay, a manager and an amazing promoter. He is probably best remembered for his time at KJR, Channel 95. In the sixties he was the programmer behind KJR's Golden Years. Pat was also a leading force in the sport of hydroplane racing. And that happens to be the topic of this story.
Unlimited hydroplane racing landed in Seattle for the first time in 1951. The Seattle boat Slo-Mo-Shun had won the 1950 "Gold Cup" race in Detroit (Motor City, with it's Detroit River, was North America's power boat racing capital). Up until 1963, at which time the next year's venue was decided by competitive financial bids, the coveted Gold Cup race had rotated amongst cities based on the past season's champion. With Slo-Mo's victory in '50, the race was set for Seattle's Lake Washington. Slo-Mo won five consecutive Gold Cup regattas, four in Seattle and that first one in Detroit, so Motor City didn't host another Gold Cup race until 1956.
In those days, Seattle wasn't a major league sports city. There were no Seahawks, no Mariners, no Sounders, and no Sonics (yes, I know they came and went). All Seattle area teams were minor league or at high school or collegiate level. The hottest sports story would be an appearance by the University of Washington Huskies football team at the Rose Bowl. The unlimited hydros provided Seattle with its first big time sporting event. The rivalry between the longtime boat racing city of Detroit and upstart Seattle was fierce. Whenever a local hydro won a big race against a Detroit boat it was cause for a celebration in Seattle.
Hydroplane fever wasn't limited to Seattle. The "thunderboats" were the rage of the Pacific Northwest. I was a grade school kid in Bellingham and I still remember Slo-Mo, Hawaii Kai, Miss Thriftway, Miss Bardahl, Notre Dame, Tahoe Miss and others. I recall several of the drivers by name — Bill Muncey, Ron Musson, Rex Manchester and Mira Slovak. Not to leave out Eastern Washington, that side of the state likes unlimited hydroplane racing and since 1966 the Tri-Cities has hosted their "Columbia Cup" on the Columbia River.
In Bellingham, my parents and I were big fans and we watched all of the late '50s and early '60s televised races that originated in Seattle. In retrospect, hydro racing probably wasn't the best sport for a kid to watch. It was dangerous: The hydros skim along the surface of the water at speeds of 130 to 200 mph. Fourteen drivers, many of them the seemingly invincible cream of the crop in the sport, died in flips and collisions between 1951 and the 1990s. Three of those unfortunate drivers died in Seattle (Thom Whitaker and Orth Mathiot in 1951 and Jerry Bangs in 1977).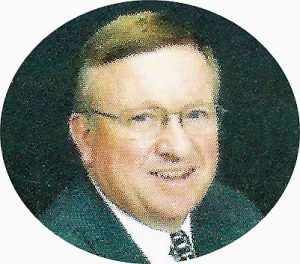 In the northwest, the hobby stores sold wood hydro kits. I was such a fan I even made my own wooden replica of "Miss Thriftway, Too." I would pull it with a stick and a string around a wading pool at the neighborhood park. Tack a large staple at the tail end and it would "roostertail." I built the hydro with my friend Ron Wright. Ron's dad was a commercial boat builder and years later Ron and his brother took over the company and it became one of the most respected recreational boat manufacturing firms in the country. Go to any waterfront port in the northwest and you will see happy owners of Ron's popular Sea Sport line of boats. Ron is still the president of a boat building company in Bellingham.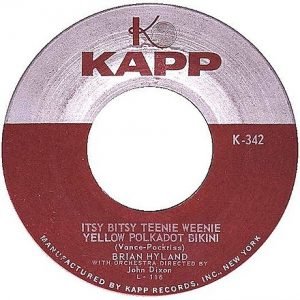 I was making toy hydros in the late '50s into the '60s. Life was simpler back then. When I visited at Ron Wright's house, he'd often have the radio on in the background and, to support my premise that those were simpler times, I'll mention that a couple of our favorite songs were "Itsy Bitsy Teenie Weenie Yellow Polkadot Bikini" and "Purple People Eater."
If you'd like another example of simpler times, here's one: In those early days of hydro racing in Seattle there was no such thing as purchasing an "exclusive right to broadcast." Any radio or TV station that wanted to go live from the race simply sent a crew. Often KIRO, KING and KOMO television stations would all be onsite, along with several radio stations.
Steven Smith in Bellingham wasn't the only youth in the state of Washington hooked on hydros. Paul Berg, a 16 year old in Bremerton, became fascinated with unlimited hydros when they floated into Seattle in 1951. Berg, of course, grew up to become Pat O'Day, a radio icon and a powerful force behind the success of Seafair and unlimited hydroplane racing in the northwest.
In his 2002 biography, "It Was All Just Rock 'n' Roll," O'Day explained his involvement with hydroplane racing. I have that book, but instead of pasting quotes from Pat's writing into this article, I'd rather let Pat tell the story in his own distinct voice. Ten years ago he appeared with Groz and Gas on Sports Radio KJR (his old alma mater had switched to a sports format in 1991). Below you'll hear a portion of that interview.
Pat O'Day with Groz & Gas on KJR Sports Radio (2010). Run Time 10:45
One of the highlights of Pat's first television broadcast from the 1968 hydro race was the appearance of singer and entertainer Wayne Newton. This picture captured Newton meeting two of the leading hydro drivers of the era.
After Pat's inaugural hydro broadcast on local television, he took the excitement of live race coverage over to radio station KJR (where he was the general manager). O'Day anchored KJR's first Seafair Trophy Race broadcast in 1969. His dynamite support team consisted primarily of KJR deejays. The live hydro broadcasts caught on and for many years they became an annual tradition at Channel 95. Here's a photo of KJR staff from the early '70s. These guys helped O'Day with the color and the play-by-play from different vantage points.
Recently, QZVX tracked down three former deejays who participated in KJR's first and second hydro broadcasts. "World Famous" Tom Murphy said, "We were the dominant Top 40 station. During the race 'heats,' as the laps were called, we went live to the race. Between heats we played records. I was on the barge the whole time in 1969 and '70. For some inexplicable reason, for both races, Pat put me in charge of color commentary. Let me admit it wasn't because I loved the event. I knew nothing about hydros, and I certainly didn't take any of it too seriously. Based on his remarks back at me during the broadcasts, it was obvious that Pat was unimpressed with the breadth of my knowledge and insight into the sport. However, he said my humor was a 'hit' and he enjoyed my contributions to the race coverage."
"The second year, the hydro broadcast landed me a job in LA radio. Broadcaster Dick Sainte was in town. Dick and I had worked together at KISN in Portland. He was listening to KJR during the race and thought my color commentary was 'funny as hell.' When Dick became the program director at KRLA in 1971, he hired me away from KJR."
Gary Shannon was another popular KJR jock. He expressed raw enthusiasm for his role at the Seafair Trophy Races: "As a 'boomer kid' caught up with Hydromania from grade school through college and beyond,  I'll never forget the staff meeting in the KJR conference room in late spring or early summer of 1969. Pat said 'we're going to broadcast the upcoming Seafair Trophy Race.' Surprise turned to excitement and finally, I couldn't wait. Pat would anchor on the barge.  I was given the north turn and John Maynard the south. Norm Gregory would report from the pits.  I remember that just prior to the Seafair race week Pat took us to the pits to familiarize us with the boats so we would be better prepared to identify them from a distance. This was a dream come true. I was so excited I couldn't sleep the night before the race. 
"My vantage point was from the deck of a home in the Mt. Baker district. I had a great view of everything from the Stan Sayers Pits to the south…Mercer Island to the east and of course the floating bridge the backdrop to the north turn. I was wound up and ready to go.  I loved it once I realized I was able to describe the boats as each one jockeyed to pick a lane to take the lead without jumping the gun. I'd give Pat an idea of how they were lined up heading to the barge. I was thrilled to be a part of a team including Tom Murphy and the premiere voice of the sport in Pat O'Day.  I still get goosebumps thinking about that first race."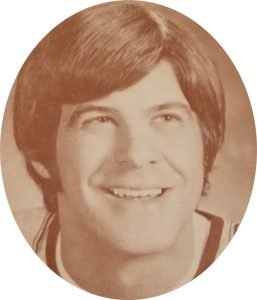 Veteran Seattle radio personality John Maynard was less enthusiastic about his role at the big boat race. When I asked if he recalled much about the broadcasts he answered, "Oh yeah, I sure can. I was stuck on top of a van/truck with a microphone in Seward Park covering the south turn. That was for three years running. O'Day would toss it to me for a report and I had no idea what the hell was coming at me. All I saw from that vantage point was a barrage of hulls and spray and nothing else. I contributed little to the live broadcasts.
"I should have expressed my disdain for my position in the field, but that was back when I was a greenhorn at KJR. And, of course, Pat O'Day was his usual brilliant and in command self. I'd like to do it all over today…I'd know just how to treat it. I'll also probably come down with skin cancer someday from the reflection off the top of the truck. I was burned to a crisp."
A newspaper ad from 1969 illustrated the locations of various members of the broadcast team. Tom Murphy was at position #3 (Tom says he was actually on the barge), Gary Shannon was at #5, and this ad pre-dates John Maynard's arrival in Seattle. His awkward spot at the south would have been #6, as occupied by Big Jim Martin.
For many years, the big hydro race in Seattle was known as the Seafair Trophy Race and it has been part of Seafair festivities. Some of those years it was a Gold Cup regatta. Seattle's race is currently called the Homestreet Bank Cup. In a complicated world, unlike in those early days of the race, exclusive broadcast rights do apply: KJR Sports Radio and KIRO TV held exclusive rights for the 2019 race.
In 2020, the hydro race and festival were cancelled due to COVID-19. In the summer, at least most summers barring a pandemic, the unlimited hydroplanes still roar in Seattle. However, it's not the colossally popular extravaganza that attracted hundreds of thousands of spectators in those peak years of the 1950s into the '70s. The number of accidents and casualties, brought home to fans on June 19, 1996 when three of the top drivers (Ron Musson, Don Wilson and Rex Manchester) died on a single day on the Potomac River, have dampened enthusiasm for the sport. Also, unlimited hydros are loud, which is less acceptable today, and there's a lot more competition for every entertainment dollar spent.
Below is a classic hydro photo. That's the KJR crew on their barge.
QZVX is capable of transporting racing fans back to bygone years. This extended length broadcast from our contributor Sam Lawson allows you to relive 45 minutes of the glorious days of hydro racing in Seattle. It features some of KJR's most familiar names: O'Day, Murphy, Gregory, Shannon and Maynard on location at Lake Washington with Bobby Simon back at the studio. We hope you'll enjoy stepping back in time to the 1970 Seafair Trophy Race.
1970 Seafair Trophy Race, Run Time 44:41
Editor's note: Pat O'Day, the impetus behind so much that happened in Seattle radio and unlimited hydroplane racing, passed away this year. This article commemorates Pat's many contributions to the quality of life and entertainment in the Pacific Northwest.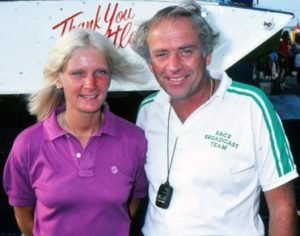 Credit: Explore Sam Lawson's Audio Vault to hear more great audio tracks from the Pacific Northwest!
1 visit(s) today