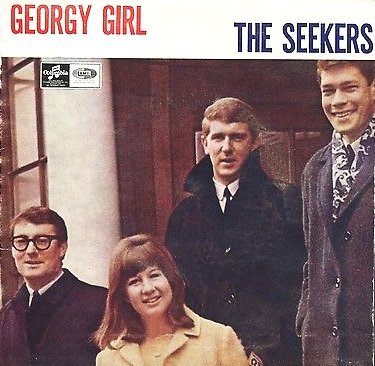 This Found Performance harks back to the mid-sixties. The Seekers, an Australian folk/pop group, knew how to put out bright and happy feel good music. I was in high school when "Georgy Girl" was a hit on the radio and I recall the Bellingham High School band played it at all the pep assemblies – it raised everybody's spirits.
"Georgy Girl," which you will already know if you are old as the hills like me, was actually the title song for the major motion picture (starring Lynn Redgrave) of the same name. Both the record "Georgy Girl" and the movie were released in 1966. The Seekers female lead vocalist, who really made their records in my view, was Judith Durham. I loved her contributions to the song "I'll Never Find Another You."
"Georgy Girl" was a Top 10 hit in late 1966 and early 1967. It went to #1 in Australia, #3 in the U.K. and it got stuck at #2 in Billboard's Hot 100, held back by "I'm a Believer" by the Monkees. However, it did make it to #1 in the U.S. in Cash Box's Top 100.
In addition to "Georgy Girl," which was their biggest hit, The Seekers had several Top 10 records in the 1960s: "I'll Never Find Another You," "A World of Our Own," "Morningtown Ride, "Someday, One Day," "The Carnival Is Over." The Seekers sold more than 50 million records worldwide.
This 1967 performance was a free concert at the Myer Music Bowl in their hometown of Melbourne. The concert broke all attendance records for the Southern hemisphere with more than 200,000 people (nearly one tenth of the city's population at the time) in the audience. The concert video of "Georgy Girl" is at ad free Vimeo, so click on the play button 2x- first to go to Vimeo and the second time to start the video.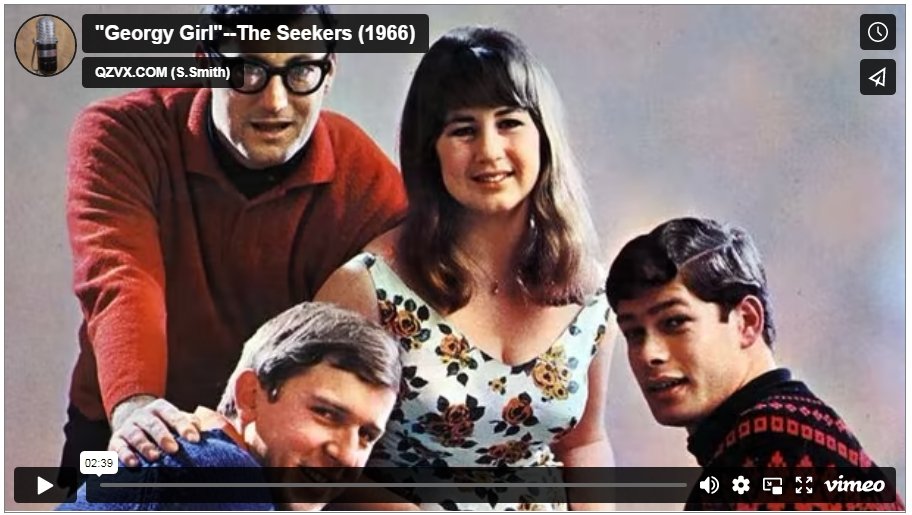 1 visit(s) today