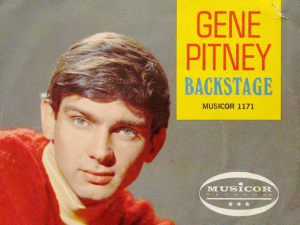 Here is another addition to my collection of "Found Performance" videos. I'm always on the lookout for rare footage of live or TV performances of 1950s, '60s and '70s hits by original artists. I am intrigued by technical challenges and, when I find rare performances that are damaged or shabby, I will continue to restore them and post them here. In this case, I inserted an improved audio track, focused on accurate lip sync, and cleaned up the video.
"Backstage" was one of my favorite radio hits back in 1966. I remember, all these years later, having seen this performance when it aired in May 1966 on Dick Clark's "Where The Action Is." The record went to #25 in the US and #2 in Canada. This was near the end of Pitney's time as a pop star in the US. He had only one more big Billboard charted hit in the US — "She's a Heartbreaker" — in 1968. Gene remained popular in Europe and had modest success in the US with some 1970s country releases. Personally, I loved Pitney's voice and style, although my wife always said his vocals were "overly dramatic" for her tastes
In the US, Gene charted sixteen Top 40 hits, four of which went Top 10. In the UK, where the this video was shot, Pitney had more than twenty Top 40 hits, and eleven of those entered the Top 10. His most familiar and enduring hits were "Town Without Pity," "(The Man Who Shot) Liberty Valance," "Twenty Four Hours from Tulsa," "I'm Gonna Be Strong," and "Something's Gotten Hold of My Heart."  In 2002, Gene Pitney was inducted into the Rock and Roll Hall of Fame and he passed away in 2006.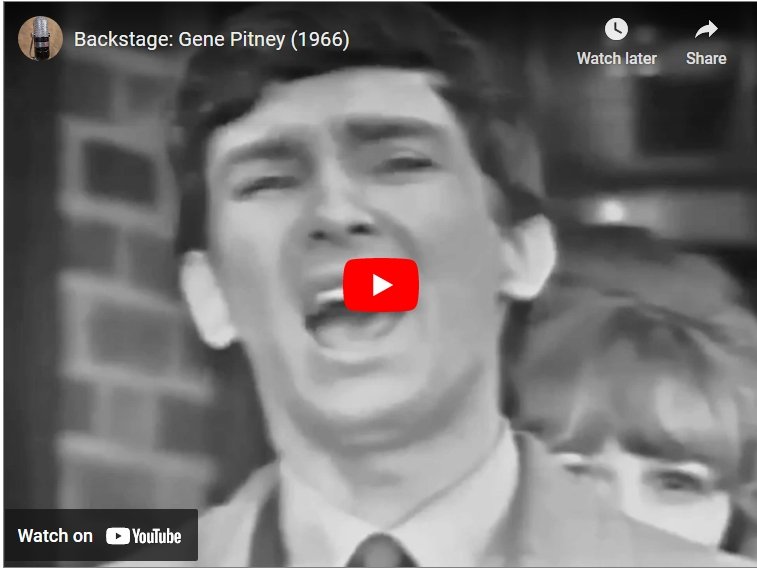 1 visit(s) today